Abstract
The COMT (catechol-O-methyltransferase) Val158Met polymorphism (rs4680) is a potential susceptibility variant for major depressive disorder (MDD). Although many genetic studies have examined the association between MDD and this polymorphism, the results were inconclusive. In the present study, we conducted a series of meta-analyses of samples consisting of 2905 MDD cases and 2403 controls with the goal of determining whether this variant indeed has any effect on MDD. We revealed a significant association in the comparison of Val/Val + Val/Met vs. Met/Met (OR =1.180; 95 % CI = 1.019, 1.367; P = 0.027), Val/Met vs. Val/Val (OR =1.18; 95 % CI = 1.038, 1.361; P = 0.013), and Val/Met vs. Met/Met (OR =1.229; 95 % CI = 1.053, 1.435; P = 0.009). Further meta-analyses of samples with European ancestry demonstrated a significant association of this SNP with MDD susceptibility in Val/Val + Val/Met vs. Met/Met (OR =1.231, 95 % CI = 1.046, 1.449; P = 0.013) and Val/Met vs. Met/Met (OR =1.284, 95 % CI = 1.050, 1.484; P = 0.012). For the samples with East Asian ancestry, we found a significant association in both allelic (Val vs. Met: OR =0.835; 95 % CI = 0.714, 0.975; P = 0.023) and genotypic (Met/Met + Val/Met vs. Val/Val: OR =1.431, 95 % CI = 1.143, 1.791; P = 0.002; Val/Met vs. Val/Val: OR =1.482, 95 % CI = 1.171, 1.871; P = 0.001) analyses. No evidence of heterogeneity among studies or publication bias was observed. Together, our results indicate that the COMT Val158Met polymorphism is a vulnerability factor for MDD with distinct effects in different ethnic populations.
Access options
Buy single article
Instant access to the full article PDF.
USD 39.95
Price excludes VAT (USA)
Tax calculation will be finalised during checkout.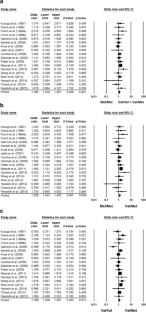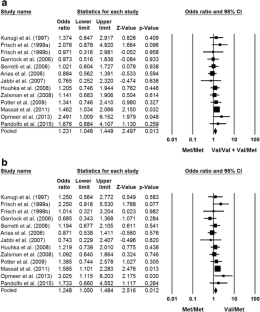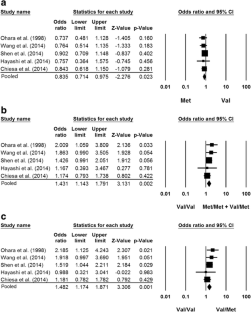 References
Aguilera M, Barrantes-Vidal N, Arias B, Moya J, Villa H, Ibanez MI, Ruiperez MA, Ortet G, Fananas L (2008) Putative role of the COMT gene polymorphism (Val158Met) on verbal working memory functioning in a healthy population. Am J Med Genet B Neuropsychiatr Genet 147B:898–902

APA (1994) American Psychiatric Association. Diagnostic and Statistical Manual of Mental Disorders, 4th Edition: American Psychiatric Association: Washington DC.

Arias B, Serretti A, Lorenzi C, Gasto C, Catalan R, Fananas L (2006) Analysis of COMT gene (Val 158 met polymorphism) in the clinical response to SSRIs in depressive patients of European origin. J Affect Disord 90:251–256

Ashby FG, Isen AM, Turken AU (1999) A neuropsychological theory of positive affect and its influence on cognition. Psychol Rev 106:529–550

Assadi SM, Yucel M, Pantelis C (2009) Dopamine modulates neural networks involved in effort-based decision-making. Neurosci Biobehav Rev 33:383–393

Bierut LJ, Heath AC, Bucholz KK, Dinwiddie SH, Madden PA, Statham DJ, Dunne MP, Martin NG (1999) Major depressive disorder in a community-based twin sample: are there different genetic and environmental contributions for men and women? Arch Gen Psychiatry 56:557–563

Bijl RV, Ravelli A, van Zessen G (1998) Prevalence of psychiatric disorder in the general population: results of The Netherlands mental health survey and incidence study (NEMESIS). Soc Psychiatry Psychiatr Epidemiol 33:587–595

Blackburn JR, Pfaus JG, Phillips AG (1992) Dopamine functions in appetitive and defensive behaviours. Prog Neurobiol 39:247–279

Bressan RA, Costa DC, Jones HM, Ell PJ, Pilowsky LS (2002) Typical antipsychotic drugs – D(2) receptor occupancy and depressive symptoms in schizophrenia. Schizophr Res 56:31–36

Bruder GE, Keilp JG, Xu H, Shikhman M, Schori E, Gorman JM, Gilliam TC (2005) Catechol-O-methyltransferase (COMT) genotypes and working memory: associations with differing cognitive operations. Biol Psychiatry 58:901–907

Cerasa A, Gioia MC, Labate A, Liguori M, Lanza P, Quattrone A (2008) Impact of catechol-O-methyltransferase Val(108/158) met genotype on hippocampal and prefrontal gray matter volume. Neuroreport 19:405–408

Chen J, Lipska BK, Halim N, Ma QD, Matsumoto M, Melhem S, Kolachana BS, Hyde TM, Herman MM, Apud J, Egan MF, Kleinman JE, Weinberger DR (2004) Functional analysis of genetic variation in catechol-O-methyltransferase (COMT): effects on mRNA, protein, and enzyme activity in postmortem human brain. Am J Hum Genet 75:807–821

Cheon KA, Jun JY, Cho DY (2008) Association of the catechol-O-methyltransferase polymorphism with methylphenidate response in a classroom setting in children with attention-deficit hyperactivity disorder. Int Clin Psychopharmacol 23:291–298

Chiesa A, Lia L, Alberti S, Lee SJ, Han C, Patkar AA, Pae CU, Serretti A (2014) Lack of influence of rs4680 (COMT) and rs6276 (DRD2) on diagnosis and clinical outcomes in patients with major depression. Int J Psychiatry Clin Pract 18:97–102

Comasco E, Sylven SM, Papadopoulos FC, Sundstrom-Poromaa I, Oreland L, Skalkidou A (2011) Postpartum depression symptoms: a case-control study on monoaminergic functional polymorphisms and environmental stressors. Psychiatr Genet 21:19–28

Corrigan MH, Denahan AQ, Wright CE, Ragual RJ, Evans DL (2000) Comparison of pramipexole, fluoxetine, and placebo in patients with major depression. Depress Anxiety 11:58–65

Del Guerra FB, Fonseca JL, Figueiredo VM, Ziff EB, Konkiewitz EC (2013) Human immunodeficiency virus-associated depression: contributions of immuno-inflammatory, monoaminergic, neurodegenerative, and neurotrophic pathways. J Neurobiol 19:314–327

DerSimonian R, Laird N (1986) Meta-analysis in clinical trials. Control Clin Trials 7:177–188

Diatchenko L, Slade GD, Nackley AG, Bhalang K, Sigurdsson A, Belfer I, Goldman D, Xu K, Shabalina SA, Shagin D, Max MB, Makarov SS, Maixner W (2005) Genetic basis for individual variations in pain perception and the development of a chronic pain condition. Hum Mol Genet 14:135–143

Domschke K, Deckert J, O'Donovan MC, Glatt SJ (2007) Meta-analysis of COMT val158met in panic disorder: ethnic heterogeneity and gender specificity. AmJ Med Genet B, Neuropsychiatr Genet 144B:667–673

Drago A, Crisafulli C, Sidoti A, Serretti A (2011) The molecular interaction between the glutamatergic, noradrenergic, dopaminergic and serotoninergic systems informs a detailed genetic perspective on depressive phenotypes. Prog Neurobiol 94:418–460

Ebmeier KP, Donaghey C, Steele JD (2006) Recent developments and current controversies in depression. Lancet 367:153–167

Egger M, Davey Smith G, Schneider M, Minder C (1997) Bias in meta-analysis detected by a simple, graphical test. BMJ 315:629–634

Ehrlich S, Morrow EM, Roffman JL, Wallace SR, Naylor M, Bockholt HJ, Lundquist A, Yendiki A, Ho BC, White T, Manoach DS, Clark VP, Calhoun VD, Gollub RL, Holt DJ (2010) The COMT Val108/158Met polymorphism and medial temporal lobe volumetry in patients with schizophrenia and healthy adults. NeuroImage 53:992–1000

Frisch A, Postilnick D, Rockah R, Michaelovsky E, Postilnick S, Birman E, Laor N, Rauchverger B, Kreinin A, Poyurovsky M, Schneidman M, Modai I, Weizman R (1999) Association of unipolar major depressive disorder with genes of the serotonergic and dopaminergic pathways. Mol Psychiatry 4:389–392

Fulk LJ, Kane BE, Phillips KD, Bopp CM, Hand GA (2004) Depression in HIV-infected patients: allopathic, complementary, and alternative treatments. J Psychosom Res 57:339–351

Fullerton J, Cubin M, Tiwari H, Wang C, Bomhra A, Davidson S, Miller S, Fairburn C, Goodwin G, Neale MC, Fiddy S, Mott R, Allison DB, Flint J (2003) Linkage analysis of extremely discordant and concordant sibling pairs identifies quantitative-trait loci that influence variation in the human personality trait neuroticism. Am J Hum Genet 72:879–890

Garriock HA, Delgado P, Kling MA, Carpenter LL, Burke M, Burke WJ, Schwartz T, Marangell LB, Husain M, Erickson RP, Moreno FA (2006) Number of risk genotypes is a risk factor for major depressive disorder: a case control study. Behav Brain funct 2:24

Goldberg JF, Burdick KE, Endick CJ (2004) Preliminary randomized, double-blind, placebo-controlled trial of pramipexole added to mood stabilizers for treatment-resistant bipolar depression. Am J Psychiatry 161:564–566

Grigoroiu-Serbanescu M, Martinez M, Nothen MM, Grinberg M, Sima D, Propping P, Marinescu E, Hrestic M (2001) Different familial transmission patterns in bipolar I disorder with onset before and after age 25. Am J Med Genet 105:765–773

Grossman MH, Emanuel BS, Budarf ML (1992) Chromosomal mapping of the human catechol-O-methyltransferase gene to 22q11.1—-q11.2. Genomics 12:822–825

Hayashi K, Yoshimura R, Kakeda S, Kishi T, Abe O, Umene-Nakano W, Katsuki A, Hori H, Ikenouchi-Sugita A, Watanabe K, Ide S, Ueda I, Moriya J, Iwata N, Korogi Y, Kubicki M, Nakamura J (2014) COMT Val158Met, but not BDNF Val66Met, is associated with white matter abnormalities of the temporal lobe in patients with first-episode, treatment-naive major depressive disorder: a diffusion tensor imaging study. Neuropsychiatr Dis Treat 10:1183–1190

Huuhka K, Anttila S, Huuhka M, Hietala J, Huhtala H, Mononen N, Lehtimaki T, Leinonen E (2008) Dopamine 2 receptor C957T and catechol-o-methyltransferase Val158Met polymorphisms are associated with treatment response in electroconvulsive therapy. Neurosci Lett 448:79–83

Hwu HG, Chang IH, Yeh EK, Chang CJ, Yeh LL (1996) Major depressive disorder in Taiwan defined by the Chinese diagnostic interview schedule. J Nerv Ment Dis 184:497–502

Jabbi M, Kema IP, van der Pompe G, te Meerman GJ, Ormel J, den Boer JA (2007) Catechol-o-methyltransferase polymorphism and susceptibility to major depressive disorder modulates psychological stress response. Psychiatr Genet 17:183–193

Kamide K, Kokubo Y, Yang J, Matayoshi T, Inamoto N, Takiuchi S, Horio T, Miwa Y, Yoshii M, Tomoike H, Tanaka C, Banno M, Okuda T, Kawano Y, Miyata T (2007) Association of genetic polymorphisms of ACADSB and COMT with human hypertension. J Hypertens 25:103–110

Kendler KS, Gardner CO, Neale MC, Prescott CA (2001) Genetic risk factors for major depression in men and women: similar or different heritabilities and same or partly distinct genes? Psychol Med 31:605–616

Kendler KS, Gatz M, Gardner CO, Pedersen NL (2006) A Swedish national twin study of lifetime major depression. Am J Psychiatry 163:109–114

Kessler RC, McGonagle KA, Swartz M, Blazer DG, Nelson CB (1993) Sex and depression in the national comorbidity survey. I: lifetime prevalence, chronicity and recurrence. J Affect Disord 29:85–96

Kessler RC, McGonagle KA, Zhao S, Nelson CB, Hughes M, Eshleman S, Wittchen HU, Kendler KS (1994) Lifetime and 12-month prevalence of DSM-III-R psychiatric disorders in the United States Results from the National Comorbidity Survey. Gen Psychiatry 51:8–19

Kessler RC, Aguilar-Gaxiola S, Alonso J, Chatterji S, Lee S, Ormel J, Ustun TB, Wang PS (2009) The global burden of mental disorders: an update from the WHO World Mental Health (WMH) surveys. Epidemiol Psichiatr Soc 18:23–33

Kunugi H, Vallada HP, Hoda F, Kirov G, Gill M, Aitchison KJ, Ball D, Arranz MJ, Murray RM, Collier DA (1997) No evidence for an association of affective disorders with high- or low-activity allele of catechol-o-methyltransferase gene. Biol Psychiatry 42:282–285

Lachman HM, Morrow B, Shprintzen R, Veit S, Parsia SS, Faedda G, Goldberg R, Kucherlapati R, Papolos DF (1996) Association of codon 108/158 catechol-O-methyltransferase gene polymorphism with the psychiatric manifestations of velo-cardio-facial syndrome. Am J Med Genet 67:468–472

Laird NM, Mosteller F (1990) Some statistical methods for combining experimental results. Int J Technol Assess Health Care 6:5–30

Lau J, Ioannidis JP, Schmid CH (1997) Quantitative synthesis in systematic reviews. Ann Intern Med 127:820–826

Lee LO, Prescott CA (2014) Association of the catechol-O-methyltransferase val158met polymorphism and anxiety-related traits: a meta-analysis. Psychiatr Genet 24:52–69

Lee SG, Joo Y, Kim B, Chung S, Kim HL, Lee I, Choi B, Kim C, Song K (2005) Association of Ala72Ser polymorphism with COMT enzyme activity and the risk of schizophrenia in koreans. Hum Genet 116:319–328

Lopez-Leon S, Janssens AC, Gonzalez-Zuloeta Ladd AM, Del-Favero J, Claes SJ, Oostra BA, van Duijn CM (2008) Meta-analyses of genetic studies on major depressive disorder. Mol Psychiatry 13:772–785

Mantel N, Haenszel W (1959) Statistical aspects of the analysis of data from retrospective studies of disease. J Natl Cancer Inst 22:719–748

Massat I, Souery D, Del-Favero J, Nothen M, Blackwood D, Muir W, Kaneva R, Serretti A, Lorenzi C, Rietschel M, Milanova V, Papadimitriou GN, Dikeos D, Van Broekhoven C, Mendlewicz J (2005) Association between COMT (Val158Met) functional polymorphism and early onset in patients with major depressive disorder in a European multicenter genetic association study. Mol Psychiatry 10:598–605

Massat I, Kocabas NA, Crisafulli C, Chiesa A, Calati R, Linotte S, Kasper S, Fink M, Antonijevic I, Forray C, Snyder L, Bollen J, Zohar J, De Ronchi D, Souery D, Serretti A, Mendlewicz J (2011) COMT and age at onset in mood disorders: a replication and extension study. Neurosci Lett 498:218–221

Mattay VS, Goldberg TE, Fera F, Hariri AR, Tessitore A, Egan MF, Kolachana B, Callicott JH, Weinberger DR (2003) Catechol O-methyltransferase val158-met genotype and individual variation in the brain response to amphetamine. Proc Natl Acad Sci U S A 100:6186–6191

Mendlewicz J (1979) Juvenile and late onset forms of depressive disorder: genetic and biological characterization of bipolar and unipolar illness-a review. Maturitas 1:229–234

Meyer-Lindenberg A (2010) Imaging genetics of schizophrenia. Dialogues Clin Neurosci 12:449–456

Murray CJ, Lopez AD (1996) Evidence-based health policy–lessons from the global burden of disease study. Science 274:740–743

Nackley AG, Shabalina SA, Tchivileva IE, Satterfield K, Korchynskyi O, Makarov SS, Maixner W, Diatchenko L (2006) Human catechol-O-methyltransferase haplotypes modulate protein expression by altering mRNA secondary structure. Science 314:1930–1933

Napolitano A, Cesura AM, Da Prada M (1995) The role of monoamine oxidase and catechol O-methyltransferase in dopaminergic neurotransmission. J Neural Transm Suppl 45:35–45

Nieoullon A (2002) Dopamine and the regulation of cognition and attention. Prog Neurobiol 67:53–83

Ohara K, Nagai M, Suzuki Y, Ohara K (1998) Low activity allele of catechol-o-methyltransferase gene and Japanese unipolar depression. Neuroreport 9:1305–1308

Opmeer EM, Kortekaas R, van Tol MJ, van der Wee NJ, Woudstra S, van Buchem MA, Penninx BW, Veltman DJ, Aleman A (2013) Influence of COMT val158met genotype on the depressed brain during emotional processing and working memory. PLoS One 8:e73290

Palmatier MA, Kang AM, Kidd KK (1999) Global variation in the frequencies of functionally different catechol-O-methyltransferase alleles. Biol Psychiatry 46:557–567

Pandolfo G, Gugliandolo A, Gangemi C, Arrigo R, Curro M, La Ciura G, Muscatello MR, Bruno A, Zoccali R, Caccamo D (2015) Association of the COMT synonymous polymorphism Leu136Leu and missense variant Val158Met with mood disorders. J Affect Disord 177:108–113

Parker G, Chan B, Hadzi-Pavlovic D (2007) Lower rates of depression in westernised Chinese in the US. J Affect Disord 104:175–178

Pieper AA, Treisman GJ (2005) Drug treatment of depression in HIV-positive patients: safety considerations. Drug Saf 28:753–762

Potter GG, Taylor WD, McQuoid DR, Steffens DC, Welsh-Bohmer KA, Krishnan KR (2009) The COMT Val158Met polymorphism and cognition in depressed and nondepressed older adults. Int J Geriatr Psychiatry 24:1127–1133

Purohit V, Rapaka R, Shurtleff D (2011) Drugs of abuse, dopamine, and HIV-associated neurocognitive disorders/HIV-associated dementia. Mol Neurobiol 44:102–110

Ruhe HG, Mason NS, Schene AH (2007) Mood is indirectly related to serotonin, norepinephrine and dopamine levels in humans: a meta-analysis of monoamine depletion studies. Mol Psychiatry 12:331–359

Serretti A, Rotondo A, Lorenzi C, Smeraldi E, Cassano GB (2006) Catechol-O-methyltransferase gene variants in mood disorders in the Italian population. Psychiatr Genet 16:181–182

Shen X, Wu Y, Guan T, Wang X, Qian M, Lin M, Shen Z, Sun J, Zhong H, Yang J, Li L, Yuan Y (2014) Association analysis of COMT/MTHFR polymorphisms and major depressive disorder in Chinese Han population. J Affect Disord 161:73–78

Shield AJ, Thomae BA, Eckloff BW, Wieben ED, Weinshilboum RM (2004) Human catechol O-methyltransferase genetic variation: gene resequencing and functional characterization of variant allozymes. Mol Psychiatry 9:151–160

Shifman S et al. (2002) A highly significant association between a COMT haplotype and schizophrenia. Am J Hum Genet 71:1296–1302

Shih RA, Belmonte PL, Zandi PP (2004) A review of the evidence from family, twin and adoption studies for a genetic contribution to adult psychiatric disorders. Int Rev Psychiatry 16:260–283

Sinyor M, Schaffer A, Levitt A (2010) The sequenced treatment alternatives to relieve depression (STAR*D) trial: a review. Can J Psychiatr Rev Can Psychiatr 55:126–135

Strober M, Morrell W, Burroughs J, Lampert C, Danforth H, Freeman R (1988) A family study of bipolar I disorder in adolescence. Early onset of symptoms linked to increased familial loading and lithium resistance. J Affect Disord 15:255–268

Sullivan PF, Neale MC, Kendler KS (2000) Genetic epidemiology of major depression: review and meta-analysis. Am J Psychiatry 157:1552–1562

Tammimaki AE, Mannisto PT (2010) Are genetic variants of COMT associated with addiction? Pharmacogenet Genomics 20:717–741

Tenhunen J, Salminen M, Jalanko A, Ukkonen S, Ulmanen I (1993) Structure of the rat catechol-O-methyltransferase gene: separate promoters are used to produce mRNAs for soluble and membrane-bound forms of the enzyme. DNA Cell Biol 12:253–263

Tenhunen J, Salminen M, Lundstrom K, Kiviluoto T, Savolainen R, Ulmanen I (1994) Genomic organization of the human catechol O-methyltransferase gene and its expression from two distinct promoters. Eur J Biochem 223:1049–1059

Thorisson GA, Smith AV, Krishnan L, Stein LD (2005) The international HapMap project web site. Genome Res 15:1592–1593

Verhoeff NP, Christensen BK, Hussey D, Lee M, Papatheodorou G, Kopala L, Rui Q, Zipursky RB, Kapur S (2003) Effects of catecholamine depletion on D2 receptor binding, mood, and attentiveness in humans: a replication study. Pharmacol Biochem Behav 74:425–432

Wang X, Wang Z, Wu Y, Yuan Y, Hou Z, Hou G (2014) Association analysis of the catechol-O-methyltransferase/methylenetetrahydrofolate reductase genes and cognition in late-onset depression. Psychiatry Clin Neurosci 68:344–352

Wang Y, Li J, Chen C, Chen C, Zhu B, Moysis RK, Lei X, Li H, Liu Q, Xiu D, Liu B, Chen W, Xue G, Dong Q (2013) COMT rs4680 met is not always the 'smart allele': Val allele is associated with better working memory and larger hippocampal volume in healthy Chinese. Genes Brain Behav 12:323–329

Weinshilboum RM, Otterness DM, Szumlanski CL (1999) Methylation pharmacogenetics: catechol O-methyltransferase, thiopurine methyltransferase, and histamine N-methyltransferase. Annu Rev Pharmacol Toxicol 39:19–52

Weissman MM, Bland RC, Canino GJ, Faravelli C, Greenwald S, Hwu HG, Joyce PR, Karam EG, Lee CK, Lellouch J, Lepine JP, Newman SC, Rubio-Stipec M, Wells JE, Wickramaratne PJ, Wittchen H, Yeh EK (1996) Cross-national epidemiology of major depression and bipolar disorder. JAMA 276:293–299

WHO (2012) Depression Fact sheet (http://www.who.int/mediacentre/factsheets/fs369/en/).

Wise RA (1978) Catecholamine theories of reward: a critical review. Brain Res 152:215–247

Wolff LC, Alvarado MR, Wolff RM (2010) Depression in HIV infection: prevalence, risk factors and management. Rev Chilena de Infectol 27:65–74

Yeh TK, Chang CY, Hu CY, Yeh TC, Lin MY (2009) Association of catechol-O-methyltransferase (COMT) polymorphism and academic achievement in a Chinese cohort. Brain Cogn 71:300–305

Zalsman G, Huang YY, Oquendo MA, Brent DA, Giner L, Haghighi F, Burke AK, Ellis SP, Currier D, Mann JJ (2008) No association of COMT Val158Met polymorphism with suicidal behavior or CSF monoamine metabolites in mood disorders. Arch Suicide Res 12:327–335

Zintzaras E, Hadjigeorgiou GM (2004) Association of paraoxonase 1 gene polymorphisms with risk of Parkinson's disease: a meta-analysis. J Hum Genet 49:474–481

Zubenko GS, Hughes HB 3rd, Maher BS, Stiffler JS, Zubenko WN, Marazita ML (2002) Genetic linkage of region containing the CREB1 gene to depressive disorders in women from families with recurrent, early-onset, major depression. Am J Med Genet 114:980–987

Zubenko GS, Maher B, Hughes HB 3rd, Zubenko WN, Stiffler JS, Kaplan BB, Marazita ML (2003) Genome-wide linkage survey for genetic loci that influence the development of depressive disorders in families with recurrent, early-onset, major depression. Am J Med Genet B, Neuropsychiatr Genet 123B:1–18
Acknowledgment
We thank Dr. David L. Bronson for his excellent editing of this manuscript.
Ethics declarations
This article does not contain any studies with human participants performed by any of the authors. All data in the article were retrieved from the literature.
Funding
This study was supported in part by the Research Center for Air Pollution and Health of Zhejiang University, Ministry of Science and Technology of China (2012AA020405), and NIH grant DA012844.
Conflict of Interest
The authors have no conflict interest regarding this report.
Electronic supplementary material
Funnel plots for meta-analyses of total samples: (a) Val vs. Met; (b) Val/Val + Val/Met vs. Met/Met; (c) Met/Met + Val/Met vs. Val/Val; (d) Val/Met vs. Met/Met; (e) Val/Met vs. Val/Val; (f) Val/Val vs. Met/Met. (PDF 179 kb)
Funnel plots for meta-analyses of European ancestry samples: (a) Val vs. Met; (b) Val/Val + Val/Met vs. Met/Met; (c) Met/Met + Val/Met vs. Val/Val; (d) Val/Met vs. Met/Met; (e) Val/Met vs. Val/Val; (f) Val/Val vs. Met/Met. (PDF 175 kb)
Funnel plots for meta-analyses of East Asian ancestry samples: (a) Val vs. Met; (b) Val/Val + Val/Met vs. Met/Met; (c) Met/Met + Val/Met vs. Val/Val; (d) Val/Met vs. Met/Met; (e) Val/Met vs. Val/Val; (f) Val/Val vs. Met/Met. (PDF 171 kb)
About this article
Cite this article
Wang, M., Ma, Y., Yuan, W. et al. Meta-Analysis of the COMT Val158Met Polymorphism in Major Depressive Disorder: Effect of Ethnicity. J Neuroimmune Pharmacol 11, 434–445 (2016). https://doi.org/10.1007/s11481-016-9651-3
Received:

Accepted:

Published:

Issue Date:

DOI: https://doi.org/10.1007/s11481-016-9651-3
Keywords