Abstract
Traumatic brain injury (TBI) causes increased release of several mediators from injured and dead cells and elicits microglial activation. Activated microglia change their morphology, migrate to injury sites, and release tumor necrosis factor-alpha (TNF-α) and others. In this study we used a controlled fluid percussion injury model of TBI in the rat to determine whether early (4 h post-injury) or late (4 days post-injury) treatment with MLC 601, a Traditional Chinese Medicine, would affect microglial activation and improve recovery. MLC 601 was chosen for this study because its herbal component MLC 901 was beneficial in treating TBI in rats. Herein, rats with induced TBI were treated with MLC 601 (0.2–0.8 mg/kg) 1 h (early treatment) or 4 day post-injury (late treatment) and then injected once daily for consecutive 2 days. Acute neurological and motor deficits were assessed in all rats the day before and 4 days after early MLC 601 treatment. An immunofluorescence microscopy method was used to count the numbers of the cells colocalized with neuron- and apoptosis-specific markers, and the cells colocalized with microglia- and TNF-α-specific markers, in the contused brain regions 4 days post-injury. An immunohistochemistry method was used to evaluate both the number and the morphological transformation of microglia in the injured areas. It was found that early treatment with MLC 601 had better effects in reducing TBI-induced cerebral contusion than did the late therapy with MLC 601. Cerebral contusion caused by TBI was associated with neurological motor deficits, brain apoptosis, and activated microglia (e.g., microgliosis, amoeboid microglia, and microglial overexpression of TNF-α), which all were significantly attenuated by MLC 601 therapy. Our data suggest that MLC 601 is a promising agent for treatment of TBI in rats.
Access options
Buy single article
Instant access to the full article PDF.
USD 39.95
Price excludes VAT (USA)
Tax calculation will be finalised during checkout.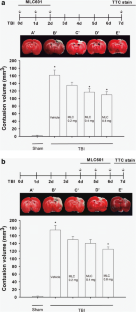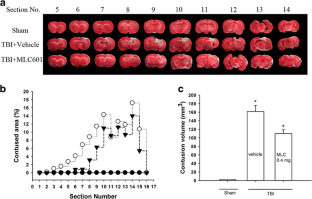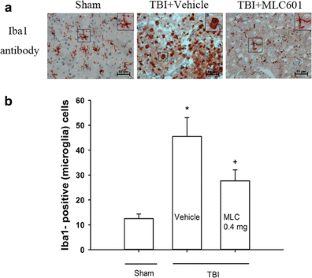 References
Allan SM, Rothwell NJ (2001) Cytokines and acute neurodegeneration. Nat Rev Neurosci 2:734–744

Batchelor PE, Liberatore GT, Wong JY, Porritt MJ, Frerichs F et al (1999) Activated macrophages and microglia induce dopaminergic sprouting in the injured striatum and express brain-derived neurotrophic factor and glial cell line-derived neurotrophic factor. J Neurosci 19:1708–1716

Bavarsad Shahripour R, Shamsaei G, Pakdaman H, Majdinasab N, Nejad EM et al (2011) The effect of NeuroAiD™ (MLC601) on cerebral blood flow velocity in subjects' post brain infarct in the middle cerebral artery territory. Eur J Intern Med 22:509–513

Black JE, Isaacs KR, Anderson BJ, Alcantara AA, Greenough WT (1990) Learning causes synaptogenesis, whereas motor activity causes angiogenesis, in cerebellar cortex of adult rats. Proc Natl Acad Sci U S A 87:5568–5572

Chang CP, Chio CC, Cheong CU, Chao CM, Cheng BC, Lin MT (2013) Hypoxic preconditioning enhances the therapeutic potential of the secretome from cultured human mesenchymal stem cells in experimental traumatic brain injury. Clin Sci 124:165–176

Chen SF, Hsu CW, Huang WH, Wang JY (2008) Post-injury baicalein improves histological and functional outcomes and reduces inflammatory cytokines after experimental traumatic brain injury. Br J Pharmacol 155:1279–1296

Chen C, Venketasubramanian N, Gan RN, Lambert C, Picard D et al (2009) Danqi Piantang Jiaonang (DJ), a traditional Chinese medicine, in poststroke recovery. Stroke 40:859–863

Chen CL, Venketasubramanian N, Lee CF, Wong KS, Bousser MG (2013a) Effects of MLC 601 on early vascular events in patients after stroke: the CHIMES study. Stroke 44:3580–3583

Chen CL, Young SH, Gan HH, Singh R, Lao AY et al (2013b) Chinese medicine neuroaid efficacy on stroke recovery: a double-blind, placebo-controlled, randomized study. Stroke 44:2093–2100

Cheong CU, Chang CP, Chao CM, Cheng BC, Yang CZ, Chio CC (2013) Etanercept attenuates traumatic brain injury in rats by reducing brain TNF- α contents and by stimulating newly formed neurogenesis. Mediat Inflamm 2013:620837

Chio CC, Lin JW, Chang MW, Wang CC, Kuo JR et al (2010) Therapeutic evaluation of etanercept in a model of traumatic brain injury. J Neurochem 115:921–929

Chio CC, Chang CH, Wang CC, Cheong CU, Chao CM et al (2013) Etanercept attenuates traumatic brain injury in rats by reducing early microglial expression of tumor necrosis factor-α. BMC Neurosci 14:33

Ding Y, Yao B, Lai Q, McAllister JP (2001) Impaired motor learning and diffuse axonal damage in motor and visual systems of the rat following traumatic brain injury. Neurol Res 23:193–202

Ding Y, Yao B, Zhou Y, Park H, McAllister JP 2nd, Diaz FG (2002a) Prereperfusion flushing of ischemic territory: a therapeutic study in which histological and behavioral assessments were used to measure ischemia-reperfusion injury in rats with stroke. J Neurosurg 96:310–319

Ding Y, Zhou Y, Lai Q, Li J, Park H, Diaz FG (2002b) Impaired motor activity and motor learning function in rat with middle cerebral artery occlusion. Behav Brain Res 132:29–36

Ding Y, Li J, Lai Q, Rafols JA, Luan X et al (2004) Motor balance and coordination training enhances functional outcome in rat with transient middle cerebral artery occlusion. Neuroscience 123:667–674

Fujimoto ST, Longhi L, Saatman KE, Conte V, Stocchetti N, McIntosh TK (2004) Motor and cognitive function evaluation following experimental traumatic brain injury. Neurosci Biobehav Rev 28:365–378

Gan R, Lambert C, Lianting J, Chan ES, Venketasubramanian N, Chen C, Chan BP, Samama MM, Bousser MG (2008) Danqi Piantan Jiaonang does not modify hemostasis, hematology, and biochemistry in normal subjects and stroke patients. Cerebrovasc Dis 25:450–456

Hanisch UK (2002) Microglia as a source and target of cytokines. Glia 40:140–155

Hernandez-Ontiveros DG, Tajiri N, Acosta S, Giunta B, Tan J, Borlongan CV (2013) Microglia activation as a biomarker for traumatic brain injury. Front Neurol 4:30

Heurteaux C, Gandin C, Borsotto M, Widmann C, Brau F, Lhuillier M, Onteniente B, Lazdunski M (2010) Neuroprotective and neuroproliferative activities of NeuroAid (MLC601, MLC901), a Chinese medicine, in vitro and in vivo. Neuropharmacology 58:987–1001

Iosif RE, Ahlenius H, Ekdahl CT, Darsalia V, Thored P et al (2008) Suppression of stroke-induced progenitor proliferation in adult subventricular zone by tumor necrosis factor receptor 1. J Cereb Blood Flow Metab 28:1574–1587

Isaacs KR, Anderson BJ, Alcantara AA, Black JE, Greenough WT (1992) Exercise and the brain: angiogenesis in the adult rat cerebellum after vigorous physical activity and motor skill learning. J Cereb Blood Flow Metab 12:110–119, Erratum in: J Cereb Blood Flow Metab 12:533

Kleim JA, Lussnig E, Schwarz ER, Comery TA, Greenough WT (1996) Synaptogenesis and Fos expression in the motor cortex of the adult rat after motor skill learning. J Neurosci 16:4529–4535

Klintsova AY, Cowell RM, Swain RA, Napper RM, Goodlett CR, Greenough WT (1998) Therapeutic effects of complex motor training on motor performance deficits induced by neonatal binge-like alcohol exposure in rats. I. Behavioral results. Brain Res 800:48–61

Knoblach SM, Fan L, Faden AI (1999) Early neuronal expression of tumor necrosis factor-alpha after experimental brain injury contributes to neurological impairment. J Neuroimmunol 95:115–125

Kreutzberg GW (1996) Microglia: a sensor for pathological events in the CNS. Trends Neurosci 19:312–318

Lindholm D, Castrén E, Kiefer R, Zafra F, Thoenen H (1992) Transforming growth factor-beta 1 in the rat brain: increase after injury and inhibition of astrocyte proliferation. J Cell Biol 117:395–400

Loane DJ, Byrnes KR (2010) Role of microglia in neurotrauma. Neurotherapeutics 2010(7):366–377

Maas AI, Stocchetti N, Bullock R (2008) Moderate and severe traumatic brain injury in adults. Lancet Neurol 7:728–741

McCoy MK, Tansey MG (2008) TNF signaling inhibition in the CNS: implications for normal brain function and neurodegenerative disease. J Neuroinflammation 5:45

McIntosh TK, Noble L, Andrews B, Faden AI (1987) Traumatic brain injury in the rat: characterization of a midline fluid-percussion model. Cent Nerv Syst Trauam 4:119–134

Moha Ou Maati H, Borsotto M, Chatelain F, Widmann C, Lazdunski M, Heurteaux C (2012) Activation of ATP-sensitive potassium channels as an element of the neuroprotective effects of the Traditional Chinese Medicine MLC901 against oxygen glucose deprivation. Neuropharmacology 63:692–700

Morganti-Kossmann MC, Rancan M, Stahel PF, Kossmann T (2002) Inflammatory response in acute traumatic brain injury: a double-edged sword. Curr Opin Crit Care 8:101–105

Morganti-Kossmann MC, Satgunaseeian L, Bye N, Kossmann T (2007) Modulation of immune response by head injury. Injury 38:1392–1400

Navarro JC, Gan HH, Lao AY, Baroque AC 2nd, Hiyadan JH et al (2014) Baseline characteristics and treatment responses of patients included from the phillipines in the CHIMES study. Abstract from session acute stroke: new treatment concepts. 23th European Stroke Conference Nice

Oshima T, Lee S, Sato A, Oda S, Hirasawa H, Yamashita T (2009) TNF-alpha contributes to axonal sprouting and functional recovery following traumatic brain injury. Brain Res 1290:102–110

Quintard H, Borsotto M, Veyssiere J, Gandin C, Labbal F et al (2011) MLC901, a traditional Chinese medicine protects the brain against global ischemia. Neuropharmacology 61:622–631

Quintard H, Lorivel T, Gandin C, Lazdunski M, Hevrteaux C (2014) MLC 901, a traditional Chinese medicine induces neuroprotective and neurodegenerative benefits after traumatic brain injury in rats. Neuroscience 277:72–86

Rimaniol AC, Lekieffre D, Serrano A, Masson A, Benavides J, Zavala F (1995) Biphasic transforming growth factor-beta production flanking the pro-inflammatory cytokine response in cerebral trauma. Neuroreport 7:133–136

Rivest S (2009) Regulation of innate response in the brain. Nat Reu Immunol 9:429–439

Schallert T, Fleming SM, Leasure JL, Tillerson JL, Bland ST (2000) CNS plasticity and assessment of forelimb sensorimotor outcome in unilateral rat models of stroke, cortical ablation, parkinsonism and spinal cord injury. Neuropharmacology 39:777–787

Scherbel U, Raghupathi R, Nahamura M, Saatman K, McIntosh TK (1997) Evaluation of neurobehavioral deficits in brain-injured necrosis factor-deficient (TNF-1) mice after experimental brain injury. J Neurotrauma 14:781

Wang T, Lin SZ, Chiou AL, Williams LR, Hoffer BJ (1997) Glial cell line-derived neurotrophic factor protects against ischemia-induced injury in the cerebral cortex. J Neurosci 17:4341–4348

Woodcock T, Morganti-Kossmann MC (2013) The role of markers of inflammation in traumatic brain injury. Front Neurol 4:18

Young SH, Zhao Y, Koh A, Singh R, Chan BP, Chang HM, Venketasubramanian N, Chen C (2010) CHIMES Investigators. Safety profile of MLC601 (Neuroaid) in acute ischemic stroke patients: a Singaporean substudy of the Chinese medicine neuroaid efficacy on stroke recovery study. Cerebrovasc Dis 30:1–6
Acknowledgments
This work was supported by research grant NSC 101-2314-B-218-001-MY3 from the Taiwan National Science and Technology Department.
Conflict of Interest
The authors confirm that this article content has no conflict of interest.
About this article
Cite this article
Tsai, MC., Chang, CP., Peng, SW. et al. Therapeutic Efficacy of Neuro AiD™ (MLC 601), a Traditional Chinese Medicine, in Experimental Traumatic Brain Injury. J Neuroimmune Pharmacol 10, 45–54 (2015). https://doi.org/10.1007/s11481-014-9570-0
Received:

Accepted:

Published:

Issue Date:

DOI: https://doi.org/10.1007/s11481-014-9570-0
Keywords