Abstract
We examined the expression of the mannose receptor CD206 by perivascular macrophages (PVM) in normal human and monkey brains and in brains of HIV-infected humans and of monkeys infected with simian immunodeficiency virus (SIV). Depletion of brain PVM in SIV-infected monkeys by intrathecal injection of liposome-encapsulated bisphosphonates eliminated CD206-expressing cells in the brain, confirming their perivascular location and phagocytic capacity. In vivo labeling with bromodeoxyuridine in normal uninfected and SIV-infected macaques in combination with CD206 immunostaining revealed a CD206+-to-CD206– shift within pre-existing PVM during SIV brain infection and neuroinflammation. These findings identify CD206 as a unique marker of human and macaque PVM, and underscore the utility of this marker in studying the origin, turnover and functions of these cells in AIDS.
Access options
Buy single article
Instant access to the full article PDF.
US$ 39.95
Tax calculation will be finalised during checkout.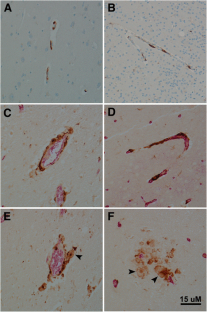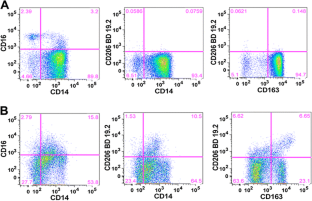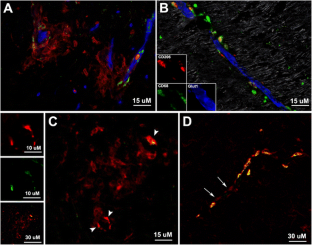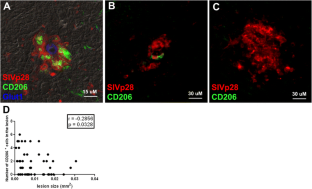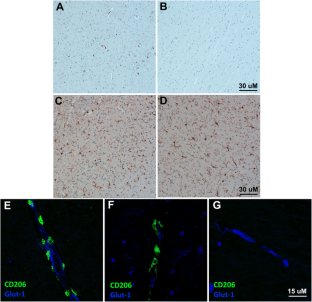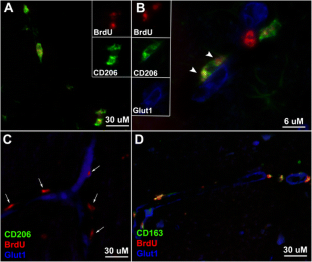 References
Amano SU, Cohen JL, Vangala P, Tencerova M, Nicoloro SM, Yawe JC, Shen Y, Czech MP, Aouadi M (2014) Local proliferation of macrophages contributes to obesity-associated adipose tissue inflammation. Cell Metab 19:162–171

Audoy-Remus J, Richard JF, Soulet D, Zhou H, Kubes P, Vallieres L (2008) Rod-Shaped monocytes patrol the brain vasculature and give rise to perivascular macrophages under the influence of proinflammatory cytokines and angiopoietin-2. J Neurosci 28:10187–10199

Borda JT, Alvarez X, Mohan M, Hasegawa A, Bernardino A, Jean S, Aye P, Lackner AA (2008) CD163, a marker of perivascular macrophages, is up-regulated by microglia in simian immunodeficiency virus encephalitis after haptoglobin-hemoglobin complex stimulation and is suggestive of breakdown of the blood–brain barrier. Am J Pathol 172:725–737

Caldwell RL, Egan BS, Shepherd VL (2000) HIV-1 Tat represses transcription from the mannose receptor promoter. J Immunol 165:7035–7041

Danenberg HD, Golomb G, Groothuis A, Gao J, Epstein H, Swaminathan RV, Seifert P, Edelman ER (2003) Liposomal alendronate inhibits systemic innate immunity and reduces in-stent neointimal hyperplasia in rabbits. Circulation 108:2798–2804

Epstein H, Gutman D, Cohen-Sela E, Haber E, Elmalak O, Koroukhov N, Danenberg HD, Golomb G (2008) Preparation of alendronate liposomes for enhanced stability and bioactivity: in vitro and in vivo characterization. AAPS J 10:505–515

Fabriek BO, Van Haastert ES, Galea I, Polfliet MM, Dopp ED, Van Den Heuvel MM, van den Berg TK, De Groot CJ, van DV, Dijkstra CD (2005) CD163-positive perivascular macrophages in the human CNS express molecules for antigen recognition and presentation. Glia 51:297–305

Fischer-Smith T, Bell C, Croul S, Lewis M, Rappaport J (2008) Monocyte/macrophage trafficking in acquired immunodeficiency syndrome encephalitis: lessons from human and nonhuman primate studies. J Neurovirol 14:318–326

Galea I, Palin K, Newman TA, Van Rooijen N, Perry VH, Boche D (2005) Mannose receptor expression specifically reveals perivascular macrophages in normal, injured, and diseased mouse brain. Glia 49:375–384

Hawkes CA, McLaurin J (2009) Selective targeting of perivascular macrophages for clearance of beta-amyloid in cerebral amyloid angiopathy. Proc Natl Acad Sci U S A 106:1261–1266

Huitinga I, Damoiseaux JG, Van Rooijen N, Dopp EA, Dijkstra CD (1992) Liposome mediated affection of monocytes. Immunobiology 185:11–19

Jongstra-Bilen J, Haidari M, Zhu SN, Chen M, Guha D, Cybulsky MI (2006) Low-grade chronic inflammation in regions of the normal mouse arterial intima predisposed to atherosclerosis. J Exp Med 203:2073–2083

Kim WK, Avarez X, Williams K (2005) The role of monocytes and perivascular macrophages in HIV and SIV neuropathogenesis: information from non-human primate models. Neurotox Res 8:107–115

Kim WK, Alvarez X, Fisher J, Bronfin B, Westmoreland S, McLaurin J, Williams K (2006) CD163 identifies perivascular macrophages in normal and viral encephalitic brains and potential precursors to perivascular macrophages in blood. Am J Pathol 168:822–834

Kim WK, Sun Y, Do H, Autissier P, Halpern EF, Piatak M Jr, Lifson JD, Burdo TH, McGrath MS, Williams K (2010) Monocyte heterogeneity underlying phenotypic changes in monocytes according to SIV disease stage. J Leukoc Biol 87:557–567

Koziel H, Eichbaum Q, Kruskal BA, Pinkston P, Rogers RA, Armstrong MY, Richards FF, Rose RM, Ezekowitz RA (1998) Reduced binding and phagocytosis of Pneumocystis carinii by alveolar macrophages from persons infected with HIV-1 correlates with mannose receptor downregulation. J Clin Invest 102:1332–1344

Kuljanin J, Jankovic I, Nedeljkovic J, Prstojevic D, Marinkovic V (2002) Spectrophotometric determination of alendronate in pharmaceutical formulations via complex formation with Fe(III) ions. J Pharm Biomed Anal 28:1215–1220

Linehan SA, Martinez-Pomares L, Stahl PD, Gordon S (1999) Mannose receptor and its putative ligands in normal murine lymphoid and nonlymphoid organs: In situ expression of mannose receptor by selected macrophages, endothelial cells, perivascular microglia, and mesangial cells, but not dendritic cells. J Exp Med 189:1961–1972

Nguyen DG, Hildreth JE (2003) Involvement of macrophage mannose receptor in the binding and transmission of HIV by macrophages. Eur J Immunol 33:483–493

Polfliet MM, Zwijnenburg PJ, van Furth AM, van der Poll T, Dopp EA, Renardel DL, Kesteren-Hendrikx EM, Van Rooijen N, Dijkstra CD, van den Berg TK (2001) Meningeal and perivascular macrophages of the central nervous system play a protective role during bacterial meningitis. J Immunol 167:4644–4650

Polfliet MM, Van DV, Dopp EA, Kesteren-Hendrikx EM, Van Rooijen N, Dijkstra CD, van den Berg TK (2002) The role of perivascular and meningeal macrophages in experimental allergic encephalomyelitis. J Neuroimmunol 122:1–8

Ransohoff RM, Engelhardt B (2012) The anatomical and cellular basis of immune surveillance in the central nervous system. Nat Rev Immunol 12:623–635

Robbins CS, Hilgendorf I, Weber GF, Theurl I, Iwamoto Y, Figueiredo JL, Gorbatov R, Sukhova GK, Gerhardt LM, Smyth D, Zavitz CC, Shikatani EA, Parsons M, Van Rooijen N, Lin HY, Husain M, Libby P, Nahrendorf M, Weissleder R, Swirski FK (2013) Local proliferation dominates lesional macrophage accumulation in atherosclerosis. Nat Med 19:1166–1172

Roberts ES, Masliah E, Fox HS (2004) CD163 identifies a unique population of ramified microglia in HIV encephalitis (HIVE). J Neuropathol Exp Neurol 63:1255–1264

Serrats J, Schiltz JC, Garcia-Bueno B, Van Rooijen N, Reyes TM, Sawchenko PE (2010) Dual roles for perivascular macrophages in immune-to-brain signaling. Neuron 65:94–106

Soulas C, Donahue RE, Dunbar CE, Persons DA, Alvarez X, Williams KC (2009) Genetically modified CD34+ hematopoietic stem cells contribute to turnover of brain perivascular macrophages in long-term repopulated primates. Am J Pathol 174:1808–1817

Soulas C, Conerly C, Kim WK, Burdo TH, Alvarez X, Lackner AA, Williams KC (2011) Recently infiltrating MAC387(+) monocytes/macrophages a third macrophage population involved in SIV and HIV encephalitic lesion formation. Am J Pathol 178:2121–2135

Steel CD, Kim WK, Sanford LD, Wellman LL, Burnett S, Van Rooijen N, Ciavarra RP (2010) Distinct macrophage subpopulations regulate viral encephalitis but not viral clearance in the CNS. J Neuroimmunol 226:81–92

Sunderkotter C, Nikolic T, Dillon MJ, Van Rooijen N, Stehling M, Drevets DA, Leenen PJ (2004) Subpopulations of mouse blood monocytes differ in maturation stage and inflammatory response. J Immunol 172:4410–4417

Swain SD, Lee SJ, Nussenzweig MC, Harmsen AG (2003) Absence of the macrophage mannose receptor in mice does not increase susceptibility to Pneumocystis carinii infection in vivo. Infect Immun 71:6213–6221

Trostdorf F, Bruck W, Schmitz-Salue M, Stuertz K, Hopkins SJ, Van Rooijen N, Huitinga I, Nau R (1999) Reduction of meningeal macrophages does not decrease migration of granulocytes into the CSF and brain parenchyma in experimental pneumococcal meningitis. J Neuroimmunol 99:205–210

Trujillo JR, Rogers R, Molina RM, Dangond F, McLane MF, Essex M, Brain JD (2007) Noninfectious entry of HIV-1 into peripheral and brain macrophages mediated by the mannose receptor. Proc Natl Acad Sci U S A 104:5097–5102

Vigerust DJ, Egan BS, Shepherd VL (2005) HIV-1 Nef mediates post-translational down-regulation and redistribution of the mannose receptor. J Leukoc Biol 77:522–534

Vogel DY, Vereyken EJ, Glim JE, Heijnen PD, Moeton M, Van DV, Amor S, Teunissen CE, van Horssen J, Dijkstra CD (2013) Macrophages in inflammatory multiple sclerosis lesions have an intermediate activation status. J Neuroinflammation 10:35

Zhu SN, Chen M, Jongstra-Bilen J, Cybulsky MI (2009) GM-CSF regulates intimal cell proliferation in nascent atherosclerotic lesions. J Exp Med 206:2141–2149
Acknowledgments
This study was supported by grant funding from Virginia's Commonwealth Health Research Board to W.K.K (#11-09) and in part by Public Health Service grants R21AI091501, R21AI110163 and R01AI097059 to M.J.K. We thank Dr. Susan Morgello, of the Manhattan HIV Brain Bank (R24MH59724), for facilitating access to HIVE brain autopsy samples.
Conflict of Interest
The authors declare that they have no conflict of interest.
Additional information
Gerard E. Holder and Christopher M. McGary contributed equally to the work.
Electronic supplementary material
Below is the link to the electronic supplementary material.
About this article
Cite this article
Holder, G.E., McGary, C.M., Johnson, E.M. et al. Expression of the Mannose Receptor CD206 in HIV and SIV Encephalitis: A Phenotypic Switch of Brain Perivascular Macrophages with Virus Infection. J Neuroimmune Pharmacol 9, 716–726 (2014). https://doi.org/10.1007/s11481-014-9564-y
Received:

Accepted:

Published:

Issue Date:
Keywords
AIDS

Bisphosphonate liposome

Bromodeoxyuridine

HIV encephalitis

Macrophage