Abstract
Cannabinoids, the Cannabis constituents, are known to possess anti-inflammatory properties but the mechanisms involved are not understood. Here we show that the main psychoactive cannabinoid, Δ-9-tetrahydrocannabinol (THC), and the main nonpsychoactive cannabinoid, cannabidiol (CBD), markedly reduce the Th17 phenotype which is known to be increased in inflammatory autoimmune pathologies such as Multiple Sclerosis. We found that reactivation by MOG35-55 of MOG35-55-specific encephalitogenic T cells (cells that induce Experimental Autoimmune Encephalitis when injected to mice) in the presence of spleen derived antigen presenting cells led to a large increase in IL-17 production and secretion. In addition, we found that the cannabinoids CBD and THC dose-dependently (at 0.1–5 μM) suppressed the production and secretion of this cytokine. Moreover, the mRNA and protein of IL-6, a key factor in Th17 induction, were also decreased. Pretreatment with CBD also resulted in increased levels of the anti-inflammatory cytokine IL-10. Interestingly, CBD and THC did not affect the levels of TNFα and IFNγ. The downregulation of IL-17 secretion by these cannabinoids does not seem to involve the CB1, CB2, PPARγ, 5-HT1A or TRPV1 receptors. In conclusion, the results show a unique cannabinoid modulation of the autoimmune cytokine milieu combining suppression of the pathogenic IL-17 and IL-6 cytokines along with boosting the expression of the anti-inflammatory cytokine IL-10.
Access options
Buy single article
Instant access to the full article PDF.
US$ 39.95
Tax calculation will be finalised during checkout.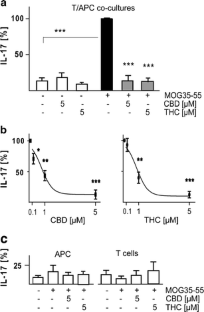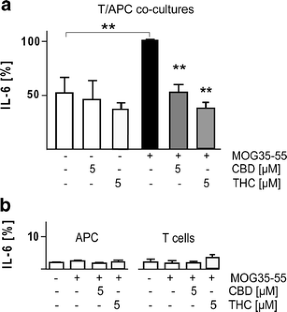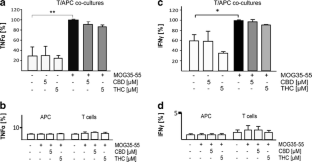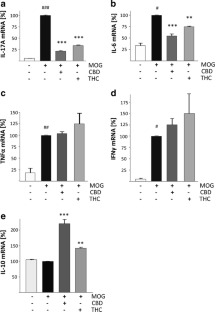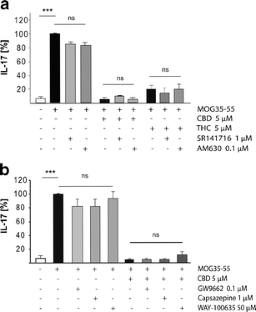 References
Abromson-Leeman S, Bronson RT, Dorf ME (2009) Encephalitogenic T cells that stably express both T-bet and ROR gamma t consistently produce IFNγ but have a spectrum of IL-17 profiles. J Neuroimmunol 215:10–24

Ahern GP (2011) 5-HT and the immune system. Curr Opin Pharmacol 11:29–33

Barr TA, Shen P, Brown S, Lampropoulou V, Roch T, Lawrie S, Fan B, O'Connor RA, Anderton SM, Bar-Or A, Fillatreau S, Gray D (2012) B cell depletion therapy ameliorates autoimmune disease through ablation of IL-6-producing B cells. J Exp Med 209:1001–1010

Benito C, Romero JP, Tolón RM, Clemente D, Docagne F, Hillard CJ, Guaza C, Romero J (2007) Cannabinoid CB1 and CB2 receptors and fatty acid amide hydrolase are specific markers of plaque cell subtypes in human multiple sclerosis. J Neurosci 27:2396–2402

Ben-Nun A, Cohen IR (1982) Experimental autoimmune encephalomyelitis (EAE) mediated by T cell lines: process of selection of lines and characterization of the cells. J Immunol 129:303–308

Billiau A, Heremans H, Vandekerckhove F, Dijkmans R, Sobis H, Meulepas E, Carton H (1988) Enhancement of experimental allergic encephalomyelitis in mice by antibodies against IFN-gamma. J Immunol 140:1506–1510

Booz GW (2011) Cannabidiol as an emergent therapeutic strategy for lessening the impact of inflammation on oxidative stress. Free Radic Biol Med 1054–1061

Burger D (2000) Cell contact-mediated signaling of monocytes by stimulated T cells: a major pathway for cytokine induction. Eur Cytokine Netw 11:346–353

Cencioni MT, Chiurchiù V, Catanzaro G, Borsellino G, Bernardi G, Battistini L, Maccarrone M (2010) Anandamide suppresses proliferation and cytokine release from primary human T-lymphocytes mainly via CB2 receptors. PLoS One 5:e8688

Correa F, Hernangómez-Herrero M, Mestre L, Loría F, Docagne F, Guaza C (2011) The endocannabinoid anandamide downregulates IL-23 and IL-12 subunits in a viral model of multiple sclerosis: evidence for a cross-talk between IL-12p70/IL-23 axis and IL-10 in microglial cells. Brain Behav Immun 25:736–749

De Filippis D, Iuvone T, D'Amico A, Esposito G, Steardo L, Herman AG, Pelckmans PA, de Winter BY, de Man JG (2008) Effect of cannabidiol on sepsis-induced motility disturbances in mice: involvement of CB receptors and fatty acid amide hydrolase. Neurogastroenterol Motil 8:919–927

De Filippis D, Esposito G, Cirillo C, Cipriano M, De Winter BY, Scuderi C, Sarnelli G, Cuomo R, Steardo L, De Man JG, Iuvone T (2011) Cannabidiol reduces intestinal inflammation through the control of neuroimmune axis. PLoS One 6:e28159. doi:10.1371/journal.pone.0028159

El-Remessy AB, Al-Shabrawey M, Khalifa Y, Tsai NT, Caldwell RB, Liou GI (2006) Neuroprotective and blood-retinal barrier-preserving effects of cannabidiol in experimental diabetes. Am J Pathol 168:235–244

Esposito G, Scuderi C, Valenza M, Togna GI, Latina V, De Filippis D, Cipriano M, Carratù MR, Iuvone T, Steardo L (2011) Cannabidiol reduces Aβ-induced neuroinflammation and promotes hippocampal neurogenesis through PPARγ involvement. PLoS One 6:e28668. doi:10.1371/journal.pone.0028668

Feldmann M, Maini RN (2010) Anti-TNF therapy, from rationale to standard of care: what lessons has it taught us? J Immunol 185:791–794

Ferber IA, Brocke S, Taylor-Edwards C, Ridgway W, Dinisco C, Steinman L, Dalton D, Fathman CG (1996) Mice with a disrupted IFN-gamma gene are susceptible to the induction of experimental autoimmune encephalomyelitis (EAE). J Immunol 156:5–7

Fouser LA, Wright JF, Dunussi-Joannopoulos K, Collins M (2008) Th17 cytokines and their emerging roles in inflammation and autoimmunity. Immunol Rev 226:87–102

Harrington LE, Hatton RD, Mangan PR, Turner H, Murphy TL, Weaver CT (2005) Interleukin 17-producing CD4+ effector T cells develop via a lineage distinct from the T helper type 1 and 2 lineages. Nat Immunol 6:1123–1132

Hegde VL, Nagarkatti PS, Nagarkatti M (2011) Role of myeloid-derived suppressor cells in amelioration of experimental autoimmune hepatitis following activation of TRPV1 receptors by cannabidiol. PLoS One 6:e18281

Hillard CJ, Harris RA, Bloom AS (1985) Effects of the cannabinoids on physical properties of brain membranes and phospholipid vesicles: fluorescence studies. J Pharmacol Exp Ther 232:579–588

Izzo AA, Borrelli F, Capasso R, Di Marzo V, Mechoulam R (2009) Non-psychotropic plant cannabinoids: new therapeutic opportunities from an ancient herb. Trends Pharmacol Sci 30:515–527

Juknat A, Pietr M, Kozela E, Rimmerman N, Levy R, Gao F, Coppola G, Geschwind D, Vogel Z (2013) Microarray and pathway analysis reveal distinct mechanisms underlying cannabinoid-mediated modulation of LPS-induced activation of BV-2 microglial cells. PLoS One 8:e61462

Kaplan BL, Rockwell CE, Kaminski NE (2003) Evidence for cannabinoid receptor-dependent and -independent mechanisms of action in leukocytes. J Pharmacol Exp Ther 306:1077–1085

Kawakami N, Odoardi F, Ziemssen T, Bradl M, Ritter T, Neuhaus O, Lassmann H, Wekerle H, Flügel AJ (2005) Autoimmune CD4+ T cell memory: lifelong persistence of encephalitogenic T cell clones in healthy immune repertoires. Immunology 175:69–81

Kebir H, Kreymborg K, Ifergan I, Dodelet-Devillers A, Cayrol R, Bernard M, Giuliani F, Arbour N, Becher B, Prat A (2007) Human TH17 lymphocytes promote blood–brain barrier disruption and central nervous system inflammation. Nat Med 13:1173–1175

Komiyama Y, Nakae S, Matsuki T, Nambu A, Ishigame H, Kakuta S, Sudo K, Iwakura Y (2006) IL-17 plays an important role in the development of experimental autoimmune encephalomyelitis. J Immunol 177:566–573

Kozela E, Pietr M, Juknat A, Rimmerman N, Levy R, Vogel Z (2010) Cannabinoids Delta(9)-tetrahydrocannabinol and cannabidiol differentially inhibit the lipopolysaccharide-activated NFkappaB and interferon-β/STAT proinflammatory pathways in BV-2 microglial cells. J Biol Chem 285:1616–1626

Kozela E, Lev N, Kaushansky N, Eilam R, Rimmerman N, Levy R, Ben-Nun A, Juknat A, Vogel Z (2011) Cannabidiol inhibits pathogenic T cells, decreases spinal microglial activation and ameliorates multiple sclerosis-like disease in C57BL/6 mice. Br J Pharmacol 163:1507–1519

Lenercept Multiple Sclerosis Study Group, and the University of British Columbia MS/MRI Analysis Group (1999) TNF neutralization in MS: results of a randomized, placebo-controlled multicenter study. Neurology 53:457–465

Ligresti A, Moriello AS, Starowicz K, Matias I, Pisanti S, De Petrocellis L, Laezza C, Portella G, Bifulco M, Di Marzo V (2006) Antitumor activity of plant cannabinoids with emphasis on the effect of cannabidiol on human breast carcinoma. J Pharmacol Exp Ther 318:1375–1387

Link H (1998) The cytokine storm in multiple sclerosis. Mult Scler 4:12–15

Liu J, Marino MW, Wong G, Grail D, Dunn A, Bettadapura J, Slavin AJ, Old L, Bernard CC (1998) TNF is a potent anti-inflammatory cytokine in autoimmune-mediated demyelination. Nat Med 4:78–83

Lucchinetti C, Brück W, Parisi J, Scheithauer B, Rodriguez M, Lassmann H (2000) Heterogeneity of multiple sclerosis lesions: implications for the pathogenesis of demyelination. Ann Neurol 47:707–717

Lyman WD, Sonett JR, Brosnan CF, Elkin R, Bornstein MB (1989) Delta 9-tetrahydrocannabinol: a novel treatment for experimental autoimmune encephalomyelitis. J Neuroimmunol 23:73–81

Mackie K (2005) Distribution of cannabinoid receptors in the central and peripheral nervous system. Handb Exp Pharmacol 168:299–325

Maddur MS, Miossec P, Kaveri SV, Bayry J (2012) Th17 cells: biology, pathogenesis of autoimmune and inflammatory diseases, and therapeutic strategies. Am J Pathol 181:8–18

Malfait AM, Gallily R, Sumariwalla PF, Malik AS, Andreakos E, Mechoulam R, Feldmann M (2000) The nonpsychoactive cannabis constituent cannabidiol is an oral anti-arthritic therapeutic in murine collagen-induced arthritis. Proc Natl Acad Sci 97:9561–9566

Maresz K, Pryce G, Ponomarev ED, Marsicano G, Croxford JL, Shriver LP, Ledent C, Cheng X, Carrier EJ, Mann MK, Giovannoni G, Pertwee RG, Yamamura T, Buckley NE, Hillard CJ, Lutz B, Baker D, Dittel BN (2007) Direct suppression of CNS autoimmune inflammation via the cannabinoid receptor CB1 on neurons and CB2 on autoreactive T cells. Nat Med 13:492–497

Matusevicius D, Kivisäkk P, He B, Kostulas N, Ozenci V, Fredrikson S, Link H (1999) Interleukin-17 mRNA expression in blood and CSF mononuclear cells is augmented in multiple sclerosis. Mult Scler 5:101–104

Mishima K, Hayakawa K, Abe K, Ikeda T, Egashira N, Iwasaki K, Fujiwara M (2005) Cannabidiol prevents cerebral infarction via a serotonergic 5-hydroxytryptamine1A receptor-dependent mechanism. Stroke 36:1077–1082

Mustafa A, Gillmeister L, Hernandez WP, Larsen CT, Witonsky S, Holladay SD, Kerr RP, Ahmed SA, Santo A, Gogal RM Jr (2008) Viability and function in lymphocytes cultured from the horse, chicken, and mouse: effects of different leukocyte enrichment techniques. J Immunoass Immunochem 29:370–389

Nagarkatti P, Pandey R, Rieder SA, Hegde VL, Nagarkatti M (2009) Cannabinoids as novel anti-inflammatory drugs. Future Med Chem 1:1333–1349

Newton C, Klein T, Friedman H (1998) The role of macrophages in THC-induced alteration of the cytokine network. Adv Exp Med Biol 437:207–214

Oestreich KJ, Weinmann AS (2012) Master regulators or lineage-specifying? Changing views on CD4+ T cell transcription factors. Nat Rev Immunol 12:799–804

O'Sullivan SE, Kendall DA (2010) Cannabinoid activation of peroxisome proliferator-activated receptors: potential for modulation of inflammatory disease. Immunobiology 215:611–616

Panitch HS, Hirsch RL, Schindler J, Johnson KP (1987) Treatment of multiple sclerosis with gamma interferon: exacerbations associated with activation of the immune system. Neurology 37:1097–1102

Pazos MR, Mohammed N, Lafuente H, Santos M, Martínez-Pinilla E, Moreno E, Valdizan E, Romero J, Pazos A, Franco R, Hillard CJ, Alvarez FJ, Martínez-Orgado J (2013) Mechanisms of cannabidiol neuroprotection in hypoxic-ischemic newborn pigs: role of 5HT1A and CB2 receptors. Neuropharmacology 71:282–291

Pertwee RG (2005) Inverse agonism and neutral antagonism at cannabinoid CB1 receptors. Life Sci 76:1307–1324

Petereit HF, Richter N, Pukrop R, Bamborschke S (2000) Interferon gamma production in blood lymphocytes correlates with disability score in multiple sclerosis patients. Mult Scler 6:19–23

Puffenbarger RA, Boothe AC, Cabral GA (2000) Cannabinoids inhibit LPS-inducible cytokine mRNA expression in rat microglial cells. Glia 29:58–69

Rieder SA, Chauhan A, Singh U, Nagarkatti M, Nagarkatti P (2010) Cannabinoid-induced apoptosis in immune cells as a pathway to immunosuppression. Immunobiology 215:598–560

Rimmerman N, Juknat A, Kozela E, Levy R, Bradshaw HB, Vogel Z (2011) The non-psychoactive plant cannabinoid, cannabidiol affects cholesterol metabolism-related genes in microglial cells. Cell Mol Neurobiol 31:921–930

Rimmerman N, Kozela E, Levy R, Vogel Z, Juknat A (2013) Cannabinoid signaling through non-CB1, -non-CB2 GPCR targets in microglia. In: Abood ME, Sorensen RG, Stella N (eds) Endocannabinoids: actions at non-CB1/CB2 cannabinoid receptors. Springer, New York, pp 143–171

Rott O, Fleischer B, Cash E (1994) Interleukin-10 prevents experimental allergic encephalomyelitis in rats. Eur J Immunol 24:1434–1440

Saeki K, Fukuyama S, Ayada T, Nakaya M, Aki D, Takaesu G, Hanada T, Matsumura Y, Kobayashi T, Nakagawa R, Yoshimura A (2009) A major lipid raft protein raftlin modulates T cell receptor signaling and enhances th17-mediated autoimmune responses. J Immunol 182:5929–3597

Samoilova EB, Horton JL, Hilliard B, Liu TS, Chen Y (1998) IL-6-deficient mice are resistant to experimental autoimmune encephalomyelitis: roles of IL-6 in the activation and differentiation of autoreactive T cells. J Immunol 161:6480–6486

Shevach EM (2011) Animal models for autoimmune and inflammatory diseases. In: Coligan JE, Kruisbeek AM, Margulies DH, Shevach EM, Strober W (eds) Current protocols in immunology. John Wiley & Sons, New York, pp 15.0.1–15.0.5

Showalter VM, Compton DR, Martin BR, Abood ME (1996) Evaluation of binding in a transfected cell line expressing a peripheral cannabinoid receptor (CB2): identification of cannabinoid receptor subtype selective ligands. J Pharmacol Exp Ther 278:989–999

Siffrin V, Radbruch H, Glumm R, Niesner R, Paterka M, Herz J, Leuenberger T, Lehmann SM, Luenstedt S, Rinnenthal JL, Laube G, Luche H, Lehnardt S, Fehling HJ, Griesbeck O, Zipp F (2010) In vivo imaging of partially reversible th17 cell-induced neuronal dysfunction in the course of encephalomyelitis. Immunity 33:424–436

Sospedra M, Martin R (2005) Immunology of multiple sclerosis. Annu Rev Immunol 23:683–747

Steinman L (2007) A brief history of T(H)17, the first major revision in the T(H)1/T(H)2 hypothesis of T cell-mediated tissue damage. Nat Med 13:139–145

Stern JN, Keskin DB, Zhang H, Lv H, Kato Z, Strominger JL (2008) Amino acid copolymer-specific IL-10-secreting regulatory T cells that ameliorate autoimmune diseases in mice. Proc Natl Acad Sci U S A 105:5172–5176

Tanasescu R, Constantinescu CS (2010) Cannabinoids and the immune system: an overview. Immunobiology 215:588–597

Tuohy VK, Yu M, Yin L, Mathisen PM, Johnson JM, Kawczak JA (2000) Modulation of the IL-10/IL-12 cytokine circuit by interferon-beta inhibits the development of epitope spreading and disease progression in murine autoimmune encephalomyelitis. J Neuroimmunol 111:55–63

Veldhoen M, Hocking RJ, Atkins CJ, Locksley RM, Stockinger B (2006) TGFbeta in the context of an inflammatory cytokine milieu supports de novo differentiation of IL-17-producing T cells. Immunity 24:179–189

van Zwam M, Huizinga R, Melief MJ, Wierenga-Wolf AF, van Meurs M, Voerman JS, Biber KP, Boddeke HW, Höpken UE, Meisel C, Meisel A, Bechmann I, Hintzen RQ, 't Hart BA, Amor S, Laman JD, Boven LA (2009) Brain antigens in functionally distinct antigen-presenting cell populations in cervical lymph nodes in MS and EAE. J Mol Med (Berl) 87:273–286

Weiss L, Zeira M, Reich S, Har-Noy M, Mechoulam R, Slavin S, Gallily R (2006) Cannabidiol lowers incidence of diabetes in non-obese diabetic mice. Autoimmunity 39:143–151

Wekerle H (1999) Remembering MOG: autoantibody mediated demyelination in multiple sclerosis? Nat Med 5:153–154

Willenborg DO, Fordham S, Bernard CC, Cowden WB, Ramshaw IA (1996) IFN-gamma plays a critical down-regulatory role in the induction and effector phase of myelin oligodendrocyte glycoprotein-induced autoimmune encephalomyelitis. J Immunol 157:3223–3227

Yura M, Takahashi I, Serada M, Koshio T, Nakagami K, Yuki Y, Kiyono H (2001) Role of MOG-stimulated Th1 type "light up" (GFP+) CD4+ T cells for the development of experimental autoimmune encephalomyelitis (EAE). J Autoimmun 17:17–25

Zhang L, Yuan S, Cheng G, Guo B (2011) Type I IFN promotes IL-10 production from T cells to suppress Th17 cells and Th17-associated autoimmune inflammation. PLoS One 6:e28432

Zhou L, Ivanov II, Spolski R, Min R, Shenderov K, Egawa T, Levy DE, Leonard WJ, Littman DR (2007) IL-6 programs T(H)-17 cell differentiation by promoting sequential engagement of the IL-21 and IL-23 pathways. Nat Immunol 8:967–974
Acknowledgments
This work was supported by the Dr Miriam and Sheldon G. Adelson Medical Research Foundation. A.J. is supported by the Israeli Ministry for Absorption in Science.
Disclosure statement
The authors declare that they have no conflict of interest.
About this article
Cite this article
Kozela, E., Juknat, A., Kaushansky, N. et al. Cannabinoids Decrease the Th17 Inflammatory Autoimmune Phenotype. J Neuroimmune Pharmacol 8, 1265–1276 (2013). https://doi.org/10.1007/s11481-013-9493-1
Received:

Accepted:

Published:

Issue Date:
Keywords
Cannabinoid

EAE

Encephalitogenic T cells

IL-17

IL-6

IL-10