Abstract
Cannabinoids are known to have anti-inflammatory and immunomodulatory properties. Cannabinoid receptor 2 (CB2) is expressed mainly on leukocytes and is the receptor implicated in mediating many of the effects of cannabinoids on immune processes. This study tested the capacity of Δ9-tetrahydrocannabinol (Δ9-THC) and of two CB2-selective agonists to inhibit the murine Mixed Lymphocyte Reaction (MLR), an in vitro correlate of graft rejection following skin and organ transplantation. Both CB2-selective agonists and Δ9-THC significantly suppressed the MLR in a dose dependent fashion. The inhibition was via CB2, as suppression could be blocked by pretreatment with a CB2-selective antagonist, but not by a CB1 antagonist, and none of the compounds suppressed the MLR when splenocytes from CB2 deficient mice were used. The CB2 agonists were shown to act directly on T-cells, as exposure of CD3+ cells to these compounds completely inhibited their action in a reconstituted MLR. Further, the CB2-selective agonists completely inhibited proliferation of purified T-cells activated by anti-CD3 and anti-CD28 antibodies. T-cell function was decreased by the CB2 agonists, as an ELISA of MLR culture supernatants revealed IL-2 release was significantly decreased in the cannabinoid treated cells. Together, these data support the potential of this class of compounds as useful therapies to prolong graft survival in transplant patients.
Access options
Buy single article
Instant access to the full article PDF.
US$ 39.95
Tax calculation will be finalised during checkout.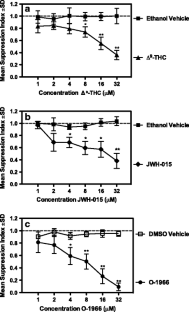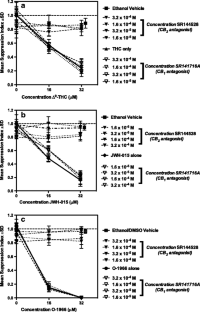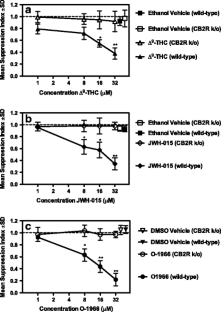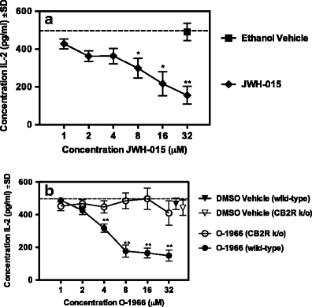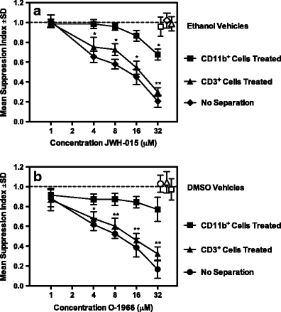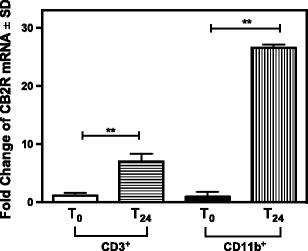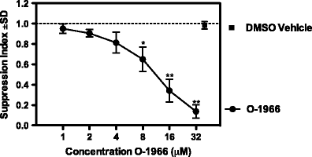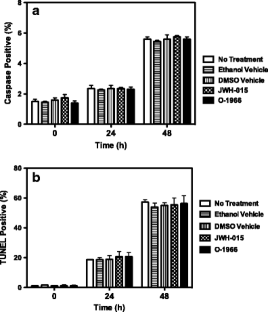 References
Adhikary S, Li H, Heller J, Skarica M, Zhang M, Ganea D, Tuma RF (2011) Modulation of inflammatory responses by a cannabinoid-2-selective agonist after spinal cord injury. J Neurotrauma 28:1–11. doi:10.1089/neu.2011.1853

Adhikary S, Kocieda VP, Yen JH, Tuma RF, Ganea D (2012) Signaling through cannabinoid receptor 2 suppresses murine dendritic cell migration by inhibiting matrix metalloproteinase 9 expression. Blood 120:3741–3749. doi:10.1182/blood-2012-06-435362

Baty DE, Zhang M, Li H, Erb CJ, Adler MW, Ganea D, Loftus CM, Jallo JI, Tuma RF (2008) Cannabinoid CB2 receptor activation attenuates motor and autonomic function deficits in a mouse model of spinal cord injury. Clin Neurosurg 55:172–177. doi:10.1227/01.neu.0000279910.45183.15

Borner C, Smida M, Hollt V, Schraven B, Kraus J (2009) Cannabinoid receptor type 1- and 2-mediated increase in cyclic AMP inhibits T cell receptor-triggered signaling. J Biol Chem 284:35450–35460. doi:10.1074/jbc.M109.006338

Cencioni MT, Chiurchiu V, Catanzaro G, Borsellino G, Bernardi G, Battistini L, Maccarrone M (2010) Anandamide suppresses proliferation and cytokine release from primary human T-lymphocytes mainly via CB2 receptors. PLoS ONE 5:e8688. doi:10.1371/journal.pone.0008688, Electronic Resource

Colvin-Adams M, Smith JM, Heubner BM, Skeans MA, Edwards LB, Waller C, Snyder JJ, Israni AK, Kasiske BL (2013) OPTN/SRTR 2011 annual data report: heart. Am J Transplant 13:119–148. doi:10.1111/ajt.12023

Coopman K, Smith LD, Wright KL, Ward SG (2007) Temporal variation in CB2R levels following T lymphocyte activation: evidence that cannabinoids modulate CXCL12-induced chemotaxis. Int Immunopharm 7:360–371. doi:10.1016/j.intimp.2006.11.008

Croxford JL, Yamamura T (2005) Cannabinoids and the immune system: potential for the treatment of inflammatory diseases? J Neuroimmunol 166:3–18. doi:10.1016/j.jneuroim.2005.04.023

Daaka Y, Friedman H, Klein TW (1996) Cannabinoid receptor proteins are increased in Jurkat, human T-cell line after mitogen activation. J Pharmacol Exp Ther 276:776–783

Eisenstein TK, Meissler JJ, Wilson Q, Gaughan JP, Adler MW (2007) Anandamide and Δ9-tetrahydrocannabinol directly inhibit cells of the immune system via CB2 receptors. J Neuroimmunol 189:17–22. doi:10.1016/j.jneuroim.2007.06.001

Fraga D, Raborn ES, Ferreira GA, Cabral GA (2011) Cannabinoids inhibit migration of microglial-like cells to the HIV protein Tat. J Neuroimmune Pharmacol 6:566–577. doi:10.1007/s11481-011-9291-6

Galiegue S, Mary S, Marchand J, Dussossoy D, Carriere D, Carayon P, Bouaboula M, Shire D, Le Fur G, Casellas P (1995) Expression of central and peripheral cannabinoid receptors in human immune tissues and leukocyte subpopulations. Eur J Biochem 232:54–61. doi:10.1111/j.1432-1033.1995.tb20780.x

Ghosh S, Preet A, Groopman JE, Ganju RK (2006) Cannabinoid receptor CB2 modulates the CXCL12/CXCR4-mediated chemotaxis of T lymphocytes. Mol Immunol 43:2169–2179. doi:10.1016/j.molimm.2006.01.005

Gong JP, Onaivi ES, Ishiguro H, Liu QR, Tagliaferro PA, Brusco A, Uhl GR (2006) Cannabinoid CB2 receptors: immunohistochemical localization in rat brain. Brain Res 1071:10–23. doi:10.1016/j.brainres.2005.11.035

Gupta S, Grieco MH, Cushman P (1974) Impairment of rosette-forming T lymphocytes in chronic marihuana smokers. N Engl J Med 291:874–877. doi:10.1056/NEJM197410242911704

Heeger PS (2003) T-cell allorecognition and transplant rejection: a summary and update. Am J Transplant 3:525–533. doi:10.1034/j.1600-6143.2003.00123.x

Herkenham M, Lynn AB, Johnson MR, Melvin LS, de Costa BR, Rice KC (1991) Characterization and localization of cannabinoid receptors in rat brain: a quantitative in vitro autoradiographic study. J Neurosci 11:563–583

Howlett AC, Barth F, Bonner TI, Cabral G, Casellas P, Devane WA, Felder CC, Herkenham M, Mackie K, Martin BR, Mechoulam R, Pertwee RG (2002) International union of pharmacology. XXVII. Classification of cannabinoid receptors. Pharmacol Rev 54:161–202. doi:10.1124/pr.54.2.161

Hoyer FF, Steinmetz M, Zimmer S, Becker A, Lutjohann D, Buchalla R, Zimmer A, Nickenig G (2011) Atheroprotection via cannabinoid receptor-2 is mediated by circulating and vascular cells in vivo. J Mol Cell Cardiol 51:1007–1014. doi:10.1016/j.yjmcc.2011.08.008

Huffman JW, Yu S, Showalter V, Abood ME, Wiley JL, Compton DR, Martin BR, Bramblett RD, Reggio PH (1996) Synthesis and pharmacology of a very potent cannabinoid lacking a phenolic hydroxyl with high affinity for the CB2 receptor. J Med Chem 39:3875–3877. doi:10.1021/jm960394y

Huffman JW, Liddle J, Yu S, Aung MM, Abood ME, Wiley JL, Martin BR (1999) 3-(1′,1′-dimethylbutyl)-1-deoxy-Δ8-THC and related compounds: synthesis of selective ligands for the CB2 receptor. Bioorg Med Chem 7:2905–2914. doi:10.1016/S0968-0896(99)00219-9

Huffman JW, Zengin G, Wu MJ, Lu J, Hynd G, Bushell K, Thompson AL, Bushell S, Tartal C, Hurst DP, Reggio PH, Selley DE, Cassidy MP, Wiley JL, Martin BR (2005) Structure-activity relationships for 1-alkyl-3-(1-naphthoyl)indoles at the cannabinoid CB(1) and CB(2) receptors: steric and electronic effects of naphthoyl substituents. New highly selective CB(2) receptor agonists. Bioorg Med Chem 13:89–112. doi:10.1016/j.bmc.2004.09.050

Ihenetu K, Molleman A, Parsons M, Whelan C (2003) Pharmacological characterisation of cannabinoid receptors inhibiting interleukin 2 release from human peripheral blood mononuclear cells. Eur J Pharmacol 464:207–215. doi:10.1016/S0014-2999(03)01379-7

Johnson RJ, Wiersema V (1974) Repression of bone marrow leukopoiesis by Δ9-tetrahydrocannabinol (Δ9-THC). Res Commun Chem Pathol Pharmacol 7:613–616

Kandaswamy R, Stock PG, Skeans MA, Gustafson SK, Sleeman EF, Wainright JL, Carrico RJ, Ghimire V, Snyder JJ, Israni AK, Kasiske BL (2013) OPTN/SRTR 2011 annual data report: pancreas. Am J Transplant 13:47–72. doi:10.1111/ajt.12020

Kim WR, Stock PG, Smith JM, Heimbach JK, Skeans MA, Edwards EB, Harper AM, Snyder JJ, Israni AK, Kasiske BL (2013) OPTN/SRTR 2011 annual data report: liver. Am J Transplant 13:73–102. doi:10.1111/ajt.12021

Klein TW, Cabral GA (2006) Cannabinoid-induced immune suppression and modulation of antigen-presenting cells. J Neuroimm Pharmacol 1:50–64. doi:10.1007/s11481-005-9007-x

Klein TW, Newton CA, Widen R, Friedman H (1985) The effect of delta-9-tetrahydrocannabinol and 11-hydroxy-delta-9-tetrahydrocannabinol on T-lymphocyte and B-lymphocyte mitogen responses. J Immunopharmac 7:451–466. doi:10.3109/08923978509026487

Klein TW, Newton C, Larsen K, Lu L, Perkins I, Nong L, Friedman H (2003) The cannabinoid system and immune modulation. J Leukoc Biol 74:486–496. doi:10.1189/jlb.0303101

Lombard C, Nagarkatti M, Nagarkatti P (2007) CB2 cannabinoid receptor agonist, JWH-015, triggers apoptosis in immune cells: potential role for CB2-selective ligands as immunosuppressive agents. Clin Immunol 122:259–270. doi:10.1016/j.clim.2006.11.002

Maresz K, Pryce G, Ponomarev ED, Marsicano G, Croxford JL, Shriver LP, Ledent C, Cheng X, Carrier EJ, Mann MK, Giovannoni G, Pertwee RG, Yamamura T, Buckley NE, Hillard CJ, Lutz B, Baker D, Dittel BN (2007) Direct suppression of CNS autoimmune inflammation via the cannabinoid receptor CB1 on neurons and CB2 on autoreactive T cells. Nature Med 13:492–497. doi:10.1038/nm1561

Marriott KS, Huffman JW, Wiley JL, Martin BR (2006) Synthesis and pharmacology of 11-nor-1-methoxy-9-hydroxyhexahydrocannabinols and 11-nor-1-deoxy-9-hydroxyhexahydrocannabinols: new selective ligands for the cannabinoid CB2 receptor. Bioorg Med Chem 14:2386–2397. doi:10.1016/j.bmc.2005.11.023

Matsuda LA, Lolait SJ, Brownstein MJ, Young AC, Bonner TI (1990) Structure of a cannabinoid receptor and functional expression of the cloned cDNA. Nature 346:561–564. doi:10.1038/346561a0

McCoy KL, Matveyeva M, Carlisle SJ, Cabral GA (1999) Cannabinoid inhibition of the processing of intact lysozyme by macrophages: evidence for CB2 receptor participation. J Pharmacol Exp Ther 289:1620–1625

McKallip RJ, Lombard C, Martin BR, Nagarkatti M, Nagarkatti PS (2002) Δ9-tetrahydrocannabinol-induced apoptosis in the thymus and spleen as a mechanism of immunosuppression in vitro and in vivo. J Pharmacol Exp Ther 302:451–465. doi:10.1124/jpet.102.033506

Merville P (2005) Combating chronic renal allograft dysfunction: optimal immunosuppressive regimens. Drugs 65:615–631. doi:10.2165/00003495-200565050-00004

Munro S, Thomas KK, Abu-Shaar M (1993) Molecular characterization of a peripheral receptor for cannabinoids. Nature 365:61–65. doi:10.1038/365061a0

Murikinati S, Jüttler E, Keinert T, Ridder DA, Muhammad S, Waibler Z, Ledent C, Zimmer A, Kalinke U, Schwaninger M (2010) Activation of cannabinoid 2 receptors protects against cerebral ischemia by inhibiting neutrophil recruitment. FASEB J 24:788–798. doi:10.1096/fj.09-141275

Nagarkatti M, Rieder SA, Hegde VL, Kanada S, Nagarkatti P (2010) Do cannabinoids have a therapeutic role in transplantation? Trends Pharmacol Sci 31:345–350. doi:10.1016/j.tips.2010.05.006

Nahas GG, Suciu-Foca N, Armand JP, Morishima A (1974) Inhibition of cellular mediated immunity in marihuana smokers. Science 183:419–420. doi:10.1126/science.183.4123.419

Nahas GG, Morishima A, Desoize B (1977) Effects of cannabinoids on macromolecular synthesis and replication of cultured lymphocytes. Fed Proc 36:1748–1752

Neu RL, Powers HO, King S, Gardner LI (1970) Δ8- and Δ9-tetrahydrocannabinol: effects on cultured human leucocytes. J Clin Pharmacol New Drugs 10:228–230

Newton CA, Chou JP, Perkins I, Klein TW (2009) CB1 and CB2 cannabinoid receptors mediate different aspects of Δ9-tetrahydrocannabinol (THC)-induced T helper cell shift following immune activation by Legionella pneumophila infection. J Neuroimm Pharmacol 4:92–102. doi:10.1007/s11481-008-9126-2

Ngaotepprutaram T, Kaplan BL, Crawford RB, Kaminski NE (2012) Differential modulation by Δ9-tetrahydrocannabinol (Δ9-THC) of CD40 ligand (CD40L) expression in activated mouse splenic CD4+ T cells. J Neuroimmune Pharmacol 7:969–980. doi:10.1007/s11481-012-9390-z

Ni X, Geller EB, Eppihimer MJ, Eisenstein TK, Adler MW, Tuma RF (2004) Win 55212–2, a cannabinoid receptor agonist, attenuates leukocyte/endothelial interactions in an experimental autoimmune encephalomyelitis mode. Mult Scler 10:158–164. doi:10.1191/1352458504ms1009oa

Ofek O, Karsak M, Leclerc N, Fogel M, Frenkel B, Wright K, Tam J, Attar-Namdar M, Kram V, Shohami E, Mechoulam R, Zimmer A, Bab I (2006) Peripheral cannabinoid receptor, CB2, regulates bone mass. Proc Natl Acad Sci USA 103:696–701. doi:10.1073/pnas.0504187103

Onaivi ES, Ishiguro H, Gong JP, Patel S, Meozzi PA, Myers L, Perchuk A, Mora Z, Tagliaferro PA, Gardner E, Brusco A, Akinshola BE, Liu QR, Chirwa SS, Hope B, Lujilde J, Inada T, Iwasaki S, Macharia D, Teasenfitz L, Arinami T, Uhl GR (2008) Functional expression of brain neuronal CB2 cannabinoid receptors are involved in the effects of drugs of abuse and in depression. Ann N Y Acad Sci 1139:434–449. doi:10.1196/annals.1432.036

Rajesh M, Mukhopadhyay P, Bátkai S, Haskó G, Liaudet L, Huffman JW, Csiszar A, Ungvari Z, Mackie K, Chatterjee S, Pacher P (2007) CB2-receptor stimulation attenuates TNF-α-induced human endothelial cell activation, transendothelial migration of monocytes, and monocyte-endothelial adhesion. Am J Physiol 293:H2210–H2218. doi:10.1152/ajpheart.00688.2007

Ramirez SH, Hasko J, Skuba A, Fan S, Dykstra H, McCormick R, Reichenbach N, Krizbai I, Mahedevan A, Zhang M, Tuma R, Son YJ, Persidsky Y (2012) Activation of cannabinoid receptor 2 attenuates leukocyte-endothelial cell interactions and blood–brain barrier dysfunction under inflammatory conditions. J Neurosci 32:4004–4016. doi:10.1523/JNEUROSCI.4628-11.201

Roth MD (2002) Effects of Δ9-tetrahydrocannabinol on human immune function and host defense. Chem Phys Lipids 121:229–239. doi:10.1016/S0009-3084(02)00159-7

Servettaz A, Kavian N, Nicco C, Deveaux V, Chereau C, Wang A, Zimmer A, Lotersztajn S, Weill B, Batteux F (2010) Targeting the cannabinoid pathway limits the development of fibrosis and autoimmunity in a mouse model of systemic sclerosis. Am J Pathol 177:187–196. doi:10.2353/ajpath.2010.090763

Showalter VM, Compton DR, Martin BR, Abood ME (1996) Evaluation of binding in a transfected cell line expressing a peripheral cannabinoid receptor (CB2): identification of cannabinoid receptor subtype selective ligands. J Pharmacol Exp Ther 278:989–999

Smith JM, Skeans MA, Thompson B, Horslen SP, Edwards EB, Harper AM, Snyder JJ, Israni AK, Kasiske BL (2013) OPTN/SRTR 2011 annual data report: intestine. Am J Transplant 13:103–118. doi:10.1111/ajt.12022

Springs AEB, Karmaus PWF, Crawford RB, Kaplan BLF, Kaminski NE (2008) Effects of targeted deletion of cannabinoid receptors CB1 and CB2 on immune competence and sensitivity to immune modulation by Δ9-tetrahydrocannabinol. J Leukoc Biol 84:1574–1584. doi:10.1189/jlb.0508282

Storr MA, Keenan CM, Zhang H, Patel KD, Makriyannis A, Sharkey KA (2009) Activation of the cannabinoid 2 receptor (CB2) protects against experimental colitis. Inflamm Bowel Dis 15:1678–1685. doi:10.1002/ibd.20960

Sumariwalla PF, Gallily R, Tchilibon S, Fride E, Mechoulam R, Feldmann M (2004) A novel synthetic, nonpsychoactive cannabinoid acid (HU-320) with antiinflammatory properties in murine collagen-induced arthritis. Arthritis Rheum 50:985–998. doi:10.1002/art.20050

Tschöp J, Kasten KR, Nogueiras R, Goetzman HS, Cave CM, England LG, Dattilo J, Lentsch AB, Tschöp MH, Caldwell CC (2009) The cannabinoid receptor 2 is critical for the host response to sepsis. J Immunol 183:499–505. doi:10.4049/jimmunol.0900203

Valapour M, Paulson K, Smith JM, Hertz MI, Skeans MA, Heubner BM, Edwards LB, Snyder JJ, Israni AK, Kasiske BL (2013) OPTN/SRTR 2011 annual data report: lung. Am J Transplant 13:149–177. doi:10.1111/ajt.12024

Van Sickle MD, Duncan M, Kingsley PJ, Mouihate A, Urbani P, Mackie K, Stella N, Patel KD, Sharkey KA (2005) Identification and functional characterization of brainstem cannabinoid CB2 receptors. Science 3100:329–332. doi:10.1126/science.1115740

Waksman Y, Olson JM, Carlisle SJ, Cabral GA (1999) The central cannabinoid receptor (CB1) mediates inhibition of nitric oxide production by rat microglial cells. J Pharmacol Exp Ther 288:1357–1366

Wiley JL, Beletskaya ID, Ng EW, Dai Z, Crocker PJ, Mahadevan A, Razdan RK, Martin BR (2002) Resorcinol derivatives: a novel template for the development of cannabinoid CB(1)/CB(2) and CB(2)-selective agonists. J Pharmacol Exp Ther 301:679–689. doi:10.1124/jpet.301.2.679

Xi ZX, Peng XQ, Li X, Song R, Zhang HY, Liu QR, Yang HJ, Bi GH, Li J, Gardner EL (2011) Brain cannabinoid CB2 receptors modulate cocaine's actions in mice. Nat Neurosci 14:1160–1166. doi:10.1038/nn.2874

Xu H, Cheng CL, Chen M, Manivannan A, Cabay L, Pertwee RG, Coutts A, Forrester JV (2007) Anti-inflammatory property of the cannabinoid receptor-2-selective agonist JWH-133 in a rodent model of autoimmune uveoretinitis. J Leukoc Biol 82:532–541. doi:10.1189/jlb.0307159

Yuan M, Kiertscher SM, Cheng Q, Zoumalan R, Tashkin DP, Roth MD (2002) Δ9-tetrahydrocannabinol regulates Th1/Th2 cytokine balance in activated human T cells. J Neuroimmunol 133:124–131. doi:10.1016/S0165-5728(02)00370-3

Zhang M, Martin BR, Adler MW, Razdan RK, Jallo JI, Tuma RF (2007) Cannabinoid CB2 receptor activation decreases cerebral infarction in a mouse focal ischemia/reperfusion model. J Cereb Blood Flow Metab 27:1387–1396. doi:10.1038/sj.jcbfm.9600447

Zhang M, Adler MW, Abood ME, Ganea D, Jallo J, Tuma RF (2009a) CB2 receptor activation attenuates microcirculatory dysfunction during cerebral ischemic/reperfusion injury. Microvasc Res 78:86–94. doi:10.1016/j.mvr.2009.03.005

Zhang M, Martin BR, Adler MW, Razdan RJ, Kong W, Ganea D, Tuma RF (2009b) Modulation of cannabinoid receptor activation as a neuroprotective strategy for EAE and stroke. J Neuroimm Pharmacol 4:249–259. doi:10.1007/s11481-009-9148-4

Zhu W, Igarashi T, Qi ZT, Newton C, Widen RE, Friedman H, Klein TW (1993) Δ9-tetrahydrocannabinol (THC) decreases the number of high and intermediate affinity IL-2 receptors of the IL-2 dependent cell line NKB61A2. Int J Immunopharmacol 15:401–408. doi:10.1016/0192-0561(93)90051-Y

Zhu LX, Sharma S, Stolina M, Gardner B, Roth MD, Tashkin DP, Dubinett SM (2000) Δ9-tetrahydrocannabinol inhibits antitumor immunity by a CB2 receptor-mediated, cytokine-dependent pathway. J Immunol 165:373–380
Acknowledgments
This work was supported by Temple University Tobacco Settlement Fund and NIDA grants DA13429, DA06650, and T32-DA07237.
Disclosure
The authors declare that they have no conflict of interest.
About this article
Cite this article
Robinson, R.H., Meissler, J.J., Breslow-Deckman, J.M. et al. Cannabinoids Inhibit T-cells via Cannabinoid Receptor 2 in an In Vitro Assay for Graft Rejection, the Mixed Lymphocyte Reaction. J Neuroimmune Pharmacol 8, 1239–1250 (2013). https://doi.org/10.1007/s11481-013-9485-1
Received:

Accepted:

Published:

Issue Date:
Keywords
Cannabinoids

Cannabinoid receptor 2

Mixed lymphocyte reaction

T-cells

Immunosuppression