Abstract
Phytocannabinoids like ∆9-tetrahydrocannabinol (THC) and cannabidiol (CBD) show a beneficial effect on neuroinflammatory and neurodegenerative processes through cell membrane cannabinoid receptor (CBr)-dependent and -independent mechanisms. Natural and synthetic cannabinoids also target the nuclear receptor peroxisome proliferator-activated receptor-gamma (PPARγ), an attractive molecular target for the treatment of neuroinflammation. As part of a study on the SAR of phytocannabinoids, we have investigated the effect of the oxidation modification in the resorcinol moiety of cannabigerol (CBG) on CB1, CB2 and PPARγ binding affinities, identifying cannabigerol quinone (VCE-003) as a potent anti-inflammatory agent. VCE-003 protected neuronal cells from excitotoxicity, activated PPARγ transcriptional activity and inhibited the release of pro-inflammatory mediators in LPS-stimulated microglial cells. Theiler's murine encephalomyelitis virus (TMEV) model of multiple sclerosis (MS) was used to investigate the anti-inflammatory activity of this compound in vivo. Motor function performance was evaluated and the neuroinflammatory response and gene expression pattern in brain and spinal cord were studied by immunostaining and qRT-PCR. We found that VCE-003 ameliorated the symptoms associated to TMEV infection, decreased microglia reactivity and modulated the expression of genes involved in MS pathophysiology. These data lead us to consider VCE-003 to have high potential for drug development against MS and perhaps other neuroinflammatory diseases.
Access options
Buy single article
Instant access to the full article PDF.
US$ 39.95
Tax calculation will be finalised during checkout.
Subscribe to journal
Immediate online access to all issues from 2019. Subscription will auto renew annually.
US$ 79
Tax calculation will be finalised during checkout.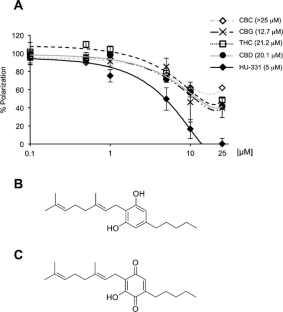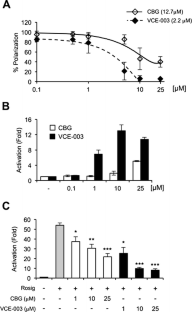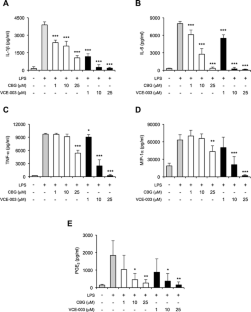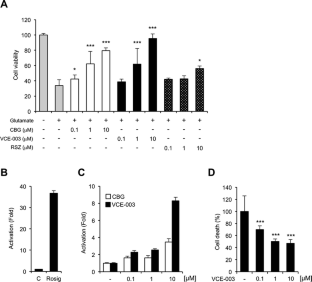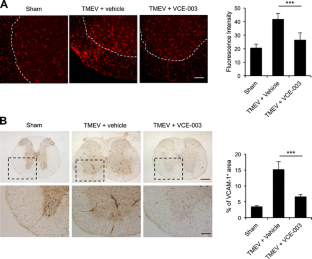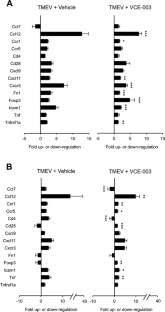 Abbreviations
CBD:

Cannabidiol

CBG:

Cannabigerol

EAE:

Experimental autoimmune encephalomyelitis

Foxp3:

Forkhead box P3

Icam-1:

Intercellular adhesion molecule 1

IDD:

Induced Demyelinating Disease

PGE2 :

Prostaglandin E2

PPAR:

Peroxisome proliferator-activated receptor

RSZ:

Rosiglitazone

THC:

Δ9-tetrahydrocannabinol

TMEV:

Theiler's Murine Encephalomyelitis Virus

VLA-4:

Very late antigen 4
References
Appendino G, Gibbons S, Giana A, Pagani A, Grassi G, Stavri M, Smith E, Rahman MM (2008) Antibacterial cannabinoids from Cannabis sativa: a structure-activity study. J Nat Prod 71(8):1427–1430. doi:10.1021/np8002673

Arevalo-Martin A, Molina-Holgado E, Guaza C (2012) A CB(1)/CB(2) receptor agonist, WIN 55,212-2, exerts its therapeutic effect in a viral autoimmune model of multiple sclerosis by restoring self-tolerance to myelin. Neuropharmacology 63(3):385–393. doi:10.1016/j.neuropharm.2012.04.012

Bauer J, Sminia T, Wouterlood FG, Dijkstra CD (1994) Phagocytic activity of macrophages and microglial cells during the course of acute and chronic relapsing experimental autoimmune encephalomyelitis. J Neurosci Res 38(4):365–375. doi:10.1002/jnr.490380402

Ben-Baruch A, Xu L, Young PR, Bengali K, Oppenheim JJ, Wang JM (1995) Monocyte chemotactic protein-3 (MCP3) interacts with multiple leukocyte receptors. C-C CKR1, a receptor for macrophage inflammatory protein-1 alpha/Rantes, is also a functional receptor for MCP3. J Biol Chem 270(38):22123–22128. doi:10.1074/jbc.270.38.22123

Bensinger SJ, Tontonoz P (2008) Integration of metabolism and inflammation by lipid-activated nuclear receptors. Nature 454(7203):470–477. doi:10.1038/nature07202

Benveniste EN (1997) Cytokines: influence on glial cell gene expression and function. Chem Immunol 69:31–75. doi:10.1159/000058653

Cascio MG, Gauson LA, Stevenson LA, Ross RA, Pertwee RG (2010) Evidence that the plant cannabinoid cannabigerol is a highly potent alpha2-adrenoceptor agonist and moderately potent 5HT1A receptor antagonist. Br J Pharmacol 159(1):129–141. doi:10.1111/j.1476-5381.2009.00515.x

Cole KE, Strick CA, Paradis TJ, Ogborne KT, Loetscher M, Gladue RP, Lin W, Boyd JG, Moser B, Wood DE, Sahagan BG, Neote K (1998) Interferon-inducible T cell alpha chemoattractant (I-TAC): a novel non-ELR CXC chemokine with potent activity on activated T cells through selective high affinity binding to CXCR3. J Exp Med 187(12):2009–2021. doi:10.1084/jem.187.12.2009

Cumella J, Hernandez-Folgado L, Giron R, Sanchez E, Morales P, Hurst DP, Gomez-Canas M, Gomez-Ruiz M, Pinto DC, Goya P, Reggio PH, Martin MI, Fernandez-Ruiz J, Silva AM, Jagerovic N (2012) Chromenopyrazoles: non-psychoactive and selective CB(1) cannabinoid agonists with peripheral antinociceptive properties. Chem Med Chem 7(3):452–463. doi:10.1002/cmdc.201100568, 536

de Oliveira AC, Candelario-Jalil E, Langbein J, Wendeburg L, Bhatia HS, Schlachetzki JC, Biber K, Fiebich BL (2012) Pharmacological inhibition of Akt and downstream pathways modulates the expression of COX-2 and mPGES-1 in activated microglia. J Neuroinflammation 9:2. doi:10.1186/1742-2094-9-2

De Petrocellis L, Vellani V, Schiano-Moriello A, Marini P, Magherini PC, Orlando P, Di Marzo V (2008) Plant-derived cannabinoids modulate the activity of transient receptor potential channels of ankyrin type-1 and melastatin type-8. J Pharmacol Exp Ther 325(3):1007–1015. doi:10.1124/jpet.107.134809

De Petrocellis L, Ligresti A, Moriello AS, Allara M, Bisogno T, Petrosino S, Stott CG, Di Marzo V (2011) Effects of cannabinoids and cannabinoid-enriched Cannabis extracts on TRP channels and endocannabinoid metabolic enzymes. Br J Pharmacol 163(7):1479–1494. doi:10.1111/j.1476-5381.2010.01166.x

Elices MJ, Osborn L, Takada Y, Crouse C, Luhowskyj S, Hemler ME, Lobb RR (1990) VCAM-1 on activated endothelium interacts with the leukocyte integrin VLA-4 at a site distinct from the VLA-4/fibronectin binding site. Cell 60(4):577–584. doi:0092-8674(90)90661-W

Esposito G, Scuderi C, Valenza M, Togna GI, Latina V, De Filippis D, Cipriano M, Carratu MR, Iuvone T, Steardo L (2011) Cannabidiol reduces Abeta-induced neuroinflammation and promotes hippocampal neurogenesis through PPARgamma involvement. PLoS One 6(12):e28668. doi:10.1371/journal.pone.0028668

Evans R, Patzak I, Svensson L, De Filippo K, Jones K, McDowall A, Hogg N (2009) Integrins in immunity. J Cell Sci 122(Pt 2):215–225. doi:10.1242/jcs.019117

Feger U, Luther C, Poeschel S, Melms A, Tolosa E, Wiendl H (2007) Increased frequency of CD4+ CD25+ regulatory T cells in the cerebrospinal fluid but not in the blood of multiple sclerosis patients. Clin Exp Immunol 147(3):412–418. doi:10.1111/j.1365-2249.2006.03271.x

Feinstein DL, Galea E, Gavrilyuk V, Brosnan CF, Whitacre CC, Dumitrescu-Ozimek L, Landreth GE, Pershadsingh HA, Weinberg G, Heneka MT (2002) Peroxisome proliferator-activated receptor-gamma agonists prevent experimental autoimmune encephalomyelitis. Ann Neurol 51(6):694–702. doi:10.1002/ana.10206

Franklin RJ, Ffrench-Constant C (2008) Remyelination in the CNS: from biology to therapy. Nat Rev Neurosci 9(11):839–855. doi:10.1038/nrn2480

Gao JL, Kuhns DB, Tiffany HL, McDermott D, Li X, Francke U, Murphy PM (1993) Structure and functional expression of the human macrophage inflammatory protein 1 alpha/RANTES receptor. J Exp Med 177(5):1421–1427. doi:10.1084/jem.177.5.1421

Glass CK, Saijo K, Winner B, Marchetto MC, Gage FH (2010) Mechanisms underlying inflammation in neurodegeneration. Cell 140(6):918–934. doi:10.1016/j.cell.2010.02.016

Gonzalez-Amaro R, Mittelbrunn M, Sanchez-Madrid F (2005) Therapeutic anti-integrin (alpha4 and alphaL) monoclonal antibodies: two-edged swords? Immunology 116(3):289–296. doi:10.1111/j.1365-2567.2005.02225.x

Haist V, Ulrich R, Kalkuhl A, Deschl U, Baumgartner W (2012) Distinct spatio-temporal extracellular matrix accumulation within demyelinated spinal cord lesions in Theiler's murine encephalomyelitis. Brain Pathol 22(2):188–204. doi:10.1111/j.1750-3639.2011.00518.x

Hao GH, Niu XL, Gao DF, Wei J, Wang NP (2008) Agonists at PPAR-gamma suppress angiotensin II-induced production of plasminogen activator inhibitor-1 and extracellular matrix in rat cardiac fibroblasts. Br J Pharmacol 153(7):1409–1419. doi:10.1038/bjp.2008.21

Hauser SL, Oksenberg JR (2006) The neurobiology of multiple sclerosis: genes, inflammation, and neurodegeneration. Neuron 52(1):61–76. doi:10.1016/j.neuron.2006.09.011

Hill AJ, Williams CM, Whalley BJ, Stephens GJ (2011) Phytocannabinoids as novel therapeutic agents in CNS disorders. Pharmacol Ther 133(1):79–97. doi:10.1016/j.pharmthera.2011.09.002

Hori S, Nomura T, Sakaguchi S (2003) Control of regulatory T cell development by the transcription factor Foxp3. Science 299(5609):1057–1061. doi:10.1126/science.1079490

Howlett AC, Barth F, Bonner TI, Cabral G, Casellas P, Devane WA, Felder CC, Herkenham M, Mackie K, Martin BR, Mechoulam R, Pertwee RG (2002) International Union of Pharmacology. XXVII. Classification of cannabinoid receptors. Pharmacol Rev 54(2):161–202. doi:10.1124/pr.54.2.161

Infante-Duarte C, Waiczies S, Wuerfel J, Zipp F (2008) New developments in understanding and treating neuroinflammation. J Mol Med (Berl) 86(9):975–985. doi:10.1007/s00109-007-0292-0

Inoue A, Koh CS, Yamazaki M, Ichikawa M, Isobe M, Ishihara Y, Yagita H, Kim BS (1997) Anti-adhesion molecule therapy in Theiler's murine encephalomyelitis virus-induced demyelinating disease. Int Immunol 9(12):1837–1847. doi:10.1093/intimm/9.12.1837

Jiang C, Ting AT, Seed B (1998) PPAR-gamma agonists inhibit production of monocyte inflammatory cytokines. Nature 391(6662):82–86. doi:10.1038/34184

Kim BS, Palma JP, Kwon D, Fuller AC (2005) Innate immune response induced by Theiler's murine encephalomyelitis virus infection. Immunol Res 31(1):1–12. doi:10.1385/IR:31:1:01

Kohm AP, Carpentier PA, Anger HA, Miller SD (2002) Cutting edge: CD4 + CD25+ regulatory T cells suppress antigen-specific autoreactive immune responses and central nervous system inflammation during active experimental autoimmune encephalomyelitis. J Immunol 169(9):4712–4716

Kutzelnigg A, Lucchinetti CF, Stadelmann C, Bruck W, Rauschka H, Bergmann M, Schmidbauer M, Parisi JE, Lassmann H (2005) Cortical demyelination and diffuse white matter injury in multiple sclerosis. Brain 128(Pt 11):2705–2712. doi:10.1093/brain/awh641

Lee JM, Calkins MJ, Chan K, Kan YW, Johnson JA (2003) Identification of the NF-E2-related factor-2-dependent genes conferring protection against oxidative stress in primary cortical astrocytes using oligonucleotide microarray analysis. J Biol Chem 278(14):12029–12038. doi:10.1074/jbc.M211558200

Lehmann JM, Moore LB, Smith-Oliver TA, Wilkison WO, Willson TM, Kliewer SA (1995) An antidiabetic thiazolidinedione is a high affinity ligand for peroxisome proliferator-activated receptor gamma (PPAR gamma). J Biol Chem 270(22):12953–12956. doi:10.1074/jbc.270.22.12953

Li Y, Maher P, Schubert D (1997) Requirement for cGMP in nerve cell death caused by glutathione depletion. J Cell Biol 139(5):1317–1324. doi:10.1083/jcb.139.5.1317

Li B, Jeong GS, Kang DG, Lee HS, Kim YC (2009) Cytoprotective effects of lindenenyl acetate isolated from Lindera strychnifolia on mouse hippocampal HT22 cells. Eur J Pharmacol 614(1–3):58–65. doi:10.1016/j.ejphar.2009.04.056

Liu J, Li H, Burstein SH, Zurier RB, Chen JD (2003) Activation and binding of peroxisome proliferator-activated receptor gamma by synthetic cannabinoid ajulemic acid. Mol Pharmacol 63(5):983–992. doi:10.1124/mol.63.5.983

Luster AD (1998) Chemokines–chemotactic cytokines that mediate inflammation. N Engl J Med 338(7):436–445. doi:10.1056/NEJM199802123380706

McFarland HF, Martin R (2007) Multiple sclerosis: a complicated picture of autoimmunity. Nat Immunol 8(9):913–919. doi:10.1038/ni1507

Mechoulam R, Gaoni Y (1967) The absolute configuration of delta-1-tetrahydrocannabinol, the major active constituent of hashish. Tetrahedron Lett 12:1109–1111. doi:10.1016/S0040-4039(00)90646-4

Mestre L, Docagne F, Correa F, Loria F, Hernangomez M, Borrell J, Guaza C (2009) A cannabinoid agonist interferes with the progression of a chronic model of multiple sclerosis by downregulating adhesion molecules. Mol Cell Neurosci 40(2):258–266. doi:10.1016/j.mcn.2008.10.015

Miller DH, Khan OA, Sheremata WA, Blumhardt LD, Rice GP, Libonati MA, Willmer-Hulme AJ, Dalton CM, Miszkiel KA, O'Connor PW (2003) A controlled trial of natalizumab for relapsing multiple sclerosis. N Engl J Med 348(1):15–23. doi:10.1056/NEJMoa020696

Molina-Holgado E, Vela JM, Arevalo-Martin A, Guaza C (2001) LPS/IFN-gamma cytotoxicity in oligodendroglial cells: role of nitric oxide and protection by the anti-inflammatory cytokine IL-10. Eur J Neurosci 13(3):493–502. doi:ejn1412

Moreno S, Farioli-Vecchioli S, Ceru MP (2004) Immunolocalization of peroxisome proliferator-activated receptors and retinoid X receptors in the adult rat CNS. Neuroscience 123(1):131–145. doi:S0306452203006377

Mrak RE, Landreth GE (2004) PPARgamma, neuroinflammation, and disease. J Neuroinflammation 1(1):5. doi:10.1186/1742-2094-1-5

Murray PD, Krivacic K, Chernosky A, Wei T, Ransohoff RM, Rodriguez M (2000) Biphasic and regionally-restricted chemokine expression in the central nervous system in the Theiler's virus model of multiple sclerosis. J Neurovirol 6(Suppl 1):S44–S52. doi:PMID-10871765

Niino M, Iwabuchi K, Kikuchi S, Ato M, Morohashi T, Ogata A, Tashiro K, Onoe K (2001) Amelioration of experimental autoimmune encephalomyelitis in C57BL/6 mice by an agonist of peroxisome proliferator-activated receptor-gamma. J Neuroimmunol 116(1):40–48. doi:S0165-5728(01)00285-5

O'Sullivan SE (2007) Cannabinoids go nuclear: evidence for activation of peroxisome proliferator-activated receptors. Br J Pharmacol 152(5):576–582. doi:10.1038/sj.bjp. 0707423

O'Sullivan SE, Tarling EJ, Bennett AJ, Kendall DA, Randall MD (2005) Novel time-dependent vascular actions of Delta9-tetrahydrocannabinol mediated by peroxisome proliferator-activated receptor gamma. Biochem Biophys Res Commun 337(3):824–831. doi:10.1016/j.bbrc.2005.09.121

O'Sullivan SE, Kendall DA, Randall MD (2009) Time-dependent vascular effects of endocannabinoids mediated by Peroxisome Proliferator-Activated Receptor Gamma (PPARgamma). PPAR Res 2009:425289. doi:10.1155/2009/425289

Perry VH, Cunningham C, Holmes C (2007) Systemic infections and inflammation affect chronic neurodegeneration. Nat Rev Immunol 7(2):161–167. doi:10.1038/nri2015

Pershadsingh HA, Heneka MT, Saini R, Amin NM, Broeske DJ, Feinstein DL (2004) Effect of pioglitazone treatment in a patient with secondary multiple sclerosis. J Neuroinflammation 1(1):3. doi:10.1186/1742-2094-1-3

Qin S, Rottman JB, Myers P, Kassam N, Weinblatt M, Loetscher M, Koch AE, Moser B, Mackay CR (1998) The chemokine receptors CXCR3 and CCR5 mark subsets of T cells associated with certain inflammatory reactions. J Clin Invest 101(4):746–754. doi:10.1172/JCI1422

Rose K, Christine CW, Choi DW (1990) Magnesium removal induces paroxysmal neuronal firing and NMDA receptor-mediated neuronal degeneration in cortical cultures. Neurosci Lett 115(2–3):313–317. doi:10.1016/0304-3940(90)90474-N

Saijo K, Winner B, Carson CT, Collier JG, Boyer L, Rosenfeld MG, Gage FH, Glass CK (2009) A Nurr1/CoREST pathway in microglia and astrocytes protects dopaminergic neurons from inflammation-induced death. Cell 137(1):47–59. doi:10.1016/j.cell.2009.01.038

Samson M, Labbe O, Mollereau C, Vassart G, Parmentier M (1996) Molecular cloning and functional expression of a new human CC-chemokine receptor gene. Biochemistry 35(11):3362–3367. doi:10.1021/bi952950g

Sarafi MN, Garcia-Zepeda EA, MacLean JA, Charo IF, Luster AD (1997) Murine monocyte chemoattractant protein (MCP)-5: a novel CC chemokine that is a structural and functional homologue of human MCP-1. J Exp Med 185(1):99–109. doi:10.1084/jem.185.1.99

Sobel RA, Mitchell ME (1989) Fibronectin in multiple sclerosis lesions. Am J Pathol 135(1):161–168

Taams LS, Vukmanovic-Stejic M, Smith J, Dunne PJ, Fletcher JM, Plunkett FJ, Ebeling SB, Lombardi G, Rustin MH, Bijlsma JW, Lafeber FP, Salmon M, Akbar AN (2002) Antigen-specific T cell suppression by human CD4 + CD25+ regulatory T cells. Eur J Immunol 32(6):1621–1630. doi:10.1002/1521-4141(200206)32:6<1621::AID-IMMU1621>3.0.CO;2-Q

Tsunoda I, Fujinami RS (2009) Neuropathogenesis of Theiler's murine encephalomyelitis virus infection, an animal model for multiple sclerosis. J Neuroimmune Pharmacol 5(3):355–369. doi:10.1007/s11481-009-9179-x

Tubaro A, Giangaspero A, Sosa S, Negri R, Grassi G, Casano S, Della Loggia R, Appendino G (2010) Comparative topical anti-inflammatory activity of cannabinoids and cannabivarins. Fitoterapia 81(7):816–819. doi:10.1016/j.fitote.2010.04.009

Wang N, Verna L, Chen NG, Chen J, Li H, Forman BM, Stemerman MB (2002) Constitutive activation of peroxisome proliferator-activated receptor-gamma suppresses pro-inflammatory adhesion molecules in human vascular endothelial cells. J Biol Chem 277(37):34176–34181. doi:10.1074/jbc.M203436200

Yednock TA, Cannon C, Fritz LC, Sanchez-Madrid F, Steinman L, Karin N (1992) Prevention of experimental autoimmune encephalomyelitis by antibodies against alpha 4 beta 1 integrin. Nature 356(6364):63–66. doi:10.1038/356063a0
Acknowledgments
This work was supported supported by the MINECO grants IPT-2011-0861-900000 (EM and CG), SAF2010-19292 (EM), SAF2010-17501 (CG), SAF2009-11847 (JFR), S2010/BMD-2308 (CG and JFR) and by RETICS RIS RD06/0006/0028 and REEM RD07/0060/0010. Finally, we thank Ms. Carmen Cabrero-Doncel for her assistance with the manuscript.
Conflict of interest
MLB, GA and EM have filed a PCT application "Cannabinoid quinone derivatives" (application number PCT-03494). All the other authors declare no conflict of interest.
About this article
Cite this article
Granja, A.G., Carrillo-Salinas, F., Pagani, A. et al. A Cannabigerol Quinone Alleviates Neuroinflammation in a Chronic Model of Multiple Sclerosis. J Neuroimmune Pharmacol 7, 1002–1016 (2012). https://doi.org/10.1007/s11481-012-9399-3
Received:

Accepted:

Published:

Issue Date:
Keywords
Cannabinoids

Cannabigerol

PPARγ

Neuroinflammation

Multiple sclerosis