Abstract
Ethanol has been demonstrated to cause T cell apoptosis. In the present study, we evaluated the role of VDR and the renin angiotensin system (RAS) in oxidative stress-induced T cell apoptosis. Ethanol-treated human T cells displayed down regulation of vitamin D receptor (VDR) and the activation of the RAS in the form of enhanced T cell renin expression and angiotensin II (Ang II) production. The silencing of VDR with siRNA displayed the activation of the RAS, and activation of the VDR resulted in the down regulation of the RAS. It suggested that ethanol-induced T cell RAS activation was dependent on the VDR status. T cell ROS generation by ethanol was found to be dose dependent. Conversely, ethanol-induced ROS generation was inhibited if VDR was activated or Ang II was blocked by an angiotensin II type 1 (AT1) receptor blocker (Losartan). Furthermore, it was observed that ethanol not only induced double strand breaks in T cells but also attenuated DNA repair response, whereas, VDR activation inhibited ethanol-induced double strand breaks and also enhanced DNA repairs. Since free radical scavengers inhibited ethanol-induced DNA damage, it would indicate that ethanol-induced DNA damage was mediated through ROS generation. These findings indicated that ethanol-induced T cell apoptosis was mediated through ROS generation in response to ethanol-induced down regulation of VDR and associated activation of the RAS.
Access options
Buy single article
Instant access to the full article PDF.
US$ 39.95
Tax calculation will be finalised during checkout.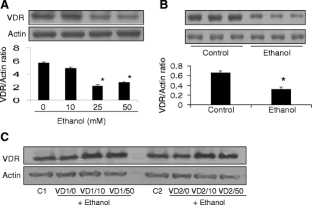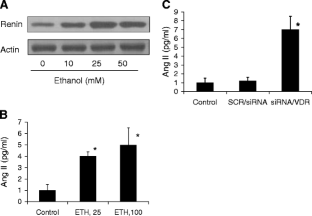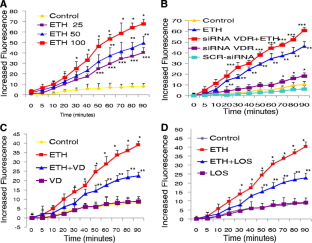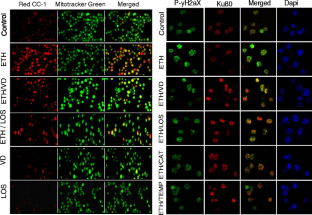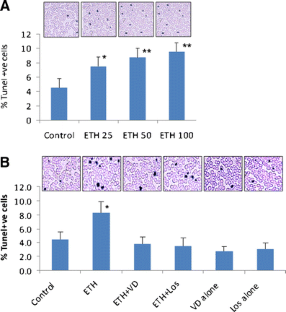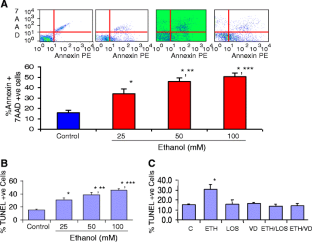 References
Adams HG, Jordan C (1984) Infections in the alcoholic. Med Clin North Am 68:179–200

MacGregor RR (1986) Alcohol and immune defense. JAMA 256:1474–1479

Young CL, MacGregor RR (1980) Alcohol and host defenses: infectious consequences. Infect Med 6:163–75

Capps JA, Coleman GH (1923) Influence of alcohol on prognosis of pneumonia in Cook County Hospital: a statistical report. JAMA 80:750–2

Young GP, Van der Weyden MB, Ros IS, Dudley FJ (1979) Lymphopenia and lymphocyte transformation in alcoholics. Experientia 35:268–269

Roselle GA, Mendenhall CL, Grossman CJ, Weesner RE (1988) Lymphocyte subset alterations in patients with alcoholic hepatitis. J Clin Lab Immunol 26:169–173

Pol S, Artru P, Thepot V, Berthelot P, Nalpas B (1996) Improvement of the CD4+ cell count after alcohol withdrawal in HIV-positive alcoholic patients. AIDS 10:1293–1294

Laso FJ, Madruga JI, Lopez A, Ciudad J, Alvarez-Mon M, San Miguel J (1996) Distribution of peripheral blood lymphoid subsets in alcoholic liver cirrhosis: influence of ethanol intake. Alcohol Clin Exp Res 20:1564–1568

Gheorghiu M, Bara C, Pasarica D, Brasoveanu L, Bleotu C, Toparceanu F (2004) Ethanol-induced dysfunction of hepatocytes and leukocytes in patients without liver failure. Roum Arch Microbiol Immunol 63:5–33

Kazbariene B, Krikstaponiene A, Monceviciute-Eringiene E (2006) Disturbance of human immunohomeostasis by environmental pollution and alcohol consumption. Acta Microbiol Immunol Hung 53:209–218

Helm RM, Wheeler G, Burks AW, Hakkak R, Badger TM (1996) Flow cytometric analysis of lymphocytes from rats following chronic ethanol treatment. Alcohol 13:467–471

Chadha KC, Stadler I, Albini B, Nakeeb SM, Thacore HR (1991) Effect of alcohol on spleen cells and their functions in C57BL/6 mice. Alcohol 8:481–485

Shellito JE, Olariu R (1998) Alcohol decreases T-lymphocyte migration into lung tissue in response to Pneumocystis carinii and depletes T-lymphocyte numbers in the spleens of mice. Alcohol Clin Exp Res 22:658–663

Peterson JD, Herzenberg LA, Vasquez K, Waltenbaugh C (1998) Glutathione levels in antigen-presenting cells modulate Th1 versus Th2 response patterns. Proc Natl Acad Sci U S A 17:3071–3076

Saad AJ, Jerrells TR (1991) Flow cytometric and immunohistochemical evaluation of ethanol-induced changes in splenic and thymic lymphoid cell populations. Alcohol Clin Exp Res 15:796–803

Jerrells TR, Saad AJ, Domiati-Saad R (1992) Effects of ethanol on parameters of cellular immunity and host defense mechanisms to infectious agents. Alcohol 9:459–463

Padgett EL, Sibley DA, Jerrells TR (2000) Effect of adrenalectomy on ethanol-associated changes in lymphocyte cell numbers and subpopulations in thymus, spleen, and gut-associated lymphoid tissues. Int J Immunopharmacol 22:285–298

Louria DB (1963) Susceptibility to infection during experimental alcohol intoxication. Trans Assoc Am Physicians 76:102–10

Liu YK (1973) Leukopenia in alcoholics. Am J Med 54:605–10

Kumar H, Kawai T, Akira S (2011) Pathogen recognition by the innate immune system. Int Rev Immunol 30:16–34

Lindenbaum J, Hargrove L (1968) Thrombocytopenia in alcoholics. Ann Intern Med 68:526–32

McFarland W, Libre EP (1963) Abnormal leukocyte response in alcoholism. Ann Intern Med 59:865–77

Kapasi AA, Patel G, Goenka A, Nahar N, Modi N, Bhaskaran M, Reddy K, Franki N, Patel J, Singhal PC (2003) Ethanol promotes T cell apoptosis through the mitochondrial pathway. Immunology 108:313–20

von Essen MR, Kongsbak M, Schjerling P, Olgaard K, Odum N, Geisler C (2010) Vitamin D controls T cell antigen receptor signaling and activation of human T cells. Nat Immunol 11:344–9

Irvin BJ, Williams BL, Nilson AE, Maynor HO, Abraham RT (2000) Pleiotropic contributions of phospholipase C-γ1 (PLC-γ1) to T-cell antigen receptor-mediated signaling: reconstitution studies of a PLC-γ1-deficient Jurkat T-cell line. Mol Cell Biol 20:9149–9161

Christakos S, Dhawan P, Benn B, Porta A, Hediger M, Oh GT, Jeung EB, Zhong Y, Ajibade D, Dhawan K, Joshi S (2007) Vitamin D: molecular mechanism of action. Ann N Y Acad Sci 1116:340–8

White JH (2012) Vitamin D metabolism and signaling in the immune system. Rev Endocr Metab Disord 13:21–9

Costa EM, Feldman D (1987) Measurement of 1,25-dihydroxyvitamin D3 receptor turnover by dense amino acid labeling: changes during receptor up-regulation by vitamin D metabolites. Endocrinology 120:1173–1178

Li YC, Kong J, Wei M, Chen ZF, Liu SQ, Cao LP (2002) 1,25-Dihydroxyvitamin D(3) is a negative endocrine regulator of the renin-angiotensin system. J Clin Invest 110:229–38

Li YC, Qiao G, Uskokovic M, Xiang W, Zheng W, Kong J (2004) Vitamin D: a negative endocrine regulator of the renin-angiotensin system and blood pressure. J Steroid Biochem Mol Biol 89–90:387–92

Qi X, Pramanik R, Wang J, Schultz RM, Maitra RK, Han J, DeLuca HF, Chen G (2002) The p38 and JNK pathways cooperate to trans-activate vitamin D receptor via c-Jun/AP-1 and sensitize human breast cancer cells to vitamin D3-induced growth inhibition. J Biol Chem 277:25884–25892

Husain M, Meggs LG, Vashistha H, Simoes S, Griffiths KO, Kumar D, Mikulak J, Mathieson PW, Saleem MA, Del Valle L, Pina-Oviedo S, Wang JY, Seshan SV, Malhotra A, Reiss K, Singhal PC (2009) Inhibition of p66ShcA longevity gene rescues podocytes from HIV-1-induced oxidative stress and apoptosis. J Biol Chem 284:16648–58

Salhan D, Pathak S, Husain M, Tandon P, Kumar D, Malhotra A, Meggs LG, Singhal PC (2012) HIV gene expression deactivates redox-sensitive stress response program in mouse tubular cells both in vitro and in vivo. Am J Physiol Renal Physiol 302(1):F129–40

Hoch NE, Guzik TJ, Chen W, Deans T, Maalouf SA, Gratze P, Weyand C, Harrison DG (2009) Regulation of T-cell function by endogenously produced angiotensin II. Am J Physiol Regul Integr Comp Physiol 296:R208–R216

Knecht KT, Adachi Y, Bradford BU, Iimuro Y, Kadiiska M, Xuang QH, Thurman RG (1995) Free radical adducts in the bile of rats treated chronically with intragastric alcohol. Mol Pharmacol 47:1028–1034

Tsukamoto H, Lu SC (2001) Current concepts in the pathogenesis of alcoholic liver injury. FASEB J 15:1335–1349

Iimuro Y, Bradford BU, Yamashina S, Rusyn I, Nakagami M, Enomoto N, Kono H, Frey W, Forman D, Brenner D, Thurman RG (2000) The glutathione precursor L–2–oxothiazolidine–4–carboxylic acid protects against liver injury due to chronic enteral ethanol exposure in the rat. Hepatology 31:391–398

Nanji AA, Zhao S, Sadrzadeh SM, Dannenberg AJ, Tahan SR, Waxman DJ (1994) Markedly enhanced cytochrome P450 2E1 induction and lipid peroxidation is associated with severe liver injury in fish oil–treated ethanol–fed rats. Alcohol Clin Exp Res 18(1280–1285):1994

Morimoto M, Zern MA, Hagbjörk AL, Ingelman-Sundberg M, French SW (1994) Fish oil, alcohol, and liver pathology: Role of cytochrome P450 2E1. Proc Soc Exp Biol Med 207:197–205

Tsukamoto H, Horne W, Kamimura S, Niemelä O, Parkkila S, Ylä-Herttuala S, Brittenham GM (1995) Experimental liver cirrhosis induced by alcohol and iron. J Clin Invest 96:620–630

Adachi M, Ishii H (2002) Role of mitochondria in alcoholic liver injury. Free Radic Biol Med 32:487–491

Bailey SM, Cunningham CC (2002) Contribution of mitochondria to oxidative stress associated with alcoholic liver disease. Free Radic Biol Med 32:11–16

Boveris A, Chance B (1973) The mitochondrial generation of hydrogen peroxide. General properties and effect of hyperbaric oxygen. Biochem J 134:707–716

Boveris A, Cadenas E (1975) Mitochondrial production of superoxide anions and its relationship to the antimycin insensitive respiration. FEBS Lett 54:311–314

Chiaramonte R, Bartolini E, Riso P, Calzavara E, Erba D, Testolin G, Comi P, Sherbet GV (2001) Oxidative stress signalling in the apoptosis of Jurkat T-Lymphocytes. J Cell Biochem 82:437–444

de Cavanagh EM, Piotrkowski B, Basso N, Stella I, Inserra F, Ferder L, Fraga CG (2003) Enalapril and losartan attenuate mitochondrial dysfunction in aged rats. FASEB J 17:1096–1098

de Cavanagh EM, Toblli JE, Ferder L, Piotrkowski B, Stella I, Inserra F (2006) Renal mitochondrial dysfunction in spontaneously hypertensive rats is attenuated by losartan but not by amlodipine. Am J Physiol Regul Integr Comp Physiol 290:R1616–R1625

Monteiro P, Duarte AI, Goncalves LM, Providencia LA (2005) Valsartan improves mitochondrial function in hearts submitted to acute ischemia. Eur J Pharmacol 518:158–164

Kimura S, Zhang GX, Nishiyama A, Shokoji T, Yao L, Fan YY, Rahman M, Abe Y (2005) Mitochondria-derived reactive oxygen species and vascular MAP kinases: comparison of angiotensin II and diazoxide. Hypertension 45:438–444

Ide T, Tsutsui H, Hayashidani S, Kang D, Suematsu N, Nakamura K, Utsumi H, Hamasaki N, Takeshita A (2001) Mitochondrial DNA damage and dysfunction associated with oxidative stress in failing hearts after myocardial infarction. Circ Res 88:529–535

Iuchi T, Akaike M, Mitsui T, Ohshima Y, Shintani Y, Azuma H, Matsumoto T (2003) Glucocorticoid excess induces superoxide production in vascular endothelial cells and elicits vascular endothelial dysfunction. Circ Res 92:81–87

Doughan AK, Harrison DG, Dikalov SI (2008) Molecular mechanisms of angiotensin II-mediated mitochondrial dysfunction: linking mitochondrial oxidative damage and vascular endothelial dysfunction. Circ Res 102(4):488–96

Fuertesa MA, Castillab J, Alonsoa C, Perez JM (2003) Cisplatin biochemical mechanism of action: from cytotoxicity to induction of cell death through interconnections between apoptotic and necrotic pathways. Curr Med Chem 10:257–266

Lee J, Giordano S, Zhang J (2012) Autophagy, mitochondria and oxidative stress: cross-talk and redox signaling. Biochem J 441:523–540

Brigelius-Flohé R, Flohé L (2011) Basic principles and emerging concepts in the redox control of transcription factors. Antioxid Redox Signal 15:2335–2381

Suen D-F, Norris KL, Youle RJ (2008) Mitochondrial dynamics and apoptosis. Genes Dev 22:1577–1590

Galluzzi L, Morselli E, Vicencio JM, Kepp O, Joza N, Tajeddine N, Kroemer G (2008) Life, death and burial: multifaceted impact of autophagy. Biochem Soc Trans 36:786–90

Gozuacik D, Kimchi A (2007) Autophagy and cell death. Curr Top Dev Biol 78:217–245

Meijer AJ, Codogno P (2004) Regulation and role of autophagy in mammalian cells. Int J Biochem Cell Biol 36:2445–2462

Mizushima N (2007) Autophagy: process and function. Genes Dev 21:2861–2873

Baehrecke EH (2005) Autophagy: dual roles in life and death? Nat Rev Mol Cell Biol 6:505–510

Yadav A, Vallabu S, Arora S, Tandon P, Slahan D, Teichberg S, Singhal PC (2010) Ang II promotes autophagy in podocytes. Am J Physiol Cell Physiol 299:C488–96

von Haefen C, Sifringer M, Menk M, Spies CD (2011) Ethanol enhances susceptibility to apoptotic cell death via down-regulation of autophagy-related proteins. Alcohol Clin Exp Res 35:1381–91

Yuk JM, Shin DM, Lee HM, Yang CS, Jin HS, Kim KK, Lee ZW, Lee SH, Kim JM, Jo EK (2009) Vitamin D3 induces autophagy in human monocytes/macrophages via cathelicidin. Cell Host Microbe 6:231–43
Acknowledgments
We thank the AIDS Reagents Program for providing Jurkat cells. This work was supported by grants RO1DK084910 and RO1 DK083931 (PCS) from National Institutes of Health, Bethesda, MD.
Conflict of Interest
The authors declare they have no conflict of interest.
About this article
Cite this article
Rehman, S., Chandel, N., Salhan, D. et al. Ethanol and Vitamin D Receptor in T Cell Apoptosis. J Neuroimmune Pharmacol 8, 251–261 (2013). https://doi.org/10.1007/s11481-012-9393-9
Received:

Accepted:

Published:

Issue Date:
Keywords
T cells, vitamin D receptor

Active vitamin D

Renin

Angiotensin II

Reactive oxygen species

AT1 receptor blocker

Losartan

Tempol

Catalase

Apoptosis

DNA damage

DNA repair