Abstract
Legionella pneumophila infection of mice induces proinflammatory cytokines and Th1 immunity as well as rapid increases in serum levels of IL-12 and IFNγ and splenic IL-12Rβ2 expression. Delta-9-tetrahydrocannabinol (THC) treatment prior to infection causes a shift from Th1 to Th2 immunity and here we demonstrate that CB1 and CB2 cannabinoid receptors mediate different aspects of the shift. Using cannabinoid receptor antagonists and cannabinoid receptor gene deficient mice (CB1−/− and CB2−/−), we showed that both CB1 and CB2 receptors were involved in the THC-induced attenuation of serum IL-12 and IFNγ. IFNγ production is dependent upon signaling through IL-12Rβ2 (β2) and THC treatment suppressed splenic β2 message; moreover, this effect was CB1 but not CB2-dependent from studies with receptor antagonists and CB1−/− and CB2−/− mice. Furthermore, observed increases in IL-4 induced by THC, were not involved in the drug effect on β2 from studies with IL-4 deficient mice. The GATA-3 transcription factor is necessary for IL-4 production and is selectively expressed in Th2 cells. GATA-3 message levels were elevated in spleens of THC-treated and L. pneumophila-infected mice and the effect was shown to be CB2 but not CB1-dependent. Furthermore, GATA-3 regulatory factors were modulated in that Notch ligand Delta4 mRNA was decreased and Jagged1 increased by THC also in a CB2-dependent manner and splenic NFκB p65 was increased. Together, these results indicate that CB1 and CB2 mediate the THC-induced shift in T helper activity in L. pneumophila-infected mice, with CB1 involved in suppressing IL-12Rβ2 and CB2 involved in enhancing GATA-3.
This is a preview of subscription content, log in to check access.
Access options
Buy single article
Instant access to the full article PDF.
US$ 39.95
Tax calculation will be finalised during checkout.
Subscribe to journal
Immediate online access to all issues from 2019. Subscription will auto renew annually.
US$ 99
Tax calculation will be finalised during checkout.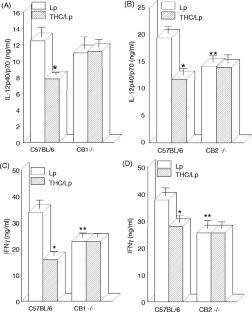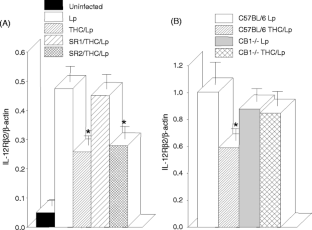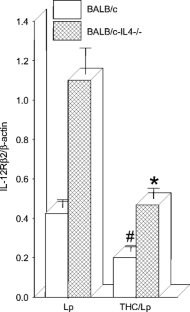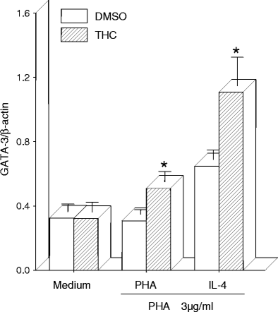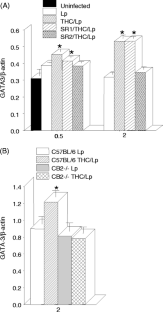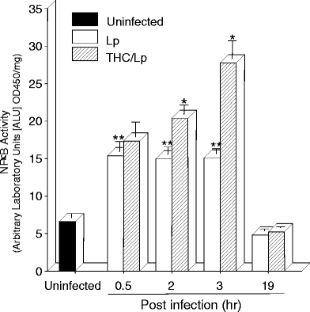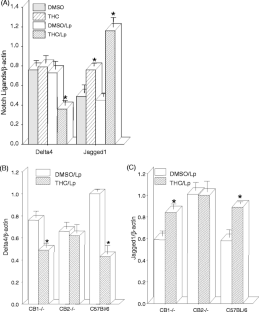 References
Amsen D, Blander JM, Lee GR, Tanigaki K, Honjo T, Flavell RA (2004) Instruction of distinct CD4 T helper cell fates by different notch ligands on antigen-presenting cells. Cell 117:515–526 doi:10.1016/S0092-8674(04)00451-9

Avni O, Lee D, Macian F, Szabo SJ, Glimcher LH, Rao A (2002) T(H) cell differentiation is accompanied by dynamic changes in histone acetylation of cytokine genes. Nat Immunol 3:643–651

Baker D, Pryce G, Davies WL, Hiley CR (2006) In silico patent searching reveals a new cannabinoid receptor. Trends Pharmacol Sci 27:1–4 doi:10.1016/j.tips.2005.11.003

Blanchard DK, Friedman H, Stewart WED, Klein TW, Djeu JY (1988) Role of gamma interferon in induction of natural killer activity by Legionella pneumophila in vitro and in an experimental murine infection model. Infect Immun 56:1187–1193

Borner C, Hollt V, Sebald W, Kraus J (2007) Transcriptional regulation of the cannabinoid receptor type 1 gene in T cells by cannabinoids. J Leukoc Biol 81:336–343 doi:10.1189/jlb.0306224

Bot A, Smith KA, von Herrath M (2004) Molecular and cellular control of T1/T2 immunity at the interface between antimicrobial defense and immune pathology. DNA Cell Biol 23:341–350 doi:10.1089/104454904323145227

Braun MC, Kelsall BL (2001) Regulation of interleukin-12 production by G-protein-coupled receptors. Microbes Infect 3:99–107 doi:10.1016/S1286-4579(00)01357-5

Buchweitz JP, Karmaus PW, Williams KJ, Harkema JR, Kaminski NE (2008) Targeted deletion of cannabinoid receptors CB1 and CB2 produced enhanced inflammatory responses to influenza A/PR/8/34 in the absence and presence of Delta9-tetrahydrocannabinol. J Leukoc Biol 83:785–796 doi:10.1189/jlb.0907618

Buckley NE, McCoy KL, Mezey E, Bonner T, Zimmer A, Felder CC et al (2000) Immunomodulation by cannabinoids is absent in mice deficient for the cannabinoid CB(2) receptor. Eur J Pharmacol 396:141–149 doi:10.1016/S0014-2999(00)00211-9

Daaka Y, Friedman H, Klein TW (1996) Cannabinoid receptor proteins are increased in Jurkat, human T-cell line after mitogen activation. J Pharmacol Exp Ther 276:776–783

Daaka Y, Zhu W, Friedman H, Klein TW (1997) Induction of interleukin-2 receptor alpha gene by delta9-tetrahydrocannabinol is mediated by nuclear factor kappaB and CB1 cannabinoid receptor. DNA Cell Biol 16:301–309

Das J, Chen CH, Yang L, Cohn L, Ray P, Ray A (2001) A critical role for NF-kappa B in GATA3 expression and TH2 differentiation in allergic airway inflammation. Nat Immunol 2:45–50 doi:10.1038/83158

Fang TC, Yashiro-Ohtani Y, Del Bianco C, Knoblock DM, Blacklow SC, Pear WS (2007) Notch directly regulates Gata3 expression during T helper 2 cell differentiation. Immunity 27:100–110 doi:10.1016/j.immuni.2007.04.018

Howlett AC, Barth F, Bonner TI, Cabral G, Casellas P, Devane WA et al (2002) International Union of Pharmacology. XXVII. Classification of cannabinoid receptors. Pharmacol Rev 54:161–202 doi:10.1124/pr.54.2.161

Kaiko GE, Horvat JC, Beagley KW, Hansbro PM (2007) Immunological decision-making: how does the immune system decide to mount a helper T-cell response? Immunology 123(3):326–338

Karsak M, Gaffal E, Date R, Wang-Eckhardt L, Rehnelt J, Petrosino S et al (2007) Attenuation of allergic contact dermatitis through the endocannabinoid system. Science 316:1494–1497 doi:10.1126/science.1142265

Klein TW (2005) Cannabinoid-based drugs as anti-inflammatory therapeutics. Nat Rev Immunol 5:400–411 doi:10.1038/nri1602

Klein TW, Cabral GA (2006) Cannabinoid-induced immune suppression and modulation of antigen-presenting cells. J Neuroimmune Pharmacol 1:50–64 doi:10.1007/s11481-005-9007-x

Klein TW, Newton CA (2007) Therapeutic potential of cannabinoid-based drugs. Adv Exp Med Biol 601:395–413

Klein TW, Newton C, Widen R, Friedman H (1993) Delta 9-tetrahydrocannabinol injection induces cytokine-mediated mortality of mice infected with Legionella pneumophila. J Pharmacol Exp Ther 267:635–640

Klein TW, Newton CA, Nakachi N, Friedman H (2000) Delta 9-tetrahydrocannabinol treatment suppresses immunity and early IFN-gamma, IL-12, and IL-12 receptor beta 2 responses to Legionella pneumophila infection. J Immunol 164:6461–6466

Lauckner JE, Jensen JB,Chen HY, Lu HC, Hille B, Mackie K (2008) GPR55 is a cannabinoid receptor that increases intracellular calcium and inhibits M current. Proc Natl Acad Sci USA 105:2698–2704

Lee HJ, Takemoto N, Kurata H, Kamogawa Y, Miyatake S, O'Garra A et al (2000) GATA-3 induces T helper cell type 2 (Th2) cytokine expression and chromatin remodeling in committed Th1 cells. J Exp Med 192:105–115 doi:10.1084/jem.192.1.105

Lee SF, Newton C, Widen R, Friedman H, Klein TW (2001) Differential expression of cannabinoid CB(2) receptor mRNA in mouse immune cell subpopulations and following B cell stimulation. Eur J Pharmacol 423:235–241 doi:10.1016/S0014-2999(01)01122-0

Liotta F, Frosali F, Querci V, Mantei A, Fili L, Maggi L, Mazzinghi B, Angeli R, Ronconi E, Santarlasci V, Biagioli T, Lasagni L, Ballerini C, Parronchi P, Scheffold A, Cosmi L, Maggi E, Romagnani S, Annunziato F (2008) Human immature myeloid dendritic cells trigger a TH2-polarizing program via Jagged-1/Notch interaction. J Allergy Clin Immunol 121:1000–1005 e1008

Lu T, Newton C, Perkins I, Friedman H, Klein TW (2006a) Cannabinoid treatment suppresses the T-helper cell-polarizing function of mouse dendritic cells stimulated with Legionella pneumophila infection. J Pharmacol Exp Ther 319:269–276 doi:10.1124/jpet.106.108381

Lu T, Newton C, Perkins I, Friedman H, Klein TW (2006b) Role of cannabinoid receptors in Delta-9-tetrahydrocannabinol suppression of IL-12p40 in mouse bone marrow-derived dendritic cells infected with Legionella pneumophila. Eur J Pharmacol 532:170–177 doi:10.1016/j.ejphar.2005.12.040

Maillard I, Adler SH, Pear WS (2003) Notch and the immune system. Immunity 19:781–791 doi:10.1016/S1074-7613(03)00325-X

Maresz K, Pryce G, Ponomarev ED, Marsicano G, Croxford JL, Shriver LP et al (2007) Direct suppression of CNS autoimmune inflammation via the cannabinoid receptor CB1 on neurons and CB2 on autoreactive T cells. Nat Med 13:492–497 doi:10.1038/nm1561

Maroof A, Penny M, Kingston R, Murray C, Islam S, Bedford PA et al (2006) Interleukin-4 can induce interleukin-4 production in dendritic cells. Immunology 117:271–279 doi:10.1111/j.1365-2567.2005.02305.x

Matias I, Pochard P, Orlando P, Salzet M, Pestel J, Di Marzo V (2002) Presence and regulation of the endocannabinoid system in human dendritic cells. Eur J Biochem 269:3771–3778 doi:10.1046/j.1432-1033.2002.03078.x

Matsunaga K, Klein TW, Newton C, Friedman H, Yamamoto Y (2001) Legionella pneumophila suppresses interleukin-12 production by macrophages. Infect Immun 69:1929–1933 doi:10.1128/IAI.69.3.1929-1933.2001

Matsunaga K, Yamaguchi H, Klein TW, Friedman H, Yamamoto Y (2003) Legionella pneumophila suppresses macrophage interleukin-12 production by activating the p42/44 mitogen-activated protein kinase cascade. Infect Immun 71:6672–6675 doi:10.1128/IAI.71.11.6672-6675.2003

Min B, Paul WE (2008) Basophils and type 2 immunity. Curr Opin Hematol 15:59–63

Moser M, Murphy KM (2000) Dendritic cell regulation of TH1-TH2 development. Nat Immunol 1:199–205 doi:10.1038/79734

Mosmann TR, Coffman RL (1989) TH1 and TH2 cells: different patterns of lymphokine secretion lead to different functional properties. Annu Rev Immunol 7:145–173 doi:10.1146/annurev.iy.07.040189.001045

Mowen KA, Glimcher LH (2004) Signaling pathways in Th2 development. Immunol Rev 202:203–222 doi:10.1111/j.0105-2896.2004.00209.x

Newton CA, Klein TW, Friedman H (1994) Secondary immunity to Legionella pneumophila and Th1 activity are suppressed by delta-9-tetrahydrocannabinol injection. Infect Immun 62:4015–4020

Newton C, McHugh S, Widen R, Nakachi N, Klein T, Friedman H (2000) Induction of interleukin-4 (IL-4) by legionella pneumophila infection in BALB/c mice and regulation of tumor necrosis factor alpha, IL-6, and IL-1beta. Infect Immun 68:5234–5240 doi:10.1128/IAI.68.9.5234-5240.2000

Newton CA, Lu T, Nazian SJ, Perkins I, Friedman H, Klein TW (2004) The THC-induced suppression of Th1 polarization in response to Legionella pneumophila infection is not mediated by increases in corticosterone and PGE2. J Leukoc Biol 76:854–861 doi:10.1189/jlb.0304184

Noe SN, Newton C, Widen R, Friedman H, Klein TW (2000) Anti-CD40, anti-CD3, and IL-2 stimulation induce contrasting changes in CB1 mRNA expression in mouse splenocytes. J Neuroimmunol 110:161–167 In Process Citation doi:10.1016/S0165-5728(00)00349-0

Ouyang W, Ranganath SH, Weindel K, Bhattacharya D, Murphy TL, Sha WC et al (1998) Inhibition of Th1 development mediated by GATA-3 through an IL-4-independent mechanism. Immunity 9:745–755 doi:10.1016/S1074-7613(00)80671-8

Ouyang W, Lohning M, Gao Z, Assenmacher M, Ranganath S, Radbruch A et al (2000) Stat6-independent GATA-3 autoactivation directs IL-4-independent Th2 development and commitment. Immunity 12:27–37 doi:10.1016/S1074-7613(00)80156-9

Pai SY, Kang BY, Sabadini AM, Parisini E, Truitt ML, Ho IC (2008) Distinct structural requirements of GATA-3 for the regulation of thymocyte and Th2 cell differentiation. J Immunol 180:1050–1059

Pertwee RG (1997) Pharmacology of cannabinoid CB1 and CB2 receptors. Pharmacol Ther 74:129–180

Profita M, Bonanno A, Siena L, Ferraro M, Montalbano AM, Pompeo F et al (2008) Acetylcholine mediates the release of IL-8 in human bronchial epithelial cells by a NFkB/ERK-dependent mechanism. Eur J Pharmacol 582:145–153 doi:10.1016/j.ejphar.2007.12.029

Sakuishi K, Oki S, Araki M, Porcelli SA, Miyake S, Yamamura T (2007) Invariant NKT cells biased for IL-5 production act as crucial regulators of inflammation. J Immunol 179:3452–3462

Szabo SJ, Kim ST, Costa GL, Zhang X, Fathman CG, Glimcher LH (2000) A novel transcription factor, T-bet, directs Th1 lineage commitment. Cell 100:655–669 doi:10.1016/S0092-8674(00)80702-3

Tato CM, Hunter CA (2002) Host-pathogen interactions: subversion and utilization of the NF-kappa B pathway during infection. Infect Immun 70:3311–3317 doi:10.1128/IAI.70.7.3311-3317.2002

Violin JD, Ren XR, Lefkowitz RJ (2006) G-protein-coupled receptor kinase specificity for beta-arrestin recruitment to the beta2-adrenergic receptor revealed by fluorescence resonance energy transfer. J Biol Chem 281:20577–20588 doi:10.1074/jbc.M513605200

Weaver CT, Hatton RD, Mangan PR, Harrington LE (2007) IL-17 family cytokines and the expanding diversity of effector T cell lineages. Annu Rev Immunol 25:821–852 doi:10.1146/annurev.immunol.25.022106.141557

Wu C, Wang X, Gadina M, O'Shea JJ, Presky DH, Magram J (2000) IL-12 receptor beta 2 (IL-12R beta 2)-deficient mice are defective in IL-12-mediated signaling despite the presence of high affinity IL-12 binding sites. J Immunol 165:6221–6228

Zheng W, Flavell RA (1997) The transcription factor GATA-3 is necessary and sufficient for Th2 cytokine gene expression in CD4 T cells. Cell 89:587–596 doi:10.1016/S0092-8674(00)80240-8

Zhou M, Ouyang W (2003) The function role of GATA-3 in Th1 and Th2 differentiation. Immunol Res 28:25–37 doi:10.1385/IR:28:1:25

Zhu LX, Sharma S, Stolina M, Gardner B, Roth MD, Tashkin DP et al (2000) Delta-9-tetrahydrocannabinol inhibits antitumor immunity by a CB2 receptor-mediated, cytokine-dependent pathway. J Immunol 165:373–380

Zhu J, Guo L, Watson CJ, Hu-Li J, Paul WE (2001) Stat6 is necessary and sufficient for IL-4's role in Th2 differentiation and cell expansion. J Immunol 166:7276–7281

Zimmer A, Zimmer AM, Hohmann AG, Herkenham M, Bonner TI (1999) Increased mortality, hypoactivity, and hypoalgesia in cannabinoid CB1 receptor knockout mice. Proc Natl Acad Sci USA 96:5780–5785 doi:10.1073/pnas.96.10.5780

Ziring D, Wei B, Velazquez P, Schrage M, Buckley NE, Braun J (2006) Formation of B and T cell subsets require the cannabinoid receptor CB2. Immunogenetics 58:714–725 doi:10.1007/s00251-006-0138-x
Acknowledgements
We would like to thank Dr. Andreas Zimmer (University of Bonn, Germany) and Dr. Nancy Buckley (California State Polytechnic University) for CB deficient mice. This research was supported by NIH grants DA03646, AI45169, DA10683, and DA019824.
About this article
Cite this article
Newton, C.A., Chou, PJ., Perkins, I. et al. CB1 and CB2 Cannabinoid Receptors Mediate Different Aspects of Delta-9-Tetrahydrocannabinol (THC)-Induced T Helper Cell Shift Following Immune Activation by Legionella Pneumophila Infection. J Neuroimmune Pharmacol 4, 92–102 (2009). https://doi.org/10.1007/s11481-008-9126-2
Received:

Accepted:

Published:

Issue Date:
Keywords
THC

legionella

cannabinoid receptor

IL-12Rβ2

GATA-3