Abstract
The study of marijuana cannabinoid biology has led to many important discoveries in neuroscience and immunology. These studies have uncovered a new physiological system, the endocannabinoid system, which operates in the regulation of not only brain function but also the regulation of the immune system. Studies examining the effect of cannabinoid-based drugs on immunity have shown that many cellular and cytokine mechanisms are suppressed by these agents leading to the hypothesis that these drugs may be of value in the management of chronic inflammatory diseases. In this report, we review current information on cannabinoid ligand and receptor biology, mechanisms involved in immune suppression by cannabinoids with emphasis on antigen-presenting cells, and preclinical and clinical models analyzing the therapeutic potential of cannabinoid-based drugs.
Access options
Buy single article
Instant access to the full article PDF.
US$ 39.95
Tax calculation will be finalised during checkout.
Subscribe to journal
Immediate online access to all issues from 2019. Subscription will auto renew annually.
US$ 79
Tax calculation will be finalised during checkout.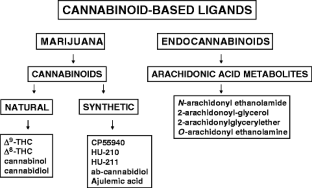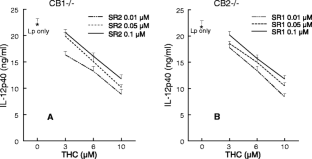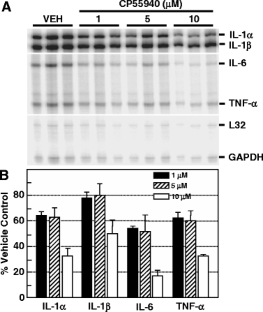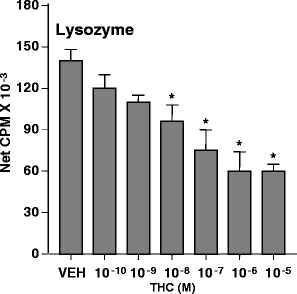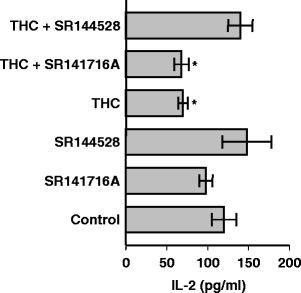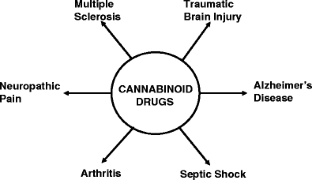 References
Arevalo–Martin A, Vela JM, Molina–Holgado E, Borrell J, Guaza C (2003) Therapeutic action of cannabinoids in a murine model of multiple sclerosis. J Neurosci 23:2511–2516

Baker D, Pryce G, Croxford JL, Brown P, Pertwee RG, Huffman JW, Layward L (2000) Cannabinoids control spasticity and tremor in a multiple sclerosis model. Nature 404:84–87

Baker D, Pryce G, Croxford JL, Brown P, Pertwee RG, Makriyannis A, Khanolkar A, Layward L, Fezza F, Bisogno T, Di Marzo V (2001) Endocannabinoids control spasticity in a multiple sclerosis model. FASEB J 15:300–302

Baker D, Pryce G, Giovannoni G, Thompson AJ (2003) The therapeutic potential of cannabis. Lancet Neurol 2:291–298

Berdyshev EV, Boichot E, Germain N, Allain N, Anger JP, Lagente V (1997) Influence of fatty acid ethanolamides and Δ9–tetrahydrocannabinol on cytokine and arachidonate release by mononuclear cells. Eur J Pharmacol 330:231–240

Bisogno T, Hanus L, De Petrocellis L, Tchilibon S, Ponde DE, Brandi I, Moriello AS, Davis JB, Mechoulam R, Di Marzo V (2001) Molecular targets for cannabidiol and its synthetic analogues: effect on vanilloid VR1 receptors and on the cellular uptake and enzymatic hydrolysis of anandamide. Br J Pharmacol 134:845–852

Bisogno T, Howell F, Williams G, Minassi A, Cascio MG, Ligresti A, Matias I, Schiano-Moriello A, Paul P, Williams EJ, Gangadharan U, Di Marzo V, Doherty P (2003) Cloning of the first sn1-DAG lipases points to the spatial and temporal regulation of endocannabinoid signaling in the brain. J Cell Biol 163:463–468

Blanchard DK, Newton C, Klein TW, Stewart WE III, Friedman H (1986) In vitro and in vivo suppressive effects of delta–9–tetrahydrocannabinol on interferon production by murine spleen cells. Int J Immunopharmacol 8:819–824

Bouaboula M, Rinaldi M, Carayon P, Carillon C, Delpech B, Shire D, LeFur G, Casellas P (1993) Cannabinoid-receptor expression in human leukocytes. Eur J Biochem 214:173–180

Brady CM, DasGupta R, Dalton C, Wiseman OJ, Berkley KJ, Fowler CJ (2004) An open-label pilot study of cannabis-based extracts for bladder dysfunction in advanced multiple sclerosis. Mult Scler 10:425–433

Breivogel CS, Griffin G, Di Marzo V, Martin BR (2001) Evidence for a new G protein-coupled cannabinoid receptor in mouse brain. Mol Pharmacol 60:155–163

Buckley NE, McCoy KL, Mezey E, Bonner T, Zimmer A, Felder CC, Glass M, Zimmer A (2000) Immunomodulation by cannabinoids is absent in mice deficient for the cannabinoid CB2 receptor. Eur J Pharmacol 396:141–149

Burnette–Curley D, Cabral GA (1995) Differential inhibition of RAW264.7 macrophage tumoricidal activity by Δ9–tetrahydrocannabinol. Proc Soc Exp Biol Med 210:64–76

Burnette–Curley D, Marciano–Cabral F, Fischer–Stenger K, Cabral GA (1993) Delta–9–tetrahydrocannabinol inhibits cell contact-dependent cytotoxicity of Bacillus Calmette–Guerin–activated macrophages. Int J Immunopharmacol 15:371–382

Burstein SH, Audette CA, Breuer A, Devane WA, Colodner S, Doyle SA, Mechoulam R (1992) Synthetic nonpsychotropic cannabinoids with potent antiinflammatory, analgesic, and leukocyte antiadhesion activities. J Med Chem 35:3135–3141

Burstein SH, Karst M, Schneider U, Zurier RB (2004) Ajulemic acid: a novel cannabinoid produces analgesia without a "high." Life Sci 75:1513–1522

Cabral GA, Mishkin EM (1989) Delta–9–tetrahydrocannabinol inhibits macrophage protein expression in response to bacterial immunomodulators. J Toxicol Environ Health 26:175–182

Cabral GA, Vasquez R (1992) Δ9–Tetrahydrocannabinol suppresses macrophage extrinsic antiherpesvirus activity. Proc Soc Exp Biol Med 199:255–263

Cabral G, Dove Pettit D (1998) Drugs and immunity: cannabinoids and their role in decreased resistance to infectious diseases. J Neuroimmunol 83:116–123

Cabral GA, Marciano–Cabral F (2004) Cannabinoid-mediated exacerbation of brain infection by opportunistic amebae. J Neuroimmunol 147:127–130

Cabral GA, Staab A (2005) Effects on the immune system. In: Pertwee R (ed) Handbook of Experimental Pharmacology, Springer–Verlag, Heidelberg, pp 385–423

Cabral GA, Lockmuller JC, Mishkin EM (1986) Δ9–Tetrahydrocannabinol decreases alpha/beta interferon response to herpes simplex virus type 2 in the B6C3F1 mouse. Proc Soc Exp Biol Med 181:305–311

Cabral GA, Toney DM, Fischer–Stenger K, Harrison MP, Marciano–Cabral F (1995) Anandamide inhibits macrophage-mediated killing of tumor necrosis factor-sensitive cells. Life Sci 56:2065–2072

Calignano A, La Rana G, Giuffrida A, Piomelli D (1998) Control of pain initiation by endogenous cannabinoids. Nature 394:277–281

Carayon P, Marchand J, Dussossoy D, Derocq JM, Jbilo O, Bord A, Bouaboula M, Galiegue S, Mondiere P, Penarier G, LeFur G, Defrance T, Casellas P (1998) Modulation and functional involvement of CB2 peripheral cannabinoid receptors during B–cell differentiation. Blood 92:3605–3615

Carlisle S, Marciano–Cabral F, Staab A, Ludwick C, Cabral G (2002) Differential expression of the CB2 cannabinoid receptor by rodent macrophages and macrophage-like cells in relation to cell activation. Int Immunopharmacol 2:69–82

Carrier EJ, Kearn CS, Barkmeier AJ, Breese NM, Yang W, Nithipatikom K, Pfister SL, Campbell WB, Hillard CJ (2004) Cultured rat microglial cells synthesize the endocannabinoid 2–arachidonylglycerol, which increases proliferation via a CB2 receptor-dependent mechanism. Mol Pharmacol 65:999–1007

Chuchawankul S, Shima M, Buckley NE, Hartmann CB, McCoy KL (2004) Role of cannabinoid receptors in inhibiting macrophage costimulatory activity. Int Immunopharmacol 4:265–278

Coffey RG, Yamamoto Y, Snella E, Pross S (1996) Tetrahydrocannabinol inhibition of macrophage nitric oxide production. Biochem Pharmacol 52:743–751

Condie R, Herring A, Koh WS, Lee M, Kaminski NE (1996) Cannabinoid induction of adenylate cyclase-mediated signal transduction and interleukin 2 (IL–2) expression in the murine T–cell line, EL4.IL–2. J Biol Chem 271:13175–13183

Croxford JL, Miller SD (2003) Immunoregulation of a viral model of multiple sclerosis using the synthetic cannabinoid R+WIN55,212. J Clin Invest 111:1231–1240

Daaka Y, Zhu W, Friedman H, Klein TW (1997) Induction of IL–2 receptor a gene by Δ9–tetrahydrocannabinol is mediated by nuclear factor kB and CB1 cannabinoid receptor. DNA Cell Biol 16:301–309

Dajani EZ, Larsen KR, Taylor J, Dajani NE, Shahwan TG, Neeleman SD, Taylor MS, Dayton MT, Mir GN (1999) 1′,1′–Dimethylheptyl–delta–8–tetrahydrocannabinol–11–oic acid: a novel, orally effective cannabinoid with analgesic and anti-inflammatory properties. J Pharmacol Exp Ther 291:31–38

Derocq J, Segui M, Marchand J, LeFur G, Casellas P (1995) Cannabinoids enhance human B–cell growth at low nanomolar concentrations. FEBS Lett 369:177–182

Deutsch DG, Ueda N, Yamamoto S (2002) The fatty acid amide hydrolase (FAAH). Prostaglandins Leukot Essent Fat Acids 66:201–210

Devane WA, Dysarz FA III, Johnson MR, Melvin LS, Howlett AC (1988) Determination and characterization of a cannabinoid receptor in rat brain. Mol Pharmacol 34:605–613

Devane WA, Hanus L, Breuer A, Pertwee RG, Stevenson LA, Griffin G, Gibson D, Mandelbaum A, Etinger A, Mechoulam R (1992) Isolation and structure of a brain constituent that binds to the cannabinoid receptor. Science 258:1946–1949

Di Filippo C, Rossi F, Rossi S, D'Amico M (2004) Cannabinoid CB2 receptor activation reduces mouse myocardial ischemia–reperfusion injury: involvement of cytokine/chemokines and PMN. J Leukoc Biol 75:453–459

Di Marzo V, Bifulco M, De Petrocellis L (2004) The endocannabinoid system and its therapeutic exploitation. Nat Rev Drug Discov 3:771–784

Fischer–Stenger K, Updegrove AW, Cabral GA (1992) Δ9–tetrahydrocannabinol decreases cytotoxic T lymphocyte activity to herpes simplex virus type 1–infected cells. Proc Soc Exp Biol Med 200:422–430

Fowler CJ, Holt S, Nilsson O, Jonsson KO, Tiger G, Jacobsson SO (2005) The endocannabinoid signaling system: pharmacological and therapeutic aspects. Pharmacol Biochem Behav 81:248–262

Friedman H, Klein T, Specter S (1991) Immunosuppression by marijuana components. In: Ader R, Felten DL, Cohen N (eds) Psychoneuroimmunology, Academic, San Diego pp 931–953

Galieque S, Mary S, Marchand J, Dussossoy D, Carriere D, Carayon P, Bouaboula M, Shire D, Le Fur G, Casellas P (1995) Expression of central and peripheral cannabinoid receptors in human immune tissues and leukocyte subpopulations. Eur J Biochem 232:54–61

Gallily R, Yamin A, Waksmann Y, Ovadia H, Weidenfeld J, Bar–Joseph A, Biegon A, Mechoulam R, Shohami E (1997) Protection against septic shock and suppression of tumor necrosis factor alpha and nitric oxide production by dexanabinol (HU–211), a nonpsychotropic cannabinoid. J Pharmacol Exp Ther 283:918–924

Gaoni Y, Mechoulam R (1964) Isolation, structure, and partial synthesis of an active constituent of hashish. J Am Chem Soc 86:1646–1647

Gerard CM, Mollereau C, Vassart G, Parmentier M (1991) Molecular cloning of a human cannabinoid receptor which is also expressed in testis. Biochem J 279:129–134

Glass M, Felder CC (1997) Concurrent stimulation of cannabinoid CB1 and dopamine D2 receptors augments cAMP accumulation in striatal neurons: evidence for a Gs linkage to the CB1 receptor. J Neurosci 17:5327–5333

Hanus L, Abu–Lafi S, Fride E, Breuer A, Vogel Z, Shalev DE, Kustanovich I, Mechoulam R (2001) 2–Arachidonyl glyceryl ether, an endogenous agonist of the cannabinoid CB1 receptor. Proc Natl Acad Sci U S A 98:3662–3665

Ho WS, Hiley CR (2004) Vasorelaxant activities of the putative endocannabinoid virodhamine in rat isolated small mesenteric artery. J Pharm Pharmacol 56:869–875

Howlett AC, Johnson MR, Melvin LS, Milne GM (1988) Nonclassical cannabinoid analgetics inhibit adenylate cyclase: development of a cannabinoid receptor model. Mol Pharmacol 33:297–302

Howlett AC, Barth F, Bonner TI, Cabral G, Casellas P, Devane WA, Felder CC, Herkenham M, Mackie K, Martin BR, Mechoulam R, Pertwee RG (2002) International Union of Pharmacology. XXVII. Classification of cannabinoid receptors. Pharmacol Rev 54:161–202

Howlett AC, Breivogel CS, Childers SR, Deadwyler SA, Hampson RE, Porrino LJ (2004) Cannabinoid physiology and pharmacology: 30 years of progress. Neuropharmacology 47:345–358

Ibrahim MM, Deng H, Zvonok A, Cockayne DA, Kwan J, Mata HP, Vanderah TW, Lai J, Porreca F, Makriyannis A, Malan TP Jr (2003) Activation of CB2 cannabinoid receptors by AM1241 inhibits experimental neuropathic pain: pain inhibition by receptors not present in the CNS. Proc Natl Acad Sci U S A 100:10529–10533

Jarai Z, Wagner JA, Varga K, Lake KD, Compton DR, Martin BR, Zimmer AM, Bonner TI, Buckley NE, Mezey E, Razdan RK, Zimmer A, Kunos G (1999) Cannabinoid-induced mesenteric vasodilation through an endothelial site distinct from CB1 or CB2 receptors. Proc Natl Acad Sci U S A 96:14136–14141

Jeon YJ, Yang K, Pulaski JT, Kaminski NE (1996) Attenuation of inducible nitric oxide synthase gene expression by D9–tetrahydrocannabinol is mediated through the inhibition of nuclear factor–kB/Rel activation. Mol Pharmacol 50:334–341

Jorda MA, Verbakel SE, Valk PJ, Vankan–Berkhoudt YV, Maccarrone M, Finazzi–Agro A, Lowenberg B, Delwel R (2002) Hematopoietic cells expressing the peripheral cannabinoid receptor migrate in response to the endocannabinoid 2–arachidonoylglycerol. Blood 99:2786–2793

Joseph J, Niggemann B, Zaenker KS, Entschladen F (2004) Anandamide is an endogenous inhibitor for the migration of tumor cells and T lymphocytes. Cancer Immunol Immunother 53:723–728

Kaminski NE, Abood ME, Kessler FK, Martin BR, Schatz AR (1992) Identification of a functionally relevant cannabinoid receptor on mouse spleen cells that is involved in cannabinoid-mediated immune modulation. Mol Pharmacol 42:736–742

Kaminski N, Koh WS, Yang KH, Lee M, Kessler FK (1994) Suppression of the humoral immune response by cannabinoids is partially mediated through inhibition of adenylate cyclase by a pertussis toxin-sensitive G–protein coupled mechanism. Biochem Pharmacol 48:1899–1908

Kaplan BL, Rockwell CE, Kaminski NE (2003) Evidence for cannabinoid receptor-dependent and –independent mechanisms of action in leukocytes. J Pharmacol Exp Ther 306:1077–1085

Kawakami Y, Klein TW, Newton C, McCarthy CA, Djeu J, Dennert G, Specter S, Friedman H (1988) Suppression by cannabinoids of a cloned cell line with natural killer cell activity. Proc Soc Exp Biol Med 187:355–359

Kishimoto S, Gokoh M, Oka S, Muramatsu M, Kajiwara T, Waku K, Sugiura T (2003) 2–Arachidonoylglycerol induces the migration of HL–60 cells differentiated into macrophage-like cells and human peripheral blood monocytes through the cannabinoid CB2 receptor-dependent mechanism. J Biol Chem 278:24469–24475

Kishimoto S, Kobayashi Y, Oka S, Gokoh M, Waku K, Sugiura T (2004) 2–Arachidonoylglycerol, an endogenous cannabinoid receptor ligand, induces accelerated production of chemokines in HL–60 cells. J Biochem (Tokyo) 135:517–524

Klein TW (2005) Cannabinoid-based drugs as anti-inflammatory therapeutics. Nat Rev Immunol 5:400–411

Klein TW, Friedman H (1990) Modulation of murine immune cell function by marijuana components. In: R Watson (ed) Drugs of Abuse and Immune Function, Boca Raton, FL, CRC Press, pp 87–111

Klein TW, Newton CA, Widen R, Friedman H (1985) The effect of delta–9–tetrahydrocannabinol and 11–hydroxy–delta–9–tetrahydrocannabinol on T lymphocyte and B lymphocyte mitogen responses. J Immunopharmacol 7:451–466

Klein TW, Kawakami Y, Newton C, Friedman H (1991) Marijuana components suppress induction and cytolytic function of murine cytotoxic T cells in vitro and in vivo. J Toxicol Environ Health 32:465–477

Klein TW, Newton C, Friedman H (1994) Resistance to Legionella pneumophila suppressed by the marijuana component, tetrahydrocannabinol. J Infect Dis 169:1177–1179

Klein TW, Newton CA, Nakachi N, Friedman H (2000) D9–tetrahydrocannabinol treatment suppresses immunity and early IFNγ, IL–12, and IL–12 receptor β2 responses to Legionella pneumophila infection. J Immunol 164:6461–6466

Klein T, Newton C, Friedman H (1998a) Cannabinoid receptors and immunity. Immunol Today 19:373–381

Klein T, Friedman H, Specter S (1998b) Marijuana, immunity and infection. J Neuroimmunol 83:102–115

Klein TW, Newton C, Larsen K, Lu L, Perkins I, Nong L, Friedman H (2003) The cannabinoid system and immune modulation. J Leukoc Biol 74:486–496

Knoller N, Levi L, Shoshan I, Reichenthal E, Razon N, Rappaport ZH, Biegon A (2002) Dexanabinol (HU–211) in the treatment of severe closed head injury: a randomized, placebo-controlled, phase II clinical trial. Crit Care Med 30:548–554

Ligresti A, Morera E, Van Der Stelt M, Monory K, Lutz B, Ortar G, Di Marzo V (2004) Further evidence for the existence of a specific process for the membrane transport of anandamide. Biochem J 380:265–272

Liu J, Li H, Burstein SH, Zurier RB, Chen JD (2003) Activation and binding of peroxisome proliferator-activated receptor gamma by synthetic cannabinoid ajulemic acid. Mol Pharmacol 63:983–992

Lyman WD, Sonett JR, Brosnan CF, Elkin R, Bornstein MB (1989) Δ9–tetrahydrocannabinol: a novel treatment for experimental autoimmune encephalomyelitis. J Neuroimmunol 23:73–81

Maccarrone M, Valensise H, Bari M, Lazzarin N, Romanini C, Finazzi–Agro A (2001) Progesterone up-regulates anandamide hydrolase in human lymphocytes: role of cytokines and implications for fertility. J Immunol 166:7183–7189

Malfait AM, Gallily R, Sumariwalla PF, Malik AS, Andreakos E, Mechoulam R, Feldmann M (2000) The nonpsychoactive cannabis constituent cannabidiol is an oral anti-arthritic therapeutic in murine collagen-induced arthritis [see comments]. Proc Natl Acad Sci U S A 97:9561–9566

Marciano–Cabral F (1988) Biology of Naegleria spp. Microbiol Rev 52:114–133

Massi P, Fuzio D, Vigano D, Sacerdote P, Parolaro D (2000) Relative involvement of cannabinoid CB(1) and CB(2) receptors in the Delta(9)–tetrahydrocannabinol–induced inhibition of natural killer activity. Eur J Pharmacol 387:343–347

Matsuda LA, Lolait SJ, Brownstein MJ, Young AC, Bonner TI (1990) Structure of cannabinoid receptor and functional expression of the cloned cDNA. Nature 346:561–564

McCoy KL, Gainey D, Cabral GA (1995) Δ9–Tetrahydrocannabinol modulates antigen processing by macrophages. J Pharmacol Exp Ther 273:1216–1223

McCoy KL, Matveyeva M, Carlisle SJ, Cabral GA (1999) Cannabinoid inhibition of the processing of intact lysozyme by macrophages: evidence for CB2 receptor participation. J Pharmacol Exp Ther 289:1620–1625

Mechoulam R, Ben–Shabat S, Hanus L, Ligumsky M, Kaminski NE, Schatz AR, Gopher A, Almog S, Martin BR, Compton DR, Pertwee RG, Griffin G, Bayewitch M, Barg J, Vogel Z (1995) Identification of an endogenous 2–monoglyceride, present in canine gut, that binds to cannabinoid receptors. Biochem Pharmacol 50:83–90

Mechoulam R, Panikashvili D, Shohami E (2002) Cannabinoids and brain injury: therapeutic implications. Trends Mol Med 8:58–61

Mishkin EM, Cabral GA (1985) Delta–9–tetrahydrocannabinol decreases host resistance to herpes simplex virus type 2 vaginal infection in the B6C3F1 mouse. J Gen Virol 66:2539–2549

Mitchell VA, Aslan S, Safaei R, Vaughan CW (2005) Effect of the cannabinoid ajulemic acid on rat models of neuropathic and inflammatory pain. Neurosci Lett 382:231–235

Molina–Holgado F, Molina–Holgado E, Guaza C (1998) The endogenous cannabinoid anandamide potentiates interleukin–6 production by astrocytes infected with Theiler's murine encephalomyelitis virus by a receptor-mediated pathway. FEBS Lett 433:139–142

Molina–Holgado F, Pinteaux E, Moore JD, Molina–Holgado E, Guaza C, Gibson RM, Rothwell NJ (2003) Endogenous interleukin–1 receptor antagonist mediates anti–inflammatory and neuroprotective actions of cannabinoids in neurons and glia. J Neurosci 23:6470–6474

Morahan PS, Klykken PC, Smith SH, Harris LS, Munson AE (1979) Effects of cannabinoids on host resistance to Listeria monocytogenes and herpes simplex virus. Infect Immun 23:670–674

Munro S, Thomas KL, Abu–Shaar M (1993) Molecular characterization of a peripheral receptor for cannabinoids. Nature 365:61–65

Nakano Y, Pross SH, Friedman H (1992) Modulation of interleukin 2 activity by Δ9–tetrahydrocannabinol after stimulation with concanavalin A, phytohemagglutinin, or anti-CD3 antibody. Proc Soc Exp Biol Med 201:165–168

Offertaler L, Mo FM, Batkai S, Liu J, Begg M, Razdan RK, Martin BR, Bukoski RD, Kunos G (2003) Selective ligands and cellular effectors of a G protein-coupled endothelial cannabinoid receptor. Mol Pharmacol 63:699–705

Okamoto Y, Morishita J, Tsuboi K, Tonai T, Ueda N (2004) Molecular characterization of a phospholipase D generating anandamide and its congeners. J Biol Chem 279:5298–5305

Panikashvili D, Simeonidou C, Ben–Shabat S, Hanus L, Breuer A, Mechoulam R, Shohami E (2001) An endogenous cannabinoid (2–AG) is neuroprotective after brain injury. Nature 413:527–531

Pertwee RG (2002) Cannabinoids and multiple sclerosis. Pharmacol Ther 95:165–174

Porter AC, Sauer JM, Knierman MD, Becker GW, Berna MJ, Bao J, Nomikos GG, Carter P, Bymaster FP, Leese AB, Felder CC (2002) Characterization of a novel endocannabinoid, virodhamine, with antagonist activity at the CB1 receptor. J Pharmacol Exp Ther 301:1020–1024

Puffenbarger RA, Boothe AC, Cabral GA (2000) Cannabinoids inhibit LPS–inducible cytokine mRNA expression in rat microglial cells. Glia 29:58–69

Ramirez BG, Blazquez C, Gomez del Pulgar T, Guzman M, de Ceballos ML (2005) Prevention of Alzheimer's disease pathology by cannabinoids: neuroprotection mediated by blockade of microglial activation. J Neurosci 25:1904–1913

Rayman N, Lam KH, Laman JD, Simons PJ, Lowenberg B, Sonneveld P, Delwel R (2004) Distinct expression profiles of the peripheral cannabinoid receptor in lymphoid tissues depending on receptor activation status. J Immunol 172:2111–2117

Rhee MH, Vogel Z, Barg J, Bayewitch M, Levy R, Hanus L, Breuer A, Mechoulam R (1997) Cannabinol derivatives: binding to cannabinoid receptors and inhibition of adenylylcyclase. J Med Chem 40:3228–3233

Rog DJ, Nurmikko TJ, Friede T, Young CA (2005) Randomized, controlled trial of cannabis-based medicine in central pain in multiple sclerosis. Neurology 65:812–819

Saario SM, Savinainen JR, Laitinen JT, Jarvinen T, Niemi R (2004) Monoglyceride lipase-like enzymatic activity is responsible for hydrolysis of 2–arachidonoylglycerol in rat cerebellar membranes. Biochem Pharmacol 67:1381–1387

Sacerdote P, Massi P, Panerai AE, Parolaro D (2000) In vivo and in vitro treatment with the synthetic cannabinoid CP55, 940 decreases the in vitro migration of macrophages in the rat: involvement of both CB1 and CB2 receptors. J Neuroimmunol 109:155–163

Schwarz H, Blanco FJ, Lotz M (1994) Anandamide, an endogenous cannabinoid receptor agonist inhibits lymphocyte proliferation and induces apoptosis. J Neuroimmunol 55:107–115

Shohami E, Gallily R, Mechoulam R, Bass R, Ben–Hur T (1997) Cytokine production in the brain following closed head injury: dexanabinol (HU–211) is a novel TNF–alpha inhibitor and an effective neuroprotectant. J Neuroimmunol 72:169–177

Smith SR, Terminelli C, Denhardt G (2000) Effects of cannabinoid receptor agonist and antagonist ligands on production of inflammatory cytokines and anti-inflammatory interleukin–10 in endotoxemic mice. J Pharmacol Exp Ther 293:136–150

Srivastava MD, Srivastava BIS, Brouhard B (1998) Δ9 Tetrahydrocannabinol and cannabidiol alter cytokine production by human immune cells. Immunopharmacology 40:179–185

Stefano GB, Bilfinger TV, Rialas CM, Deutsch DG (2000) 2–Arachidonyl–glycerol stimulates nitric oxide release from human immune and vascular tissues and invertebrate immunocytes by cannabinoid receptor 1. Pharmacol Res 42:317–322

Sugiura T, Kondo S, Sukagawa A, Tonegawa T, Nakane S, Yamashita A, Waku K (1996) Enzymatic synthesis of anandamide, an endogenous cannabinoid receptor ligand, through N–acylphosphatidylethanolamine pathway in testis: involvement of Ca(2+)–dependent transacylase and phosphodiesterase activities. Biochem Biophys Res Commun 218:113–117

Sugiura T, Kobayashi Y, Oka S, Waku K (2002) Biosynthesis and degradation of anandamide and 2–arachidonoylglycerol and their possible physiological significance. Prostaglandins Leukot Essent Fat Acids 66:173–192

Svendsen KB, Jensen TS, Bach FW (2004) Does the cannabinoid dronabinol reduce central pain in multiple sclerosis? Randomised double blind placebo controlled crossover trial. BMJ 329:253

Tomida I, Pertwee RG, Azuara–Blanco A (2004) Cannabinoids and glaucoma. Br J Ophthalmol 88:708–713

Valk P, Verbakel S, Vankan Y, Hol S, Mancham S, Ploemacher R, Mayen A, Lowenberg B, Delwel R (1997) Anandamide, a natural ligand for the peripheral cannabinoid receptor is a novel synergistic growth factor for hematopoietic cells. Blood 90:1448–1457

Vaney C, Heinzel–Gutenbrunner M, Jobin P, Tschopp F, Gattlen B, Hagen U, Schnelle M, Reif M (2004) Efficacy, safety and tolerability of an orally administered cannabis extract in the treatment of spasticity in patients with multiple sclerosis: a randomized, double-blind, placebo-controlled, crossover study. Mult Scler 10:417–424

Varga K, Wagner JA, Bridgen DT, Kunos G (1998) Platelet– and macrophage-derived endogenous cannabinoids are involved in endotoxin-induced hypotension. FASEB J 12:1035–1044

Veldhuis WB, van der Stelt M, Wadman MW, van Zadelhoff G, Maccarrone M, Fezza F, Veldink GA, Vliegenthart JF, Bar PR, Nicolay K, Di Marzo V (2003) Neuroprotection by the endogenous cannabinoid anandamide and arvanil against in vivo excitotoxicity in the rat: role of vanilloid receptors and lipoxygenases. J Neurosci 23:4127–4133

Wade DT, Makela P, Robson P, House H, Bateman C (2004) Do cannabis-based medicinal extracts have general or specific effects on symptoms in multiple sclerosis? A double-blind, randomized, placebo-controlled study on 160 patients. Mult Scler 10:434–441

Wagner JA, Varga K, Kunos G, Bridgen DT (1998) Cardiovascular actions of cannabinoids and their generation during shock platelet– and macrophage–derived endogenous cannabinoids are involved in endotoxin–induced hypotension. J Mol Med 76:824–836

Wagner JA, Jarai Z, Batkai S, Kunos G (2001) Hemodynamic effects of cannabinoids: coronary and cerebral vasodilation mediated by cannabinoid CB(1) receptors. Eur J Pharmacol 423:203–210

Waksman Y, Olson JM, Carlisle SJ, Cabral GA (1999) The central cannabinoid receptor (CB1) mediates inhibition of nitric oxide production by rat microglial cells. J Pharmacol Exp Ther 288:1357–1366

Wang Y, Liu Y, Ito Y, Hashiguchi T, Kitajima I, Yamakuchi M, Shimizu H, Matsuo S, Imaizumi H, Maruyama I (2001) Simultaneous measurement of anandamide and 2–arachidonoylglycerol by polymyxin B–selective adsorption and subsequent high-performance liquid chromatography analysis: increase in endogenous cannabinoids in the sera of patients with endotoxic shock. Anal Biochem 294:73–82

Watzl B, Scuderi P, Watson RR (1991) Influence of marijuana components (THC and CBD) on human mononuclear cell cytokine secretion in vitro. In: H Friedman, S Specter, TW Klein (eds) Advances in Experimental Medicine and Biology, Plenum, New York, pp 63–70

Welch SP, Huffman JW, Lowe J (1998) Differential blockade of the antinociceptive effects of centrally administered cannabinoids by SR141716A. J Pharmacol Exp Ther 286:1301–1308

Wirguin I, Mechoulam R, Breuer A, Schezen E, Weidenfeld J, Brenner T (1994) Suppression of experimental autoimmune encephalomyelitis by cannabinoids. Immunopharmacology 28:209–214

Yebra M, Klein TW, Friedman H (1992) Δ9–Tetrahydrocannabinol suppresses concanavalin A induced increase in cytoplasmic free calcium in mouse thymocytes. Life Sci 51:151–160

Zhu W, Igarashi T, Friedman H, Klein TW (1995) Δ9–Tetrahydrocannabinol (THC) causes the variable expression of IL2 receptor subunits. J Pharmacol Exp Ther 274:1001–1007

Zhu LX, Sharma S, Stolina M, Gardner B, Roth MD, Tashkin DP, Dubinett SM (2000) Δ–9–tetrahydrocannabinol inhibits antitumor immunity by a CB2 receptor-mediated, cytokine-dependent pathway. J Immunol 165:373–380

Zurier RB, Rossetti RG, Lane JH, Goldberg JM, Hunter SA, Burstein SH (1998) Dimethylheptyl–THC–11 oic acid. A nonpsychoactive antiinflammatory agent with a cannabinoid template structure. Arthritis Rheum 41:163–170

Zurier RB, Rossetti RG, Burstein SH, Bidinger B (2003) Suppression of human monocyte interleukin–1beta production by ajulemic acid, a nonpsychoactive cannabinoid. Biochem Pharmacol 65:649–655

Zygmunt PM, Petersson J, Andersson DA, Chuang H, Sorgard M, Di Marzo V, Julius D, Hogestatt ED (1999) Vanilloid receptors on sensory nerves mediate the vasodilator action of anandamide. Nature 400:452–457
Acknowledgments
This study was supported in part by DA03646 (TWK) and DA05832 and DA15608 (GAC) from NIDA.
About this article
Cite this article
Klein, T.W., Cabral, G.A. Cannabinoid-Induced Immune Suppression and Modulation of Antigen-Presenting Cells. Jrnl NeuroImmune Pharm 1, 50 (2006). https://doi.org/10.1007/s11481-005-9007-x
Keywords
Fatty Acid Amide Hydrolase

Vanilloid Receptor

Palmitoylethanolamide

Ajulemic Acid

Noladin Ether