Abstract
Recovery from addiction is a complex phenomenon. Without a clear and measureable definition, its ambiguity risks hindering the advancement of recovery-oriented practice and research. The purpose of this study was twofold: (1) understand the meaning of recovery from the perspective of individuals with lived experience and (2) identify measurement domains to inform the development of a recovery monitoring system. We conducted five semi-structured focus groups and two interviews with individuals 18 years and older who completed an addiction treatment program and were enrolled in aftercare. Participants were asked questions about how they personally defined "successful" recovery. Data were analyzed using a general inductive approach through independent parallel coding. We explored emergent themes including the following: Recovery is a process; abstinence is an important aspect of recovery, but not sufficient; recovery is multidimensional; and, recovery requires ongoing commitment. This study identified measurable recovery-oriented outcomes and methodological considerations to inform future recovery monitoring systems.
This is a preview of subscription content, log in to check access.
Access options
Buy single article
Instant access to the full article PDF.
US$ 39.95
Price includes VAT for USA
Subscribe to journal
Immediate online access to all issues from 2019. Subscription will auto renew annually.
US$ 99
This is the net price. Taxes to be calculated in checkout.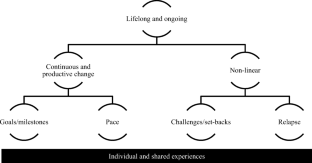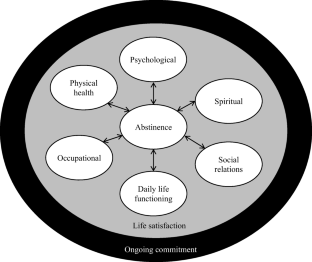 References
American Society of Addiction Medicine. (2013). Terminology related to addiction, treatment and recovery. Retrieved from http://www.asam.org/docs/default-source/public-policy-statements/1-terminology-atr-7-135f81099472bc604ca5b7ff000030b21a.pdf?sfvrsn=0

Best, D., & Laudet, A. (2010). The potential of recovery capital. Accessed Dec.15, 2017 at http://farronline.org/wp-content/uploads/2014/06/potential-of-recovery-capital.pdf

Best, D., Beckwith, M., Haslam, C., & Haslam, A. (2016). Overcoming alcohol and other drug addiction as a process of social identify transition: the social identity model of recovery (SIMOR). Addiction Research & Theory., 24, 111–123.

Betty Ford Institute (2007). What is recovery? A working definition from the Betty Ford Institute. Journal of Substance Abuse Treatment, 33, 221–228.

Borkman, T. J., Stunz, A., & Kaskutas, L. A. (2016). Developing an experiential definition of recovery: participatory research with recovering substance abusers from multiple pathways. Substance Use & Misuse, 51(9), 1116–1129.

Braun, V., & Clark, V. (2006). Using thematic analysis in psychology. Qualitative Research in Psychology, 3, 77–101.

Canadian Centre on Substance Use and Addiction (2017). Moving toward a recovery-oriented system of care: A resource for service providers and decision makers. Ottawa, Ontario.

Cloud, W., & Granfield, R. (2009). Conceptualizing recovery capital: expansion of a theoretical construct. (2008). Substance Use and Misuse, 12-13, 1971–1986.

Cornwall, A., & Jewkes, R. (1995). What is participatory research? Social Science and Medicine, 41(12), 1667–1676.

Costello, M. J., Ropp, C., Sousa, S., Woo, W., Vedelago, H., & Rush, B. (2016). The development and implementation of an outcome monitoring system for addiction treatment. Canadian Journal of Addiction, 7(3), 15–24.

Dennis, M., & Scott, C. K. (2007). Managing addiction as a chronic condition. Addiction Science & Clinical Practice, 4(1), 45–55.

Dodge, K., Krantz, B., & Kenny, P. J. (2010). How can we begin to measure recovery? Substance Abuse Treatment, Prevention, and Policy, 5, 31 Retrieved from http://www.substanceabusepolicy.com/content/5/1/31.

Duffy, P. & Baldwin, H. (2013). Recovery post treatment: plans, barriers and motivators. Substance Abuse Treatment, Prevention, and Policy, 8, 6. Retrieved from http://www.substanceabusepolicy.com/content/8/1/6.

Groshkova, T., Best, D., & White, W. (2013). The assessment of recovery capital: properties of a measure of addiction recovery strengths. Drug and Alcohol Review, 32(2), 187–194.

Hibbert, L. J., & Best, D. W. (2011). Assessing recovery and functioning in former problem drinkers at different stages of their recovery journeys. Drug and Alcohol Review., 30(1), 12–20.

Jarusiewisz, B. (2008). Spirituality and addiction. Alcoholism Treatment Quarterly, 18(4), 99–109.

Kaskutas, L. A., Borkman, T. J., Laudet, A., Ritter, L. A., Witbrodt, J., Subbaraman, M. S., Stunz, A., & Bond, J. (2014). Elements that define recovery: The experiential perspective. Journal of Studies on Alcohol and Drugs, 75, 999–1010.

Kaskutas, L. A., Witbrodt, J., & Grella, C. E. (2015). Recovery definitions: do they change? Drug and Alcohol Dependence, 154, 85–92.

Laudet, A. B. (2007). What does recovery mean to you? Lessons from the recovery experience for research and practice. Journal of Substance Abuse Treatment, 33, 243–256.

Mackintosh, V., & Knight, T. (2012). The notion of self in the journey back from addiction. Qualitative Health Research, 22(8), 1094–1101.

Marcellus, L., MacKinnon, K., Benoit, C., Phillips, R., & Stengel, C. (2015). Reenvisioning success for programs supporting pregnant women with problematic substance use. Qualitative Health Research, 25(4), 500–512.

McLellan, A. T., Lewis, D. C., O'Brien, C. P., & Kleber, H. D. (2000). Drug dependence, a chronic medical illness: implications for treatment, insurance and outcomes evaluation. Journal of the American Medical Association, 284(13), 1689–1695.

McLellan, A. T., McKay, J. R., Forman, R., Cacciola, J., & Kemp, J. (2005). Reconsidering the evaluation of addiction treatment: from retrospective follow-up to concurrent recovery monitoring. Addiction, 100, 447–458.

McLellan, A. T., Chalk, M., & Bartlett, J. (2007). Outcomes, performance, and quality—what's the difference? Journal of Substance Abuse Treatment, 32, 331–340.

McQuaid, R., Malik, A., Moussouni, K., Baydack, N., Stargardter, M., & Morrisey, M. (2017). Life in recovery from addiction in Canada. Ottawa: Canadian Centre on Substance Use and Addiction Retrieved from http://www.ccsa.ca/Resource%20Library/CCSA-Life-in-Recovery-from-Addiction-Report-2017-en.pdf.

Neale, J., Finch, E., Marsden, J., Luke, M., Rose, D., Strang, J., Tompkins, C., Wheeler, C., & Wykes, T. (2014). How should we measure addiction recovery? Analysis of service provider perspectives using online Delphi groups. Drugs: Education, Prevention and Policy, 21(4), 310–323.

Norlyk, A., & Harder, I. (2010). What makes a phenomenological study phenomenological? An analysis of peer-reviewed empirical nursing studies. Qualitative Health Research, 20(3), 420–431.

Rush, B. R., Martin, G., & Corea, L. M. (2009). Monitoring alcohol and drug treatment: What would an optimal system look like? Contemporary Drug Problems, 36, 545–574.

Rush, B. R., Rotondi, N. K., Chau, N., Furlong, A., Godinho, A., Schell, C., Kwong, C., Ehtesham, S. (2013). Drug treatment funding program client recovery monitoring project. Toronto: Centre for Addiction and Mental Health. Retrieved from http://eenet.ca/dtfp/client-outcome-monitoring-project/.

Substance Abuse and Mental Health Services Administration. (2012). SAMHSA's Working definition of recovery: 10 guiding principles of recovery. Retrieved from https://blog.samhsa.gov/2012/03/23/defintion-of-recovery-updated/#.WOvJwPnyupo

Thomas, D. R. (2006). A general inductive approach for analyzing qualitative evaluation data. American Journal of Evaluation, 27(2), 237–246.

Van Manen, M. (1990). Researching lived experience: Human science for an action sensitive pedagogy. New York: State University of New York.

Watson, D. P., & Rollins, A. L. (2015). The meaning of recovery from co-occurring disorders: Views from consumers and staff members living and working in housing first programming. International Journal of Mental Health and Addiction, 13, 635–649.

White, W. L. (2007). Addiction recovery: its definition and conceptual boundaries. Journal of Substance Abuse Treatment, 33, 229–241.

White, W., Boyle, M., & Loveland, D. (2005). Recovery from addiction and from mental illness: shared and contrasting lessons. In R. O. Ralph & P. W. Corrigan (Eds.), Recovery in mental illness: Broadening our understanding of wellness (pp. 233–258). Washington: American Psychological Association.

Witbroadt, J., Kaskuta, L. A., & Grella, C. E. (2015). How do recovery definitions distinguish recovering individuals? Five typologies. Drug and Alcohol Dependence, 148, 109–117.

World Health Organization (2016). International standards for the treatment of drug use disorders. Vienna, Austria. Retrieved from https://www.unodc.org/documents/commissions/CND/CND_Sessions/CND_59/ECN72016_CRP4_V1601463.pdf
Acknowledgements
We thank Kayla Deroux and Kathryn Junkin for their assistance with recruitment, data collection, transcription, and preliminary data coding. Special thanks to program staff for their support and effort facilitating recruitment, and to participants for sharing their insights on and experiences in recovery.
Funding
This research did not receive any specific grant from funding agencies in the public, commercial, or not-for-profit sectors.
Ethics declarations
All procedures followed were in accordance with the ethical standards of the responsible committee on human experimentation (Regional Centre for Excellence in Ethics, Guelph, Ontario, Canada) and with the Helsinki Declaration of 1975, as revised in 2000 (5).
Conflict of Interest
The authors declare the following potential conflict of interest: Homewood Research Institute is an independent charitable organization funded through a variety of sources including community stakeholders, corporations, private foundations, and philanthropic support from the Schlegel family. The Schlegel family owns Homewood Health.
Informed Consent
Informed consent was obtained from all patients prior to being included in the study.
About this article
Cite this article
Costello, M.J., Sousa, S., Ropp, C. et al. How to Measure Addiction Recovery? Incorporating Perspectives of Individuals with Lived Experience. Int J Ment Health Addiction 18, 599–612 (2020). https://doi.org/10.1007/s11469-018-9956-y
Keywords
Addiction

Substance use

Alcohol

Health outcomes

Recovery