Abstract
With legalization of retail marijuana in Colorado, and the opening of dispensaries in January 2014, two key questions were how legalization would impact marijuana use and whether there would be an increase in adverse health events. Legalization did not noticeably impact marijuana use rates among adolescents or young adults. Past-30-day use among adolescents remained steady for more than ten years, pre- and post-legalization. Use among 18–25-year-olds has gradually increased for over ten years, with no change in the trend around legalization. However, healthcare encounters with mention of marijuana have increased after legalization. Poison center calls among 9–17-year-olds have markedly increased, while calls for 18–25-year-olds saw a modest increase. Meanwhile, the portion of hospitalizations with a marijuana code increased modestly among 9–17-year-olds but tripled among 18–25-year-olds, reaching 8.1% in 2014–2015. Healthcare encounters with mention of marijuana are rare among 0–8-year-olds, but have increased. Several future efforts are important. These include: 1) detailed analysis of use patterns, especially among individuals who use marijuana frequently 2) further research and improved data on healthcare encounters with mention of marijuana, to clarify their nature, cause, and severity and 3) research on long-term health effects of marijuana use with particular focus on the effects of greater frequency and quantity of use.
This is a preview of subscription content, log in to check access.
Access options
Buy single article
Instant access to the full article PDF.
US$ 39.95
Price includes VAT for USA
Subscribe to journal
Immediate online access to all issues from 2019. Subscription will auto renew annually.
US$ 99
This is the net price. Taxes to be calculated in checkout.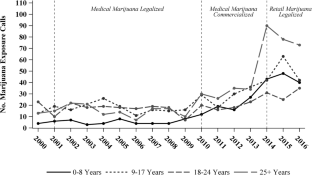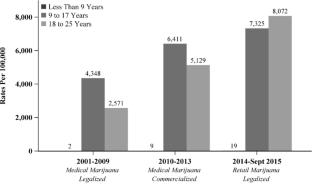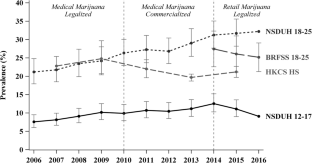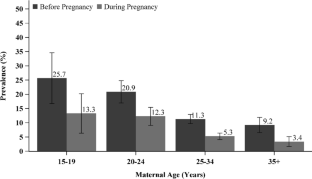 Ethics declarations
Conflict of Interest
The authors declare that they have no conflict of interest.
About this article
Cite this article
Vigil, D.I., Van Dyke, M., Hall, K.E. et al. Marijuana Use and Related Health Care Encounters in Colorado Before and After Retail Legalization. Int J Ment Health Addiction 16, 806–812 (2018). https://doi.org/10.1007/s11469-018-9901-0
Keywords
Marijuana

Cannabis

Legalization

Prevalence

Healthcare

Hospitalization