Abstract
Emerging adults show higher prevalence of harmful risk behaviors, such as alcohol use and gambling, compared to other age groups. In existing research, it appears that patterns of risk behaviors vary by gender during emerging adulthood. However, scarce research has examined gender differences in prospective relations among risk behaviors in emerging adults. This study explores gender differences in the developmental risks of depression, antisocial behavior, and alcohol use (Wave III) on gambling (Waves III and IV) in emerging adulthood in a sample of emerging adults (N = 8282) from the National Longitudinal Study of Adolescent to Adult Health. Results showed that antisocial behavior was associated with increased risk of alcohol use. Heavy drinking in early emerging adulthood was associated with increased risk of gambling later, but depression was marginally protective of gambling. Among men, contemporaneous associations between alcohol use and heavy drinking were stronger than among women. Among women, earlier binge drinking conferred increased risk of later gambling problems, but in men negative relationships between the two were found. The results highlight the importance of ongoing efforts in early prevention and intervention for the co-occurrence of risk behaviors in emerging adulthood.
Access options
Buy single article
Instant access to the full article PDF.
US$ 39.95
Tax calculation will be finalised during checkout.
Subscribe to journal
Immediate online access to all issues from 2019. Subscription will auto renew annually.
US$ 79
Tax calculation will be finalised during checkout.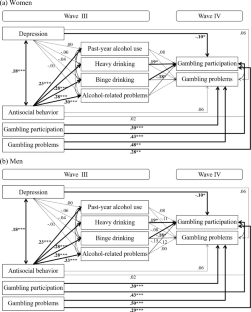 References
Afifi, T. O., Nicholson, R., Martins, S. S., & Sareen, J. (2016). A longitudinal study of the temporal relation between problem gambling and mental and substance use disorders among young adults. The Canadian Journal of Psychiatry, 61(2), 102–111.

Ahrnsbrak, R., Bose, J., Hedden, S. L., Lipari, R. N., & Park-Lee, E. (2017). Key substance use and mental health indicators in the United States: Results from the 2016 National Survey on Drug Use and Health. Rockville, MD: Center for Behavioral Health Statistics and Quality, Substance Abuse and Mental Health Services Administration.

Barajas-Gonzalez, R. G., & Brooks-Gunn, J. (2014). Income, neighborhood stressors, and harsh parenting: test of moderation by ethnicity, age, and gender. Journal of Family Psychology, 28(6), 855–866.

Blaszczynski, A., & Nower, L. (2002). A pathways model of problem and pathological gambling. Addiction, 97(5), 487–499.

Blinn-Pike, L., Worthy, S. L., & Jonkman, J. N. (2010). Adolescent gambling: a review of an emerging field of research. Journal of Adolescent Health, 47(3), 223–236.

Byrne, B. M. (2012). Structural equation modeling with Mplus: Basic concepts, applications, and programming. New York, NY: Routledge.

Caldeira, K. M., Arria, A. M., O'Grady, K. E., Vincent, K. B., Robertson, C., & Welsh, C. J. (2017). Risk factors for gambling and substance use among recent college students. Drug and Alcohol Dependence, 179, 280–290.

Chou, C. P., & Bentler, P. M. (1990). Model modification in covariance structure modeling: a comparison among likelihood ratio, Lagrange multiplier, and Wald tests. Multivariate Behavioral Research, 25(1), 115–136.

Dussault, F., Brendgen, M., Vitaro, F., Wanner, B., & Tremblay, R. E. (2011). Longitudinal links between impulsivity, gambling problems and depressive symptoms: a transactional model from adolescence to early adulthood. Journal of Child Psychology and Psychiatry, 52(2), 130–138.

Edgren, R., Castrén, S., Jokela, M., & Salonen, A. H. (2016). At-risk and problem gambling among Finnish youth: the examination of risky alcohol consumption, tobacco smoking, mental health and loneliness as gender-specific correlates. Nordic Studies on Alcohol and Drugs, 33(1), 61–80.

Evans-Polce, R. J., Vasilenko, S. A., & Lanza, S. T. (2015). Changes in gender and racial/ethnic disparities in rates of cigarette use, regular heavy episodic drinking, and marijuana use: ages 14 to 32. Addictive Behaviors, 41, 218–222.

Exner-Cortens, D., Eckenrode, J., & Rothman, E. (2013). Longitudinal associations between teen dating violence victimization and adverse health outcomes. Pediatrics, 131(1), 71–78.

Fernández, A. S., & Arango, N. M. (2013). Dating violence in relation to problem drinking and risky sexual behaviors. International E-Journal of Criminal Sciences, 7, 1–26.

Guo, G., Roettger, M. E., & Cai, T. (2008). The integration of genetic propensities into social-control models of delinquency and violence among male youths. American Sociological Review, 73(4), 543–568.

Gupta, R., Nower, L., Derevensky, J. L., Blaszczynski, A., Faregh, N., & Temcheff, C. (2013). Problem gambling in adolescents: an examination of the pathways model. Journal of Gambling Studies, 29(3), 575–588.

Harris, K. M. (2013). The add health study: Design and accomplishments. Chapel Hill, NC: Carolina Population Center, University of North Carolina at Chapel Hill.

Harris, K. M., Halpern, C. T., Whitsel, E., Hussey, J., Tabor, J., Entzel, P., & Udry, J. R. (2009). The national longitudinal study of adolescent to adult health: research design [WWW document]. http://www.cpc.unc.edu/projects/addhealth/design. Accessed 16 February 2016.

Hodgins, D. C., von Ranson, K. M., & Montpetit, C. R. (2016). Problem drinking, gambling and eating among undergraduate university students. What are the links? International Journal of Mental Health and Addiction, 14(2), 181–199.

Hu, L. T., & Bentler, P. M. (1999). Cutoff criteria for fit indexes in covariance structure analysis: conventional criteria versus new alternatives. Structural Equation Modeling: A Multidisciplinary Journal, 6(1), 1–55.

Kline, R. B. (2011). Principles and practice of structural equation modeling (3rd ed.). New York, NY: Guilford press.

LaBrie, R. A., Shaffer, H. J., LaPlante, D. A., & Wechsler, H. (2003). Correlates of college student gambling in the United States. Journal of American College Health, 52(2), 53–62.

Lim, J. Y., & Lui, C. K. (2016). Longitudinal associations between substance use and violence in adolescence through adulthood. Journal of Social Work Practice in the Addictions, 16(1–2), 72–92.

Martens, M. P., Rocha, T. L., Cimini, M. D., Diaz-Myers, A., Rivero, E. M., & Wulfert, E. (2009). The co-occurrence of alcohol use and gambling activities in first-year college students. Journal of American College Health, 57(6), 597–602.

Martin, R. J., Usdan, S., Cremeens, J., & Vail-Smith, K. (2014). Disordered gambling and co-morbidity of psychiatric disorders among college students: An examination of problem drinking, anxiety and depression. Journal of Gambling Studies, 30(2), 321–333.

Mason, W. A., Hitch, J. E., Kosterman, R., McCarty, C. A., Herrenkohl, T. I., & David Hawkins, J. (2010). Growth in adolescent delinquency and alcohol use in relation to young adult crime, alcohol use disorders, and risky sex: a comparison of youth from low-versus middle-income backgrounds. Journal of Child Psychology and Psychiatry, 51(12), 1377–1385.

Muthén, L. K., & Muthén, B. O. (1998–2012). Mplus user's guide (7th ed.). Log Angeles, CA: Muthén & Muthén.

Needham, B. L., & Austin, E. L. (2010). Sexual orientation, parental support, and health during the transition to young adulthood. Journal of Youth and Adolescence, 39(10), 1189–1198.

Pulkkinen, L., & Pitkänen, T. (1994). A prospective study of the precursors to problem drinking in young adulthood. Journal of Studies on Alcohol, 55(5), 578–587.

Radloff, L. S. (1977). The CES-D scale a self-report depression scale for research in the general population. Applied Psychological Measurement, 1(3), 385–401.

SAS Institute Inc. (2011). Base SAS® 9.3 Procedures Guide. Cary, NC: SAS Institute Inc.

Schulenberg, J. E., & Maggs, J. L. (2002). A developmental perspective on alcohol use and heavy drinking during adolescence and the transition to young adulthood. Journal of Studies on Alcohol, Supplement, 14, 54–70.

Slutske, W. S., Jackson, K. M., & Sher, K. J. (2003). The natural history of problem gambling from age 18 to 29. Journal of Abnormal Psychology, 112(2), 263–274.

Sussman, S., & Arnett, J. J. (2014). Emerging adulthood: developmental period facilitative of the addictions. Evaluation & the Health Professions, 37(2), 147–155.

Walker, D. M., Clark, C., & Folk, J. L. (2010). The relationship between gambling behavior and binge drinking, hard drug use, and paying for sex. UNLV Gaming Research & Review Journal, 14(1), 15–26.

Wiersma, J. D., & Fischer, J. L. (2014). Young adult drinking partnerships: alcohol-related consequences and relationship problems six years later. Journal of Studies on Alcohol and Drugs, 75(4), 704–712.

Winters, K. C., Stinchfield, R. D., Botzet, A., & Anderson, N. (2002). A prospective study of youth gambling behaviors. Psychology of Addictive Behaviors, 16(1), 3–9.

Wong, G., Zane, N., Saw, A., & Chan, A. K. K. (2013). Examining gender differences for gambling engagement and gambling problems among emerging adults. Journal of Gambling Studies, 29(2), 171–189.
Acknowledgments
This research uses data from Add Health, a program project directed by Kathleen Mullan Harris and designed by J. Richard Udry, Peter S. Bearman, and Kathleen Mullan Harris at the University of North Carolina at Chapel Hill, and funded by grant P01-HD31921 from the Eunice Kennedy Shriver National Institute of Child Health and Human Development, with cooperative funding from 23 other federal agencies and foundations. Special acknowledgment is due Ronald R. Rindfuss and Barbara Entwisle for assistance in the original design. Information on how to obtain the Add Health data files is available on the Add Health website (http://www.cpc.unc.edu/addhealth). No direct support was received from grant P01-HD31921 for this analysis.
Ethics declarations
Funding
This study was supported by the competitive dissertation grant from University of Maryland School of Social Work.
Conflict of Interest
The authors declare that they have no conflict of interest.
Informed Consent
Add Health participants provided written informed consent for participation in all aspects of Add Health in accordance with the University of North Carolina School of Public Health Institutional Review Board guidelines that are based on the Code of Federal Regulations on the Protection of Human Subjects 45CFR46: http://www.hhs.gov/ohrp/humansubjects/guidance/45cfr46.html.
Additional information
Publisher's Note
Springer Nature remains neutral with regard to jurisdictional claims in published maps and institutional affiliations.
About this article
Cite this article
Jun, HJ., Sacco, P., Bright, C. et al. Gender Differences in the Relationship Between Depression, Antisocial Behavior, Alcohol Use, and Gambling during Emerging Adulthood. Int J Ment Health Addiction 17, 1328–1339 (2019). https://doi.org/10.1007/s11469-018-0048-9
Keywords
Gambling

Depression

Antisocial behavior

Alcohol use

Gender differences

Emerging adults