Access Barriers to Services by Immigrant Mothers of Children with Autism in Canada
Open Access
Original Article
Abstract
Equal access for autism services remains suboptimal for diverse groups. In Canada, little is known about the barriers immigrant mothers face accessing services and support for their children with developmental disabilities. In this qualitative study, 21 immigrant mothers of children with Autism, from a diverse ethno cultural background, were interviewed in Toronto, Canada. We apply House's (1981) four domains of social support to analyze findings. Structural support challenges, such as delays in diagnosis, fragmented and dispersed services were common, followed by instrumental challenges due to loss of social ties and stigma. Lack of expected support from partners, and negative perceptions of services, were identified as emotional and perceptive challenges. Focused attention is required to address inequalities within the context of current access pathways for autism.
Keywords
Autism 
Canada 
Disabilities 
Immigrant 
Mothers 
Social support 
Mothers of children with Autism Spectrum Disorder (ASD) require timely access to effective supports across service sectors, yet face many access barriers. Among immigrant families this may be further compounded due to acculturation stressors and learning to navigate new education, social and health sectors. Therefore, promoting equitable access requires that the challenges immigrant families face in accessing supports and services for their children with ASD be fully understood. Evidence for the role of social support in facilitating improved outcomes for both parents and children is consistent (Wang and Brown 2009; Hendricks, de Moor, Oud, and Franken 2000). In addition to accessing services, immigrant families of children with ASD require social support. Social support has been recognized as an important positive influence on the health and wellbeing of parents (WHO 2003; Pelchat 2007; Edmondson 2003), a way to reduce family burden for parents of children with disabilities (Lopez 2014), and has also been linked to the timeliness of and effectiveness in outcomes of ASD interventions (Osborne et al. 2008; Weiss et al. 2013). Both perceived and actual social support have been reported to reduce parental stress, increase coping skills, and prevent parents from developing conditions such as depression and anxiety (Samadi and McConkey 2014). If timely diagnosis and optimal intervention effectiveness partly depend on social support, the clinical access pathway to services for ASD needs to also consider the flow of support to parents through interaction with people and organizations.
Communities such as immigrant mothers with diverse levels of social support and access to services may also differ in their tendency to facilitate or delay diagnosis and intervention. Rates of ASD have shown to be 36% higher in children of immigrant mothers (Becerra et al.
2014
). One study, for example, found that mothers born in Eastern Asia are 25% more likely to have a child diagnosed with ASD compared to non-immigrants (Dealberto
2011
), and immigrants from Sub-Saharan Africa are 76% more likely (Bolton et al.
2014
; Pavlish et al.
2010
). Despite the evidence for the critical need to equal and timely access for children with ASD, very little research has been conducted to identify the challenges encountered by immigrant mothers (Fig.
1
).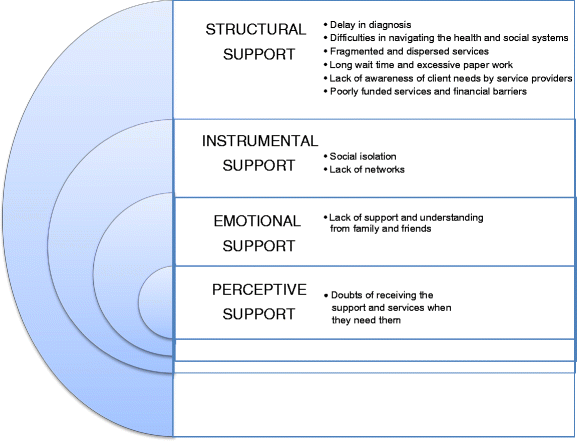 In Canada, migration is an integral part of federal policy. In 2012 immigrants accounted for two-thirds of its population growth (Statistics Canada 2012). About 49% of Toronto's population identify themselves as immigrants, one third being newcomers, having arrived in Canada between 2001 and 2011 (City of Toronto 2013). By 2018, over 60,000 refugee families from the Middle East, Nepal, Ecuador, Burundi, Ethiopia and Sudan will have re-settled in Canada. It is estimated that 56% of these refugees are families with children younger than 14 years of age – children who have not had access to either educational or health services for several years and parents with low literacy and language skills (Citizenship and Immigration Canada 2016). This increase in ethnic diversity of local communities impacts both the newcomers themselves and the host society with resultant implications for equitable social and health services access and provision.
Immigrant families typically leave behind strong social networks (i.e., close family and friends) in their home countries, but may bring with them perceptions and traditions from a society with different expectations for child development and available services. As a result, they may struggle to navigate through new systems of service for children, especially those with more complex developmental difficulties, such as ASD (Shepherd and Waddell 2015). There are also a host of variables that can impact the ability of immigrant families to access supports for their children and for themselves. Studies have documented that children of immigrants with ASD have reduced access to resources, early intervention and, thus, to positive outcomes (Chiao and Blizinsky 2013).
Notes
Acknowledgments
We wish to acknowledge funding provided by Start-up Funding to Nazilla Khanlou as part of her Chair in Women's Health Research in Mental Health at York University. We acknowledge Sheila Jennings' contributions as the Research Coordinator and interviewer for the Mothers Project.
Compliance with Ethical Standards
Funding
This study was funded through Start-up Funding at – University to the first author of the manuscript (Principal Investigator of the study).
Conflict of Interest
All authors' declares that they don't have conflict of interest.
Ethical Approval
All procedures performed in the study involving human participants were in accordance with the ethical standards of – University's Research Ethics Board and with the 1964 Helsinki declaration and its later amendments or comparable ethical standards.
Informed Consent
Informed consent was obtained from all individual participants included in the study.
Copyright information
© The Author(s) 2017
Open Access This article is distributed under the terms of the Creative Commons Attribution 4.0 International License (http://creativecommons.org/licenses/by/4.0/), which permits unrestricted use, distribution, and reproduction in any medium, provided you give appropriate credit to the original author(s) and the source, provide a link to the Creative Commons license, and indicate if changes were made.