Abstract
Due to its potential to concurrently improve work-related wellbeing (WRW) and job performance, occupational stakeholders are becoming increasingly interested in the applications of meditation. The present study conducted the first randomized controlled trial to assess the effects of meditation on outcomes relating to both WRW and job performance. Office-based middle-hierarchy managers (n = 152) received an eight-week meditation intervention (Meditation Awareness Training; MAT) or an active control intervention. MAT participants demonstrated significant and sustainable improvements (with strong effect sizes) over control-group participants in levels of work-related stress, job satisfaction, psychological distress, and employer-rated job performance. There are a number of novel implications: (i) meditation can effectuate a perceptual shift in how employees experience their work and psychological environment and may thus constitute a cost-effective WRW intervention, (ii) meditation-based (i.e., present-moment-focussed) working styles may be more effective than goal-based (i.e., future-orientated) working styles, and (iii) meditation may reduce the separation made by employees between their own interests and those of the organizations they work for.
This is a preview of subscription content, log in to check access.
Access options
Buy single article
Instant access to the full article PDF.
US$ 39.95
Price includes VAT for USA
Subscribe to journal
Immediate online access to all issues from 2019. Subscription will auto renew annually.
US$ 99
This is the net price. Taxes to be calculated in checkout.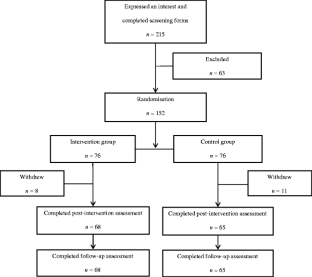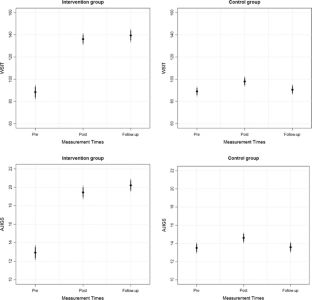 References
American Psychological Association. (2009). Stress in America 2009. Retrieved from http://www.apa.org/news/press/releases/stress

American Psychiatric Association. (2010). American Psychiatric Association practice guideline for the treatment of patients with major depressive disorder (3rd ed.). Arlington, VA: American Psychiatric Publishing.

Allen, T. D., & Kiburz, K. M. (2012). Trait mindfulness and work-family balance among working parents: The mediating effects of vitality and sleep quality. Journal of Vocational Behaviour, 80, 372–379.

Arias, A. J., Steinberg, K., Banga, A., & Trestman, R. L. (2006). Systematic review of the efficacy of meditation techniques as treatments for medical illness. Journal of Alternative and Complementary Medicine, 12, 817–832.

Boutron, I., Altman, D. G., Schulz, K. F., & Ravaud, P. (2008). Extending the CONSORT statement to randomized trials of nonpharmacologic treatment: Explanation and elaboration. Annals of Internal Medicine, 148, 295–309.

Chiesa, A., & Serretti, A. (2011). Mindfulness based cognitive therapy for psychiatric disorders: A systematic review and meta-analysis. Psychiatry Research, 187, 441–453.

Chiesa, A., Calati, R., & Serretti, A. (2011). Does mindfulness training improve cognitive abilities? A systematic review of neuropsychological findings. Clinical Psychology Review, 31, 449–464.

Cox, T., & Griffiths, A. (2010). Work-related stress: A theoretical perspective. In S. Leka & J. Houdmont (Eds.), A textbook of occupational health psychology (pp. 31–56). Oxford: Wiley-Blackwell.

Dane, E. (2011). Paying attention to mindfulness and its effects on task performance in the workplace. Journal of Management, 37, 997–1018.

Edwards, J. A., Webster, S., Van Laar, D., & Easton, S. (2008). In: British Academy of Management Annual Conference, 10–12 Sep 2008. Harrogate: UK. Psychometric analysis of the UK Health and Safety Executive's Management Standards work-related stress Indicator Tool.

Eysenck, M. W. (2004). Trait anxiety, repressors and cognitive biases. In J. Yiend (Ed.), Cognition, emotion and psychopathology: Theoretical, empirical and clinical drections (pp. 49–67). Cambridge, England: Cambridge University Press.

Fox, E., & Georgiou, G. A. (2005). The nature of attentional bias in human anxiety. In R. W. Engle, G. Sedek, U. von Hecker, & D. N. McIntosh (Eds.), Cognitive limitations in aging and psychopathology (pp. 249–274). Cambridge, England: Cambridge University Press.

Faul, F., & Erdinger, E. (1992). GPOWER: A priori, post-hoc, and compromise power analysis for MS-DOS. Bonn: University.

Gillespie, S. M., Mitchell, I. J., Fisher, D., & Beech, A. R. (2012). Treating disturbed emotional regulation in sexual offenders: The potential applications of mindful self-regulation and controlled breathing techniques. Aggression and Violent Behavior, 17, 333–343.

Health and Safety Executive. n.d. HSE Management Standards Work-Related Stress Indicator Tool. London: Author.

Health and Safety Executive. (2012). Stress and psychological disorders. Available from: http://vivipins.com/stress-statistics/. (Accessed 4th August 2013).

Henry, J. D., & Crawford, J. R. (2005). The short-form version of the depression anxiety stress scales (DASS-21): construct validity and normative data in a large non-clinical sample. British Journal of Clinical Psychology, 44, 227–239.

Ho, L. (2011). Meditation, learning, organisational innovation and performance. Industrial Management and Data Systems, 111, 113–131.

Hofmann, S. G., Sawyer, A. T., Witt, A. A., & Oh, D. (2010). The effect of mindfulness-based therapy on anxiety and depression: A meta-analytic review. Journal of Consulting and Clinical Psychology, 78, 169–183.

Houdmont, J., Cox, T., & Griffiths, A. (2011). Work-related stress case definitions and prevalence rates in national surveys. Occupational Medicine, 60, 658–661.

Kanfer, R., Chen, G., & Pritchard, R. D. (2008). Work motivation: Forging new perspectives and directions in the post-millenium. In R. Kanfer, G. Chen, & R. D. Pritchard (Eds.), Work motivation: past, present and future (pp. 601–632). New York: Tailor and Francis.

Krasner, M. S., Epstein, R. M., Beckman, H., Suchman, A. L., Chapman, B., Mooney, C. J., et al. (2009). Association of an educational program in mindful communication with burnout, empathy, and attitudes among primary care physicians. Journal of the American Medical Association, 302, 1284–1293.

Lama, D. (2001). Stages of meditation: Training the mind for wisdom. London: Rider.

Lovibond, S. H., & Lovibond, P. F. (1995). Manual for the depression anxiety stress scales. Sydney: Psychology Foundation.

MacCoon, D. G., Imel, Z. E., Rosenkranz, M. A., Sheftel, J. G., Weng, H. Y., Sullivan, J. C., et al. (2012). The validation of an active control intervention for Mindfulness Based Stress Reduction (MBSR). Behaviour Research and Therapy, 50, 3–12.

Malarkey, W. B., Jarjoura, D., & Klatt, M. (2013). Workplace based mindfulness practice and inflammation: A randomized trial. Brain, Behaviour and Immunity, 27, 145–154.

Manocha, R., Black, D., Sarris, J., & Stough, C. (2011). A randomised controlled trial of meditation for work stress, anxiety and depressed mood in full-time workers. Evidence-based Complementary and Alternative Medicine. doi:10.1155/2011/960583.

McConville, T., & Holden, L. (1999). The filling in the sandwich: HRM and middle managers in the health sector. Personnel Review, 28, 406–424.

Morrison, E. W. (1994). Role definitions and organizational citizenship behavior: The importance of the employee's perspective. Academy of Management Journal, 37, 1543–1567.

National Institute for Health and Clinical Excellence (NICE). (2009). Depression: Management of depression in primary and secondary care. London: Author.

Nhat Hanh, T. (1999). The heart of the Buddha's teaching: Transforming suffering into peace, joy and liberation. New York: Broadway Books.

Peter, R., & Siegrist, J. (1997). Chronic work stress, sickness absence, and hypertension in middle managers: General or specific sociological explanations? Social Science and Medicine, 45, 111–1120.

Rabjam, L. (2002). The practice of Dzogchen. (H. Talbot, Ed., & Tulku Thondup, Trans.) New York: Snow Lion Publications.

Russel, S. S., Spitzmuller, C., Lin, L. F., Stanton, J. M., Smith, P. C., & Ironson, G. H. (2004). Shorter can also be better: The abridged Job in General Scale. Educational and Psychological Measurement, 64, 878–893.

Sahdra, B. K., Shaver, P. R., & Brown, K. W. (2010). A scale to measure non-attachment: A Buddhist complement to Western research on attachment and adaptive functioning. Journal of Personality Assessment, 92, 116–127.

Sainsbury Centre for Mental Health. (2007). Mental health at work: Developing the business case. London: Author

Santideva. (1997). A guide to the Bodhisattva way of life. (V. A. Wallace, & A. B. Wallace, Trans.) New York: Snow Lion Publications.

Schulz, K. F., Altman, D. G., & Moher, D. (2010). CONSORT 2010 statement: Updated guidelines for reporting parallel group randomized trials. Annals of Internal Medicine, 152, 1–8.

Singh, N. N., Lancioni, G. E., Singh, A. N., Winton, A. S. W., Singh, J., McAleavey, K. M., et al. (2008a). A mindfulness-based health wellness program for managing morbid obesity. Clinical Case Studies, 7, 327–339.

Singh, N. N., Lancioni, G. E., Wahler, R. G., Winton, A. S., & Singh, J. (2008b). Mindfulness approaches in cognitive behavior therapy. Behavioural and Cognitive Psychotherapy, 36, 1–8.

Shonin, E., Van Gordon, W., & Griffiths, M. D. (2013a). Buddhist philosophy for the treatment of problem gambling. Journal of Behavioral Addictions, 2, 63–71.

Shonin, E., Van Gordon, W., & Griffiths, M. D. (2013b). Mindfulness-based interventions: Towards mindful clinical integration. Frontiers in Psychology, 4, 194. doi:10.3389/fpsyg.2013.00194.

Shonin, E., Van Gordon, W., & Griffiths, M. D. (2013c). Meditation Awareness Training (MAT) for improved psychological wellbeing: A qualitative examination of participant experiences. Journal of Religion and Health, 53, 849–863.

Shonin, E., Van Gordon, W., Slade, K., & Griffiths, M. D. (2013d). Mindfulness and other Buddhist-derived interventions in correctional settings: A systematic review. Aggression and Violent Behavior, 18, 365–372.

Shonin, E., Van Gordon, W., & Griffiths, M. D. (2014). The emerging role of Buddhism in clinical psychology: Toward effective integration. Psychology of Religion and Spirituality, 6, 123–137.

Trungpa, C. (2003). The collected works of Chogyam Trungpa: Volume four. Boston: Shambala.

Van Gordon, W., Shonin, E., Zangeneh, M., & Griffiths, M. D. (2014a). Work-related mental health and job performance: Can mindfulness help? International Journal of Mental Health and Addiction, 12, 129–137.

Van Gordon, W., Shonin, E., Sumich, A., Sundin, E., & Griffiths, M. D. (2014b). Meditation Awareness Training (MAT) for psychological wellbeing in a sub-clinical sample of university students: A controlled pilot study. Mindfulness, 5, 381–391.

Welbourne, T. M., Johnson, D. E., & Erez, A. (1998). The Role-Based Performance Scale: Validity analysis of a theory-based measure. Academy of Management Journal, 41, 540–555.

Wu, T., Fox, D., Stokes, C., & Adam, C. (2012). Work-related stress and intention to quit in newly graduated nurses. Nurse Education Today, 32, 669–674.
Acknowledgements
The authors would like to thank Jacqui Sein for her helpful feedback on previous versions of this article as well as Hattie Wongsutthawat for her assistance with the psychometric assessments.
Conflicts of Interest
There are no conflicts of interest to declare.
About this article
Cite this article
Shonin, E., Van Gordon, W., Dunn, T.J. et al. Meditation Awareness Training (MAT) for Work-related Wellbeing and Job Performance: A Randomised Controlled Trial. Int J Ment Health Addiction 12, 806–823 (2014). https://doi.org/10.1007/s11469-014-9513-2
Keywords
Work-related stress

Meditation

Job Satisfaction

Job Performance

Meditation Awareness Training

Mindfulness

Buddhism