Abstract
This study examined the relationship between internet addiction, temperament, and family functioning focusing on the unique and common contribution that temperament and family functioning made to internet addiction. A total of 320 adolescents (164 boys and 156 girls), from 15 to 17 years (M = 16.06, SD = 0.59), completed measures of internet addiction, temperament, and family functioning. Data showed that salience, as the ability of internet to change negatively person's life, was predicted positively by temperament linked to lack of control and by the perception of low level of familial emotional involvement. Results also revealed that family affective involvement played a moderating role in the relationship between temperamental lack of control and salience of internet, such that both at lower and higher levels of lack of control, internet salience tended to be lower when family affective involvement was high and to be higher when family affective involvement was low.
This is a preview of subscription content, log in to check access.
Access options
Buy single article
Instant access to the full article PDF.
US$ 39.95
Price includes VAT for USA
Subscribe to journal
Immediate online access to all issues from 2019. Subscription will auto renew annually.
US$ 99
This is the net price. Taxes to be calculated in checkout.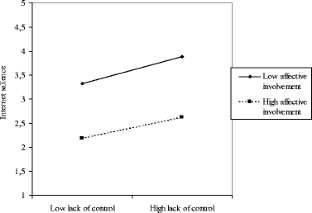 References
Agrawal, A., & Lynskey, M. T. (2008). Are there genetic influences on addiction: evidence from family, adoption, and twin studies. Addiction, 103, 1069–1081.

Aiken, L. S., & West, S. G. (1991). Multiple regression: Testing and interpreting interactions. Newbury Park: Sage.

American Psychiatric Association. (2000). DSM-IV-TR diagnostic and statistical manual of mental disorder, fourth edition, text revision. American Psychiatric Association.

Bates, J. E. (1987). Temperament in infancy. In J. D. Osofsky (Ed.), Handbook of infant development (pp. 1101–1149). New York, NY: Wiley.

Belsky, J. (1997). Variation in susceptibility to environmental influence: an evolutionary argument. Psychological Inquiry, 8, 182–186.

Block, J. J. (2008). Issues for DSM-V: internet addiction. American Journal of Psychiatry, 165, 306–307.

Caspi, A., Henry, B., McGee, R. O., Moffitt, T. E., & Silva, P. A. (1995). Temperamental origins of child and adolescent behavior problems: from age three to age fifteen. Child Development, 66, 55–68.

Cho, S. C., Kim, J. W., Kim, B. N., Lee, J. H., & Kim, E. H. (2008). Biogenetic temperament and character profiles and attention deficit hyperactivity disorder symptoms in Korean adolescents with problematic Internet use. CyberPsychology and Behavior, 11, 735–737.

Di Maggio, R., & Zappulla, C. (2013). Mothering, fathering, and Italian adolescents' problem behaviors and life satisfaction: dimensional and typological approach. Journal of Child and Family Studies. doi:10.1007/s10826-013-9721-6.

Epstein, N. B., Baldwin, L., & Bishop, D. S. (1983). The McMaster family assessment device. Journal of Marital and Family Therapy, 9, 171–180.

Evans, D. E., & Rothbart, M. K. (2007). Developing a model for adult temperament. Journal of Research in Personality, 41, 868–888.

Frences, A. (2013). Saving Normal: An insider's revolt against out-of-control psychiatric diagnosis, DSM-5, Big pharma, and the medicalization of ordinary life. William Morrow Publisher

Guzzo, G., Lo Cascio, V., & Pace, U. (2013). The role of individual and relational characteristics on alcohol consumption among Italian adolescents: a discriminant function analysis. Child Indicators Research, 6, 605–618.

Ha, J. H., Kim, S. Y., Bae, S. C., Bae, S., Kim, H., Sim, M., et al. (2007). Depression and internet addiction in adolescents. Psychopathology, 40, 424–430.

Holmbeck, G. N. (2002). Post-hoc probing of significant moderational and mediational effects in studies of pediatric populations. Journal of Pediatric Psychology, 27, 87–96.

Laghi, F., Baiocco, R., Lonigro, A., Capacchione, G., & Baumgartner, E. (2012). Family functioning and binge drinking among Italian adolescents. Journal of Health Psychology, 17, 1132–1141.

Lee, M.-S., & Jung, I.-K. (2012). Comparisons of temperament and character between problematic internet users and problematic drug users in Korean adolescents. Open Journal of Psychiatry, 2, 228–234.

Lee, M. S., Hong, S. D., & Joung, Y. S. (2007). Characteristics of temperament and character properties in adolescents with internet addiction tendency. Journal of Korean Neuropsychiatry Association, 46, 65–70.

Lee, Y. S., Han, D. H., Yang, K. C., Daniels, M. A., Na, C., Kee, B. S., et al. (2008). Depression like characteristics of 5HTTLPR polymorphism and temperament in excessive internet users. Journal of Affective Disorders, 109, 165–169.

Lengua, L. J. (2006). Growth in temperament and parenting as predictors of adjustment during children's transition to adolescence. Developmental Psychology, 42, 819–832.

Liddle, H. A. (2010). Treating adolescent substance abuse using multidimensional family therapy. In J. Weisz & A. Kazdin (Eds.), Evidence-based psychotherapies for children and adolescents (2nd ed.). New York: Guilford Press.

Lo Cascio, V., Guzzo, G., Pace, F., & Pace, U. (2013). Anxiety and self-esteem as mediators of the relation between family communication and indecisiveness in adolescence. International Journal for Educational and Vocational Guidance, 13, 135–149.

Moreno, M. A., Jelenchick, L., Cox, E., Young, E., & Christakis, D. A. (2011). Problematic internet use among US youth: a systematic review. Archives of Pediatrics & Adolescent Medicine, 165, 797–805.

Pace, U., & Zappulla, C. (2010). Relations between suicidal ideation, depression, and emotional autonomy from parents in adolescence. Journal of Child and Family Studies, 19, 747–756.

Pace, U., & Zappulla, C. (2013). Detachment from parents, problem behaviors, and the moderating role of parental support among Italian adolescents. Journal of Family Issues, 34, 768–783.

Park, S. K., Kim, J. Y., & Cho, C. B. (2008). Prevalence of internet addiction and correlations with family factors among South Korean adolescents. Adolescence, 43, 895–909.

Pies, R. (2009). Should DSM-V designate "internet addiction" a mental disorder? Psychiatry, 6, 31–37.

Roncone, R., Rossi, L., Muiere, E., Matteucci, M., Giacomelli, R., Tonietti, G., et al. (1998). The Italian version of the family assessment device. Social Psychiatry and Psychiatric Epidemiology, 33, 451–461.

Rothbart, M. K. (2006). Adolescent Temperament Questionnaire—Short Form (ATQ-SF). Retrieved Genuary 17, 2013, from http://www.bowdoin.edu/~sputnam/rothbart-temperamentquestionnaires.

Rothbart, M. K., & Derryberry, D. (1981). Development of individual differences in temperament. In M. E. Lamb & A. L. Brown (Eds.), Advances in developmental psychology (Vol. 1, pp. 37–86). Hillsdale: Erlbaum.

Rothbart, M. K., & Rueda, M. R. (2005). The development of effortful control. In U. Mayr, E. Awh, & S. W. Keele (Eds.), Developing individuality in the human brain: A tribute to Michael I. Posner (pp. 167–188). Washington, DC: American Psychological Association.

Rothbart, M. K., Ellis, L. K., Rueda, M. R., & Posner, M. I. (2003). Developing mechanisms of temperamental effortful control. Journal of Personality, 71, 1113–1143.

Ruggieri, S. (2009). Leadership in virtual teams: a comparison of transformational and transactional leaders. Social Behaviour and Personality, 37, 1017–1022.

Ruggieri, S., & Boca, S. (2013). At the roots of product placement: the mere exposure effect. Europe's Journal of Psychology, 9, 37–49.

Rutter, M. (2007). Psychopathological development across adolescence. Journal of Youth Adolescence, 36, 101–110.

Sanson, A., Hemphill, S. A., & Smart, D. (2004). Connections between temperament and social development: a review. Social Development, 13, 142–170.

Schimmenti, A., & Caretti, V. (2010). Psychic retreats or psychic pits? Unbearable states of mind and technological addiction. Psychoanalytic Psychology, 27, 115–132.

Schimmenti, A., Guglielmucci, F., Barbasio, C., & Granieri, A. (2012). Attachment disorganization and dissociation in virtual worlds: a study on problematic Internet use among players of online role-playing games. Clinical Neuropsychiatry, 9(2), 195–202.

Stroul, B. A., & Friedman, R. M. (1994). A system of care for children and youth with severe emotional disturbances. (Revised edition). Washington, D.C.: Georgetown University Child Development Center, CASSP Technical Assistance Center.

Tichon, J. G., & Shapiro, M. (2003). The process of sharing social support in cyberspace. CyberPsychology & Behavior, 6, 161–170.

Van den Eijnden, R. J. J. M., Spijkerman, R., Vermulst, A., Van Rooij, T. J., & Engels, R. C. M. E. (2010). Compulsive internet use among adolescents: bidirectional parent–child relationships. Journal of Abnormal Child Psychology, 38, 77–89.

Van der Vorst, H., Engels, R. C. M. E., Meeus, W., Dekovic, M., & Van Leeuwe, J. (2005). The role of alcohol-specific socialization in adolescents' drinking behaviour. Addiction, 100, 1464–1476.

Van Rooij, A. J., & Van den Eijnden, R. J. (2007). Monitor internet en Jongeren 2006 en 2007: Ontwikkelingen in internetgebruik en de rol van opvoeding. Rotterdam: Reeks.

Widyanto, L., & McMurran, M. (2004). The psychometric properties of the Internet Addiction Test. CyberPsychology & Behavior, 7, 443–450.

Wright, J. P., & Cullen, F. T. (2001). Parental efficacy and delinquent behavior: do control and support matter? Criminology, 39, 677–704.

Yap, M. B. H., Allen, N. B., & Sheeber, L. (2007). Using an emotion regulation framework to understand the role of temperament and family processes in risk for adolescent depressive disorders. Clinical Child and Family Psychology, 10, 180–196.

Yen, J. Y., Yen, C. F., Chen, C. C., Chen, S. H., & Ko, C. H. (2007). Family factors of internet addiction and substance use experience in Taiwanese adolescents. CyberPsychology & Behavior, 10, 323–329.

Young, K. S. (2004). Internet addiction: a new clinical phenomenon and its consequences. American Behavioral Scientist, 48, 402–415.

Young, K. S. (2009). Internet addiction: diagnosis and treatment considerations. Journal Contemporany Psychotherapy, 39, 241–246.
About this article
Cite this article
Pace, U., Zappulla, C., Guzzo, G. et al. Internet Addiction, Temperament, and the Moderator Role of Family Emotional Involvement. Int J Ment Health Addiction 12, 52–63 (2014). https://doi.org/10.1007/s11469-013-9468-8
Keywords
Temperament

Lack of control

Internet addiction

Family emotional involvement