Abstract
This study investigated the process of shopping addiction as maladaptive responses regarding buying behavior. A qualitative approach was designed by inductive, interpretative, and constructionist nature of qualitative research. The research participants were recruited from internet websites providing consumer news, recruiting information of consumer panels or monitors, and castings of actors or models. In-depth interviews were done to solicit experiences of shopping. Content analysis was used to derive concepts regarding experiences of compulsive buying. Five concepts were derived, which were described and illustrated as sequential phases of shopping addiction: Phase 1. Retail therapy, "Filling up emptiness with shopping"; Phase 2. Denial, "Ignoring overconsumption"; Phase 3. Debt-ridden, "Ran out of money, while nothing left"; Phase 4. Impulsive buying, "Driving ones-self to hasty buying"; and Phase 5. Compulsive buying, "It is crazy but I cannot stop". The results of this study clarifies the basic understanding of people who engage in compulsive buying and provide educational resources for professionals engaged in helping people with compulsive buying disorder.
This is a preview of subscription content,
to check access.
Access this article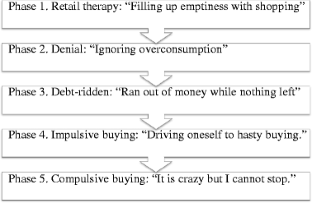 References
American Psychiatric Association. (2000). Diagnostic and statistical manual of mental disorders (4th ed, text revision). Arlington: APA.

Aronson, J. (2000). Oniomania, ergo sum: the complete guide to compulsive buying disorders. Northvale, NJ.

Benson, A. L. (2001). I shop, therefore I am: compulsive buying and the search for self. Psychology and Marketing, 18, 985–997.

Black, D. W. (2007). A review of compulsive buying disorder. World Psychiatry, 6, 14–18.

Bower, B. (2006). Shop until you can't stop. Science News, 170, 227–228.

Bridgforth, G. (2004). When shopping is a sickness. Essence Magazine, 35(4), 154–158.

Burgard, M., & Mitchell, J.E. (2000). Group cognitive-behavioral therapy for buying disorders. In A. Benson (Ed.), I shop, therefore I am - compulsive buying and the search for self. New York: Aronson.

Christenson, G. A., Faber, R. J., de Zwaan, M., Raymnd, N., Specker, S. M., & Ekern, M. (1994). Compulsive buying: descriptive characteristics and psychiatric comorbidity. The Journal of Clinical Psychiatry, 55, 5–11.

Clark, M., & Calleja, K. (2008). Shopping addiction: a preliminary investigation among Maltese university students. Addiction Research and Theory, 16, 633–649.

Faber, R. J., & Christenson, G. A. (1996). In the mood to buy: differences in the mood states experienced by compulsive buyers and other consumers. Psychology and Marketing, 13, S03–S19.

Faber, R. J., & O'Guinn, T. C. (1992). A clinical screener for compulsive buying. Journal of Consumer Research, 19, 459–469.

Faber, R. J., Christenson, G. A., de Zwaan, M., & Mitchell, J. E. (1995). Two factors of compulsive consumption: comorbidity of compulsive buying and binge eating. Journal of Consumer Research, 22, 296–304.

Hong, S. (1990). An exploratory study on concepts and measurements of compulsive buying. Seoul: Hanyang University. Unpublished master's thesis.

Joo, M., & Kim, Y. (2004). A path analysis on compulsive buying tendency of university students: demographics, variables related to credit card and flow. Korean Journal of Home Management Association, 22, 47–58.

Kim, S., & Hyun, M. (2005). The relationships between compulsive buying, impulsivity, daily hassles and stress coping strategies. The Korean Journal of Women Psychology, 10, 1–16.

Kim, B., Kim, K., Park, I., Lee, K., Kim, J., Hong, J., et al. (1999). A comparison of phenomenological research methodology. Journal of Korean Academy of Nursing, 29, 1206–1220.

Koob, G. F. (2003). Neuroadaptive mechanisms of addiction: studies on the extended amygdale. European Neuropsychopharmacology, 13, 442–452.

Koran, L. M., Faber, R. J., Aboujaoude, E., Large, M. D., & Serpe, R. T. (2006). Estimated prevalence of compulsive buying behavior in the United States. The American Journal of Psychiatry, 163, 1806–1812.

Lee, M., & Hong, E. (2009). A study on consumption-oriented attitude and impulsive buying of high school students. Korean Journal of Home Management Association, 27, 15–30.

Mitchell, J. E., Burgard, M., Faber, R., Crosby, R. D., & Zwaan, M. (2006). Cognitive behavioral therapy for compulsive buying disorder. Behaviour Research and Therapy, 44, 1859-1865. doi:10.1016/j.brat.2005.12.009.

O'Guinn, T. C., & Faber, R. J. (1989). Compulsive buying: a phenomenological exploration. Journal of Consumer Research, 16, 147–157.

Song, I. (1993). Addictive buying tendencies of consumers. Seoul: Seoul National University. Unpublished Doctoral dissertation.

Stuart, G. W., & Laraia, M. T. (2005). Principles and practice of psychiatric nursing (8th ed.). Missouri: Elsevier Mosby.

Valence, G., d'Astous, A., & Fortier, L. (1988). Compulsive buying: concept and measurement. Journal of Consumer Policy, 11, 419–433.
Acknowledgments
This work was supported by the Research Institute of Human Ecology and the Research Settlement Fund for the new faculty of Seoul National University.
Conflict of Interest
There is no conflict of interest in the manuscript.
About this article
Cite this article
Sohn, SH., Choi, YJ. Phases of Shopping Addiction Evidenced by Experiences of Compulsive Buyers. Int J Ment Health Addiction 12, 243–254 (2014). https://doi.org/10.1007/s11469-013-9449-y
Published:

Issue Date:

DOI: https://doi.org/10.1007/s11469-013-9449-y
Keywords