Abstract
Video game playing has become a very popular activity among adolescents. Its impact on the mental health and well-being of players is just beginning to be explored. This paper reports on the prevalence of problematic gaming in a representative sample of 2,832 Ontario students in grades 7 to 12. The survey included questions about the school grade, family and school related problems, frequency of video game playing and video game related problems as measured by the Problem Video Game Playing scale (PVP). Most of the students (85 %) reported playing video games in the past year and 18.3 % reported playing video games daily. Slightly less then 1 in 10 of the students (9.4 %) endorsed 5 or more of the PVP items (males 15.1 %; females 3.1 %). Further research is required to delineate the concept of excessive video game playing, its relation to other addictions, and the impact on adolescents' psychosocial functioning.
Access options
Buy single article
Instant access to the full article PDF.
US$ 39.95
Tax calculation will be finalised during checkout.
Subscribe to journal
Immediate online access to all issues from 2019. Subscription will auto renew annually.
US$ 79
Tax calculation will be finalised during checkout.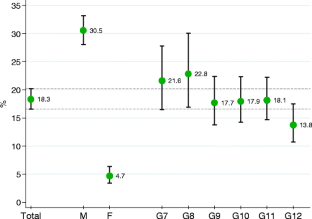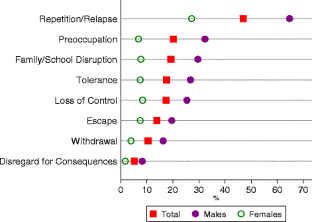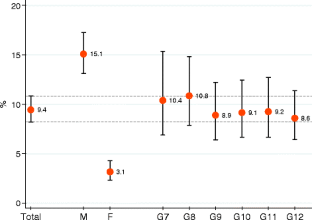 References
Adlaf, E. M., & Paglia-Boak, A. (2007). Drug use among Ontario students: detailed OSDUHS findings, 1977–2007. CAMH Research Document Series No. 20. Toronto, ON: Centre for Addiction and Mental Health.

American Psychiatric Association. (1994). Diagnostic and statistical manual of mental disorders (4th ed.). Washington, DC: American Psychiatric Press.

Anand, V. (2007). A study of time management: The correlation between video game usage and academic performance markers. CyberPsychology & Behavior, 10, 552–559.

Anderson, C. A. (2004). An update on the effects of playing violent video games. Journal of Adolescence, 27, 113–122.

Anderson, C. A., & Dill, K. E. (2000). Video games and aggressive thoughts, feelings, and behavior in the laboratory and in life. Journal of Personality and Social Psychology, 78, 772–790.

Baer, S., Bogusz, E., & Green, D. A. (2011). Stuck on screens: Patterns of computer and gaming station use in youth seen in a psychiatric clinic. Journal of the Canadian Academy of Child and Adolescent Psychiatry, 20(2), 86–94.

Bioulac, S., Arfi, L., & Bouvard, M. P. (2008). Attention deficit/hyperactivity disorder and video games: A comparative study of hyperactive and control children. European Psychiatry, 23, 134–141.

Blaszczynski, A. (2008). Commentary: A response to "problems with the concept of video game "addiction": Some case study examples". International Journal of Mental Health & Addiction, 6, 179–181.

Brown, R. I. F. (1991). Gaming, gambling and other addictive play. In J. H. Kerr & M. J. Apter (Eds.), Adult place: A reversal theory approach (pp. 101–118). Amsterdam: Swets & Zeitlinger.

Carlton, P. L., Manowitz, P., McBride, H., Nora, R., Swartzburg, M., & Goldstein, L. (1987). Attention deficit disorder and pathological gambling. Journal of Clinical Psychiatry, 48, 487–488.

Cohen, S. (2002). Folk devils and moral panics (3rd ed.). London: Routledge.

Douglas, A. C., Mills, J. E., Niang, M., Stepchenkova, S., Byun, S., Ruffini, C., et al. (2008). Internet addiction: meta-synthesis of qualitative research for the decade 1996–2006. Computers in Human Behavior, 24, 3027–3044.

Ferentzy, P. & Turner, N.E. (2012). Morals, medicine, metaphors and the history of the disease model of problem gambling. Journal of Gambling Issues.

Ferris, J. & Wynne, H. (2001). The Canadian Problem Gambling Index: Final Report. Canadian Centre on Substance Abuse. Available at www.gamblingresearch.org

Fisher, S. (1994). Identifying video game addiction in children and adolescents. Addictive Behavior, 19, 545–53.

Gentile, D. (2009). Pathological video-game use among youth ages 8 to 18: a national study. Psycholological Science, 20, 594–602.

Goodman, A. (1990). Addiction: definition and implications. British Journal of Addiction, 85, 1403–1408.

Goudriaan, A. E., Oosterlaan, J., Beurs, E. D., & Van den Brink, W. (2004). Pathological gambling: a comprehensive review of biobehavioral findings. Neuroscience & Biobehavioral Reviews, 24, 123–141.

Griffiths, M. D. (1991). Amusement machine playing in childhood and adolescence: a comparative analysis of video games and fruit machines. Journal of Adolescence, 14, 53–73.

Griffiths, M. D., & Hunt, N. (1998). Dependence on computer games by adolescents. Psycholological Reports, 82, 475–480.

Griffiths, M., & Wood, R. T. A. (2000). Risk factors in adolescence: the case of gambling, videogame playing, and the Internet. Journal of Gambling Studies, 16, 199–225.

Grusser, S. M., Thalemann, R., & Griffiths, M. D. (2007). Excessive computer game playing: evidence for addiction and aggression? Cyberpsychology & Behaviour, 2007, 290–92.

Hart, G. M., Johnson, B., Stamm, B., Angers, N., Robinson, A., Lally, T., et al. (2009). Effects of video games on adolescents and adults. Cyberpsychology and Behavior, 12, 63–65.

Holden, C. (2001). Behavioral' addictions: do they exist? Science, 294, 980–983.

Kim, E. J., Namkoong, K., Ku, T., & Kim, S. J. (2008). The relationship between online game addiction and aggression, self-control and narcissistic personality traits. European Psychiatry, 23, 212–218.

Mitchell, K. J., Becker-Blease, K. A., & Finkelhor, D. (2005). Inventory of problematic internet experiences encountered in clinical practice. Professional Psychology: Research and Practice, 36, 498–509.

Parker, J. D. A., Taylor, R. N., Eastabrook, J. M., Schell, S. L., & Wood, L. M. (2008). Problem gambling in adolescence: relationships with internet misuse, gaming abuse and emotional intelligence. Personality and Individual Differences, 45, 174–180.

Phillips, C. A., Rolls, S., Rouse, A., & Griffiths, M. D. (1995). Home video game playing in schoolchildren: a study of incidence and patterns of play. Journal of Adolescence, 18, 687–91.

StataCorp. (2007). Stata statistical software: Release 10.0. College Station, TX: Stata Corporation.

Tejeiro Salguero, R. A., & Bersabé Morán, R. M. (2002). Measuring problem video game playing in adolescents. Addiction, 97, 1601–1606.

Turner, N. E. (2008). A comment on "Problems with the concept of video game 'addiction': some case study examples. International Journal of Mental Health & Addiction, 6, 186–190.

Wood, R. T. A. (2008a). Problems with the concept of video game 'addiction': some case study examples. International Journal of Ment Health and Addiction, 6, 169–178.

Wood, R. T. A. (2008b). A response to Blaszczynski, Griffiths and Turners' Comments on the Paper "Problems with the Concept of Video Game 'Addiction': Some Case Study Examples". International Journal Of Mental Health And Addiction, 6, 191–193.

Wood, R. T. A., Griffiths, M. D., Chappell, D., & Davies, M. N. O. (2004). The structural characteristics of video games: A psycho-structural analysis. CyberPsychology and Behavior, 7, 1–10.

Wood, R. T. A., Gupta, R., Derevensky, J. L., & Griffiths, M. (2004). Video game playing and gambling in adolescents: common risk factors. Journal of Child & Adolescent Substance Abuse, 14, 77–100.

Yellowlees, P. M., & Marks, S. (2007). Problematic Internet use or Internet addiction? Computers in Human Behavior, 23, 1447–1453.

Yen, J.-Y., Ko, C.-H., Yen, C.-F., Chen, S. H., Chung, W. L., & Chen, C. C. (2008). Psychiatric symptoms in adolescents with Internet addiction: comparison with substance use. Psychiatry and Clinical Neurosciences, 62, 9–16.
Acknowledgements
Preparation of this work was funded in part by ongoing support from the Ontario Ministry of Health and Long Term Care. We would like to thank all the schools and students that participated in the study, and the Institute for Social Research at York University for assistance with the survey design and data collection.
About this article
Cite this article
Turner, N.E., Paglia-Boak, A., Ballon, B. et al. Prevalence of Problematic Video Gaming among Ontario Adolescents. Int J Ment Health Addiction 10, 877–889 (2012). https://doi.org/10.1007/s11469-012-9382-5
Keywords
Problem video game playing (PVP) scale

Problematic video gaming

Prevalence

Adolescents

Survey