Gold Sputtered U-Bent Plastic Optical Fiber Probes as SPR- and LSPR-Based Compact Plasmonic Sensors
Abstract
This study describes fabrication of highly sensitive surface plasmon resonance (SPR) as well as localized SPR (LSPR) dominant fiber optic plasmonic probes by controlled sputtering of gold thin films on the fiber core surface. Compact U-bent probes of 750 μm plastic optical fibers (made of poly(methylmethacrylate) (PMMA)) were used for efficient evanescent wave excitation of plasmonic substrates to achieve high sensitivity. U-bent probes with 2.25-mm bend diameter were sputter coated for deposition times of 30, 60, 90, and 120 s to obtain gold thin films with nanovoids on the U-bent region. As deposition time increased, a significant transition from LSPR to SPR characteristics was observed in the overall UV-visible spectral characteristics with a clear shift in the plasmon peak from 520 to 650 nm. Probes sputtered for 30 and 120 s show excellent LSPR- and SPR-based characteristics with a sensitivity of 15.5 ∆Abs/RIU and 1040 nm/RIU, respectively (for refractive index variation from 1.333 to 1.361 RIU). The high sensitivity of the probes in addition to other advantages, including ease of fabrication, cost-effectiveness, and suitability for in situ monitoring, demonstrates their potential for bio/chemical sensing applications.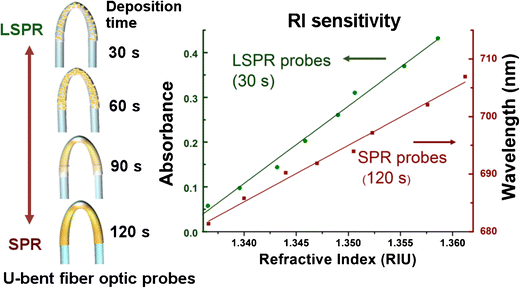 Keywords
U-bent fiber optic sensors 
Gold sputtering 
Plasmonic nanostructures 
Plastic optical fiber 
Refractive index sensing 
Notes
Acknowledgements
We thank Mitsubishi Rayon Co., Ltd., Japan, for providing POF samples. We acknowledge the SEM facility in the Department of Chemical Engineering, IIT Madras for EDX spectra; SEM facility in Department of Mechanical Engineering, York University, Toronto, for SEM images; and INUP, IIT Bombay, for profilometer measurements.
Compliance with Ethical Standards
Competing Interests
The authors declare that they have no competing interests.
Copyright information
© Springer Science+Business Media New York 2017