Abstract
A rapid, photochemical solution-phase synthesis has been developed for the production of monodisperse, nanometer-sized silver particles. The stabilizer used in the synthesis can be used to control the average diameter of the particles over a range from 1 to 7 nm. The same reaction mixture can also be employed to deposit patterns of nanoparticles with a laser via multiphoton absorption. The particles exhibit strong multiphoton absorption-induced luminescence when irradiated with 800-nm light, allowing emission from single nanoparticles to be observed readily.
This is a preview of subscription content, log in to check access.
Access options
Buy single article
Instant access to the full article PDF.
US$ 39.95
Price includes VAT for USA
Subscribe to journal
Immediate online access to all issues from 2019. Subscription will auto renew annually.
US$ 99
This is the net price. Taxes to be calculated in checkout.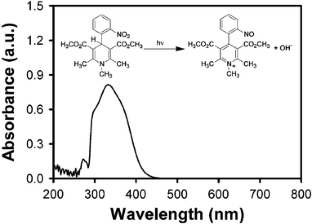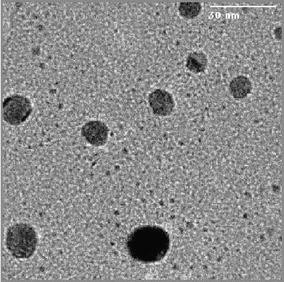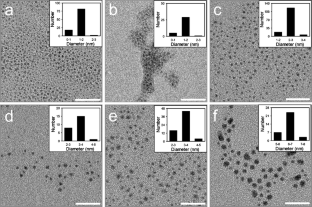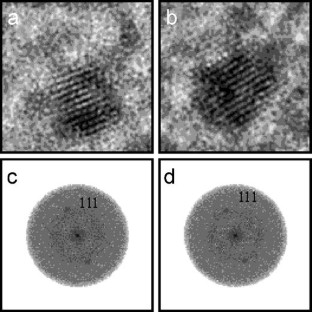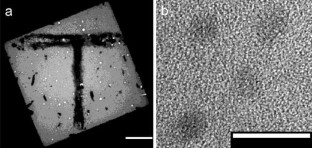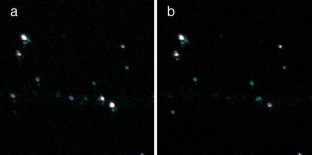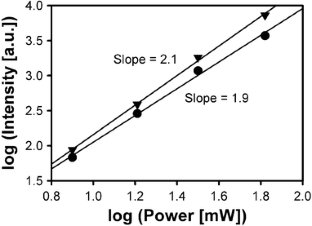 References
1.

Kneipp K, Kneipp H, Itzkan I, Dasari RR, Feld MS (1999) Ultrasensitive chemical analysis by Raman spectroscopy. Chem Rev 99(10):2957–2976

2.

Nie SM, Emery SR (1997) Probing single molecules and single nanoparticles by surface-enhanced Raman scattering. Science 275(5303):1102–1106

3.

Kneipp K, Wang Y, Kneipp H, Perelman LT, Itzkan I, Dasari R, Feld MS (1997) Single molecule detection using surface-enhanced Raman scattering (SERS). Phys Rev Lett 78(9):1667–1670

4.

Peyser LA, Vinson AE, Bartko AP, Dickson RM (2001) Photoactivated fluorescence from individual silver nanoclusters. Science 291(5501):103–106

5.

Zheng J, Dickson RM (2002) Individual water-soluble dendrimer-encapsulated silver nanodot fluorescence. J Am Chem Soc 124(47):13982–13983

6.

Sarathy KV, Raina G, Yadav RT, Kulkarni GU, Rao CNR (1997) Thiol-derivatized nanocrystalline arrays of gold, silver, and platinum. J Phys Chem B 101(48):9876–9880

7.

Rao CNR, Kulkarni GU, Thomas PJ, Edwards PP (2000) Metal nanoparticles and their assemblies. Chem Soc Rev 29(1):27–35

8.

Taleb A, Petit C, Pileni MP (1997) Synthesis of highly monodisperse silver nanoparticles from AOT reverse micelles: a way to 2D and 3D self-organization. Chem Mater 9(4):950–959

9.

McLeod MC, McHenry RS, Beckman EJ, Roberts CB (2003) Synthesis and stabilization of silver metallic nanoparticles and premetallic intermediates in perfluoropolyether/CO2 reverse micelle systems. J Phys Chem B 107(12):2693–2700

10.

Murray CB, Kagan CR, Bawendi MG (2000) Synthesis and characterization of monodisperse nanocrystals and close-packed nanocrystal assemblies. Annu Rev Mater Sci 30:545–610

11.

Itakura T, Torigoe K, Esumi K (1995) Preparation and characterization of ultrafine metal particles in ethanol by UV irradiation using a photoinitiator. Langmuir 11(10):4129–4134

12.

Pal A, Pal T (1999) Silver nanoparticle aggregate formation by a photochemical method and its application to SERS analysis. J Raman Spectrosc 30(3):199–204

13.

Bjerneld EJ, Murty K, Prikulis J, Kall M (2002) Laser-induced growth of Ag nanoparticles from aqueous solutions. Chem Phys Chem 3(1):116–119

14.

Bjerneld EJ, Svedberg F, Kall M (2003) Laser-induced growth and deposition of noble-metal nanoparticles for surface-enhanced Raman scattering. Nano Lett 3(5):593–596

15.

Troupis A, Hiskia A, Papaconstantinou E (2002) Synthesis of metal nanoparticles by using polyoxometalates as photocatalysts and stabilizers. Angew Chem, Int Ed 41(11):1911–1914

16.

Mallik K, Mandal M, Pradhan N, Pal T (2001) Seed mediated formation of bimetallic nanoparticles by UV irradiation:a photochemical approach for the preparation of "core-shell" type structures. Nano Lett 1(6):319–322

17.

Monti OLA, Fourkas JT, Nesbitt DJ (2004) Diffraction-limited photogeneration and characterization of silver nanoparticles. J Phys Chem, B 108(5):1604–1612

18.

Yonezawa Y, Sato T, Ohno M, Hada H (1987) Photochemical formation of colloidal metals. J Chem Soc, Faraday Trans 183(5):1559–1567

19.

Sato T, Kuroda S, Takami A, Yonezawa Y, Hada H (1991) Photochemical formation of silver–gold composite colloids in solutions containing sodium alginate. Appl Organomet Chem 5(4):261–268

20.

Yonezawa Y, Sato T, Kuroda S, Kuge K (1991) Photochemical formation of colloidal silver:peptizing action of acetone ketyl radical. J Chem Soc, Faraday Trans 87(12):1905–1910

21.

Sato T, Maeda N, Ohkoshi H, Yonezawa Y (1994) Photochemical formation of colloidal silver in the presence of benzophenone. Bull Chem Soc Jpn 67(12):3165–3171

22.

Sato T, Ito T, Iwabuchi H, Yonezawa Y (1997) Photochemical deposition of noble metal ultrafine particles onto liposomes. J Mater Chem 7(9):1837–1840

23.

Keki S, Torok J, Deak G, Daroczi L, Zsuga M (2000) Silver nanoparticles by PAMAM-assisted photochemical reduction of Ag+. J Colloid Interface Sci 229(2):550–553

24.

Krylova GV, Eremenko AM, Smirnova NP, Eustis S (2005) Photochemical preparation of nanoparticles of Ag in aqueous-alcoholic solutions and on the surface of mesoporous silica. Theor Exp Chem 41(2):105–110

25.

Lu HW, Liu SH, Wang XL, Qian XF, Yin J, Zhu ZK (2003) Silver nanocrystals by hyperbranched polyurethane-assisted photochemical reduction of Ag+. Mater Chem Phys 81(1):104–107

26.

Mallick K, Witcomb MJ, Scurrell MS (2004) Polymer stabilized silver nanoparticles:a photochemical synthesis route. J Mater Sci 39(14):4459–4463

27.

Harkness BR, Takeuchi K, Tachikawa M (1998) Demonstration of a directly photopatternable spin-on-glass based on hydrogen silsesquioxane and photobase generators. Macromol 31(15):4798–4805

28.

Jin RC, Cao YW, Mirkin CA, Kelly KL, Schatz GC, Zheng JG (2001) Photoinduced conversion of silver nanospheres to nanoprisms. Science 294(5548):1901–1903

29.

Henglein A, Giersig M (1999) Formation of colloidal silver nanoparticles:capping action of citrate. J Phys Chem B 103(44):9533–9539

30.

Weast RC (1985) CRC Handbook of Chemistry and Physics. CRC Press, Boca Raton

31.

Denk W, Strickler JH, Webb W (1990) Two-photon laser-scanning fluorescence microscopy. Science 248:73–76

32.

Baldacchini T, LaFratta C, Farrer RA, Teich MC, Saleh BEA, Naughton MJ, Fourkas JT (2004) Acrylic-based resin with favorable properties for three-dimensional two-photon polymerization. J Appl Phys 95(11):6072–6076

33.

Stellacci F, Bauer CA, Meyer-Friedrichsen T, Wenseleers T, Alain V, Kuebler SM, Pond SJK, Zhang YD, Marder SR, Perry JW (2002) Laser and electron-beam induced growth of nanoparticles for 2D and 3D metal patterning. Adv Mater 14(3):194–198

34.

Baldacchini T, Pons AC, Pons J, LaFratta CN, Fourkas JT, Sun Y, Naughton MJ (2005) Multiphoton laser direct writing of two-dimensional silver structures. Opt Express 13(4):1275–1280

35.

Mooradian A (1969) Photoluminescence of metals. Phys Rev Lett 22(5):185–187

36.

Boyd GT, Rasing T, Leite JRR, Shen YR (1984) Local-field enhancement on rough surfaces of metals, semimetals, and semiconductors with the use of optical second-harmonic generation. Phys Rev B 30(2):519–526

37.

Boyd GT, Yu ZH, Shen YR (1986) Photoinduced luminescence from the noble-metals and its enhancement on roughened surfaces. Phys Rev B 33(12):7923–7936

38.

Beversluis MR, Bouhelier A, Novotny L (2003) Continuum generation from single gold nanostructures through near-field mediated intraband transitions. Phys Rev E 68:115433

39.

Schuck PJ, Fromm DP, Sundaramurthy A, Kino GS, Moerner WE (2005) Improving the mismatch between light and nanoscale objects with gold bowtie nanoantennas. Phys Rev Lett 94:017402

40.

Farrer RA, Butterfield FL, Chen VW, Fourkas JT (2005) Highly efficient multiphoton-absorption-induced luminescence from gold nanoparticles. Nano Lett 5(6):1139–1142

41.

Farrer RA, Previte MJR, Olson CE, Peyser LA, Fourkas JT, So PTC (1999) Single-molecule detection with a two-photon fluorescence microscope with fast-scanning capabilities and polarization sensitivity. Opt Lett 24(24):1832–1834
Acknowledgements
This work was supported by the National Science Foundation, Grant ECS-0088438. J.T.F. is a Research Corporation Cottrell Scholar and a Camille Dreyfus Teacher-Scholar. T.K. is a Beckman Scholar and thanks the Hahn-Meitner Institute for a Summer Student Fellowship. We thank Michael Hilgendorff for assistance with some of the TEM measurements reported here.
About this article
Cite this article
Kempa, T., Farrer, R.A., Giersig, M. et al. Photochemical Synthesis and Multiphoton Luminescence of Monodisperse Silver Nanocrystals. Plasmonics 1, 45–51 (2006). https://doi.org/10.1007/s11468-006-9008-5
Received:

Accepted:

Published:

Issue Date:
Key words
Silver nanoparticle

Photochemical synthesis

Multiphoton absorption

Luminescence