Abstract
Marine resource exploitation is documented for the central coast of Ecuador from 10.000 yr B.P., with a wide range of fishing techniques developing through time. Most recently, dozens of stone fishing structures have been identified at the Liguiqui archaeological locality, on the Manta Peninsula of Manabí Province. These resemble fish traps such as have been recorded worldwide, though no similar devices have previously been reported on the Pacific coast of tropical or subtropical South America. A preliminary study of the Liguiqui structures is presented here, assessing their geologic, environmental, cultural and chronological context. It is hypothesized that they could have had a double function as fish traps and as fish attractors/containers, and that they were most likely built during the Pre-Hispanic Manteño cultural period.
This is a preview of subscription content, log in to check access.
Access options
Buy single article
Instant access to the full article PDF.
US$ 39.95
Price includes VAT for USA
Subscribe to journal
Immediate online access to all issues from 2019. Subscription will auto renew annually.
US$ 99
This is the net price. Taxes to be calculated in checkout.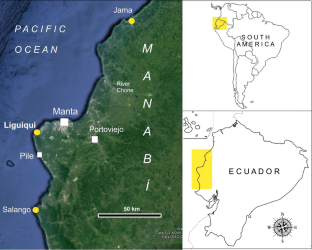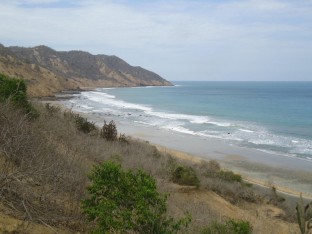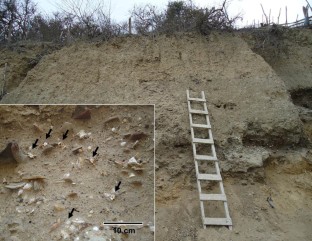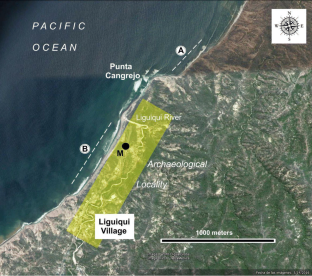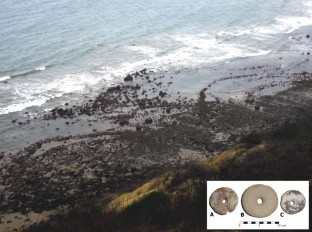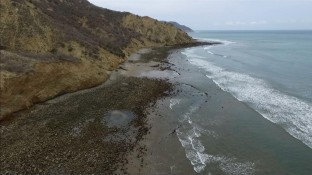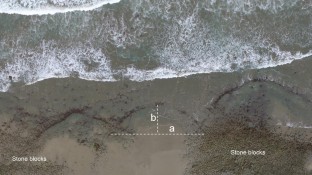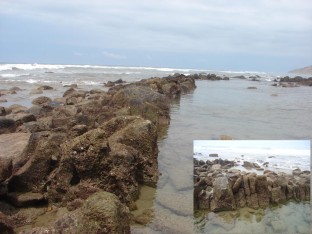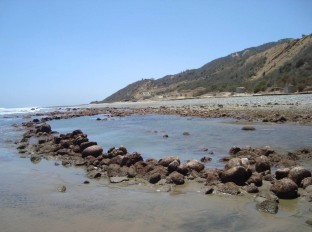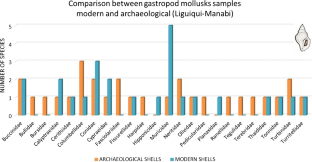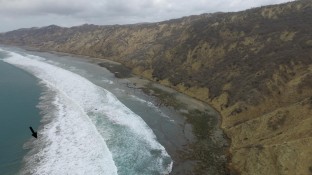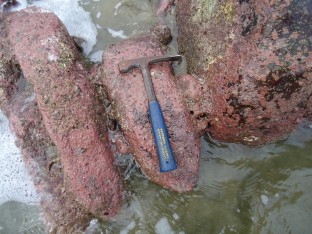 References
Alonzo L (2014) Estudio de los corrales marinos en las zonas arqueológicas de la comuna Ligüiqui, Cantón Manta, como un atractivo turístico potencial en la comunidad. Licenciature in Tourism Thesis, University Eloy Alfaro at Jipijapa, Manabí, Ecuador (unpublished)

Álvarez R, Munita D, Fredes J, Mera R (2008) Corrales de pesca en las islas de Chiloé y otras latitudes. In: Álvarez R, Munita D, Fredes J, Mera R (eds) Corrales de pesca de Chiloé. Imprenta América, Valdivia, pp 113–125

Álvarez R, Munita D, Hernández J, Barón A, Gálvez D (2013) Antecedentes etnográficos e históricos de la pesca con nasas (llolles) en el centro sur de Chile. Revista Austral de Ciencias Sociales 25:5–21

Bannerman N, Jones C (1999) Fish-trap types: a component of the maritime cultural landscape. Inte J Naut Archaeol 28(1):70–84

Béares P, Gay P, Lunnis R (2012) Sea fishing at Salango (Manabí Province, Ecuador) during the middle formative Machalilla phase. Lat Am Antiq 23(2):195–214

Béarez P (1996) Comparaison des ichtyofaunes marines actuelle et holocène et reconstitution de l'activité halieutique dans les civilisations précolombiennes de la côte du Manabí Sud (Équateur). Unpublished Ph.D. Dissertation, Muséum national d'histoire naturelle, Paris

Béarez P, Lunniss R (2003) Scombrid fishing at Salango (Manabí, Ecuador) during the first Millenium BC. In: Guzmán AF, Polaco OJ, Aguilar FJ (eds) Proceedings of the 12th meeting of the fish remains working group of the international council for archaeozoology. Guadalajara, Jalisco, pp 27–32

Benzoni G [1570] (2000) La Historia del mondo nuovo: Relatos de su viaje por el Ecuador. 1547–1550. Translated by C. Radicati di Primeglio, 3rd edn. Banco Central del Ecuador, Guayaquil

Bushnell GHS (1951) The archaeology of the Santa Elena Peninsula in south-west Ecuador. In: Occasional publication of the Cambridge University Museum of Archaeology and Ethnology No. 11. Cambridge University Press, Cambridge

Contreras M (1990) Estudio estratigráfico detallado de la Formación San Mateo en la localidad tipo, Manabi, Ecuador. Tesis de grado para la obtención del título de ingeniero geólogo. Escuela Superior Politécnica del Litoral, Guayaquil

Contreras López M (2013) Cronología de tsunamis en Ecuador desde 1586 a 2012. Revista La Técnica 11:50–59

Cruz M, Gaibor N, Mora E, Jiménez R, Mair J (2003) Lo conocido y desconocido de la biodiversidad marina en el Ecuador (Continental e Insular). Gayana 67(2):232–260

Cucalón E (1986) Variabilidad oceanográfica frente a la costa del Ecuador durante el período 1981–1986. CPPS, Boletín ERFEN 19:11–26

Currie E (1995a) Prehistory of the Southern Manabí Coast, Ecuador. In: British archaeological reports international series, 618. Tempus Reparatum, Oxford

Currie E (1995b) Archaeology, ethnography and exchange along the Ecuadorian coast. Antiquity 69:511–526

Dortch J, Dortch C, Reynolds R (2006) Test excavation at the Oyster Harbour stone fish traps, King George Sound, Western Australia: an investigation aimed at determining the construction method and maximum age of the structures. Aust Archaeol 62:38–43

Estrada V (1962) Arqueología de Manabí central. Publicación del Museo Arqueológico Víctor Emilio Estrada 7, Guayaquil

Gaibor N (2002) Un océano inexplorado: las especies marinas del Ecuador. Desafío 3(5):32–34

Gálvez H, Regalado J (2007) Características de las precipitaciones, la temperatura del aire y los vientos en la costa ecuatoriana. Acta Oceanográfica del Pacífico 14(1):201–205

Gibson RN (1982) Recent studies on the biology of intertidal fishes. Oceanogr Mar Biol Ann Rev 20:367–414

Gibson RN (1988) Patterns of movement in intertidal fishes. In: Chelazzi G, Vannini M (eds) Behavioral adaptation to intertidal life. NATO ASI book series (series a: life sciences), vol 151. Springer, Boston, pp 55–63

Gribble J (2005) The ocean baskets: pre-colonial fish traps on the Cape South Coast. Digging Stick 22(1):1–16

Gribble J (2006) Pre-colonial fish traps on the South Western Cape Coast, South Africa. In: Greiner R, Nutley D, Cochran I (eds) Underwater cultural heritage at risk: Managing natural and human impacts. ICOMOS, Paris, pp 29–32

Hine P, Sealy J, Halkett D, Hart T (2010) Antiquity of stone-walled tidal fish traps on the Cape Coast, South Africa. S Afr Archaeol Bull 65(191):35–44

Jeffrey B (2013) Reviving community spirit: furthering the sustainable, historical and economic role of fish weirs and traps. J Marit Archaeol 8:29–57

Jijón and Caamaño J (1941) El Ecuador interandino y occidental antes de la conquista castellana. Editorial Ecuatoriana, Quito

Jijón and Caamaño J (1952) Antropología Prehispánica del Ecuador, 2nd edn. Museo Jacinto y Caamaño, Quito

Keen AM (1971) Sea shells of tropical West America: marine mollusks from Baja California to Peru, 2nd edn. Stanford University Press, Stanford

Langouet L, Daire MY (2009) Ancient maritime fish-traps of brittany (France): a reappraisal of the relationship between human and coastal environment during the holocene. J Marit Archaeol 4:131–148

Lathrap D, Collier D, Chandra H (1975) Ancient Ecuador: culture, clay and creativity 3000-300 BC. In: Museo del Banco del Pacífico and Field Museum of Natural History, Guayaquil and Chicago

Luo L, Wang XY, Liu J, Guo HD (2015) Ancient stone tidal weirs in Penghu Archipielago: distribution, category, structure and function, a Google Earth and GIS aproach. In: The international archives of the photogrammetry, remote sensing and spatial information sciences, volume XL-5/W7. 25th International CIPA Symposium, Taipei, pp 311–314

Marcos JG (1995a) El manejo del agua en el variado medio ambiente del área Septentrional Andina a partir del tercer milenio a.C. In: Guinea M, Bouchard J-F, Marcos J (eds) Cultura y medioambiente en el área andina septentrional. Ediciones Abya Yala, Quito, pp 129–164

Marcos JG (1995b) El Mullo y el Pututo: la Articulación de la Ideología y el Tráfico a Larga Distancia. In: Álvarez A, Álvarez SG, Fauría C, Marcos JG (eds) Primer Encuentro de Investigadores de la Costa Ecuatoriana en Europa. Ediciones Abya-Yala, Quito, pp 97–142

Marcos JG, Veintimilla Bustamente CI, Tobar O, Lunniss R, Suárez Capello M (2012) La sociedad prehispánica manteña en los Cerros Hojas-Jaboncillo. In: Boletín Arqueológico No. 1. Corporación Ciudad Alfaro, Montecristi

McEwan C (2003) And the sun sits in his seat: creating social order in Andean culture. Ph.D. dissertation, University of Illinois, Urbana-Champaign. Ann Arbor: University Microfilms International

McEwan C, Delgado F (2008) Late pre-Hispanic polities of coastal Ecuador. In: Silverman H, Isbell WH (eds) Handbook of South American archaeology. Springer, New York, pp 505–526

McNiven IJ, Crouch J, Richards T, Dolby N, Jacobsen G (2012) Dating aboriginal Stone-walled fishtraps at Lake Condah, southeast Australia. J Archaeol Sci 39:268–286

Meggers BJ, Evans C, Estrada E (1965) Early formative period of coastal Ecuador: the Valdivia and Machalilla phases. In: Smithsonian contributions to anthropology, vol 1. Smithsonian Institution Press, Washington, DC

Mester AM (1990) The pearl divers of Los Frailes: archaeological and ethnohistorical explorations of the sumptuary goods trade and cosmology in the North and Central Andes. Ph.D. dissertation, University of Illinois, Urbana-Champaign. University Microfilms International, Ann Arbor

Ministerio del Ambiente de Ecuador (2009) Plan de Manejo del Refugio de Vida Silvestre Marina y Costera Pacoche 2009–2014. Manta, Ecuador

Mobley C, McCallum W (2001) Prehistoric intertidal fish traps from central Southeast Alaska. Can J Archaeol 25:28–52

Momber G (1991) Gorad Beuno: investigation of an ancient fish-trap in Caernarfon Bay, N. Wales. Int J f Naut Archaeol 20(2):95–109

Moss ML (2013) Fishing traps and weirs on the Northwest coast of North America: new approaches and new insights. In: Menotti F, Sullivan A (eds) The oxford handbook of wetland archaeology. Oxford University Press, Oxford, pp 323–337

Munita D, Álvarez R, Ocampo C (2004) Corrales de pesca: pesca pasiva en la costa interior de Chiloé. Boletín de la Sociedad Chilena de Arqueología 37:61–74

Norton P, Lunnis R, Nigel N (1983) Excavaciones en Salango, Provincia de Manabí. In: Miscelánea Antropológica Ecuatoriana, 3. Museos del Banco Central del Ecuador, Guayaquil, pp 9–72

Ortiz Aguilú JJ (2012) Informe de la prospección y reconocimiento arqueológico de las áreas de Ligüiqui y La Elvira. Proyecto "Prospección y reconocimiento arqueológico para las áreas Ligüiqui (Cantón Manta) y La Elvira (Cantón Portoviejo)" CDC-INPC-R4-010-2012 (unpublished)

Ortiz A, Ramírez M, Montano J (2006) Estudio de la ictiofauna de la zona intermareal rocosa de Playa Paraíso, perteneciente al Estado de Veracruz. Comunicación Científica—CIVA (http://www.civa2006.org), pp 801–812

Patiño D (1995) Asentamiento, Economía y Ecología en el Pacífico prehispánico de Colombia y Ecuador. In: Gnecco C (ed) Perspectivas Regionales en la Arqueología del Suroccidente de Colombia y Ecuador. Editorial Universitaria del Cauca, Popayan, pp 164–174

Pedoja K, Ortlieb L, Dumont JF, Lamothe M, Ghaleb B, Auclair M, Labrousse B (2006) Quaternary coastal uplift along the Talara Arc (Ecuador, Northern Peru) from new marine terrace data. Mar Geol 228:73–91

Pedoja K, Dumont JF, Ortlieb L (2009) Levantamiento cuaternario costero del Arco de Talara (Ecuador y norte del Perú): cuantificaciones con las secuencias de terrazas marinas. In: Geología y geofísica marina y terrestre del Ecuador. IRD-INOCAR, PSE-001, Guayaquil, pp 107–129

Reitz EJ, Masucci MM (2004) Guangala fishers and farmers: a case study of animal use at El Azúcar, Southwestern Ecuador. In: University of Pittsburgh Memoirs in Latin American Archaeology 14. University of Pittsburgh, Pittsburgh

Rowland MJ, Ulm S (2011) Indigenous fish traps and weires of Queensland. Qld Archaeol Res 14:1–58

Sánchez Mosquera AM (1992) Patrones de pesca precolombinos de la costa central ecuatoriana. Tesis de grado para obtener el título de Licenciada en Arqueología, Escuela Superior Politécnica del Litoral, ESPOL, Guayaquil, Ecuador. (unpublished)

Santana E, Dumont JF, Valdez F, Pazmiño N, Tihay JP, Usselmann P, López E (2005–2006) Método morfo-estructural para la identificación de paleoeventos tecto-sísmicos: aplicación a la zona costera de San Lorenzo, norte de Ecuador. Acta Oceanográfica del Pacífico 13(1):227–241

Saville MH (1907) The antiquities of Manabí, Ecuador. Preliminary report. In: Heye foundation contributions to South American archaeology, volume 1. New York

Saville MH (1910) The antiquities of Manabí, Ecuador. Final report. In: Heye foundation contributions to South American archaeology, volume 2. New York

Schávelzon D (1981) Arqueología y arquitectura del Ecuador prehispánico. Universidad Nacional Autónoma de México, Mexico

Stahl PW (2003) The zooarchaeological record from formative Ecuador. In: Raymond JS, Burger RL (eds) Archaeology of formative Ecuador. Dumbarton Oaks Research Library and Collection, Washington, DC, pp 175–212

Stothert KE (2011) Coastal recourses and the early holocene Las Vegas adaptation of Ecuador. In: Nuno FB, Haws JA, Davis LG (eds) Trekking the shore: changing coastlines and the antiquity of coastal settlement. Springer, New York, pp 355–383

Stothert KE (2013) The peoples of the coast of Ecuador accommodate the Inca state. Ñawpa Pacha 33(1):71–102

Stothert KE, Mosquera AS (2011) Culturas del Pleistoceno final y el Holoceno temprano en el Ecuador. Boletín de Arqueología PUCP 15:81–119

Stothert KE, Piperno DR, Andres TC (2003) Terminal Pleistocene/early Holocene human adaptation in coastal Ecuador: the Las Vegas evidence. Quat Int 109–110:23–43

Stuiver M, Reimer PJ (1993) Extended 14C data base and revised CALIB 3.0 14C age calibration program Radiocarbon 35:215–230

Torres J (2009) La pesca entre los cazadores recolectores terrestres de la Isla Grande de Tierra del Fuego, desde la prehistoria a tiempos etnográficos. Magallania 37(2):109–138

Van der Merwe NJ, Lee-Thorp JA, Raymond JS (1993) Light stable isotopes and the subsistence base of formative cultures at Valdivia, Ecuador. In: Lambert JB, Grupe G (eds) Prehistoric human bone: archaeology at the molecular level. Springer, Berlin, pp 63–97

Vera L (2000) Régimen de oleaje en la zona de Jaramijó y Salinas. Acta Oceanográfica del Pacífico 10(1):29–35

Vera L, Lucero M, Mindiola M (2009) Caracterización oceanográfica de la costa central ecuatoriana entre la punta del Morro y Jaramijó, Ecuador. Acta Oceanográfica del Pacífico 15(1):7–17

Winckell A, Marocco R, Winter T, Huttel C, Pourrut P, Zebrowski C, Sourdat M (1997) Los paisajes naturales del Ecuador. Volumen 1—Las condiciones generales del medio natural. Instituto Geográfico Militar. Quito, Ecuador
Acknowledgements
We thank the Programa Prometeo of the SENESCYT (Secretaría Nacional de Educación Superior, Ciencia, Tecnología e Innovación, Ecuador) for financing the scholarship that made this research possible (granted to C. M. Favier Dubois); the Universidad Técnica de Manabí (UTM) for the mobility and logistical support provided; the Escuela Superior Politécnica del Litoral (ESPOL) Guayaquil; the Centro de Investigación y Museo Salango; Leonardo Alonzo and the community of Liguiqui village for their help; Jimmy Moreira (UTM) for the operation of the drone and Peter White (University of Sydney, Australia) for the English revision of the first draft. Finally, we thank the anonymous reviewers whose comments have greatly improved the original manuscript.
About this article
Cite this article
Favier Dubois, C.M., Storchi Lobos, D., Lunniss, R. et al. Pre-Hispanic Fishing Structures Preserved on the Central Coast of Ecuador. J Mari Arch 14, 107–126 (2019). https://doi.org/10.1007/s11457-018-9202-6
Keywords
Pre-Hispanic fishing structures

Central coast of Ecuador

Geo-environmental setting

Double functionality

Chronological and cultural considerations