Abstract
Fish traps are one of the most widespread and enduring features of the maritime landscape. Recent research in Ireland has identified a great number of traps, most of which date from the early to late medieval periods. This paper presents the findings of a recent survey of Lough Swilly in north-western Ireland where a series of fish traps offers new insights into the survival, diversity and role of these sites in the post-medieval period.
Access options
Buy single article
Instant access to the full article PDF.
US$ 39.95
Tax calculation will be finalised during checkout.
Subscribe to journal
Immediate online access to all issues from 2019. Subscription will auto renew annually.
US$ 79
Tax calculation will be finalised during checkout.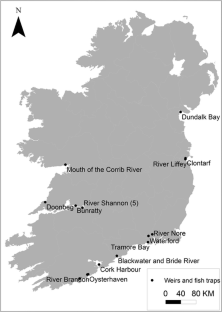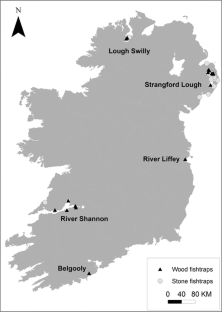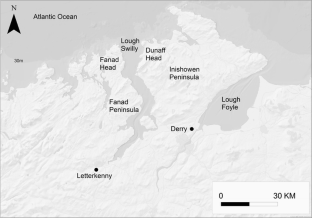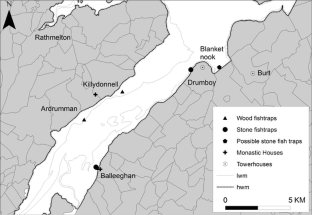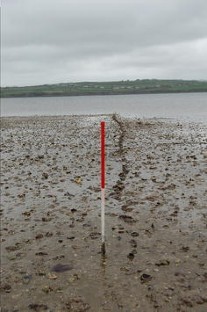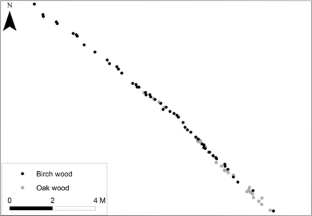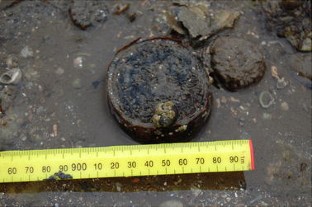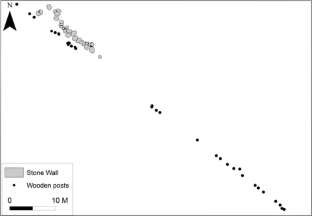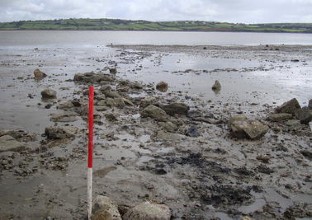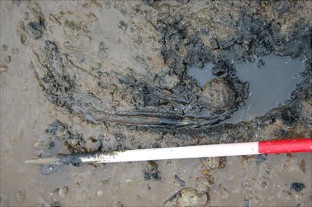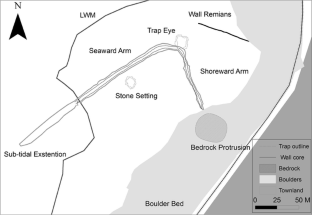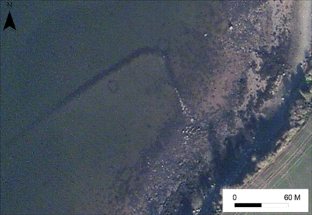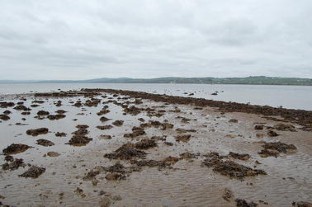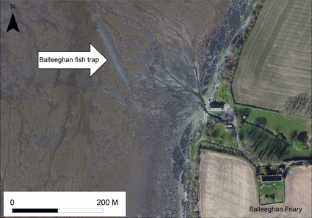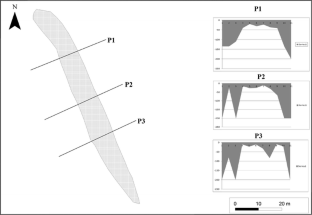 References
Original Sources
Annalecta Hibernia (1931) Survey of the escheated counties in Ulster, 1608. Ms. Rawlinson A. 237. 151–218

Calendar of the State Papers relating to Ireland 1601-3. Mahaffy, R.P. (ed.) (1912). HMSO

Henry W (1739) Hints towards a natural and topographical history of the Counties of Sligo, Donegal, Fermanagh and Lough Erne. National Archives of Ireland, Dublin. Ms 2533

The Times Newspaper of London (1832) (14848): 6

Valuation of the Ramelton and Fortstewart Estate, together with the map. c.1730. Public Record Office of Northern Ireland, D2358/5/1
Secondary Sources
Anonymous (2011) Lough Swilly report. Department of Environment, Heritage and Local Government, Dublin

Aston M (1998) Medieval fish, fisheries and fishponds in England. British Archaeological Report 182, Oxford

Bannerman N, Jones C (1999) Fish-trap types: a component of the maritime cultural landscape. Int J Naut Archaeol 28:70–84

Barr C (1998) Wetland archaeological sites in Aotearoa (New Zealand) prehistory. In: Bernick K (ed) Hidden dimensions: the cultural significance of wetland archaeology. UBC Press, Vancouver, pp 47–55

Bathgate TD (1949) Ancient fish-traps or yairs in Scotland. Proc Soc Antiqu Scotl 83(11):98–102

Betts RC (1998) The Montana Creek fishtrap 1: archaeological investigations in southeast Alaska. In: Bernick K (ed) Hidden dimensions: the cultural significance of wetland archaeology. UBC Press, Vancouver, pp 239–251

Breen C (1999) A medieval fishery at Rossglass, Co. Down. Ulst J Archaeol 58:153–155

Breen C (2005) The Gaelic lordship of the O'Sullivan Beare: A landscape cultural history. Four Courts Press, Dublin

British Geological Survey (1986) Malin: sheet 55N 08W sea bed sediments and quaternary. Natural Environment Research Council, London

Bryam S (1998) Fishing weirs in Oregon coast estuaries. In: Bernick K (ed) Hidden dimensions: the cultural significance of Wetland Archaeology. UBC Press, Vancouver, pp 199–219

Davies O, Swan HP (1939) Castles of Inishowen. Ulst J Archaeol 2:178–208

Dortch CE (1997) New perceptions of the chronology and development of Aboriginal fishing in south-western Australia. World Archaeol 291:15–35

Erickson CL (2000) An artificial landscape-scale fishery in the Bolivian Amazon. Nature 408:190–193

Evans EE (1951) Ancient fish weirs on the Co., Down Coast. Ulst J Archaeol 14:48

Evans EE (1957) Irish folk ways. Routledge and Kegan Paul, London

Evans D (1973) A shallow seismic survey in Lough Swilly and Trawbreaga Bay, Co., Donegal. Proc R Irish Acad 73B:207–216

Feehan J (2003) Farming in Ireland: history, heritage and environment, Dublin. University College Faculty of Agriculture, Dublin

Glasser NF, Ghiglione MC (2009) Structural, tectonic and glaciological controls on the evolution of fjord landscapes. Geomorphology 105:291–302

Godbold S, Turner RC (1994) Medieval fishtraps in the severn estuary. Mediev Archaeol 38:19–54

Gwynn A, Hadcock RN (1970) Medieval religious houses: Ireland. Longman, London

Hale AGC (2005) Fish-traps in Scotland: construction, supply, demand and destruction. In: Klápste J (ed) Water management in medieval rural economy (Památky archeologické—supplementum, 17). Institute of Archaeology, Prague, pp 119–126

Hill G (1877) An historical account of the plantation in Ulster 1608–1620. Belfast

Jones C (1983) Walls in the sea: the goradu of the Menai. Int J Naut Archaeol 12:27–40

Lacy B (1983) Archaeological survey of County Donegal. Donegal County Council, Lifford

Langouet L, Daire M (2009) Ancient maritime fish-traps of Brittany, France: a reappraisal of the relationship between human and coastal environment during the Holocene. J Marit Archaeol 42:131–148

Lucas AT (1958) Furze: a survey and history of its uses in Ireland. Béaloideas 26:30–45

McCracken E (1971) The Irish woods since tudor times: their distribution and exploitation, Newton Abbot. David and Charles

McErlean T, O'Sullivan A (2002) Foreshore tidal fishtraps. In: McErlean T, McConkey R, Forsythe W (eds) Strangford Lough: an archaeological survey of its maritime cultural landscape. Blackstaff Press, Belfast, pp 144–180

McNeill C (1931) Rawlinson Ms A237, the Bodleian Library, Oxford, Analecta Hibernica 3: 151–218

McQuade M, O'Donnell L (2007) Late Mesolithic fish traps from the Liffey Estuary, Dublin, Ireland. Antiquity 81:569–584

Milne G, Bates M, Webber MD (1997) Problems, potential and partial solutions: an archaeological study of the tidal Thames, England. World Archaeol 291:130–146

Milner N, Woodman P (2001) Preliminary report on excavations at Baylet, Co. Donegal C340 227, Dúchas, The Heritage Service, Dublin

Moody TW (1938) Ulster plantation papers. Analecta Hibernica 8:179–297

Moss ML, Erlandson JM (1998) A comparative chronology of Northwest coast fishing features. In: Bernick K (ed) Hidden dimensions: the cultural significance of wetland archaeology. UBC Press, Vancouver, pp 180–198

Nayling N (1997) Further fieldwork and post-excavation: Magor Pill, Gwent Levels Intertidal Zone. Archaeol Sev Estuary 7:85–93

Ní Loingsigh M (1994) An assessment of castles and land ownership in Late Medieval North Donegal. Ulst J Archaeol 57:145–158

O'Donnell L (2012) Wood identifications from Killydonnell and Ardrumman fishtraps, Co. Donegal

O'Sullivan A (1993) An early historic period fish weir on the upper Fergus estuary, Co. Clare. N Munst Antiq J 35:52–61

O'Sullivan A (1994) Harvesting the waters. Archaeol Irel 81:10–12

O'Sullivan A (1995a) Marshlanders. Archaeol Irel 9:8–11

O'Sullivan A (1995b) Medieval fishweirs on the Deel Estuary, Co. Limerick. Archaeol Irel 92:15–17

O'Sullivan A (2001) Foragers, farmers and fishers in a coastal landscape: an intertidal archaeological survey of the Shannon Estuary, Discovery Programme Monographs 5. Royal Irish Academy, Dublin

O'Sullivan A (2003) Place, memory and identity among estuarine fishing communities: interpreting the archaeology of early medieval weirs. World Archaeol 353:449–468

O'Sullivan A (2005) Medieval fish traps on the Shannon estuary, Ireland: interpreting people, place and identity in estuarine landscapes. J Wetl Archaeol 5:65–77

O'Sullivan A, Dillon M (2009) Islands in time: the maritime cultural landscapes of the Fergus Estuary's Islands, Co. Clare. University College Dublin, Dublin

O'Sullivan A, McErlean T, McConkey R, McCooey P (1997) Medieval fishtraps in Strangford Lough, Co. Down. Archaeol Irel 111:36–38

Quinn DB (1993) Aristocratic Autonomy, 1460–94. In: Cosgrove A (ed) A new history of Ireland II. Clarendon Press, Oxford, pp 591–619

Suess HE (1955) Radiocarbon concentration in modern wood. Science 122:415–417

Turner R (2002) Fish weirs and fish traps. In: Davidson A (ed) The coastal archaeology of Wales. CBA Research Repor 131, York, pp 95–108

Tveskov MA, Erlandson JM (2003) The Haynes Inlet weirs: estuarine fishing and archaeological site visibility on the southern Cascadia coast. J Archaeol Sci 30:1023–1035

Went AEJ (1945) Fishing weirs of the River Erne. J R Soc Antiq Irel 75:213–223

Went AEJ (1946) Irish fishing weirs I: notes on some ancient examples fished in tidal waters. J R Soc Antiq Irel 76:176–194

Went AEJ (1948) Irish fishery weirs—II: the Duncannon Weir. J R Soc Antiq Irel 78:1–4

Went AEJ (1956) The Swilly 'Loop' Net for Salmon. J R Soc Antiq Irel 86:215–217

Went AEJ (1963) Oyster fisheries. Dublin Hist Rec 182:56–63

Went AEJ (1964) The pursuit of Salmon in Ireland. Proc R Irish Acad 63C:191–244

Went AEJ (1966) Historical notes on the fisheries of Lough Swilly and its tributaries. J R Soc Antiq Irel 96:121–131

Went AEJ (1969) Historical notes on the fisheries of the two county Sligo Rivers. J R Soc Antiq Irel 99:55–61

Went AEJ (1971) A fish pound in Lough Swilly 1739. J R Soc Antiq Irel 101:166–167

Wilson J (2011) Ancient fish traps at Belgooly, Co. Cork. Archaeol Irel 25:23–25

Woodman PC (1977) Recent excavations at Newferry, Co. Antrim. Proc Prehist Soc 43:155–199
Acknowledgments
Our thanks to Brian Scott. Also Karl Brady and Connie Kelleher of the Underwater Archaeology Unit (Department of Arts, Heritage and the Gaeltacht); The Royal Irish Academy Radiocarbon Dating Scheme, Lar Dunne, Lorna O'Donnell, Aoife Daly (University College Dublin), Stephen Hoper (Queens University Belfast), Kieran Westley, David Rogers and Joost Van Kogelenberg.
Ethics declarations
Conflict of interest
The authors declare that they have no conflict of interest.
About this article
Cite this article
Montgomery, P., Forsythe, W. & Breen, C. Intertidal Fish Traps from Ireland: Some Recent Discoveries in Lough Swilly, Co. Donegal. J Mari Arch 10, 117–139 (2015). https://doi.org/10.1007/s11457-015-9146-z
Keywords
Intertidal fish traps

Ireland

Maritime resources

Post-medieval