Abstract
In the design of offshore jack-up rigs, it is commonly assumed that the lattice legs have no effect on the fixity and other foundation behavior of the spudcan, presumably because the opening ratio of lattice legs is typically quite large. This paper describes a centrifuge experimental study to explore the effect of lattice legs on spudcan fixity under cyclic loading. The modeling equipment is first described. A novel feature of this equipment is its ability to maintain a constant holding vertical loading on the spudcan leg while subjecting the latter to rocking over many cycles. The centrifuge model results and discussion presented show that the presence and configuration of the lattice leg has a significant influence on spudcan foundation behavior in several different aspects. The effect is most significantly manifested in the fixity and bending moment. The fixity of the entire spudcan foundation is increased substantially by the presence of the lattice. The bending moment at the spudcan-lattice connection is also reduced by the lattice leg, with the maximum moment occurring slightly above the spudcan. Both of these effects can potentially lead to substantial cost savings in jack-up structures.
This is a preview of subscription content, log in to check access.
Access options
Buy single article
Instant access to the full article PDF.
US$ 39.95
Price includes VAT for USA
Subscribe to journal
Immediate online access to all issues from 2019. Subscription will auto renew annually.
US$ 99
This is the net price. Taxes to be calculated in checkout.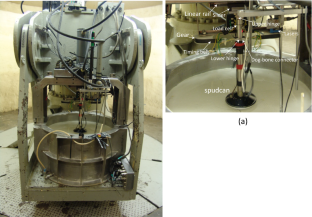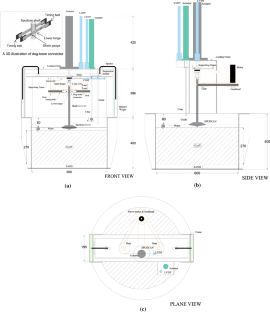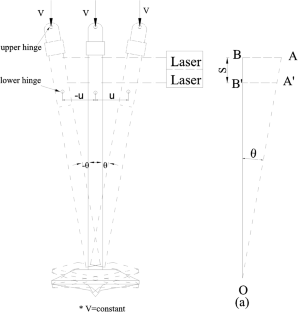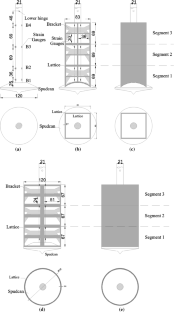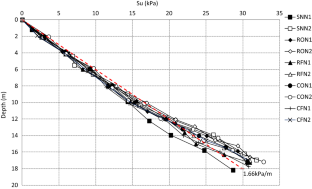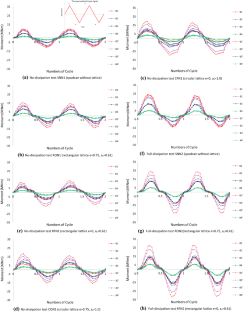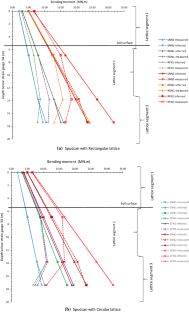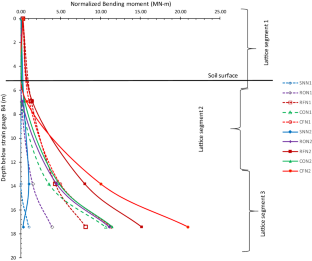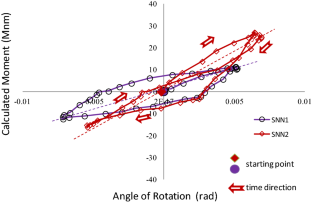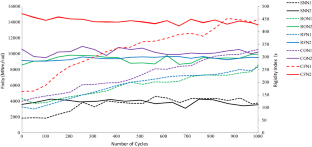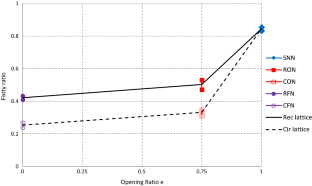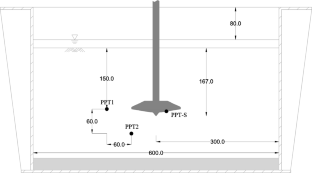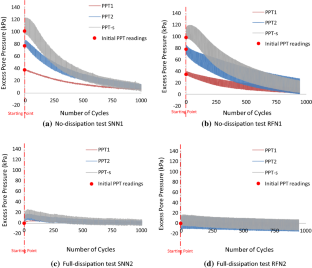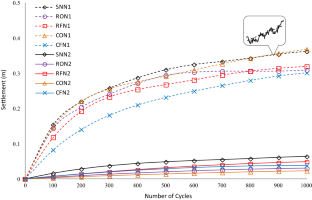 References
1.

ABS (2014) Guidance notes on dynamic analysis procedure for self elevating drilling units. Houston, TX, USA

2.

ASME (2000) ASME section II: 2000 materials index (covering the 1999 addenda to 1998 edition of ASME section II)

3.

Bell RW (1991) The analysis of offshore foundations subjected to combined loading. MSc thesis, presented to the University of Oxford

4.

Bennett & Associates, Ltd, O. T. D. P. (2005) Jackup units: a technical primer for the offshore industry professional. Keppel FELS, Singapore

5.

Borowicka H (1943) Uber ausmitting belastete starre Platten auf elastschisotropem Untergrung. Ingenieur-Archiv 1:1–8

6.

Cassidy MJ, Martin CM, Houlsby GT (2004) Development and application of force resultant models describing jack-up foundation behaviour. Mar Struct 17(3):165–193

7.

Cassidy MJ, Taylor PH, Taylor RE, Houlsby GT (2002) Evaluation of long-term extreme response statistics of jack-up platforms. Ocean Eng 29(13):1603–1631

8.

Chung SF, Randolph MF, Schneider JA (2006) Effect of penetration rate on penetrometer resistance in clay. J Geotech Geoenviron Eng 132(9):1188–1196

9.

DNV (2012) DNV-RP-C104: self-elevating units, recommended practice. DNV, Oslo

10.

Duncan JM, Buchignani AL (1976) An engineering manual for settlement study. Technical report, Department of Civil Engineering, University of California, Berkeley

11.

Einav I, Randolph MF (2005) Combining upper bound and strain path methods for evaluating penetration resistance. Int J Numer Methods Eng 63(14):1991–2016

12.

Finnie IMS, Randolph MF (1994) Punch-through and liquefaction induced failure of shallow foundations on calcareous sediments. In: Proceedings the 17th international conference on the behavior of offshore structures, Boston, pp 217–230

13.

Global Maritime (2003) Impact of changes to T&R 5-5A on jack-up system reliability levels. Health and Safety Executive, Bootle

14.

Goh TL (2003) Stabilisation of an excavation by an embedded improved soil layer. PhD thesis, National University of Singapore

15.

Hambly EC (1991) Jackup dynamic stability under extreme storm conditions. In: Offshore Technology conference

16.

He B, Wang LZ, Hong Y (2017) Field testing of one-way and two-way cyclic lateral responses of single and jet-grouting reinforced piles in soft clay. Acta Geotech 12(5):1021–1034

17.

Hong Y, He B, Wang LZ, Wang Z, Ng CWW, Masin D (2017) Cyclic lateral response and failure mechanisms of semi-rigid pile in soft clay: centrifuge tests and numerical modelling. Can Geotech J 54(6):806–824

18.

House AR, Oliveira JRMS, Randolph MF (2001) Evaluating the coefficient of consolidation using penetration tests. Int J Phys Model Geomech 3:17–25

19.

ISO19905-1 (2012) Petroleum and natural gas industries-site-specific assessment of mobile offshore units, Jack-ups. BSI Standards Publication, London

20.

Li YP, Lee FH, Goh SH, Yi JT, Zhang XY (2012) Centrifuge study of the effects of lattice leg on penetration resistance and bearing behavior of spudcan foundations in NC clay. In: The 31st international conference on ocean, offshore and arctic engineering (OMAE2012), 1–6 July 2012, Rio de Janeiro, Brazil

21.

Li YP, Yi JT, Lee FH, Goh SH, Liu Y, Yang Y, Zhang XY, Wu JF (2017) Effects of the lattice leg on cavities and bearing capacity of deeply embedded spudcans in clay. Geotechnique 67(1):1–17

22.

Li YP, Yi JT, Lee FH (2018) Centrifuge model study on the effect of lattice leg and sleeve on the postconsolidation bearing capacity of Spudcan Foundation. J Offshore Mech Arct Eng Trans ASME 140(4):041302

23.

Li YP, Yi JT, Lee FH, Goh SH, Hu J (2018) Effect of lattice leg and sleeve on the transient vertical bearing capacity of deeply penetrated spudcans in clay. J Geotech Geoenviron Eng 144(5):04018019

24.

Martin CM, Houlsby GT (2000) Combined loading of spudcan foundations on clay: laboratory tests. Geotechnique 50(4):325–338

25.

Murff JD, Hamilton JM, Dean ETR, James RG, Kusakabe O, Schofield AN (1991) Centrifuge testing of foundation behaviour using full jackup rig models. In: Proceedings of the 23rd Offshore Technology conference, Houston, Texas, OTC 6516

26.

Menzies D, Roper R (2008) Comparison of jackup rig spudcan penetration methods in clay. In: Proceedings of the 2008 offshore technology conference, Houston, TX, USA

27.

Purwana OA, Leung CF, Chow YK, Foo KS (2005) Influence of base suction on extraction of jack-up spudcans. Geotechnique 55(10):741–753

28.

Purwana OA (2006) Centrifuge model study on the spudcan extraction in soft clay. PhD thesis, National University of Singapore

29.

Randolph MF, Hope S (2004) Effect of cone velocity on cone resistance and excess pore pressures. In: Proceedings of the first international symposium on engineering practice and performance of soil deposits, Osaka, pp 147–152

30.

Randolph M, Cassidy M, Gourvenec S, Erbrich C (2005) Challenges of offshore geotechnical engineering. In: Proceedings of the 16th international conference on soil mechanics and geotechnical engineering, vol 1–5. Geotechnology in Harmony with the Global Environment, pp 123–176

31.

SNAME (2008) Guidelines for site specific assessment of mobile jack-up units. T&R Bulletin 5-5 and 5-5A, Society of Naval Architects and Marine Engineers, Jersey City, New Jersey, USA

32.

Springman SM, Schofield AN (1998) Monotonic lateral load transfer from a jack-up platform lattice leg to a soft clay deposit. In: Kimura KT (ed) Centrifuge 98. Proceedings of the international conference centrifuge, Balkema, Rotterdam, pp 563–568

33.

Tan TS, Inoue T, Lee SL (1991) Hyperbolic method for consolidation analysis. J Geotech Eng ASCE 117(11):1723–1737

34.

Temperton I, Stonor RWP, Springett CN (1999) Measured spudcan fixity: analysis of instrumentation data from three North Sea jack-up units and correlation to site assessment procedures. Mar Struct 12:277–309

35.

Vlahos G (2004) Physical and numerical modelling of a three-legged jack-up structure on clay soil. PhD, The University of Western Australia

36.

Winterkorn HF, Fang HY (1975) Foundation engineering handbook. Van Nostrand Reinhold Co., Inc., New York

37.

Yi JT, Goh SH, Lee FH, Randolph MF (2012) A numerical study of cone penetration in fine-grained soils allowing for consolidation effects. Geotechnique 62(8):707–719

38.

Yi JT, Zhao B, Li YP, Yang Y, Lee FH, Goh SH, Zhang XY, Wu JF (2014) Post-installation pore-pressure changes around spudcan and long-term spudcan behaviour in soft clay. Comput Geotech 56:133–147

39.

Zhang Y, Bienen B, Cassidy MJ, Gourvenec S (2011) The undrained bearing capacity of a spudcan foundation under combined loading in soft clay. Mar Struct 24(4):459–477

40.

Zhang Y, Bienen B, Cassidy MJ (2013) Development of a combined VHM loading apparatus for a geotechnical drum centrifuge. Int J Phys Model Geotech 13(1):13–30
Acknowledgements
The authors acknowledge the research funding provided by the Agency for Science Technology and Research and the Maritime and Port Authority of Singapore through the Center for Offshore Research and Engineering under the Offshore Technology Research Program (Project No. 0821350042). The first author wishes to acknowledge the research funding provided by the National Natural Science Foundation of China (Nos. 51509025, 51778091). The second Author would also like to acknowledge the support provided by the National University of Singapore research scholarship.
Additional information
Publisher's Note
Springer Nature remains neutral with regard to jurisdictional claims in published maps and institutional affiliations.
About this article
Cite this article
Yi, J.T., Yang, Y., Li, Y.P. et al. Centrifuge study of lattice legs effect on spudcan fixity under cyclic combined loading conditions. Acta Geotech. 14, 2045–2064 (2019). https://doi.org/10.1007/s11440-019-00773-2
Received:

Accepted:

Published:

Issue Date:
Keywords
Centrifuge modeling

Cyclic combined loading

Lattice leg

Spudcan fixity