Abstract
In this paper, a series of triaxial cyclic loading–unloading (L–U-C), triaxial cyclic loading–unloading–holding (L–U–H-C) and triaxial cyclic stress relaxation tests (L–R-C) were performed for frozen China standard sand (FCSS) under laboratory conditions varying with confining pressure, temperature and holding time. A composite system synchronizing the real-time computed tomography (CT) device and the triaxial testing device was used to explore the internal structure change of FCSS during L–U–H-C. The strengthening behavior was clearly observed by comparing the L–U-C and L–U–H-C tests. While this behavior is generally caused by particle compaction as occurred in common soil, pressure melting of ice crystal and recrystallization followed may additionally contribute to strengthening behavior of frozen soil. The increase in mean CT number during the holding stage further confirms the effects of pressure melting of ice crystal and recrystallization on the strengthening of FCSS from an internal structure aspect.
Access options
Buy single article
Instant access to the full article PDF.
US$ 39.95
Tax calculation will be finalised during checkout.
Subscribe to journal
Immediate online access to all issues from 2019. Subscription will auto renew annually.
US$ 79
Tax calculation will be finalised during checkout.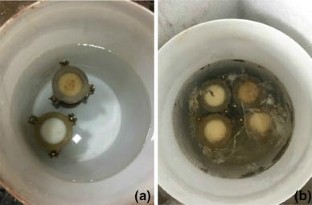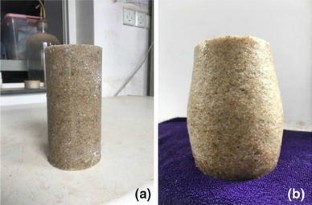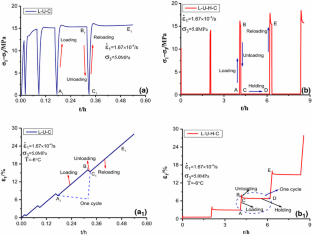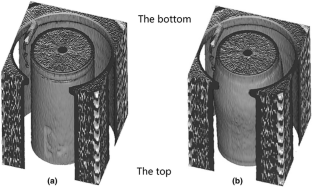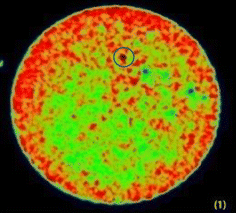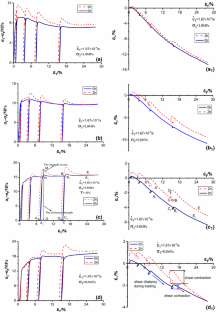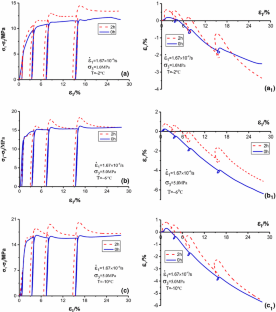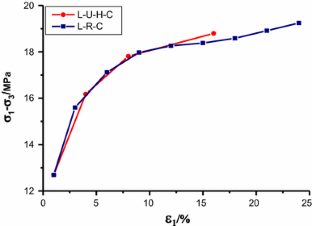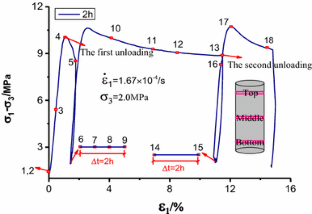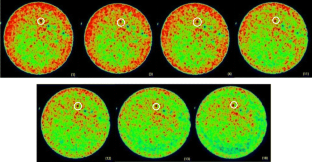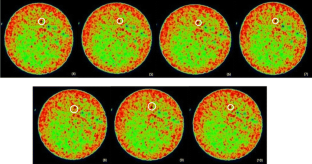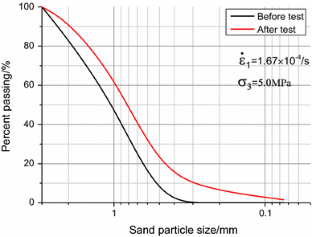 References
1.

Arenson LU, Springman SM, Sego DC (2007) The rheology of frozen soils. Appl Rheol 17(1):12147-1–12147-14

2.

Bell RE, Tinto K, Das I, Wolovick M, Chu W, Creyts TT, Frearson N, Abdi A, Paden JD (2014) Deformation, warming and softening of Greenland's ice by refreezing meltwater. Nat Geosci 7:497–502

3.

Cai C, Ma W, Zhao SP, Mu YH (2017) Experimental analysis and discussion on the damage variable of frozen loess. Adv Mater Sci Eng 2017(1689251):1–13

4.

Lai YM, Li SY, Qi JL, Gao ZH, Chang XX (2008) Strength distributions of warm frozen clay and its stochastic damage constitutive model. Cold Reg Sci Technol 53(2):200–215

5.

Lai YM, Jin L, Chang XX (2009) Yield criterion and elasto-plastic damage constitutive model for frozen sandy soil. Int J Plast 25(6):1177–1205

6.

Lai YM, Xu XT, Dong YH, Li SY (2013) Present situation and prospect of mechanical research on frozen soils in China. Cold Reg Sci Technol 87:6–18

7.

Ma L (2015) Study on strength and deformation properties of a frozen sand under the actions of particle crushing and pressure melting. University of Chinese Academy of Sciences, Beijing

8.

Ma W, Wu ZW (1995) Analysis of microstructural changes in frozen sandy soil under confining pressures using scanning electronic microscope. J Glaciol Geocryol 17(2):152–158

9.

Ma W, Wu ZW, Zhang LX, Chang XX (1999) Mechanisms of strength weakening of frozen soils under high confining pressure. J Glaciol Geocryol 21(1):27–32

10.

Ma L, Qi JL, Yu F, Yao XL (2015) Experimental study on variability in mechanical properties of a frozen sand as determined in triaxial compression tests. Acta Geotech 11(1):61–70

11.

Qi JL, Ma W (2010) State-of-art of research on mechanical properties of frozen soils. Rock Soil Mech 31(1):133–143

12.

Roman LT (2016) Frozen soil mechanics. Science Press, Beijing (trans: Zhang CQ, Zhang Z)

13.

Sayles FH (1989) State of the art: mechanical properties of frozen soil. In: Jones RH, Holden JT (eds) Proceeding of 5th international symposium on ground freezing. Balkema, Rotterdam, Vol. 1, pp. 143–166

14.

Shen ZY, Wang JC (1996) Change in structures and its mechanisms of frozen soil under uniaxial tensile. J Glaciol Geocryol 18(3):262–268

15.

Tsytovich HA (1985) The mechanics of frozen ground. Science Press, Beijing (trans: Zhang CQ, Zhu YL)

16.

Vesic AS, Clough GW (1968) Behavior of granular materials under high stresses. J Soil Mech Found Div 94(3):661–688

17.

Vialov SS, Gmoshinskii VG, Gorodetskii SE, Grigorieva VG (1965) The strength and creep of frozen soil and calculations for ice-soil relating structure. Cold Regions Research and Engineering Laboratory, USA

18.

Vyalov SS (2004) Rheology of frozen soil. China Railway Publishing House, Beijing (trans: Liu JK)

19.

Xu XZ, Wang JC, Zhang LX (2010) Frozen soil physics. Science Press, Beijing

20.

Yang YG, Lai YM, Chang XX (2010) Experimental and theoretical studies on the creep behavior of warm ice-rich frozen sand. Cold Reg Sci Technol 63(1):61–67

21.

Yershov ED, Williams P (1998) General geocryology. Cambridge University Press, Cambridge

22.

Yershov ED, Lebedenko YP, Yershov VD, Chouvilin YM, Kouleshov YV (1989) Physico-chemical processes in dispersed grounds during phase transition and ice accretion. In: Rathmayer H (ed) International symposium of frost in geotechnical engineering. Suariselka, Finland, Vol. 1, pp 415–426

23.

Zhao SP, Ma W, Zheng JF, Jiao GD (2012) Damage dissipation potential of frozen remolded Lanzhou loess based on CT uniaxial compression test results. Chin J Geotech Eng 34(11):2019–2025

24.

Zhou ZW, Ma W, Zhang SJ, Du HM, Mu YH, Li GY (2016) Multiaxial creep of frozen loess. Mech Mater 95:172–191
Acknowledgements
This work was supported by the National Key R&D Program of China (No. 2017YFC0405101), Grants from National Natural Science Foundation of China (Nos. 41401077, 11502266, 41671055) and the Major Science and Technology Project of Gansu Province (143GKDA007). The authors thank Professor Zhuotong Nan from Nanjing Normal University for improving the language.
About this article
Cite this article
Cai, C., Ma, W., Zhou, Z. et al. Laboratory investigation on strengthening behavior of frozen China standard sand. Acta Geotech. 14, 179–192 (2019). https://doi.org/10.1007/s11440-018-0648-3
Received:

Accepted:

Published:

Issue Date:
Keywords
CT scanning test

Frozen standard sand

Pressure melting

Recrystallization

Strengthening behavior

Triaxial cyclic loading test