Abstract
The study of desiccation cracks in soils has been a subject of increasing attention in recent research. This paper presents the use of a 2D profile laser that is coupled with a motion controller (that allows scanning the overall surface of a drying soil) and electronic balance (to measure the water loss). The aim is to accurately track the three most relevant variables associated with the behavior of soils during desiccation: volume change, water loss and evolving crack network's morphology. The paper presents the methodology to obtain a digital model of the soil using the experimental setup described above. The main results of a natural soil subjected to drying are presented and discussed, including evolution of cracks aperture; evolution of cracks depth, surface contour levels (at different times); and evolution of volume change. It is shown that the proposed methodology provides very useful information for studying the behavior of soils subjected to desiccation.
This is a preview of subscription content, log in to check access.
Access options
Buy single article
Instant access to the full article PDF.
US$ 39.95
Tax calculation will be finalised during checkout.
Subscribe to journal
Immediate online access to all issues from 2019. Subscription will auto renew annually.
US$ 99
Tax calculation will be finalised during checkout.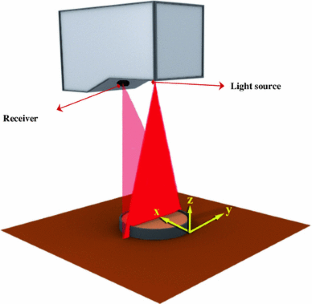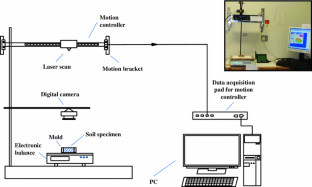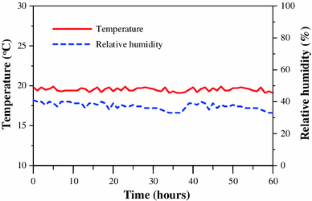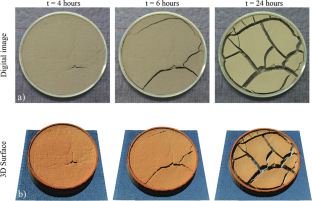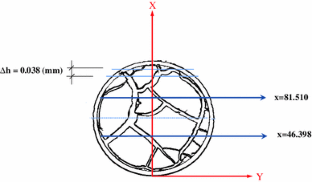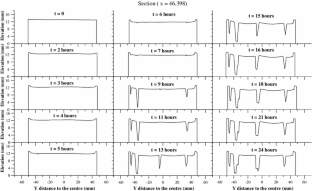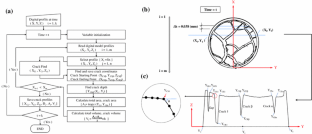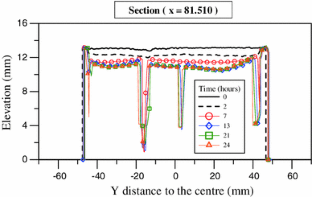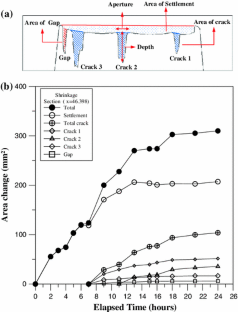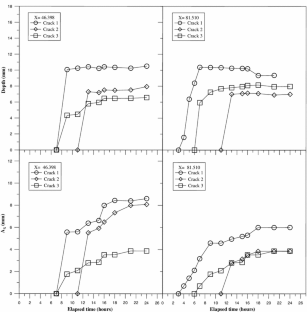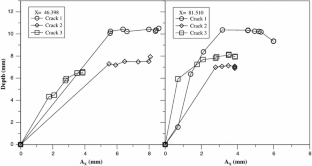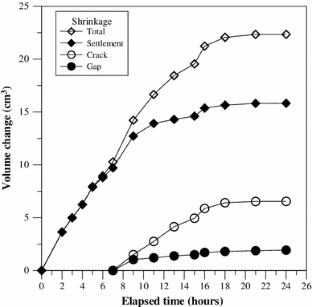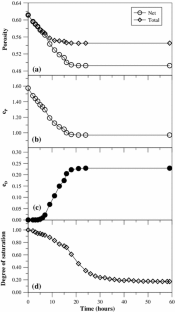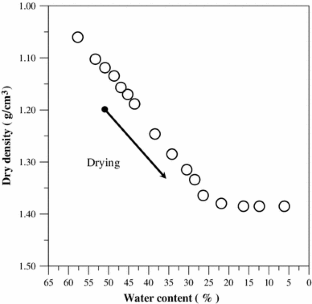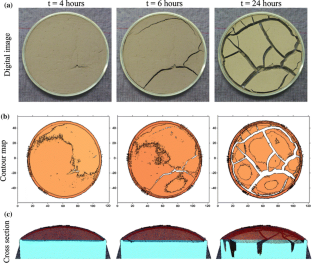 References
1.

Albright WH, Benson CH, Gee GW, Abichou T, McDonald EV, Tyler SW, Rock SA (2006) Field performance of a compacted clay landfill final cover at a humid site. J Geotech Geoenviron Eng 132(11):1393–1403

2.

Alshibli KA, Al-Hamdan MZ (2001) Estimating volume change of triaxial soil specimens from planar images. Comput Aided Civ Infrastruct Eng 16(6):415–421

3.

Alshibli KA, Sture S (2000) Shear band formation in plane strain experiments of sand. J Geotech Geoenviron Eng 126(6):495–503

4.

Amarasiri AL, Kodikara JK, Costa S (2011) Numerical modelling of desiccation cracking. Int J Numer Anal Meth Geomech 35(1):82–96

5.

Armstrong A, Matthews A, Portwood A, Addiscott T, Leeds-Harrison P (1994) Modelling the effects of climate change on the hydrology and water quality of structured soils. Springer, Heidelberg

6.

Bear J (1988) Dynamics of fluids in porous media. Dover publications, Mineola, NY

7.

Berney I, Ernest S, Hodo WD, Peters JF, Myers TE, Olsen RS, Sharp MK (2008) Assessment of the effectiveness of clay soil covers as engineered barriers in waste disposal facilities with emphasis on modeling cracking behavior. DTIC Document

8.

Brémand F, Trabelsi H, Jamei M, Guiras H, Hatem Z, Romero E, Sebastia O (2010) Some investigations about the tensile strength and the desiccation process of unsaturated clay. In: EPJ web of conferences. EDP Sciences

9.

Brossard C, Monnier J, Barricau P, Vandernoot F, Le Sant Y, Champadal F, Le Besnerais G (2009) Principles and applications of particle image velocimetry. Aerosp Lab J 1:1–11

10.

Clayton C, Khatrush S (1986) A new device for measuring local axial strains on triaxial specimens. Geotechnique 36(4):593–597

11.

Daniel DE, Wu YK (1993) Compacted clay liners and covers for arid sites. J Geotech Eng 119(2):223–237

12.

Drumm E, Boles D, Wilson G (1997) Desiccation cracks result in preferential flow. Geotech News 15(2):22–25

13.

Dyer MR, Utili S, Zielinski M (2009) Field study into fine desiccation fissuring at thorngumbald. Proc ICE Water Manage 162(3):221–232. doi:10.1680/wama.2009.162.3.221

14.

El Mountassir G, Sanchez M, Romero E, Soemitro R (2011) Behavior of a compacted fill used to construct flood embankments. Proc ICE Geotech Eng 164(3):195–210. doi:10.1680/geng.10.00055

15.

Flury M, Flühler H, Jury WA, Leuenberger J (1994) Susceptibility of soils to preferential flow of water: a field study. Water Resour Res 30(7):1945–1954

16.

Gachet P, Geiser F, Laloui L, Vulliet L (2007) Automated digital image processing for volume change measurement in triaxial cells. ASTM Geotech Test J 30(2):98–103

17.

Hallett P, Newson T (2005) Describing soil crack formation using elastic–plastic fracture mechanics. Eur J Soil Sci 56(1):31–38

18.

Hong ES, Lee IM, Lee JS (2006) Measurement of rock joint roughness by 3d scanner. ASTM Geotech Test J 29(6):482–489

19.

Jackson P, Northmore K, Meldrum P, Gunn D, Hallam J, Wambura J, Wangusi B, Ogutu G (2002) Non-invasive moisture monitoring within an earth embankment—a precursor to failure. NDT and E Int 35(2):107–115

20.

Jardine R, Symes M, Burland J (1984) The measurement of soil stiffness in the triaxial apparatus. Geotechnique 34(3):323–340

21.

Jones G, Zielinski M, Sentenac P (2012) Mapping desiccation fissures using 3-D electrical resistivity tomography. J Appl Geophys 8:39–51. doi:10.1016/j.jappgeo.2012.06.002

22.

Kim S (2013) Experimental study of soils subjected to drying, PhD Thesis. Texas A&M University, College Station

23.

Kodikara J, Nahlawi H, Bouazza A (2004) Modelling of curling in desiccating clay. Can Geotech J 41(3):560–566

24.

Lakshmikantha M, Prat P, Ledesma A (2006) An experimental study of cracking mechanisms in drying soils. In: Proceedings of the 5th international conference on environmental geotechnics. Thomas Telford, London

25.

Lakshmikantha M, Prat P, Ledesma A (2009) Image analysis for the quantification of a developing crack network on a drying soil. ASTM Geotech Test J 32(6):505–515

26.

Lakshmikantha M, Prat PC, Ledesma A (2012) Experimental evidence of size effect in soil cracking. Can Geotech J 49(3):264–284

27.

Macari EJ, Parken J, Costes NC (1997) Measurement of volume changes in triaxial tests using digital imaging techniques. ASTM Geotech Test J 20(1):103–109

28.

Melchior S (1997) In situ studies of the performance of landfill caps(compacted soil liners, geomembranes, geosynthetic clay liners, capillary barriers). Land Contam Reclam 5(3):209–216

29.

Micro-Epsilon. http://www.micro-epsilon.co.uk/glossar/iconnect.html. Accessed 20 Nov 2012

30.

Miller CJ, Mi H, Yesiller N (2007) Experimental analysis of desiccation crack propagation in clay liners. J Am Water Resour Assoc 34(3):677–686

31.

Morris PH, Graham J, Williams DJ (1992) Cracking in drying soils. Can Geotech J 29(2):263–277

32.

Musielak G, Śliwa T (2012) Fracturing of clay during drying: modelling and numerical simulation. Transp Porous Med 95(2):465–481

33.

Nahlawi H, Kodikara J (2006) Laboratory experiments on desiccation cracking of thin soil layers. Geotech Geol Eng 24(6):1641–1664

34.

Obaidat MT, Attom M (1998) Computer vision-based technique to measure displacement in selected soil tests. ASTM Geotech Test J 21(1):31–37

35.

Okabe A, Boots B, Sugihara K, Chiu SN (2009) Spatial tessellations: concepts and applications of Voronoi diagrams, vol 501. Wiley Series in Probability and Statistics, Wiley, Hoboken, New Jersey

36.

Peron H, Hueckel T, Laloui L, Hu L (2009) Fundamentals of desiccation cracking of fine-grained soils: experimental characterisation and mechanisms identification. Can Geotech J 46(10):1177–1201

37.

Rayhani MHT, Yanful E, Fakher A (2007) Desiccation-induced cracking and its effect on the hydraulic conductivity of clayey soils from Iran. Can Geotech J 44(3):276–283

38.

Rodríguez R, Sanchez M, Ledesma A, Lloret A (2007) Experimental and numerical analysis of desiccation of a mining waste. Can Geotech J 44(6):644–658

39.

Romero E, Facio J, Lloret A, Gens A, Alonso E (1997) A new suction and temperature controlled triaxial apparatus. In: Proceedings of the international conference on soil mechanics and foundations engineering. Society of soil mechanics and foundation engineering. AA Balkema Publisher, pp 185–188

40.

Romero Morales E (1999) Characterisation and thermo-hydro-mechanical behaviour of unsaturated Boom clay: an experimental study, PhD Thesis. Technical University of Catalunya

41.

Rounsevell M, Evans S, Bullock P (1999) Climate change and agricultural soils: impacts and adaptation. Clim Change 43(4):683–709

42.

Sentenac P, Jones G, Zielinski M, Tarantino A (2012) An approach for the geophysical assessment of fissuring of estuary and river flood embankments: validation against two case studies in England and Scotland. Environ Earth Sci 69(6):1939–1949

43.

Shin H, Santamarina J (2011) Desiccation cracks in saturated fine-grained soils: particle-level phenomena and effective-stress analysis. Geotechnique 61(11):961–972

44.

Software G (2012) Surfer (Golden Software). http://www.goldensoftware.com/products/surfer/surfer.shtml. Retrieved 20 Nov 2012

45.

Southen JM, Rowe RK (2005) Laboratory investigation of geosynthetic clay liner desiccation in a composite liner subjected to thermal gradients. J Geotech Geoenviron Eng 131(7):925–935

46.

Tang C, Shi B, Liu C, Zhao L, Wang B (2008) Influencing factors of geometrical structure of surface shrinkage cracks in clayey soils. Eng Geol 101(3):204–217

47.

Tang CS, Cui YJ, Shi B, Tang AM, Liu C (2011) Desiccation and cracking behaviour of clay layer from slurry state under wetting–drying cycles. Geoderma 166(1):111–118

48.

Tang GX, Graham J (2000) A method for testing tensile strength in unsaturated soils. ASTM Geotech Test J 23(3):377–382

49.

Trabelsi H, Jamei M, Zenzri H, Olivella S (2011) Crack patterns in clayey soils: experiments and modeling. Int J Numer Anal Meth Geomech 36(11):1410–1433. doi:10.1002/nag.1060

50.

Velde B (1999) Structure of surface cracks in soil and muds. Geoderma 93(1):101–124

51.

Velde B (2001) Surface cracking and aggregate formation observed in a Rendzina soil, La Touche (Vienne) France. Geoderma 99(3):261–276

52.

Vogel HJ, Hoffmann H, Leopold A, Roth K (2005) Studies of crack dynamics in clay soil: II. A physically based model for crack formation. Geoderma 125(3):213–223

53.

Vogel HJ, Hoffmann H, Roth K (2005) Studies of crack dynamics in clay soil: I. Experimental methods, results, and morphological quantification. Geoderma 125(3):203–211

54.

White D, Take W, Bolton M, Munachen S (2001) A deformation measurement system for geotechnical testing based on digital imaging, close-range photogrammetry, and PIV image analysis. In: Proceeding of the international conference on soil mechanics and geotechnical engineering. AA Balkema Publisher, pp 539–542

55.

Yesiller N, Miller C, Inci G, Yaldo K (2000) Desiccation and cracking behavior of three compacted landfill liner soils. Eng Geol 57(1):105–121

56.

Zhang X, Morris J, Klette R (2005) Volume measurement using a laser scanner. Communication, and Information Technology Research (CITR) Computer Science Department, The University of Auckland
Acknowledgments
The discussions with Drs Rebecca Lunn and Minna Karstunen are highly appreciated. The fifth author would like to acknowledge the financial support provided by the EU-funded project RISMAC (Grant agreement: PIOF-GA-2009-254794).
About this article
Cite this article
Sanchez, M., Atique, A., Kim, S. et al. Exploring desiccation cracks in soils using a 2D profile laser device. Acta Geotech. 8, 583–596 (2013). https://doi.org/10.1007/s11440-013-0272-1
Received:

Accepted:

Published:

Issue Date:
Keywords
Drying cracks

Laser scanner

Soil desiccation

Volume shrinkage