Abstract
The gut microbiota of Mongolian hosts has distinctive characteristics due to their meat- and dairy-oriented daily diets and unique genotype. The aim of the present study was to investigate the effect of switching from the typical high protein and fat Mongolian diets to carbohydrate-rich meals composed principally of wheat, rice and naked oats on the host gut microbiota within 3 weeks. Our study took the advantage of the long sequence reads produced by the PacBio single molecule real-time sequencing technology to enable the profiling of subjects' gut microbiota communities along the diet intervention to the species precision. We found that the bacterial richness and diversity decreased apparently along the diet intervention. During the diet intervention, the gut microbiota composition displayed no significant difference at phylum level (with major phyla of Firmicutes, Bacteroidetes, Tenericutes and Proteobacteria). The relative abundances of some genera such as Bacteroidetes, Faecalibacterium, Roseburia, Alistipes, Streptococcus, and Oscillospira were significantly altered after the diet switching started. Notably, significant changes were also observed in the proportions of the species Bacteroides dorei, Bacteroides fragilis, Bacteroides thetaiotaomicron, Ruminococcus albus, Ruminococcus faecis, Roseburia faecis and Eubacterium ventriosum. These results have demonstrated that diet and host gut microbiota is closely linked.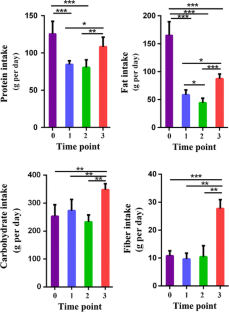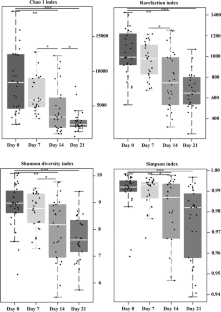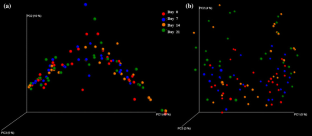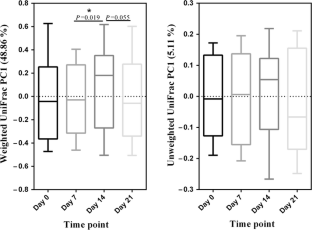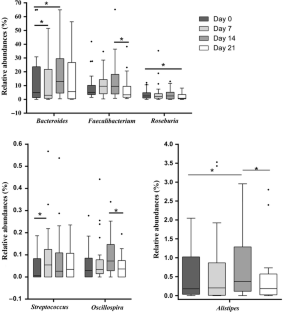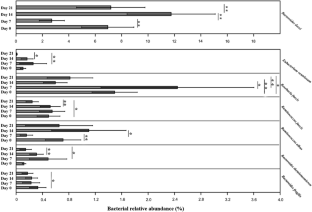 References
1.

Hentges DJ (1983) Human intestinal microflora in health and disease. Academic Press, New York

2.

Khachatryan ZA, Ktsoyan ZA, Manukyan GP et al (2008) Predominant role of host genetics in controlling the composition of gut microbiota. PLoS ONE 3:e3064

3.

De Filippo C, Cavalieri D, Di Paola M et al (2010) Impact of diet in shaping gut microbiota revealed by a comparative study in children from Europe and rural africa. Proc Natl Acad Sci USA 107:14691–14696

4.

Ley RE, Peterson DA, Gordon JI (2006) Ecological and evolutionary forces shaping microbial diversity in the human intestine. Cell 124:837–848

5.

David LA, Maurice CF, Carmody RN et al (2014) Diet rapidly and reproducibly alters the human gut microbiome. Nature 505:559–563

6.

Turnbaugh PJ, Ley RE, Mahowald MA et al (2006) An obesity-associated gut microbiome with increased capacity for energy harvest. Nature 444:1027–1031

7.

Christian D (1998) A history of Russia, Central Asia and Mongolia: V. 1 inner Eurasia from prehistory to the Mongol Empire. Blackwell, Oxford

8.

Bai HH, Guo XS, Zhang D et al (2014) The genome of a Mongolian individual reveals the genetic imprints of Mongolians on modern human populations. Genome Biol Evol 6:3122–3136

9.

Nam YD, Jung MJ, Roh SW et al (2011) Comparative analysis of Korean human gut microbiota by barcoded pyrosequencing. PLoS ONE 6:e22109

10.

Yatsunenko T, Rey FE, Manary MJ et al (2012) Human gut microbiome viewed across age and geography. Nature 486:222–227

11.

Zhang J, Zheng Y, Guo Z et al (2013) The diversity of intestinal microbiota of Mongolians living in Inner Mongolia, China. Benef Microbes 4:319–328

12.

Zhang J, Guo Z, Lim AA et al (2014) Mongolians core gut microbiota and its correlation with seasonal dietary changes. Sci Rep 4:5001

13.

Turnbaugh PJ, Hamady M, Yatsunenko T et al (2009) A core gut microbiome in obese and lean twins. Nature 457:480–484

14.

Turnbaugh PJ, Ley RE, Hamady M et al (2007) The human microbiome project. Nature 449:804–810

15.

Eid J, Fehr A, Gray J et al (2009) Real-time DNA sequencing from single polymerase molecules. Science 323:133–138

16.

Amir A, Zeisel A, Zuk O et al (2013) High-resolution microbial community reconstruction by integrating short reads from multiple 16s rRNA regions. Nucleic Acids Res 41:391–404

17.

Hou Q, Xu H, Zheng Y et al (2015) Evaluation of bacterial contamination in raw milk, ultra-high temperature milk and infant formula using single molecule, real-time sequencing technology. J Dairy Sci 98:8464–8472

18.

Mosher JJ, Bernberg EL, Shevchenko O et al (2013) Efficacy of a 3rd generation high-throughput sequencing platform for analyses of 16s rRNA genes from environmental samples. J Microbiol Methods 95:175–181

19.

Tanaka S, Kobayashi T, Songjinda P et al (2009) Influence of antibiotic exposure in the early postnatal period on the development of intestinal microbiota. FEMS Immunol Med Microbiol 56:80–87

20.

Liu W, Zheng Y, Kwok LY et al (2015) High-throughput sequencing for the detection of the bacterial and fungal diversity in Mongolian naturally fermented cow's milk in Russia. BMC Microbiol 15:1–12

21.

Caporaso JG, Bittinger K, Bushman FD et al (2009) Pynast: a flexible tool for aligning sequences to a template alignment. Bioinformatics 26:266–267

22.

Edgar RC (2010) Search and clustering orders of magnitude faster than blast. Bioinformatics 26:2460–2461

23.

Kim M, Oh HS, Park SC et al (2014) Towards a taxonomic coherence between average nucleotide identity and 16s rRNA gene sequence similarity for species demarcation of prokaryotes. Int J Syst Evol Microbiol 64:346–351

24.

Haas BJ, Gevers D, Earl AM et al (2011) Chimeric 16s rRNA sequence formation and detection in Sanger and 454-pyrosequenced PCR amplicons. Genome Res 21:494–504

25.

Cole JR, Chai B, Farris RJ et al (2007) The ribosomal database project (RDP-II): introducing myRDP space and quality controlled public data. Nucleic Acids Res 35:D169–D172

26.

Price MN, Dehal PS, Arkin AP (2009) Fasttree: computing large minimum evolution trees with profiles instead of a distance matrix. Mol Biol Evol 26:1641–1650

27.

Lozupone C, Knight R (2005) UniFrac: a new phylogenetic method for comparing microbial communities. Appl Environ Microbiol 71:8228–8235

28.

Hammer Ø, Harper DA, Ryan PD (2001) PAST: paleontological statistics software package for education and data analysis. Palaeontol Electron 4:1–9

29.

Cotillard A, Kennedy SP, Kong LC et al (2013) Dietary intervention impact on gut microbial gene richness. Nature 500:585–588

30.

Angelis MD, Montemurno E, Vannini L et al (2015) The role of whole-grain barley on human fecal microbiota and metabolome. Appl Environ Microbiol 81:7945–7956

31.

Martinez I, Lattimer JM, Hubach KL et al (2013) Gut microbiome composition is linked to whole grain-induced immunological improvements. ISME J 7:269–280

32.

Tap J, Furet JP, Bensaada M et al (2015) Gut microbiota richness promotes its stability upon increased dietary fibre intake in healthy adults. Environ Microbiol 17:4954–4964

33.

O'Keefe SJ, Li JV, Lahti L et al (2015) Fat, fibre and cancer risk in African Americans and rural Africans. Nat Commun 6:6342

34.

Carmody RN, Gerber GK, Luevano JM et al (2015) Diet dominates host genotype in shaping the murine gut microbiota. Cell Host Microbe 17:72–84

35.

German JB, Dillard CJ (2004) Saturated fats: what dietary intake? Am J Clin Nutr 80:550–559

36.

Hu FB (2005) Protein, body weight, and cardiovascular health. Am J Clin Nutr 82:242S–247S

37.

Zhang CH, Zhang MH, Pang XY et al (2012) Structural resilience of the gut microbiota in adult mice under high-fat dietary perturbations. ISME J 6:1848–1857

38.

Brown K, DeCoffe D, Molcan E et al (2012) Diet-induced dysbiosis of the intestinal microbiota and the effects on immunity and disease. Nutrients 4:1095

39.

Duncan SH, Belenguer A, Holtrop G et al (2007) Reduced dietary intake of carbohydrates by obese subjects results in decreased concentrations of butyrate and butyrate-producing bacteria in feces. Appl Environ Microbiol 73:1073–1078

40.

Faber F, Baumler AJ (2014) The impact of intestinal inflammation on the nutritional environment of the gut microbiota. Immunol Lett 162:48–53

41.

Kohl KD, Amaya J, Passement CA et al (2014) Unique and shared responses of the gut microbiota to prolonged fasting: a comparative study across five classes of vertebrate hosts. FEMS Microbiol Ecol 90:883–894

42.

Qin JJ, Li RQ, Raes J et al (2010) A human gut microbial gene catalogue established by metagenomic sequencing. Nature 464:U59–U70

43.

Zhong YD, Marungruang N, Fak F et al (2015) Effects of two whole-grain barley varieties on caecal SCFA, gut microbiota and plasma inflammatory markers in rats consuming low- and high-fat diets. Br J Nutr 113:1558–1570

44.

Chassard C, Delmas E, Robert C et al (2010) The cellulose-degrading microbial community of the human gut varies according to the presence or absence of methanogens. FEMS Microbiol Ecol 74:205–213

45.

Etxeberria U, Arias N, Boque N et al (2015) Shifts in microbiota species and fermentation products in a dietary model enriched in fat and sucrose. Benef Microbes 6:97–111

46.

Anderson JW, Deakins DA, Floore TL et al (1990) Dietary fiber and coronary heart disease. Crit Rev Food Sci Nutr 29:95–147

47.

Jaskari J, Kontula P, Siitonen A et al (1998) Oat β-glucan and xylan hydrolysates as selective substrates for bifidobacterium and lactobacillus strains. Appl Microbiol Biotechnol 49:175–181
Ethics declarations
Conflict of interest
The authors declare that they have no conflict of interest.
Additional information
Jing Li and Haiyan Xu contributed equally to this work.
Electronic supplementary material
Below is the link to the electronic supplementary material.
About this article
Cite this article
Li, J., Xu, H., Sun, Z. et al. Effect of dietary interventions on the intestinal microbiota of Mongolian hosts. Sci. Bull. 61, 1605–1614 (2016). https://doi.org/10.1007/s11434-016-1173-0
Received:

Revised:

Accepted:

Published:

Issue Date:
Keywords
Gut microbiota

Diet intervention

Mongolian

PacBio single molecule real-time sequencing technology (SMRT sequencing)