Abstract
Noodles are a global food, but the periods when and places where they were made and originated, as well as their ingredients and the cooking methods used to manufacture them, have remained contentious. In the 2005 edition of the journal Nature, we wrote a summary of the millet noodle specimens found in the Late Neolithic Qijia cultural stratum of the Lajia archaeological site in Qinghai Province, China. However, how the ancient people made millet noodles remains controversial. This paper provides a systematic analysis of the remains of noodles found within an earthenware bowl at the Lajia "noodle house" in terms of their plant composition including phytoliths, starch and biomarkers. It provides evidence of how people used millet 4,000 years ago and, most specifically, of the principal methods used for producing millet-based noodles. Further, we show how we used traditional hele tools to make hele millet noodles, with especial reference to the gelatinized hydrogel-forming method, to simulate morphology consistent with the composition and form of the unearthed millet noodles. The results of this study provide new evidence and new insights into the cultural characteristics of the prehistoric human diet.
This is a preview of subscription content, log in to check access.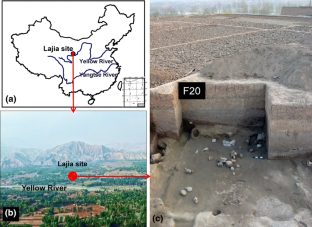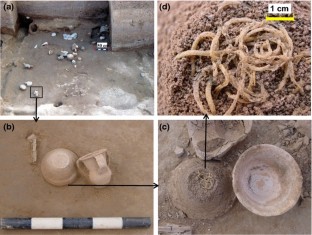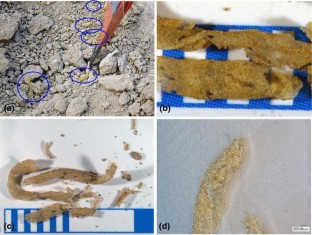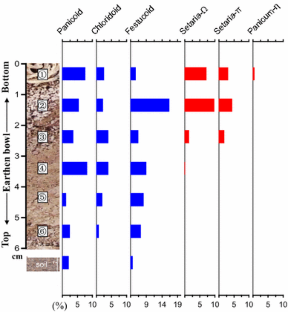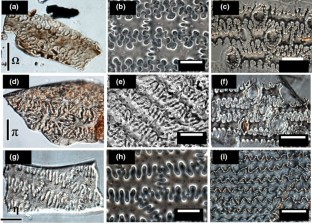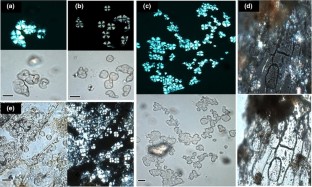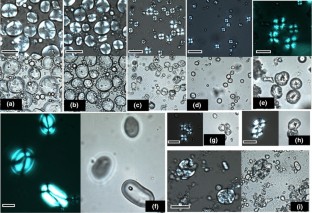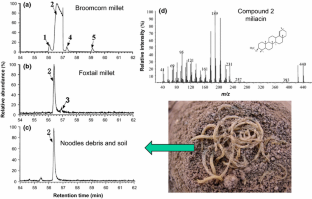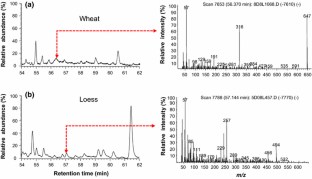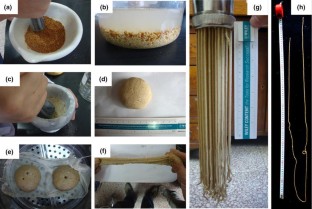 References
1.

Lu H, Yang X, Ye M et al (2005) Culinary archaeology: millet noodles in Late Neolithic China. Nature 437:967–968

2.

Fu BX (2008) Asian noodles: History, classification, raw materials, and processing. Food Res Int 41:888–902

3.

Hou G (2001) Oriental noodles. Adv Food Nut Res 43:141–193

4.

Liu JJ, He ZH, Zhao ZD et al (2001) Review of noodle industrial quality of wheat. J Triticeae Crops 21:81–84 (in Chinese)

5.

Tan HZ, Li ZG, Tan B (2009) Starch noodles: history, classification, materials, processing, structure, nutrition, quality evaluating and improving. Food Res Int 42:551–576

6.

Lii CY, Chang SM (1981) Characterization of red bean (Phaseolus radiatus var. Aurea) starch and its noodle quality. J Food Sci 46:78–81

7.

Nwabueze T, Anoruoh G (2011) Evaluation of flour and extruded noodles from eight cassava mosaic disease (CMD)-resistant varieties. Food Bioprocess Technol 4:80–91

8.

Kim YS, Wiesenborn DP, Lorenzen JH et al (1996) Suitability of edible bean and potato starches for starch noodles. Cereal Chem 73:302–308

9.

Yuan ML, Lu ZH, Cheng YQ et al (2008) Effect of spontaneous fermentation on the physical properties of corn starch and rheological characteristics of corn starch noodle. J Food Eng 85:12–17

10.

Bhattacharya M, Zee SY, Corke H (1999) Physicochemical properties related to quality of rice noodles. Cereal Chem J 76:861–867

11.

Han JA, Seo TR, Lim ST et al (2011) Utilization of rice starch with gums in Asian starch noodle preparation as substitute for sweet potato starch. Food Sci Biotechnol 20:1173–1178

12.

Suhendro EL, Kunetz CF, McDonough CM et al (2000) Cooking characteristics and quality of noodles from food sorghum. Cereal Chem J 77:96–100

13.

Liu L, Herald TJ, Wang D et al (2012) Characterization of sorghum grain and evaluation of sorghum flour in a Chinese egg noodle system. J Cereal Sci 55:31–36

14.

Huang SJ, Wu YW (2010) A study and produce on millet noodle. Food Ind 1:71–72 (in Chinese)

15.

Taylor JRN, Schober TJ, Bean SR (2006) Novel food and non-food uses for sorghum and millets. J Cereal Sci 44:252–271

16.

Gong Y, Yang Y, Ferguson DK et al (2011) Investigation of ancient noodles, cakes, and millet at the Subeixi Site, Xinjiang, China. J Archaeol Sci 38:470–479

17.

Jia SX (1982) 6th century: Qimin Yaoshu. China Agriculture Press, Beijing (in Chinese)

18.

Hou GG (2011) Asian noodles: science, technology, and processing. Wiley, New York

19.

Zhang QH (1998) The ancient noodles. Cook Knowl 9:32–33 (in Chinese)

20.

Xia ZK, Yang XY, Ye ML (2003) Pre-historical disasters at Lajia site in Qinghai. Chin Sci Bull 48:1200–1204 (in Chinese)

21.

Ye ML (2002) The excavation of the prehistorical Lajia site in Minhe County, Qinghai Province. Archaeology 7:3–5 (in Chinese)

22.

Lu H, Zhang J, Wu N et al (2009) Phytoliths analysis for the discrimination of foxtail millet (Setaria italica) and common millet (Panicum miliaceum). PLoS One 4:e4448

23.

Zhang J, Lu H, Wu N et al (2011) Phytolith analysis for differentiating between foxtail millet (Setaria italica) and green foxtail (Setaria viridis). PLoS One 6:e19726

24.

Lu H, Zhang J, Liu KB et al (2009) Earliest domestication of common millet (Panicum miliaceum) in East Asia extended to 10000 years ago. Proc Natl Acad Sci USA 106:7367–7372

25.

Piperno DR (1988) Phytolith analysis: an archaeological and geological perspective. Academic Press, San Diego

26.

Piperno DR, Ranere AJ, Holst I et al (2000) Starch grains reveal early root crop horticulture in the Panamanian tropical forest. Nature 407:894–897

27.

Yang X, Wan Z, Perry L et al (2012) Early millet use in northern China. Proc Natl Acad Sci USA 109:3726–3730

28.

Jacob J, Disnar JR, Arnaud F et al (2008) Millet cultivation history in the French Alps as evidenced by a sedimentary molecule. J Archaeol Sci 35:814–820

29.

Ye ML, Ren XY, Wang GD et al (2004) The discovery of the earthen altar and the pile-dwelling of the Qijia culture in Lajia site, Minhe County, Qinghai Province. Archaeology 6:3–6 (in Chinese)

30.

Ye ML (2006) Decoding the secret of the thousand-year-old noodles. Encycl Knowl 4:46–49 (in Chinese)

31.

Yang X, Zhang J, Perry L et al (2012) From the modern to the archaeological: starch grains from millets and their wild relatives in China. J Archaeol Sci 39:247–254

32.

Piperno DR (2009) Identifying crop plants with phytoliths (and starch grains) in Central and South America: a review and an update of the evidence. Quat Int 193:146–159

33.

Piperno D (2006) Phytoliths: a comprehensive guide for archaeologists and paleoecologists. AltaMira, New York

34.

Lu HY, Wu NQ, Yang XD et al (2006) Phytoliths as quantitative indicators for the reconstruction of past environmental conditions in China I: phytolith-based transfer functions. Quat Sci Rev 25:945–959

35.

Piperno DR, Ranere AJ, Holst I et al (2009) Starch grain and phytolith evidence for early ninth millennium BP maize from the Central Balsas River Valley, Mexico. Proc Natl Acad Sci USA 106:5019–5024

36.

Yang X, Yu J, Lu H et al (2009) Starch grain analysis reveals function of grinding stone tools at Shangzhai site, Beijing. Sci China Ser D Earth Sci 52:1164–1171

37.

Ball TB, Gardner JS, Anderson N (1999) Identifying inflorescence phytoliths from selected species of wheat (Triticum monococcum, T. dicoccon, T. dicoccoides, and T. aestivum) and barley (Hordeum vulgare and H. spontaneum) (Gramineae). Am J Bot 86:1615–1623

38.

Berlin AM, Ball T, Thompson R et al (2003) Ptolemaic agriculture, "Syrian Wheat", and "Triticum aestivum". J Archaeol Sci 30:115–121

39.

Yin ZQ, Qin XG, Zhao WJ et al (2013) Reexploration on the formation mechanism of the red clay layer in the Guanting basin of the upper reaches of Yellow River. Quat Sci 33:995–1004 (in Chinese)

40.

Lamb J, Loy T (2005) Seeing red: the use of Congo Red dye to identify cooked and damaged starch grains in archaeological residues. J Archaeol Sci 32:1433–1440

41.

Bailey J, Whelan W (1961) Physical properties of starch I. Relationship between iodine stain and chain length. J Biol Chem 236:969–973

42.

Zheng Q, Wang C (2013) Starch evidence of glutinous plant content as the additive to Ming Great Wall mortar at Gubeikou, Beijing. Quat Sci 33:575–581 (in Chinese)

43.

Ge W, Liu L, Chen XC et al (2010) Can noodles be made from millet? An experimental investigation of noodle manufacture together with starch grain analyses. Cult Relics South Chin 4:26–32 (in Chinese)

44.

Haslam M (2004) The decomposition of starch grains in soils: implications for archaeological residue analyses. J Archaeol Sci 31:1715–1734

45.

Hu Q, Meng YC (2004) A review on the gelatinization of rice starch and aging. Food Res Dev 25:63–66 (in Chinese)

46.

Crowther A (2012) The differential survival of native starch during cooking and implications for archaeological analyses: a review. Archaeol Anthropol Sci 4:221–235

47.

Jang J, Pyun Y (1996) Effect of moisture content on the melting of wheat starch. Starch Stärke 48:48–51

48.

Raviele ME (2011) Experimental assessment of maize phytolith and starch taphonomy in carbonized cooking residues. J Archaeol Sci 38:2708–2713

49.

Wootton M, Bamunuarachchi A (1980) Application of differential scanning calorimetry to starch gelatinization. III. Effect of sucrose and sodium chloride. Starch Stärke 32:126–129

50.

Yang YC (2009) The process and influence factor of the gelatinization in starch. Agric Process 2:18–19 (in Chinese)

51.

Samuel D (1996) Investigation of ancient Egyptian baking and brewing methods by correlative microscopy. Science 273:488–490

52.

Meng Y, Liu X, Chen J (2011) Relationship between rice components, stress-relaxation and instant rice noodles quality. Trans Chin Soc Agric Eng 27:375–382

53.

Jin ZY (2005) Extrusion and post extrusion coating in feed manufacture (1). Feed Chin 23:31–34 (in Chinese)

54.

Wei YF (2009) Research progress of extrusion technology. Mech Rural Pastoral Areas 6:15–16 (in Chinese)

55.

Li YG, Xing RR, Li SP (2012) Cloning and sequence analysis of new α-gliadin genes from Triticum monococcum. J Triticeae Crops 32:387–392 (in Chinese)
Acknowledgments
We thank Jin Guiyun, Diao Xianmin for providing glutinous foxtail millet samples, and Wu Xiaohong, Qin Ling and Yuan Jing for their valuable suggestions and helpful discussions. Special thanks to Dr. Edward A. Derbyshire for helpful remarks and language correction. This work was supported by the National Natural Science Foundation of China (41230104), the National Science and Technology Major Project of China (2015CB953801), the Strategic Priority Research Program of the Chinese Academy of Sciences (XDA05130602) and the National Science and Technology Supporting Program of China (2013BAK08B02).
Conflict of interest
The authors declare that they have no conflict of interest.
Electronic supplementary material
Below is the link to the electronic supplementary material.
About this article
Cite this article
Lü, H., Li, Y., Zhang, J. et al. Component and simulation of the 4,000-year-old noodles excavated from the archaeological site of Lajia in Qinghai, China. Chin. Sci. Bull. 59, 5136–5152 (2014). https://doi.org/10.1007/s11434-014-0663-1
Received:

Accepted:

Published:

Issue Date:
Keywords
Lajia site

Phytolith

Starch

Biomarkers

Origin of noodles

Millet noodles