Zusammenfassung
Im Jahr 2017 wurden zahlreiche neue Erkenntnisse bezüglich der Schnittstelle zwischen Diabetologie und Gastroenterologie veröffentlicht. Durch die Ergebnisse diverser Studien über die Pathogenese einer nichtalkoholischen Fettleber (NAFLD) ist man der Klärung der Frage nach der Ursache bzw. Folge einer sich entwickelnden NAFLD nähergekommen. Vorgehensweisen bei der Diagnostik einer NAFLD und Therapieoptionen durch Lebensstiländerung sowie der Einfluss der medikamentösen Therapie des Diabetes wurden überprüft. Die Autoren großer Kohortenstudien gaben Auskunft über den Zusammenhang zwischen Diabetes und malignen Erkrankungen und über mögliche positive Effekte von Metformin, Statinen und Kaffeekonsum. Auch die möglicherweise zu selten gestellte Diagnose des pankreatopriven Diabetes und der Zusammenhang von Diabetes zu (prä-)malignen Pankreasläsionen werden thematisiert. Es wird eine Auswahl der 2017 veröffentlichten Studien zum Themenkomplex Diabetes und Gastroenterologie zusammengefasst und diskutiert.
Abstract
In 2017 numerous studies were published concerning the interface and mutual relationship between diabetology and gastroenterology. Several studies on the pathogenesis of non-alcoholic fatty liver disease (NAFLD) have come closer to clarifying the question of the cause and consequences of developing NAFLD. Diagnostic procedures and therapeutic options of NAFLD by lifestyle modification or drug therapy of diabetes were reviewed. Authors of large cohort studies dealing with the association of diabetes and malignancies reported possible positive effects of drug therapies such as metformin, statins, and consumption of coffee. A major topic evaluated was the possibly underdiagnosed form of diabetes due to diseases of the exocrine pancreas as well as the coincidence of diabetes and (pre-)malignant pancreatic lesions. A selection of articles published in 2017 on the topic of diabetes and gastroenterology are summarized and discussed.
Access options
Buy single article
Instant access to the full article PDF.
US$ 39.95
Tax calculation will be finalised during checkout.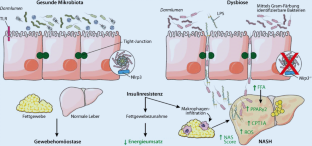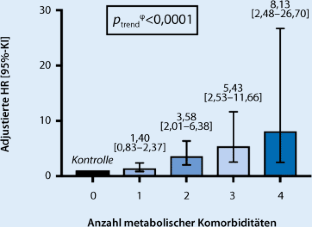 Abbreviations
95 %-KI:

95 %-Konfidenzintervall

AFP:

Alphafetoprotein

BMI:

Body-Mass-Index

CA 19-9:

Karbohydratantigen 19-9

CRC:

Kolorektales Karzinom

DPP-4:

Dipeptidylpeptidase 4

GERD:

Gastroösophageale Refluxkrankheit

GLP-1:

"Glucagon-like peptide 1"

GSG:

Glutamat-Serin-Glyzin

HbA1c :

Glykohämoglobin Typ A1c

HCC:

Hepatozelluläres Karzinom

HR:

"Hazard ratio"

MR-:

Magnetresonanz-

MRT:

Magnetresonanztomographie

NAFLD:

Nichtalkoholische Fettlebererkrankung

NASH:

Nichtalkoholische Steatohepatitis

NFS:

NAFLD-Fibrose-Score

RBP4:

Retinolbindendes Protein 4

SGLT-2:

"Sodium dependent glucose transporter 2"

T2DM:

Diabetes mellitus Typ 2
Literatur
1.

Liu M, Wang J, Zeng J, Cao X, He Y (2017) Association of NAFLD with diabetes and the impact of BMI changes: a 5‑year cohort study based on 18,507 elderly. J Clin Endocrinol Metab 102:1309–1316

2.

Meex RCR, Watt MJ (2017) Hepatokines: linking nonalcoholic fatty liver disease and insulin resistance,". Nat Rev Endocrinol 13:509–520

3.

Marra F, Svegliati-Baroni G (2018) Lipotoxicity and the gut-liver axis in NASH pathogenesis. J Hepatol 68:280–295

4.

Lambertz J, Weiskirchen S, Landert S, Weiskirchen R (2017) Fructose: a dietary sugar in crosstalk with microbiota contributing to the development and progression of non-alcoholic liver disease. Front Immunol 8:1159

5.

Thuluvath PJ, Kantsevoy S, Thuluvath AJ, Savva Y (2017) Is cryptogenic cirrhosis different from NASH cirrhosis? J Hepatol 68:519–525

6.

Xiao G, Zhu S, Xiao X, Yan L, Yang J, Wu G (2017) Comparison of laboratory tests, ultrasound, or magnetic resonance elastography to detect fibrosis in patients with nonalcoholic fatty liver disease: a meta-analysis. Hepatology 66:1486–1501

7.

Roeb E, Steffen H, Bantel H, Baumann U, Canbay A, Demir M et al (2015) S2k-Leitlinie nicht alkoholische Fettlebererkrankungen. Z Gastroenterol 53(7):668–723

8.

Caussy C et al (2017) Nonalcoholic fatty liver disease with cirrhosis increases familial risk for advanced fibrosis. J Clin Invest 127:2697–2704

9.

Hagström H et al (2017) Fibrosis stage but not NASH predicts mortality and time to development of severe liver disease in biopsy-proven NAFLD. J Hepatol 67:1265–1273

10.

Yeung M‑W et al (2018) Advanced liver fibrosis but not steatosis is independently associated with albuminuria in Chinese patients with type 2 diabetes. J Hepatol 68:147–156

11.

Gaggini M et al (2018) Altered amino acid concentrations in NAFLD: Impact of obesity and insulin resistance. Hepatology 67:145–158

12.

Baratta F et al (2017) Adherence to mediterranean diet and non-alcoholic fatty liver disease: effect on insulin resistance. Am J Gastroenterol 112:1832–1839

13.

Bach-Faig A et al (2011) Mediterranean diet pyramid today. Science and cultural updates. Public Health Nutr 14:2274–2284

14.

Bojunga J, Sircar I (2017) Formuladiäten zum Abnehmen bei Typ-2-Diabetes – sinnvolle Strategie oder verzichtbar? Diabetologe 13:398–402

15.

Schmid V et al (2017) Non-alcoholic fatty liver disease and impaired proinsulin conversion as newly identified predictors of the long-term non-response to a lifestyle intervention for diabetes prevention: results from the TULIP study. Diabetologia 60:2341–2351

16.

Kasmari AJ, Welch A, Liu G, Leslie D, McGarrity T, Riley T (2017) Independent of cirrhosis, hepatocellular carcinoma risk is increased with diabetes and metabolic syndrome. Am J Med 130:746.e1–746.e7

17.

Tilg H, Moschen AR, Roden M (2017) NAFLD and diabetes mellitus. Nat Rev Gastroenterol Hepatol 14:32–42

18.

Deng X‑L, Ma R, Zhu H‑X, Zhu J (2017) Short article: a randomized-controlled study of sitagliptin for treating diabetes mellitus complicated by nonalcoholic fatty liver disease. Eur J Gastroenterol Hepatol 29:297–301

19.

Dong Y et al (2017) Efficacy and safety of glucagon-like peptide-1 receptor agonists in non-alcoholic fatty liver disease: a systematic review and meta-analysis. Clin Res Hepatol Gastroenterol 41:284–295

20.

Simon TG et al (2017) Diabetes, metabolic comorbidities and risk of hepatocellular carcinoma: results from two prospective cohort studies. Hepatology 67:1797–1806

21.

Kim G, Jang S‑Y, Nam CM, Kang ES (2017) Statin use and the risk of hepatocellular carcinoma in patients at high risk: a nationwide nested case-control study. J Hepatol 68:476–484

22.

Nishio T et al (2017) Impact of statin use on the prognosis of patients with hepatocellular carcinoma undergoing liver resection: a subgroup analysis of patients without chronic hepatitis viral infection. Surgery 63:264–269

23.

Del Ben M et al (2017) Under-prescription of statins in patients with non-alcoholic fatty liver disease. Nutr Metab Cardiovasc Dis 27:161–167

24.

Kennedy OJ, Roderick P, Buchanan R et al (2017) Coffee, including caffeinated and decaffeinated coffee, and the risk of hepatocellular carcinoma: a systematic review and dose-response meta-analysis. BMJ Open 7(5):e13739

25.

Tu J et al (2017) Endocrine and exocrine pancreatic insufficiency after acute pancreatitis: Long-term follow-up study. BMC Gastroenterol 17:1–9

26.

Woodmansey C et al (2017) Incidence, demographics, and clinical characteristics of diabetes of the exocrine pancreas (type 3c): a retrospective cohort study. Diabetes Care. https://doi.org/10.2337/dc17-0542

27.

Hart PA et al (2016) Type 3c (pancreatogenic) diabetes mellitus secondary to chronic pancreatitis and pancreatic cancer. Lancet Gastroenterol Hepatol 1:226–237

28.

Mizuno S et al (2017) Prevalence of pancreatic cystic lesions is associated with diabetes mellitus and obesity. Pancreas 46:801–805

29.

Pang Y et al (2017) Diabetes, plasma glucose and incidence of pancreatic cancer: a prospective study of 0.5 million Chinese adults and a meta-analysis of 22 cohort studies. Int J Cancer 140:1781–1788

30.

Keum N, Ha KH, Bao Y, Chung MJ, Kim HC, Giovannucci EL (2018) Long-term patterns of fasting blood glucose levels and pancreatic cancer incidence. Cancer Causes Control 29:135–142

31.

Nauck MA, Meier JJ, Schmidt WE (2017) Incretin-based glucose-lowering medications and the risk of acute pancreatitis and/or pancreatic cancer: reassuring data from cardio-vascular outcome trials. Diabetes Obes Metab 19:1327–1328

32.

Dong Y, Shi Y, He L, Cui X, Su P (2017) Effects of metformin on survival outcomes of pancreatic cancer: a meta-analysis. Oncotarget 8:55478–55488

33.

de Kort S et al (2017) Higher risk of colorectal cancer in patients with newly diagnosed diabetes mellitus before the age of colorectal cancer screening initiation. Sci Rep 7:46527

34.

Kim YH et al (2017) Inadequate bowel cleansing efficacy of split-dose polyethylene glycol for colonoscopy in type 2 diabetic patients: a prospective and blinded study. J Clin Gastroenterol 51:240–246

35.

Alvarez-Gonzalez MA et al (2016) Efficacy of a multifactorial strategy for bowel preparation in diabetic patients undergoing colonoscopy: a randomized trial. Endoscopy 48:1003–1009

36.

Panarese A (2017) Bowel preparation in diabetic patients undergoing colonoscopy. Endoscopy 49:202

37.

Jung YS, Park CH, Eun CS, Il Park D, Han DS (2017) Metformin use and the risk of colorectal adenoma: a systematic review and meta-analysis. J Gastroenterol Hepatol 32:957–965

38.

Abrahami D, Yin H, Yu OHY, Pollak MN, Azoulay L (2017) Incretin-based drugs and the incidence of colorectal cancer in patients with type 2 diabetes. Epidemiology 29:1

39.

Takeshita E et al (2017) Eating behaviours and prevalence of gastroesophageal reflux disease in Japanese patients with type 2 diabetes mellitus: the Dogo study. Can J Diabetes. https://doi.org/10.1016/j.jcjd.2017.07.007

40.

He Q, Li J, Huang W, Zhu W, Yang J (2016) Metabolic syndrome is associated with increased risk of Barrett esophagus. Medicine (Baltimore) 95:e4338

41.

Jiang X, Bernstein L, Tseng C‑C, Wu AH (2012) Diabetes and risk of esophageal and gastric adenocarcinomas. Int J Cancer 131:1417–1422

42.

Xu B, Zhou X, Li X, Liu C, Yang C (2017) Diabetes mellitus carries a risk of esophageal cancer: a meta-analysis. Medicine (Baltimore) 96:e7944

43.

Gangopadhyay K, Singh P (2017) Consensus statement on dose modifications of antidiabetic agents in patients with hepatic impairment. Indian J Endocrinol Metab 21:341

44.

Haukka J, Niskanen L, Auvinen A (2017) Risk of cause-specific death in individuals with cancer-modifying role diabetes, statins and metformin. Int J Cancer 141:2437–2449

45.

de Jong RGPJ et al (2017) Impact of detection bias on the risk of gastrointestinal cancer and its subsites in type 2 diabetes mellitus. Eur J Cancer 79:61–71

46.

Zhao M, Liao D, Zhao J (2017) Diabetes-induced mechanophysiological changes in the small intestine and colon. World J Diabetes 8:249–269

47.

Kempler P, Várkonyi T, Körei AE, Horváth VJ (2016) Gastrointestinal autonomic neuropathy in diabetes: the unattended borderline between diabetology and gastroenterology. Diabetologia 59:401–403
Ethics declarations
Interessenkonflikt
J. Bojunga und A. Mondorf geben an, dass kein Interessenkonflikt besteht.
Dieser Beitrag beinhaltet keine von den Autoren durchgeführten Studien an Menschen oder Tieren.
About this article
Cite this article
Bojunga, J., Mondorf, A. Diabetes und Gastroenterologie – Update 2017. Diabetologe 14, 311–318 (2018). https://doi.org/10.1007/s11428-018-0351-x
Schlüsselwörter
Glukoseintoleranz

Nichtalkoholische Steatohepatitis

Hepatozelluläres Karzinom

Hydroxymethylglutaryl-CoA-Reduktase-Hemmer

Pankreaserkrankungen
Keywords
Glucose intolerance

Non-alcoholic fatty liver disease

Carcinoma, hepatocellular

Hydroxymethylglutaryl-CoA reductase inhibitors

Pancreatic diseases