Abstract
Digitally enhanced teaching does not imply neglecting appropriate teaching strategies and approaches. There are assertions that negative learning outcomes obtained in blended learning could be a result of neglecting the use of an appropriate lesson planning framework, teaching strategies and approaches. Already, there are calls for the use of more responsive lesson planning frameworks against the traditional frameworks. While there are suppositions that responsive frameworks produce significant improvement in the language skills of learners, there is less empirical evidence to show this. To bridge these gaps in scientific literature, this study decides to investigate the effectiveness of integrating technology with different lesson design frameworks. The study utilized a mixed-method design with an experimental approach. The findings of the study show that although the blend of technology and CAPE framework was effective in improving some language skills, the reading skills of the participants remained unchanged. Notably, the study provides useful empirical evidence showing the usefulness of incorporating technology and effective teaching frameworks in producing positive learning outcomes in a digitally enhanced learning environment.
Access options
Buy single article
Instant access to the full article PDF.
USD 39.95
Price excludes VAT (USA)
Tax calculation will be finalised during checkout.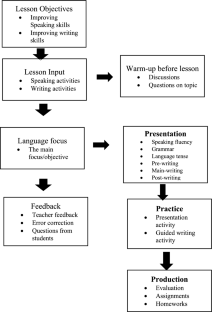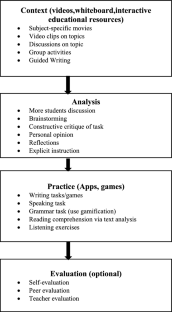 Data availability
The author declares that data associated with this paper will be made available upon reasonable request.
References
Abebe, T. H. (2019). The derivation and choice of the appropriate test statistic (z, t, f, and chi-square test) in research methodology. Journal of Mathematics Letters, 5(3), 33–40.

Aburezeq, I. M., & Ishtaiwa, F. F. (2013). The impact of WhatsApp on interaction in an Arabic language teaching course. International Journal of Arts & Sciences, 6(3), 165.

Adams, J., & Mitchell, A. L. (2020). TESA: A pedagogical approach to engage, study, and activate technology learning in an interdisciplinary setting. EdMedia+ innovate learning (pp. 838–841). Association for the Advancement of Computing in Education (AACE).

Altun, M. (2015). The integration of technology into foreign language teaching. International Journal on New Trends in Education and Their Implications, 6(1), 22–27.

Anderson, J. (2017). A potted history of PPP with the help of ELT journal. ELT Journal, 71(2), 218–227.

Anderson, J. (2020). The TATE model: A curriculum design framework for language teaching. ELT Journal, 74(2), 175–184.

Andon, N., & Norrington-Davies, D. (2019). How do experienced teachers deal with emergent language? Paper presented at IATEFL Conference, Liverpool, UK. Harmer, J. (1998). How to teach English. Longman.

Arifah, A. (2014). Study on the use of technology in ELT classroom: Teachers' perspective. M.A. Thesis, Department of English and Humanities, BRAC University, Dhaka, Bangladesh.

Arifani, D. N., Setiadi, R., & Darmawangsa, D. (2020). Effect and students' perception of the ESA (engage, study, activate) teaching method implementation in French writing class. In 3rd International Conference on Language, Literature, Culture, and Education (ICOLLITE 2019) (pp. 208–213). Atlantis Press.

Asad, M. M., Hussain, N., Wadho, M., Khand, Z. H., & Churi, P. P. (2020). Integration of e-learning technologies for interactive teaching and learning process: An empirical study on higher education institutes of Pakistan. Journal of Applied Research in Higher Education,

Backfisch, I., Lachner, A., Hische, C., Loose, F., & Scheiter, K. (2020). Professional knowledge or motivation? Investigating the role of teachers' expertise on the quality of technology-enhanced lesson plans. Learning and Instruction, 66, 101300.

Black, T. R. (1999). Doing quantitative research in the social sciences: An integrated approach to research design, measurement and statistics. Sage.

Burns, A. (2012). A holistic approach to teaching speaking in the language classroom. In Symposium (pp. 165–178).

Borthwick, K., & Gallagher-Brett, A. (2014). 'Inspiration, ideas, encouragement': teacher development and improved use of technology in language teaching through open educational practice. Computer Assisted Language Learning, 27(2), 163–183

Chun, D. M. (2016). The role of technology in SLA research. Language Learning & Technology, 20(2), 98–115.

Chun, D. M. (2017). Research methods for investigating technology for language and culture learning (pp. 393–408). Wiley: The handbook of technology and second language teaching and learning.

Cutter, M. (2015). Using technology with English Language Learners in the classroom. Retriveed from https://scholar.google.com/scholar?hl=en&as_sdt=2007&q=Cutter+2015+technology&btnG=

Dowling, T. (2017). Presentation, practice and production (PPP) and task-based language teaching (TBLT): A defence and a critique. Language and Culture: THe Journal of the Institute for Language and Culture, 21, 139–154.

Ellis, R. (2016). Focus on form: A critical review. Language Teaching Research, 20(3), 405–428.

Ellis, R. (2019). Towards a modular language curriculum for using tasks. Language Teaching Research, 23(4), 454–475.

Ellis, R. (2020). In defence of a modular curriculum for tasks. ELT Journal, 74(2), 185–194.

Ellis, R., & Shintani, N. (2014). Exploring language pedagogy through second language acquisition research. Routledge.

Erin, D. (2020) E-learning and digital education—Statistics & Facts. Retrieved from https://www.statista.com/topics/3115/e-learning-and-digital-education/

Gerald, B. (2018). A brief review of independent, dependent, and one-sample t-tests. International Journal of Applied Mathematics and Theoretical Physics, 4(2), 50–54.

Gillon, G., & Macfarlane, A. H. (2017). A culturally responsive framework for enhancing phonological awareness development in children with speech and language impairment. Speech, Language and Hearing, 20(3), 163–173.

González, G., & Deal, J. T. (2019). Using a creativity framework to promote teacher learning in lesson study. Thinking Skills and Creativity, 32, 114–128.

Goodwin, K. (2012). Use of tablet technology in the classroom. NSW Curriculum and Learning Innovation Centre.

Gray, L., & Lewis, L. (2020). Teachers' use of technology for school and homework assignments: 2018–19 (NCES 2020-048). U.S. Department of Education. Washington, DC: National Center for Education Statistics. Retrieved [date] from https://nces.ed.gov/pubsearch/pubsinfo.asp?pubid=2020048

Gunuç, S., & Babacan, N. (2018). Technology integration in English language teaching and learning. Positioning English for Specific Purposes in an English Language Teaching Context, 1.

Heift, T., & Vyatkina, N. (2017). Technologies for teaching and learning L2 grammar. The handbook of technology and second language teaching and learning (pp. 26–44). Wiley.

Hofmann, V., & Müller, C. M. (2021). Language skills and social contact among students with intellectual disabilities in special needs schools. Learning, Culture and Social Interaction, 30, 100534.

Hubbard, P. (2021). Revisiting the TESOL technology standards for teachers: Integration and adaptation. CALICO Journal, 38(3).

Ikeda, M. (2019). CLIL in comparison with PPP: A revolution in ELT by competency-based language education. Innovation in language teaching and learning (pp. 23–45). Palgrave Macmillan.

Ironsi, C. S. (2022). Navigating learners towards technology-enhanced learning during post COVID-19 semesters. Trends in Neuroscience and Education, 100189.

Ironsi, C. S., & Bostancı, H. B. (2022). Utilizing mobile-learning and CAP (E) lesson framework in improving the productive skills of learners in a hybrid environment. Education+ Training, (ahead-of-print).

Iveson, J. D. (2019). Task-based language teaching frameworks in technology-enhanced learning contexts. Lancaster University (United Kingdom).

Jake, B., Felipe, C., Emma, D., & Stephen, H (2021) New global data reveal education technology's impact on learning. Retrieved from http://www.mckinsey.com/public-and-social-sector/our-insights/new-global-data-reveal-education-technologys-impact-on-learning

Kasumi, H. (2017). Correlations between skills in communicative language teaching and engage study activate method in kosovo schools (Doctoral dissertation, Kolegji AAB).

Kessler, G., & Hubbard, P. (2017). Language teacher education and technology. The handbook of technology and second language teaching and learning (pp. 278–292). Wiley.

Kevin, B. (2020) How COVID-19 is shaping tech use. What that means when schools reopen. Retrieved from https://www.edweek.org/technology/how-covid-19-is-shaping-tech-use-what-that-means-when-schools-reopen/2020/06

Khatoony, S., & Nezhadmehr, M. (2020). EFL teachers' challenges in integration of technology for online classrooms during Coronavirus (COVID-19) pandemic in Iran. AJELP Asian Journal of English Language and Pedagogy, 8(2), 89–104.

Khezrlou, S. (2019). Form-focussed Instruction in CALL: What do learners think? RELC Journal, 50(2), 235–251.

Kim, D. (2018). A framework for implementing OER-based lesson design activities for pre-service teachers. The International Review of Research in Open and Distributed Learning. https://doi.org/10.19173/irrodl.v19i4.3394

Kitchakarn, O. (2016). How students perceived social media as a learning tool in enhancing their language learning performance. Turkish Online Journal of Educational Technology-TOJET, 15(4), 53–60.

König, J., Bremerich-Vos, A., Buchholtz, C., Fladung, I., & Glutsch, N. (2020). Pre-service teachers' generic and subject-specific lesson-planning skills: On learning adaptive teaching during initial teacher education. European Journal of Teacher Education, 43(2), 131–150.

Lai, C. L., Hwang, G. J., Liang, J. C., & Tsai, C. C. (2016). Differences between mobile learning environmental preferences of high school teachers and students in Taiwan: A structural equation model analysis. Educational Technology Research and Development, 64(3), 533–554.

Larsen- Freeman, D., & Anderson, M. (2011). Techniques and principles in language teaching. OUP.

Li, S., Tao, S., Joshi, R. M., & Xu, Q. (2018). Second-language reading difficulties among native Chinese-speaking students learning to read English: The roles of native-and second-language skills. Reading Research Quarterly, 53(4), 423–441.

Liaw, M. L., & English, K. (2017). Technologies for teaching and learning L2 reading. The handbook of technology and second language teaching and learning (pp. 62–76). Wiley.

Liton, H. A. (2015). Examining students' perception & efficacy of using technology in teaching English. International Journal of Education and Information Technology, 1(1), 11–19.

Long, M. H. (2015). Second language acquisition and task-based language teaching. Wiley Blackwell.

Maftoon, P., & Sarem, S. N. (2015). A critical look at the presentation, practice, production (PPP) approach: Challenges and promises for ELT. BRAIN Broad Research in Artificial Intelligence and Neuroscience, 3(4), 31–36.

Meddings, L., & Thornbury, S. (2009). Teaching unplugged: Dogme in English language teaching. Delta Publishing.

Miles, D. A. (2017). A taxonomy of research gaps: Identifying and defining the seven research gaps. In Doctoral student workshop: finding research gaps-research methods and strategies, Dallas, Texas.

Müller-Bloch, C., & Kranz, J. (2015). A framework for rigorously identifying research gaps in qualitative literature reviews. https://core.ac.uk/download/pdf/301367526.pdf

Ní Fhloinn, E., & Fitzmaurice, O. (2021). How and why? Technology and practices used by university mathematics lecturers for emergency remote teaching during the COVID-19 pandemic. Teaching Mathematics and Its Applications: An International Journal of the IMA, 40(4), 392–416.

Novianti, R. K. (2017). Using ESA (engage study activate) technique in teaching reading skill on descriptive text (a quasi-experimental research at the second grade junior high school 1 Karang Tanjung-Kab. Pandeglang) (Doctoral dissertation, UNIVERSITAS ISLAM NEGERI" SMH" BANTEN).

Peregoy, S., & Boyle, O. (2012). Reading, writing and learning in ESL: A resource book for teachers. Allyn & Bacon.

Rasheed, R. A., Kamsin, A., & Abdullah, N. A. (2020). Students and teachers' challenges of using technology in blended learning environments. In Proceedings of the 2020 the 3rd international conference on computers in management and business (pp. 195–200)

Rodinadze, S., & Zarbazoia, K. (2012). The advantages of information technology in teaching English language. Frontiers of Language and Teaching, 3(5), 271–275.

Romero-Rodríguez, J. M., Aznar-Díaz, I., Hinojo-Lucena, F. J., & Gómez-García, G. (2020). Mobile learning in higher education: Structural equation model for good teaching practices. Ieee Access, 8, 91761–91769.

Shadiev, R., & Yang, M. (2020). Review of studies on technology-enhanced language learning and teaching. Sustainability, 12(2), 524.

Son, J. B. (2018). Technology and language teacher education. Teacher development in technology-enhanced language teaching (pp. 3–28). Palgrave Macmillan.

Supriyanto, A., Hartini, S., Irdasari, W. N., Miftahul, A., Oktapiana, S., & Mumpuni, S. D. (2020). Teacher professional quality: Counselling services with technology in pandemic covid-19. Counsellia: Jurnal Bimbingan Dan Konseling, 10(2), 176–189.

Teo, T., Huang, F., & Hoi, C. K. W. (2018). Explicating the influences that explain intention to use technology among English teachers in China. Interactive Learning Environments, 26(4), 460–475.

Thornbury, S. (2011). Language teaching methodology. The Routledge handbook of applied linguistics (pp. 205–219). Routledge

Trisnasari, W. (2018). The effect of engage-study and activate teaching model (ESA) on students' writing narrative text through "The Legend of Malin Kundang" at Tenth Grade in SMK TARBIYAH ISLAMIYAH (Doctoral dissertation).

Tuma, F. (2021). The use of educational technology for interactive teaching in lectures. Annals of Medicine and Surgery, 62, 231–235

Ullah, F., Wang, J., Farhan, M., Jabbar, S., Wu, Z., & Khalid, S. (2020). Plagiarism detection in students' programming assignments based on semantics: Multimedia e-learning based smart assessment methodology. Multimedia Tools and Applications, 79(13), 8581–8598.

Vitta, J. P. (2016). The case for a task-teach-task (TTT) approach in the Japanese university EFL speaking context. Journal of Advances in English Language Teaching, 4(6), 78–81.

Webb, M., & Doman, E. (2020). Impacts of flipped classrooms on learner attitudes towards technology-enhanced language learning. Computer Assisted Language Learning, 33(3), 240–274.

Whalen, J. (2021). K-12 teachers experiences and challenges with using technology for emergency remote teaching during the covid-19 pandemic. Italian Journal of Educational Technology, 29(2), 10–25.

Xhakaj, F., Aleven, V., & McLaren, B. M. (2017). Effects of a teacher dashboard for an intelligent tutoring system on teacher knowledge, lesson planning, lessons, and student learning. European conference on technology enhanced learning (pp. 315–329). Springer.

Yılmaz, Ş. S., & Baydık, B. (2020). Comparison of language skills of students with and without reading difficulties. Ilkogretim Online, 19(2).

Zhou, Y., & Wei, M. (2018). Strategies in technology-enhanced language learning. Studies in Second Language Learning and Teaching, 8(2), 471–495.
Acknowledgements
The author sincerely wish to appreciates the Board of Directors of Rauf Denktas University for their assistance throughout the duration of this research. The author sends his warm regards to the Rector of Rauf Denktas University Prof Hassan Bicak for providing classrooms and educational technologies for this project. Also, my sincere appreciation goes to the entire team of the Foreign Language English Preparatory School of Rauf Denktas University and not forgetting Prof Mustafa Ilkan and Prof Danju Dambala for their continued scholarly support. Thank you all.
Ethics declarations
Conflict of interest
The authors wish to declare that no conflicting interests exist regarding this study. Also, the author wishes to state that no financial interest exists regarding this publication as no funding was received for this study.
Research involving human participants and/or animals
The authors declare that this study did not inflict or induce any harm on the participants. All participants voluntarily declared their willingness to participate throughout the study.
Informed consent
The authors wish to declare that oral consent was obtained from the participants before commencing the study. They stated their willingness to participate or withdraw from the study at any given time.
Additional information
Publisher's Note
Springer Nature remains neutral with regard to jurisdictional claims in published maps and institutional affiliations.
Rights and permissions
Springer Nature or its licensor (e.g. a society or other partner) holds exclusive rights to this article under a publishing agreement with the author(s) or other rightsholder(s); author self-archiving of the accepted manuscript version of this article is solely governed by the terms of such publishing agreement and applicable law.
About this article
Cite this article
Ironsi, C.S. Integrating technology and CAPE framework towards improving the language skills of learners. Education Tech Research Dev (2022). https://doi.org/10.1007/s11423-022-10179-9
Accepted:

Published:

DOI: https://doi.org/10.1007/s11423-022-10179-9
Keywords
Technology

CAPE framework

Lesson planning framework

English as a foreign language