Abstract
The strong connection between information and communication technology (ICT) and educational innovation has been acknowledged by literature, and previous studies have shown the effects of various ICT factors on teacher innovativeness, but international evidence seems to come much later. Based on a three-level research framework, this study uses data from 42 countries participating in the 2018 round of Teaching and Learning International Survey (TALIS) to examine the relationships between ICT-related factors and teacher innovativeness, and how ICT use for teaching mediates the relationships. The results of three-level modeling demonstrate those significant predictors, including ICT element in formal education, ICT element in professional development, ICT self-efficacy, and the ICT use for teaching, all at the teacher level but not the school or country level. The results of three-level mediation modeling support the mediation role of the ICT use for teaching and uncover three indirect paths at the teacher level. Implications for how to enhance teacher innovativeness by facilitating ICT integration are discussed.
Access options
Buy single article
Instant access to the full article PDF.
USD 39.95
Price includes VAT (USA)
Tax calculation will be finalised during checkout.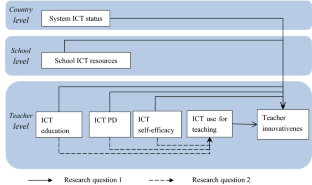 Notes
1.

In the TALIS 2018 database, the UNESCO International Standard Classification of Education (ISCED) was used for indicating the educational levels, where ISCED level 1 refers to primary school, ISCED level 2 refers to lower secondary school, and ISCED level 3 refers to upper secondary school.

2.

The alphabetical list of six economies excluded are: Alberta (Canada), Chinese Taipei, Ciudad Autónoma de Buenos Aires (Argentina), England (United Kingdom), Shanghai (China).

3.

The alphabetical list of 42 countries remaining in this analysi are: Australia, Austria, Belgium, Brazil, Bulgaria, Chile, Colombia, Croatia, Cyprus, Czech Republic, Denmark, Estonia, Finland, France, Georgia, Hungary, Iceland, Israel, Italy, Japan, Kazakhstan, Korea, Latvia, Lithuania, Malta, Mexico, Netherlands, New Zealand, Norway, Portugal, Romania, Russian Federation, Saudi Arabia, Singapore, Slovak Republic, Slovenia, South Africa, Spain, Sweden, Turkey, United Arab Emirates, United States.

4.

Three exceptions are: Saudi Arabia (RMSEA = .084), Norway (RMSEA = .109), South Africa (SRMR = .115).
References
Admiraal, W., Louws, M. L., Lockhorst, D., Paas, T., Buynsters, M., Cviko, A., Janssen, C., de Jonge, M., Nouwens, S., Post, L., van der Ven, F., & Kester, L. (2017). Teachers in school-based technology innovations: A typology of their beliefs on teaching and technology. Computers & Education, 114, 57–68.

Ainley, J. & Carstens, R. (2018). Teaching and learning international survey (TALIS) 2018 Conceptual framework. OECD education working papers no. 187

Alt, D. (2018). Science teachers' conceptions of teaching and learning, ICT efficacy, ICT professional development and ICT practices enacted in their classrooms. Teaching and Teacher Education, 73, 141–150.

Anderson, N., & West, M. A. (1998). Measuring climate for work group innovation: Development and validation of the team climate inventory. Journal of Organizational Behavior, 19(3), 235–258.

Averill, T. B. (1967). Educational participation and innovativeness. Journal of Educational Research, 60(10), 448–449.

Bai, Y., Mo, D., Zhang, L., Boswell, M., & Rozelle, S. (2016). The impact of integrating ICT with teaching. Computers & Education, 96, 1–14.

Buske, R. (2018). The principal as a key actor in promoting teachers' innovativeness—Analyzing the innovativeness of teaching staff with variance-based partial least square modeling. School Effectiveness and School Improvement, 29(2), 262–284.

Cheung, F., & Lucas, R. E. (2014). Assessing the validity of single-item life satisfaction measures: Results from three large samples. Quality of Life Research, 23(10), 2809–2818.

Chou, C., Shen, C., Hsiao, H., & Shen, T. (2019). Factors influencing teachers' innovative teaching behaviour with information and communication technology (ICT): The mediator role of organisational innovation climate. Educational Psychology, 39(1), 65–85.

Drent, M., & Meelissen, M. R. (2008). Which factors obstruct or stimulate teacher educators to use ICT innovatively. Computers & Education, 51(1), 187–199.

Ertmer, P. A. (1999). Addressing first- and second-order barriers to change: Strategies for technology integration. Educational Technology Research and Development, 47(4), 47–61.

Eteokleous, N. (2008). Evaluating computer technology integration in a centralized school system. Computers & Education, 51(2), 669–686.

Gardner, D. G., Cummings, L. L., Dunham, R. B., & Pierce, J. L. (1998). Single-item versus multiple-item measurement scales: An empirical comparison. Educational and Psychological Measurement, 58(6), 898–915.

Gil-Flores, J., Rodríguez-Santero, J., & Torres-Gordillo, J. (2017). Factors that explain the use of ICT in secondary-education classrooms: The role of teacher characteristics and school infrastructure. Computers in Human Behavior, 68, 441–449.

Gill, J. (2018). Comments from the new editor. Political Analysis, 26, 1–2.

Hanushek, E. A., & Woessmann, L. (2011). The Economics of international differences in educational achievement. In E. A. Hanushek, S. Machin, & L. Woessmann (Eds.), Handbook of the economics of education (Vol. 3, pp. 89–200). North-Holland.

Hemphill, H. D. (1968). General theory of innovativeness. Alberta Journal of Educational Research., 14(2), 101–114.

Hilfiker, L. R. (1970). Factors relating to the innovativeness of school systems. Journal of Educational Research, 64(1), 23–27.

Hill, J. R., & Hannafin, M. J. (2001). Teaching and learning in digital environments: The resurgence of resource-based learning. Educational Technology Research and Development, 49(3), 37–52.

Hu, X., Gong, Y., Lai, C., & Leung, F. K. (2018). The relationship between ICT and student literacy in mathematics, reading, and science across 44 countries: A multilevel analysis. Computers & Education, 125, 1–13.

Hult, G. T. M., Hurley, R. F., & Knight, G. A. (2004). Innovativeness: Its antecedents and impact on business performance. Industrial Marketing Management, 33(5), 429–438.

Imbens, G. W. (2021). Statistical significance, p-values, and the reporting of uncertainty. Journal of Economic Perspectives, 35(3), 157–174.

Klassen, R. M., & Tze, V. M. (2014). Teachers' self-efficacy, personality, and teaching effectiveness: A meta-analysis. Educational Research Review, 12, 59–76.

Lim, C. P. (2007). Effective integration of ICT in Singapore schools: Pedagogical and policy implications. Educational Technology Research and Development, 55, 83–116.

Loogma, K., Kruusvall, J., & Imarik, M. (2012). E-learning as innovation: Exploring innovativeness of the VET teachers' community in Estonia. Computers & Education, 58(2), 808–817.

Lun, V. M., & Bond, M. H. (2016). Achieving subjective well-being around the world: The moderating influence of gender, age and national goals for socializing children. Journal of Happiness Studies, 17(2), 587–608.

McGeown, V. (1980). Dimensions of teacher innovativeness. British Educational Research Journal, 6(2), 147–163.

Mueller, J., Wood, E., Willoughby, T., Ross, C., & Specht, J. (2008). Identifying discriminating variables between teachers who fully integrate computers and teachers with limited integration. Computers & Education, 51(4), 1523–1537.

Mushayikwa, E., & Lubben, F. (2009). Self-directed professional development—hope for teachers working in deprived environments? Teaching and Teacher Education 25(3), 375–382.

Neirotti, P., & Pesce, D. (2019). ICT-based innovation and its competitive outcome: The role of information intensity. European Journal of Innovation Management, 22(2), 383–404.

OECD. (2014). Measuring innovation in education: A new perspective. OECD Publishing.

OECD. (2019). TALIS 2018 technical report. OECD Publishing.

Postmes, T., Haslam, S. A., & Jans, L. (2013). A single-item measure of social identification: Reliability, validity, and utility. British Journal of Social Psychology, 52(4), 597–617.

Preacher, K. J. (2011). Multilevel SEM strategies for evaluating mediation in three-level data. Multivariate Behavioral Research, 46(4), 691–731.

Preacher, K. J., & Kelley, K. (2011). Effect size measures for mediation models: Quantitative strategies for communicating indirect effects. Psychological Methods, 16(2), 93–115.

Preacher, K. J., Zhang, Z., & Zyphur, M. J. (2011). Alternative methods for assessing mediation in multilevel data: The advantages of multilevel SEM. Structural Equation Modeling, 18(2), 161–182.

Preacher, K. J., Zyphur, M. J., & Zhang, Z. (2010). A general multilevel SEM framework for assessing multilevel mediation. Psychological Methods, 15(3), 209–233.

Reyes, V., Reading, C., Doyle, H., & Gregory, S. (2017). Integrating ICT into teacher education programs from a TPACK perspective: Exploring perceptions of university lecturers. Computers & Education, 115, 1–19.

Rogers, E. M. (1995). Diffusion of innovations (4th ed.). New York: The Free Press.

Salajan, F. D. (2019). Building a policy space via mainstreaming ICT in European education: The European digital education area (re)visited. European Journal of Education, 54, 591–604.

Suarezrodriguez, J. M., Almerich, G., Orellana, N., & Diazgarcia, I. (2018). A basic model of integration of ICT by teachers: Competence and use. Educational Technology Research and Development, 66(5), 1165–1187.

Tang, Y. P. (2019). Immigration status and adolescent life satisfaction: An international comparative analysis based on PISA 2015. Journal of Happiness Studies, 20, 1499–1518.

Tezci, E. (2011). Turkish primary school teachers' perceptions of school culture regarding ICT integration. Educational Technology Research and Development, 59, 429–443.

Thurlings, M., Evers, A. T., & Vermeulen, M. (2015). Toward a model of explaining teachers' innovative teaching behavior: A literature review. Review of Educational Research, 85(3), 430–471.

Tschannenmoran, M., & Hoy, A. W. (2001). Teacher efficacy: Capturing an elusive construct. Teaching and Teacher Education, 17(7), 783–805.

Vieluf, S., Kaplan, D., Klieme, E., & Bayer, S. (2012). Teaching practices and pedagogical innovation: Evidence from TALIS. OECD Publishing.

Vincent-Lancrin, S., Urgel, J., Kar, S., & Jacotin, G. (2019). Measuring innovation in education 2019: What has changed in the classroom? OECD Publishing.

Williams, D., Coles, L., Wilson, K., Richardson, A., & Tuson, J. (2000). Teachers and ICT: Current use and future needs. British Journal of Educational Technology, 31(4), 307–320.

Windschitl, M., & Sahl, K. (2002). Tracing teachers' use of technology in a laptop computer school: The interplay of teacher beliefs, social dynamics, and institutional culture. American Educational Research Journal, 39(1), 165–205.

Wiseman, A. W., & Anderson, E. (2012). ICT-integrated education and national innovation systems in the Gulf Cooperation Council (GCC) countries. Computers & Education, 59(2), 607–618.

Yang, S. C., & Huang, Y.-F. (2008). A study of high school English teachers' behavior, concerns and beliefs in integrating information technology into English instruction. Computers in Human Behavior, 24(3), 1085–1103.
Acknowledgements
The author is grateful to the two anonymous reviewers for their helpful comments and suggestions.
Funding
This research was supported by Fundamental Research Funds for the Central Universities (Grant No. 2020ECNU-HLYT059).
Ethics declarations
Conflict of interest
The author declares no conflict of interest.
Additional information
Publisher's Note
Springer Nature remains neutral with regard to jurisdictional claims in published maps and institutional affiliations.
About this article
Cite this article
Tang, Y. Does information and communication technology (ICT) empower teacher innovativeness: a multilevel, multisite analysis. Education Tech Research Dev 69, 3009–3028 (2021). https://doi.org/10.1007/s11423-021-10052-1
Accepted:

Published:

Issue Date:
Keywords
Secondary education

ICT

Teacher innovativeness

TALIS

Three-level modeling