Abstract
Podcasts have been widely used in various fields, and their applications in English as a foreign language (EFL) learning have been mainly to improve students' listening ability. Relatively few studies have explored how engaging EFL students in making podcasts might help develop their speaking competence. This study therefore is an investigation of the effects of making podcasts on Taiwanese university students' speaking progress and of their perceptions of podcast-making. Seventy-seven first-year non-English majors in a Taiwanese university participated in this six-week, mixed-methods study. Data included their pre-test and post-test TOEIC speaking scores, two podcast recordings, and reflective essays. The results of this study indicate that after making podcasts, and from their first to final podcasts, the students had better speaking fluency and accuracy in which they demonstrated some significant changes, such as having fewer pauses and mispronounced words. Also, they perceived both benefits and challenges in making podcasts. Pedagogical implications and recommendations for future research are discussed.
Access options
Buy single article
Instant access to the full article PDF.
US$ 39.95
Tax calculation will be finalised during checkout.
Subscribe to journal
Immediate online access to all issues from 2019. Subscription will auto renew annually.
US$ 79
Tax calculation will be finalised during checkout.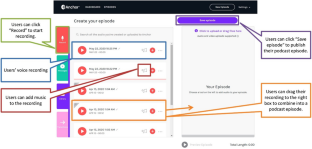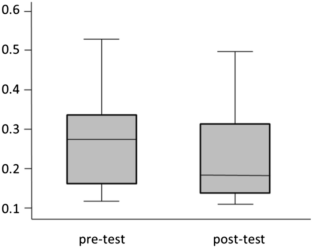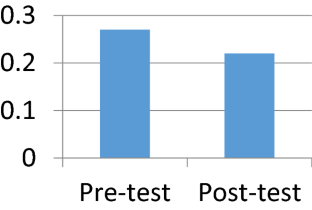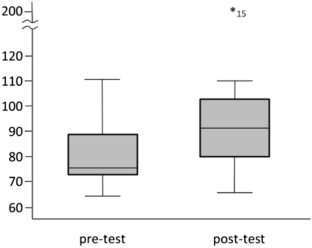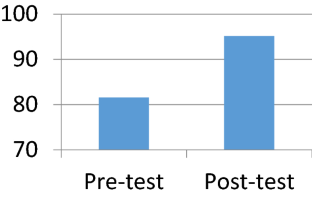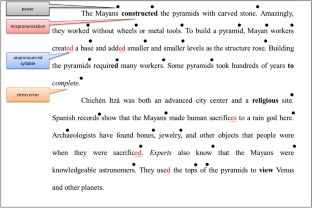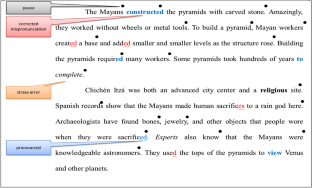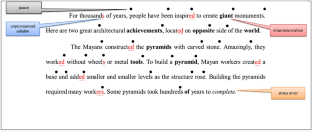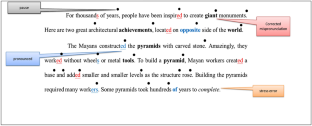 References
Abdous, M., Facer, B. R., & Yen, C. (2012). Academic effectiveness of podcasting: A comparative study of integrated versus supplemental use of podcasting in second language classes. Computers and Education, 58, 43–52. https://doi.org/10.1016/j.compedu.2011.08.021

Ahn, T. Y., & Lee, S. M. (2016). User experience of a mobile speaking application with automatic speech recognition for EFL learning. British Journal of Educational Technology, 47(4), 778–786.

Alm, A. (2013). Extensive listening 2.0 with foreign language podcasts. Innovation in Language Learning and Teaching, 7(3), 266–280. https://doi.org/10.1080/17501229.2013.836207

Alsied, S. M., & Pathan, M. M. (2013). The use of computer technology in EFL classroom: Advantages and implications. International Journal of English Language and Translation Studies, 1(1), 44–51.

Armstrong, G. R., Tucker, J. M., & Massad, V. J. (2009). Interviewing the experts: Student produced podcast. Journal of Information Technology Education: Innovations in Practice, 8, 79–90.

Blake, R. (2016). Technology and the four skills. Language Learning and Technology, 20(2), 129–142.

Brooks, G., & Wilson, J. (2014). Using oral presentations to improve students' English language skills. Kwansei Gakuin University Humanities Review, 19(1), 199–212.

Chan, W. M., Chi, W. W., Chin, K. N., & Lin, C. Y. (2011). Students' perceptions of and attitudes towards podcast-based learning - A comparison of two language podcast projects. Electronic Journal of Foreign Language Teaching, 8(1), 312–335.

Chang, C. C., Yan, C. F., & Tseng, J. S. (2012). Perceived convenience in an extended technology acceptance model: Mobile technology and English learning for college students. Australasian Journal of Educational Technology. https://doi.org/10.14742/ajet.818

Cripps, A. (2016). English language education in Japan: Problems and solutions. In A. C. Cripps (Ed.), Perspectives on English language education in Japan (pp. 241–260). Charleston: CreateSpace.

Dale, C. (2007). Strategies for using podcasting to support the learning of tourism students. Journal of Hospitality, Leisure, Sport and Tourism Education, 6(1), 49–57. https://doi.org/10.3794/johlste.61.155

Darling-Hammond, L., Austin, K., Lit, I., & Nasir, N. (2003). The learning classroom: Theory into practice. Annenberg/CPB, Stanford University.

Ellis, G., & Sinclair, B. (1989). Learning to learn English: A course in learner training. Cambridge University Press.

Evans, C. (2008). The effectiveness of m-learning in the form of podcast revision lectures in higher education. Computers and Education, 50(2), 491–498. https://doi.org/10.1016/j.compedu.2007.09.016

Farangi, M. R., Nejadghanbar, H., Askary, F., & Ghorbani, A. (2015). The effects of podcasting on EFL upper-intermediate learners' speaking skills. CALL-EJ, 16(2), 1–18.

Fitria, U., Vianty, M., & Petrus, I. (2015). Using podcast to improve students' listening and speaking achievements. The Journal of English Literacy. Education, 2(1), 55–68.

Fouz-González, J. (2019). Podcast-based pronunciation training: Enhancing FL learners' perception and production of fossilized segmental features. ReCALL, 31(2), 150–169. https://doi.org/10.1017/S0958344018000174

Fox, E., & Riconscente, M. (2008). Metacognition and self-regulation in James, Piaget, and Vygotsky. Educational Psychology Review, 20, 373–389.

Fu, J. S., Yang, S. H, & Yeh, H. C. (2021). Exploring the impact of the digital storytelling on language learners' speaking competence. Journal of Research on Technology in Education. (In Press)

Gan, Z. (2013). Understanding English speaking difficulties: An investigation of two Chinese populations. Journal of Multilingual and Multicultural Development, 34(3), 231–248. https://doi.org/10.1080/01434632.2013.768622

Gromik, N. (2008). EFL learner use of podcasting resources: A pilot study. The JALT CALL Journal, 4(2), 47–60. https://doi.org/10.29140/jaltcall.v4n2.62

Hargett, J. L. (2018). Podcasting in nursing education: Using commercially prepared podcasts to spark learning. Teaching and Learning in Nursing, 13(1), 55–57. https://doi.org/10.1016/j.teln.2017.08.003

Hill, J. L., & Nelson, A. (2011). New technology, new pedagogy? Employing video podcasts in learning and teaching about exotic ecosystems. Environmental Education Research, 17(3), 393–408. https://doi.org/10.1080/13504622.2010.545873

Hsieh, C. N. (2017). The case of Taiwan: Perceptions of college students about the use of the TOEIC® tests as a condition of graduation. ETS Research Report Series, 2017(1), 1–12.

Kim, S. (2014). Developing autonomous learning for oral proficiency using digital storytelling. Language Learning and Technology, 18(2), 20–35.

Kitchner, K. S. (1983). Cognition, metacognition, and epistemic cognition. Human Development, 26(4), 222–232. https://doi.org/10.1159/000272885

Kormos, J., & Dénes, M. (2004). Exploring measures and perceptions of fluency in the speech of second language learners. System, 32(2), 145–164.

MacArthur, M. (2019). Bridging the synapse: Seeing the world through a neuroscience lens. Chancellor's Honors Program Projects. Retrieved September 8, 2020, from https://trace.tennessee.edu/utk_chanhonoproj/2251

Malecki, S. L., Quinn, K. L., Zilbert, N., Razak, F., Ginsburg, S., Verma, A. A., & Melvin, L. (2019). Understanding the use and perceived impact of a medical podcast: Qualitative study. JMIR Medical Education, 5(2), e12901. https://doi.org/10.2196/12901

Naidionova, A. V., & Ponomarenko, O. G. (2018). Use of podcasting technology to develop students' listening skills. Information Technologies and Learning Tools, 63(1), 177–185.

Patton, M. Q. (2014). Qualitative research and evaluation methods (4th edition). Thousand Oaks, CA: SAGE Publications.

Phillips, B. (2017). Student-produced podcasts in language learning – Exploring student perceptions of podcast activities. IAFOR Journal of Education, 5(3), 157–171.

Rosell-Aguilar, F. (2013). Podcasting for language learning through iTunes U: The learners' view. Language Learning and Technology, 17(3), 74–93.

Sachs, R., & Polio, C. (2007). Learners' uses of two types of written feedback on a L2 writing revision task. Studies in Second Language Acquisition, 29(1), 67–100.

Safdari, M., & Fathi, J. (2020). Investigating the role of dynamic assessment on speaking accuracy and fluency of pre-intermediate EFL learners. Cogent Education, 7(1), 1818924. https://doi.org/10.1080/2331186X.2020.1818924

Samad, I. A., Bustari, A., & Ahmad, D. (2017). The use of podcasts in improving students' speaking skill. Journal of English Language and Education, 3(2), 97–111.

Şendağ, S., Gedik, N., & Toker, S. (2018). Impact of repetitive listening, listening-aid and podcast length on EFL podcast listening. Computers and Education, 125, 273–283. https://doi.org/10.1016/j.compedu.2018.06.019

Spada, N. (1986). The interaction between type of contact and type of instruction: Some effects on the L2 proficiency of adult learners. Studies in Second Language Acquisition, 8(2), 181–199.

Sun, Z., Lin, C. H., You, J., Shen, H. J., Qi, S., & Luo, L. (2017). Improving the English-speaking skills of young learners through mobile social networking. Computer Assisted Language Learning, 30(3–4), 304–324.

Sze, P. M. M. (2006). Developing students' listening and speaking skills through ELT podcasts. Education Journal, 34(2), 115–135.

Tseng, S. S., & Yeh, H. C. (2019). The impact of video and written feedback on student preferences of English speaking practice. Language Learning and Technology, 23(2), 145–158.

Ur, P. (2012). A course in English language teaching. Cambridge University Press.

Wang, L. (2005). The advantages of using technology in second language education. The Jouornal, 32(10), 38–42.

Yeh, C. C. (2017). An investigation of a podcast learning project for extensive listening. In K. Kimura & J. Middlecamp (Eds.), Asian-focused ELT research and practice: Voices from the far edge (pp. 87–107). Phnom Penh, Cambodia: IDP Education (Cambodia) Ltd.

Yeh, H. C., & Lai, W. Y. (2019). Speaking progress and meaning negotiation processes in synchronous online tutoring. System, 81, 179–191. https://doi.org/10.1016/j.system.2019.01.001

Yeh, H. C., & Yang, Y. F. (2011). Metacognitive process in online text construction. Educational Technology and Society, 14(3), 82–101.
Acknowledgements
The project is supported by the Ministry of Science and Technology in Taiwan under the grant numbers 109-2511-H-224-006-MY3 and 110-2628-H-224-001-MY2
Ethics declarations
Conflict of interest
The authors declare that they have no conflict of interest.
Informed consent
Yes.
Research involving human and animal rights
Human participants only.
Additional information
Publisher's Note
Springer Nature remains neutral with regard to jurisdictional claims in published maps and institutional affiliations.
About this article
Cite this article
Yeh, H.C., Chang, W.Y., Chen, H.Y. et al. Effects of podcast-making on college students' English speaking skills in higher education. Education Tech Research Dev (2021). https://doi.org/10.1007/s11423-021-10026-3
Keywords
Podcast-making

Speaking competence

Metacognition

Higher education