Abstract
This paper introduces a generative framework in which translations of Indigenous knowledge systems can expand student agency in science, technology, engineering, and mathematics (STEM). Students move from computer simulations to physical renderings, to repurposing STEM innovation and discovery in the service of Indigenous community development. We begin with the math and computing ideas in traditional Anishinaabe arcs; describe their translation into software and physical rendering techniques, and finally their workshop implementation with a mix of Native and non-Native students. Quantitative and qualitative analyses of pre-survey and post-survey data indicate increases in students' understanding of Indigenous knowledge, their creative ability to utilize it in moving from algorithmic to physical designs, and their visions for new hybrid forms of Indigenous futurity. We use these findings to argue that culture-based education needs to shift from a vindicationist mode of admiring ancient achievements, to one that highlights students' agency in a generative relationship with cultural knowledge.
Access options
Buy single article
Instant access to the full article PDF.
US$ 39.95
Tax calculation will be finalised during checkout.
Subscribe to journal
Immediate online access to all issues from 2019. Subscription will auto renew annually.
US$ 79
Tax calculation will be finalised during checkout.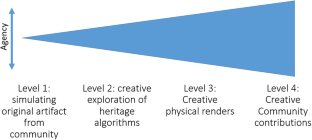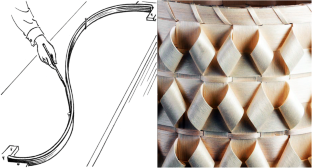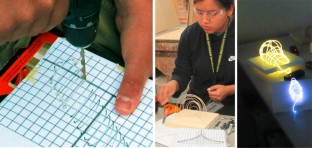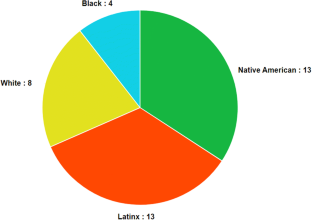 Notes
1.

Another way to think about it is that the wood is an analog computer. Prior to digital computers, prediction of events such as tides or even certain calculations were carried out by measuring changes in a physical system that modeled what you wanted the equations to calculate. Dewdney (1985) provides the example of a beam anchored at one end, bending under its own weight: the deflection at the free end is proportionate to the 4th power of the length. Slide the beam in a vise to the desired length, and now you have a calculator for the 4th power of any number. Conversion to symbolic representation is not required; Dewdney points out that analog-to-analog linkages are possible (in the Renault case, wood splines to metal car curves). Thus Anishinaabe bending can also be understood within the analog computation framework.

2.

In our introduction we maintain that a generative approach should strive towards redirecting scientific knowledge production and technology innovation away from corporate and military goals and closer to the priorities of Indigenous and disenfranchised communities. The above connection is one example; but its efficacy depends on being brought into the scope of agency for students, teachers and communities.
References
Babbitt, W., Lachney, M., Bulley, E., & Eglash, R. (2015). Adinkra mathematics: A study of ethnocomputing in Ghana. REMIE Multidisciplinary Journal of Educational Research,5(2), 110.

Bennett, A. G. (2016). Ethnocomputational creativity in STEAM education: A cultural framework for generative justice. Teknokultura,13(2), 587–612. https://doi.org/10.5209/rev_TEKN.2016.v13.n2.52843.

Bennett, A., Eglash, R., Lachney, M., & Babbitt, W. (2016). Design agency: Diversifying computer science at the intersections of creativity and culture. Revolutionizing Education through web-based instruction (pp. 35–56). Hershey, PA: IGI Global.

Brinkmann, S., & Kvale, S. (2015). InterViews: Learning the craft of qualitative research interviewing. Thousand Oaks, CA: Sage.

Choi, J. I., & Hannafin, M. (1995). Situated cognition and learning environments: Roles, structures, and implications for design. Educational Technology Research and Development,43(2), 53–69.

Dewdney, A. K. (1985). Computer recreations. Scientific American. (June 1).

Dillon, G. L. (2016). Indigenous futurisms, Bimaashi Biidaas Mose, flying and walking towards You. Extrapolation. https://doi.org/10.3828/extr.2016.2.

Eglash, R. (1997). When math Worlds Collide: Intention and Invention in Ethnomathematics. Science, Technology and Human Values,22(1), 79–97.

Eglash, R., Babbitt, W., Bennett, A., Bennett, K., Callahan, B., Davis, J., … Tully, K. (2017). Culturally Situated Design Tools: Generative justice as a foundation for STEM diversity. In P. Tripathi, Y. Rankin, & J. Thomas (Eds.), Advances in educational marketing, administration, and leadership. moving students of color from consumers to producers of technology (pp. 132–151). Hershey, PA: IGI Global. https://doi.org/10.4018/978-1-5225-2005-4.ch007.

Eglash, R., Bennett, A., O'Donnell, C., Jennings, S., & Cintorino, M. (2006). Culturally situated design tools: Ethnocomputing from field site to classroom. American Anthropologist,108(2), 347–362. https://doi.org/10.1525/aa.2006.108.2.347.

Eglash, R., Krishnamoorthy, M., Sanchez, J., & Woodbridge, A. (2011). Fractal simulations of African design in pre-college computing education. ACM Transactions on Computing Education (TOCE),11(3), 17.

Goodyear-Ka'ōpua, N. (2018). Indigenous oceanic futures: challenging settler colonialisms and militarization. In L. T. Smith, E. Tuck, & K. W. Yang (Eds.), Indigenous and decolonizing studies in education (pp. 104–124). New York: Routledge.

Grande, S. M. A. (1999). Beyond the ecologically noble savage: Deconstructing the White man's Indian. Environmental Ethics,21(3), 307–320.

Haraway, D. J. (2016). Staying with the trouble: Making kin in the chthulucene. Durham: Duke University Press.

Hottinger, S. N. (2016). Inventing the mathematician: Gender, race, and our cultural understanding of mathematics. Albany: SUNY Press.

Kimmerer, R. W. (2013). Braiding sweetgrass: Indigenous wisdom, scientific knowledge and the teachings of plants. Minneapolis: Milkweed Editions.

Knijnik, G. (2002): Ethnomathematics. Culture and politics of knowledge in mathematics education. In For the Learning of Mathematics (pp. 11–14).

Lachney, M. (2017a). Culturally responsive computing as brokerage: Toward asset building with education-based social movements. Learning, Media and Technology,42(4), 420–439. https://doi.org/10.1080/17439884.2016.1211679.

Lachney, M. (2017b). Computational communities: African-American cultural capital in computer science education. Computer Science Education,27(3–4), 175–196. https://doi.org/10.1080/08993408.2018.1429062.

Lachney, M., Babbitt, W., Bennett, A., & Eglash, R. (2019). Generative computing: African-American cosmetology as a link between computing education and community wealth. Interactive Learning Environment. https://doi.org/10.1080/10494820.2019.1636087.

Lachney, M., Bennett, A., Appiah, J., & Eglash, R. (2016). Modeling in ethnocomputing: Replacing bi-directional flows with recursive emergence. International Journal for Research in Mathematics Education,6(1), 219–243.

Luckman, S. (2015). Craft and the creative economy (2015th ed.). Basingstoke, Hampshire: Palgrave Macmillan.

Lyles, D., Lachney, M., Foster, E., & Zatz, Z. (2016). Generative contexts: Generating value between community and educational settings. Teknokultura,13(2), 613–637.

Medin, D. L., & Bang, M. (2014). Who's asking?: Native science, western science, and science education. Cambridge: MIT Press.

Rabut, C. (2002). On Pierre Bézier's life and motivations. Computer-Aided Design,34(7), 493–510. https://doi.org/10.1016/S0010-4485(01)00121-X.

Saldaña, J. (2015). The coding manual for qualitative researchers. Thousand Oaks, CA,: Sage.

Strauss, A. L., & Corbin, J. M. (1990). Basics of qualitative research: Grounded theory procedures and techniques. Newbury Park: SAGE Publications.

Tuck, E., & Gaztambide-Fernández, R. A. (2013). Curriculum, replacement, and settler futurity. Journal of Curriculum Theorizing,29(1), 72–89.

Tuck, E., & Yang, K. W. (2012). Decolonization is not a metaphor. Decolonization: Indegeneity, Education & Society,1(1), 1–40.

Usik, K. A. (2015). The hunt for Ma'iingan: Ojibwe ecological knowledge and wolf hunting in the Great Lakes. (PhD Dissertation). University of Iowa.

Vithal, R., & Skovsmose, O. (1997). The end of innocence: a critique of 'ethnomathematics'. Educational Studies in Mathematics,34(2), 131–157.

Young, M. F. (1993). Instructional design for situated learning. Educational Technology Research and Development,41(1), 43–58.

Z-Score/Gullie Consultant Services. (2017). Integration of computational thinking and science using culturally-based topics. Rensselaer Polytechnic Institute, Year One End-of-Year Evaluation Report 2016–2017.
Funding
This funding was supported by National Science Foundation [Grant Number: DRL-1640014].
Ethics declarations
Ethical approval
All procedures performed in studies involving human participants were in accordance with the ethical standards of the institutional and/or national research committee and with the 1964 Helsinki declaration and its later amendments or comparable ethical standards.
Informed consent
Informed consent was obtained from all individual participants included in the study.
Additional information
Publisher's Note
Springer Nature remains neutral with regard to jurisdictional claims in published maps and institutional affiliations.
Appendix
Appendix
| Questions | 0 Points: unanswered or incorrect | 1 Point: partially correct and not detailed answer | 2 Points: partially correct and detailed answer | 3 Points: correct and not detailed answer | 4 Points: correct and detailed answer |
| --- | --- | --- | --- | --- | --- |
| 1. What computing concepts can be found in Anishinaabe traditions and knowledge? | Blank, incorrect, or unrelated answer. For example, "The traditional ways can be improved to be more environmentally safe and efficient. Like the arcs, finding ways to use solar power could help provide illumination" | Simply listing something that relates to the workshop material, but not including the computing concepts of Algorithm, iteration, etc. For example: "3D Modeling" | A lengthy answer including some of the workshop material, but not including computing concepts. For example: "In order to put your plan in action you would need to make a structure on the computer" | Listing a correct computing concept without an answer that is comparative or deep. For example: "Iteration is used in their traditional structures" | Comparative or deep mentioning of computing concepts within the context of the workshop material. For example: "Algorithms can be found in both the modern world and the traditions of the Anishinaabe people" |
| 2. What math concepts can be found in Anishinaabe traditions and knowledge? | Blank, incorrect, or unrelated answer. For example: "Age, code, war/hunting parties" | Listing something that relates to the workshop material, but not including the math concepts of transformational geometry, parabola, Cartesian coordinates, etc. For example: "Calculus, engineering, trigonometry" | A lengthy answer including some of the workshop material, but not including math concepts. For example: "One math concept that can be found in Anishinaabe traditions is the building of wiigwaams etc." | Listing of a correct concept or concepts without an answer that is comparative or deep. For example: "I have found that a lot of different concepts can be found all the way from the concept of 0 and infinity to very complex construction" | Comparative or deep mentioning of math concepts within the context of the workshop material. For example: "The concept of 0 as well as infinity. The medicine wheel represents the vast complexity of our universe as humans are able to encounter single atoms as well as galaxies" |
| 3. What is significant about the Anishinaabe tradition of bending wood into arcs? | Blank, incorrect, or unrelated answer. For example: "they use steam?" | A relatively short answer about something that relates to the workshop material, but not including relevant information that connects arcs to Anishinaabe tradition. For example: "Arcs are the strongest structures" | A lengthy answer including some of the workshop material, but not including relevant information that connects arcs to Anishinaabe tradition. For example: "Practicing this could eventually become very helpful to many people, learning to build arcs will eventually advance it bigger and better ideas" | Listing of a correct concept or concepts without an answer that is comparative or deep. For example: "I feel like arcs are an important aspect when it comes to architecture and creates strong structures" | An answer that speak to Anishinaabe traditions and the material qualities of the arcs. For example: "Wood is an ideal building material. It grows easily durable, abundant, and bendable in certain cases. Bending wood is extremely important in house building and canoe making" |
| 4. How might science and technology be used to support Anishinaabe traditions and knowledge in the twenty-first century? | Blank, incorrect, or unrelated answer. All of our examples are blank | A relatively short answer that relates to the workshop material, but not including detailed information about how science and technology can be used to support Anishinaabe traditions. For example: "It can be used to support by collaborating in studies with traditions" | A lengthy answer that relates to the workshop material, but not including detailed information about how science and technology can be used to support Anishinaabe traditions. For example: "Science & technology can be used to support Anishinaabe culture by updating simple structures (like the arcs)" | Listing of a correct concept or concepts without an answer that is comparative or deep For example: "Well, science and technology isn't anything new to the Anishinaabe. They have been doing these for thousands of years" | An answer that speaks to the role of science and technology in supporting Anishinaabe traditions within a global or local context. For example: "As the Earth is becoming depleted in her resources, humans must learn how to survive and thrive using as little as possible. Not just that but also considering the fact that whatever we produce is left for future generations. Things must be recycled" |
| 5. What are some ways that Anishinaabe traditions might contribute to contemporary innovation? | Blank, incorrect, or unrelated answer. For example: "New perspectives on various things" | A relatively short answer that relates to the workshop material, but not including detailed information about how Anishinaabe traditions continue to be innovative. For example: "Any way of thinking from another culture can help with innovation since it gives a different perspective to others" | A lengthy answer that relates to the workshop material, but not including detailed information about how Anishinaabe traditions continue to be innovative. For example: "The concepts of certain items and subjects are still there, just augmented to create a more stable and modern state in the twenty-first century" | Listing of correct concepts or ideas for innovation without an answer that is comparative or deep. For example: "We can use them in everyday life. Many of their traditions are eco-friendly, which is very important if we want to continue being a species." | An answer that speaks to the role of Anishinaabe traditions for innovating social and/or technical aspects of life within a global or local context. For example: "The traditions of high respects for earth is very important in today's terms as our earth is at risk over overpopulation. Innovations from "here on out" must consider future generations" |
About this article
Cite this article
Eglash, R., Lachney, M., Babbitt, W. et al. Decolonizing education with Anishinaabe arcs: generative STEM as a path to indigenous futurity. Education Tech Research Dev 68, 1569–1593 (2020). https://doi.org/10.1007/s11423-019-09728-6
Keywords
STEM education

Native American

Indigenous knowledge

Educational technology

Design agency