Abstract
Quality teaching in large classes is generally challenging to achieve. In large classes, there are fewer possibilities for students to interact with the teacher and with each other; the motivation to study decreases as does the possibility for receiving feedback during the learning process. This can result, among other things, in reduced understanding of the learning material and therefore in lower academic performance. The aim of this study is to investigate whether computer-supported collaborative learning (CSCL) can have a positive impact on aspects of quality teaching such as interaction, motivation and understanding. Two online collaborative activities were designed and implemented in a regularly scheduled course with approximately 200 undergraduate students. This study adopted a mixed method of both qualitative and quantitative analysis: data were collected from surveys, in-depth interviews, forum logs, and exam scores. The results show that CSCL facilitates motivation, interaction and achievement of deep understanding. More particularly, one CSCL activity was found to be a significant contributor to students' academic performance and this confirmed that traditional lecturing blended with CSCL improves the quality of the teaching compared to traditional lecturing only, at least as far as understanding is concerned. Moreover, the study indicates that different types of collaborative activities have different effects on learning and that the design of collaborative activities is therefore critical to outcomes. In this respect, it also reveals that social loafing, which is usually considered to have only negative effects on collaboration, can instead have a positive impact on learning if the task is appropriately designed.
This is a preview of subscription content, log in to check access.
Access options
Buy single article
Instant access to the full article PDF.
US$ 39.95
Price includes VAT for USA
Subscribe to journal
Immediate online access to all issues from 2019. Subscription will auto renew annually.
US$ 99
This is the net price. Taxes to be calculated in checkout.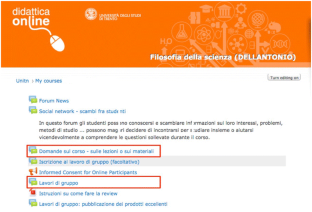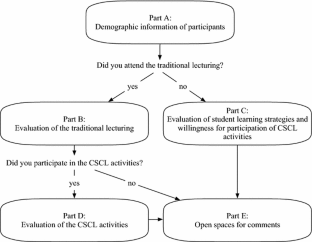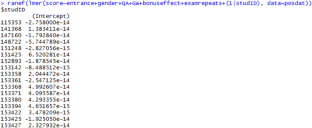 Notes
1.

The Hawthorne effect indicates individuals might modify or improve an aspect of their behavior in response to their awareness of being observed or studied.

2.

The instructor considered it more difficult and time consuming to provide a good (fully elaborated) answer than to think of a good (i.e., nontrivial) question. For this reason, the number of questions/answers required for the bonus was unequal.

3.

This number of views was calculated within the academic year in which the study was conducted.
References
Adair, J. G. (1984). The Hawthorne effect: A reconsideration of the methodological artifact. Journal of Applied Psychology, 69(2), 334–345.

Alexander, P. M. (2006). Virtual teamwork in very large undergraduate classes. Computers and Education, 47(2), 127–147.

Bandiera, O., Larcinese, V., & Rasul, I. (2010). Heterogeneous class size effects: New evidence from a panel of university students. The Economic Journal, 120(549), 1365–1398.

Bates, D., Maechler, M., Bolker, B., & Walker, S. (2014). Lme4: Linear mixed-effects models using Eigen and S4. R package 1.1-7. http://CRAN.R-project.org/package=lme4.

Biggs, J. B., & Collis, K. F. (2014). Evaluating the quality of learning: The SOLO taxonomy (structure of the observed learning outcome). St. Louis, MO: Elsevier Science.

Biggs, J. B., & Tang, C. S. (2011). Teaching for quality learning at university: What the student does. Maidenhead: McGraw-Hill/Society for Research into Higher Education/Open University Press.

Blumenfeld, P. C., Kempler, T. M., & Krajcik, J. S. (2006). Motivation and cognitive engagement in learning environments. In R. K. Sawyer (Ed.), The Cambridge handbook of the learning science (pp. 475–488). New York: Cambridge University Press.

Brown, A. L. (1992). Design experiments: Theoretical and methodological challenges in creating complex interventions in classroom settings. The Journal of the Learning Sciences, 2(2), 141–178.

Capdeferro, N., & Romero, M. (2012). Are online learners frustrated with collaborative learning experiences? The International Review of Research in Open and Distributed Learning, 13(2), 26–44.

Carbone, E., & Greenberg, J. (1998). Teaching large classes: Unpacking the problem and responding creatively. In M. Kaplan (Ed.), To improve the academy (pp. 311–326). Stillwater, OK: New Forums Press and the Professional and Organizational Development Network in Higher Education.

Chamorro-Premuzic, T., & Furnham, A. (2008). Personality, intelligence and approaches to learning as predictors of academic performance. Personality and Individual Differences, 44(7), 1596–1603.

Cooper, J. L., & Robinson, P. (2000). The argument for making large classes seem small. New Directions for Teaching and Learning, 2000(81), 5–16.

Creswell, J. W. (2013). Research design: Qualitative, quantitative, and mixed methods approaches. Thousand Oaks, CA: Sage Publications.

De Paola, M., Ponzo, M., & Scoppa, V. (2013). Class size effects on student achievement: Heterogeneity across abilities and fields. Education Economics, 21(2), 135–153.

Deslauriers, L., Schelew, E., & Wieman, C. (2011). Improved learning in a large-enrollment physics class. Science, 332(6031), 862–864.

Dillenbourg, P. (1999). What do you mean by collaborative learning. In P. Dillenbourg (Ed.), Collaborative-learning: Cognitive and computational approaches (pp. 1–19). Oxford: Elsevier.

Dougherty, K. D., & Andercheck, B. (2014). Using Facebook to engage learners in a large introductory course. Teaching Sociology, 42(2), 95–104.

Entwistle, N. J. (2009). Teaching for understanding at university: Deep approaches and distinctive ways of thinking. London: Palgrave Macmillan.

Furnham, A., & Chamorro-Premuzic, T. (2004). Personality and intelligence as predictors of statistics examination grades. Personality and Individual Differences, 37(5), 943–955.

Garrison, D. R., Anderson, T., & Archer, W. (1999). Critical inquiry in a text-based environment: Computer conferencing in higher education. The Internet and Higher Education, 2(2), 87–105.

Geski, J. (1992). Overcoming the drawbacks of the large lecture class. College Teaching, 40, 151–155.

Ghislandi, P. (2005). Didattiche per l'università (Vol. 1). Trento: University of Trento.

Ghislandi, P., & Raffaghelli, J. (2014). Scholarship of teaching and learning for quality teaching and learning in higher education. European Journal of Research on Education and Teaching, Special Issue: Scholarship of Teaching and Learning, 7(1), 107–128.

Gleanson, M. (1986). Better Communication in Large Courses. College Teaching, 34, 20–24.

Golbeck, S. L., & El-Moslimany, H. (2013). Developmental approaches to collaborative learning. In C. E. Hmelo-Silver, C. A. Chinn, C. K. K. Chan, & A. O'Donnell (Eds.), The international handbook of collaborative learning (pp. 41–56). New York: Routledge.

Hamilton, E. R. (2007, July). Principles and grand challenges for the future: A prospectus for the computer-supported collaborative learning (CSCL) community. In Proceedings of the 8th international conference on computer supported collaborative learning (pp. 247–256). International Society of the Learning Sciences.

Hansen, R. S. (2006). Benefits and problems with student teams: Suggestions for improving team projects. Journal of Education for Business, 82(1), 11–19.

Hertel, G. (2011). Synergetic effects in working teams. Journal of Managerial Psychology, 26(3), 176–184.

High Level Group on the Modernisation of Higher Education. (2013). Report to the European Commission on improving teaching quality and learning in Europe's higher education institutions. Retrieved 4/5/2015 from http://ec.europa.eu/education/library/reports/modernisation_en.pdf.

Hommes, J., Arah, O. A., de Grave, W., Schuwirth, L. W., Scherpbier, A. J., & Bos, G. M. (2014). Medical students perceive better group learning processes when large classes are made to seem small. PLoS ONE, 9(4), e93328.

Hyde, J. S., & Kling, K. C. (2001). Women, motivation, and achievement. Psychology of Women Quarterly, 25(4), 364–378.

Joyce, W. B. (1999). On the free-rider problem in cooperative learning. Journal of Education for Business, 74(5), 271–274.

Karadimce, A., & Davcev, D. (2013). Experiments in collaborative cloud-based distance learning. In Presented at the third international conference on advanced collaborative networks, systems and applications (COLLA), Nice, June 21–26, 2013. Chamonix: IARIA XPS Press.

Karau, S. J., & Williams, K. D. (1993). Social loafing: A meta-analytic review and theoretical integration. Journal of Personality and Social Psychology, 65(4), 681–706.

Kelly, D., Baxter, J. S., & Anderson, A. (2010). Engaging first-year students through online collaborative assessments. Journal of Computer Assisted Learning, 26(6), 535–548.

Kerr, N. L. (1983). Motivation losses in small groups: A social dilemma analysis. Journal of Personality and Social Psychology, 45(4), 819–828.

Kerr, N. L., & Bruun, S. E. (1983). Dispensability of member effort and group motivation losses: Free-rider effects. Journal of Personality and Social Psychology, 44(1), 78–94.

Latane, B., Williams, K., & Harkins, S. (1979). Many hands make light the work: The causes and consequences of social loafing. Journal of Personality and Social Psychology, 37(6), 822–832.

Laurillard, D. (2012). Teaching as a design science: Building pedagogical patterns for leaning and technology. New York: Routledge.

Lave, J., & Wenger, E. (1991). Situated learning: Legitimate peripheral participation. Cambridge: Cambridge University Press.

Leger, A., Godlewska, A., Adjei, J., Schaefli, L., Whetstone, S., Finlay, J., Roy, R., & Massey, J. (2013). Large first-year course re-design to promote student engagement and student learning. Toronto: Higher Education Quality Council of Ontario. Retrieved August 24, 2014, from http://www.heqco.ca/SiteCollectionDocuments/Large%20First%20Year%20Course%20Redesign%20ENG.pdf.

Littleton, K., & Light, P. (1999). Learning with computers: Analysing productive interaction. London: Psychology Press.

McBroom, W. H., & Reed, J. (1994). An alternative to a traditional lecture course. Teaching Sociology, 22, 328–332.

McCorkle, D. E., Reardon, J., Alexander, J. F., Kling, N. D., Harris, R. C., & Iyer, R. V. (1999). Undergraduate marketing students, group projects, and teamwork: The good, the bad, and the ugly? Journal of Marketing Education, 21(2), 106–117.

McInerney, M. J., & Fink, L. D. (2003). Team-based learning enhances long-term retention and critical thinking in an undergraduate microbial physiology course. Microbiology Education, 4(3), 3–12.

Monks, J., & Schimidt, R. (2010). The impact of class size and number of students on outcomes in higher education (electronic version). Retrieved December 16, 2016, from Cornell University, School of Industrial and Labor Relations site: http://digitalcommons.ilr.cornell.edu/workingpapers/114.

Moore, M. G. (1989). Editorial: Three types of interaction. American Journal of Distance Education, 3(2), 1–7.

Morris, R., & Hayes, C. (1997). Small group work: Are group assignments a legitimate form of assessment. In Learning through teaching (pp. 229–233).

Nicol, D. J., & Boyle, J. T. (2003). Peer instruction versus class-wide discussion in large classes: A comparison of two interaction methods in the wired classroom. Studies in Higher Education, 28(4), 457–473.

Nicol, D. J., & Macfarlane-Dick, D. (2006). Formative assessment and self-regulated learning: A model and seven principles of good feedback practice. Studies in Higher Education, 31(2), 199–218.

Panitz, T. (1999). The motivational benefits of cooperative learning. New Directions for Teaching and Learning, 1999(78), 59–67.

Pask, G. (1976). Styles and strategies of learning. British Journal of Educational Psychology, 46(2), 128–148.

Pomerantz, E. M., Altermatt, E. R., & Saxon, J. L. (2002). Making the grade but feeling distressed: Gender differences in academic performance and internal distress. Journal of Educational Psychology, 94(2), 396–404.

Ramsden, P. (2003). Learning to teach in higher education. London: Routledge/Falmer.

Rovai, A. P. (2002). Sense of community, perceived cognitive learning, and persistence in asynchronous learning networks. The Internet and Higher Education, 5(4), 319–332.

Ryan, R. M., & Deci, E. L. (2000). Intrinsic and extrinsic motivations: Classic definitions and new directions. Contemporary Educational Psychology, 25(1), 54–67.

Schnake, M. E. (1991). Equity in effort: The "sucker effect" in co-acting groups. Journal of Management, 17(1), 41–55.

Shimazoe, J., & Aldrich, H. (2010). Group work can be gratifying: Understanding and overcoming resistance to cooperative learning. College Teaching, 58(2), 52–57.

Steiner, I. D. (1972). Group processes and productivity. New York: Academic.

Vygotsky, L. S. (1978). Mind in society: The development of higher psychological processes. Cambridge: Harvard University Press.

Wilberg, S., & Lynn, R. (1999). Sex differences in historical knowledge and school grades: A 26 nation study. Personality and Individual Differences, 27(6), 1221–1229.

Witkin, H. A. (1972, November). The role of cognitive style in academic performance and in teacher–student relations. In Presented at the symposium on "Cognitive Styles, Creativity and Higher Education" sponsored by the Graduate Record Examination Board, Montreal, Canada, November 8–10 (pp. 1–58). Princeton, NJ: Educational Testing Service.

Witkin, H. A., Moore, C. A., Goodenough, D. R., & Cox, P. W. (1977). Field-dependent and field-independent cognitive styles and their educational implications. Review of Educational Sciences, 47(1), 1–64.

Yamarik, S. (2007). Does cooperative learning improve student learning outcomes? The Journal of Economic Education, 38(3), 259–277.

Yang, N. (2014). Perception and barriers of quality teaching: From the perspective of university teachers in Italy, UK and China. Formazione and Insegnamento, European Journal of Research on Education and Teaching, Special Issue: Scholarship of Teaching and Learning, 7(1), 275–288.
Acknowledgements
We would like to thank the Department of Psychology and Cognitive Sciences at the University of Trento for offering Nan Yang a Full Scholarship as this research was done during her doctoral study. We also would like to thank the Dean of the Department, Professor Remo Job, for giving us permission to access to the students' university entrance data and Marta Cazzanelli for her continual help in providing data about students' exam scores in the Philosophy of Science Course. Besides, we would like to thank Professor Lombardi and Professor Micciolo for their suggestions on the regression analysis. Last but not least, we would like to thank Dr. Magda Altman for proofreading.
Ethics declarations
Conflict of interest
The authors declare that they have no conflict of interest.
Ethical approval
We received ethical approval from the Ethics Committee of our university, and we also followed the BERA 2011 Ethical Guidelines to conduct this study. Informed consent was obtained from all individual participants in this study.
Electronic supplementary material
Below is the link to the electronic supplementary material.
About this article
Cite this article
Yang, N., Ghislandi, P. & Dellantonio, S. Online collaboration in a large university class supports quality teaching. Education Tech Research Dev 66, 671–691 (2018). https://doi.org/10.1007/s11423-017-9564-8
Keywords
Computer-supported collaborative learning

Mixed method

Learning design

Large class pedagogy