Abstract
Boys are less likely to receive praise and recognition for good schoolwork, to consider school important, and have fewer opportunities to do the things that they do best (Lopez and Calderon in How America's boys become psychological dropouts. The gallup blog, 2013). Traditional school cultures have come in conflict with the normal and natural ways that boys behave. As a result, boys have had alienating experiences and high levels of disengagement and lowered academic success in school due to rejection of boy culture, which includes aggressive play, competition, and violent fantasy. The purpose of this study was to explore ways in which we can re-engage boys and enhance their learning opportunities in traditional classroom settings. Boys are drawn to video games, which offer a unique environment where they can engage in learning activities. By taking seriously the indigenous knowledge of this portion of boy culture, we may identify ways in which their expertise can become useful towards common learning goals (Carr-Chellman 2007; Carr-Chellman and Savoy 2004). The current analysis represents the first of a multiphase study that uses an interpretive lens within a CHAT framework to identify relevant learning in Commercial of the Shelf (COTS) games. This phenomenological design identifies learning accounts that map to the United States Common Core State Standards. Our findings suggest that engaged learning can occur for these boys as a result of playing games. COTS games engage boys in normal and natural ways, and consequently can be relevant learning tools that educators, researchers and instructional designers might employ toward traditional learning objectives.
This is a preview of subscription content, log in to check access.
Access options
Buy single article
Instant access to the full article PDF.
US$ 39.95
Price includes VAT for USA
Subscribe to journal
Immediate online access to all issues from 2019. Subscription will auto renew annually.
US$ 99
This is the net price. Taxes to be calculated in checkout.
Notes
1.

According to the CHAT lens we must consider the object, subject and activity as an integrating unit (Engeström 2000). We argue that video games are embedded within boy culture. While history provides us information into the nature of boys, illuminated by video game play. Motivation speaks to cultural motivations for boys to play aggressively in competition and exhibit autonomy; they seek challenges and exhibit emotional feelings of belonging. As a result of cultural and historical (motivation/interest) accounts of involvement within the system, boys describe products of learning (aligned with CCSS and beyond).
References
Abrams, S. S. (2009). A gaming frame of mind: Digital contexts and academic implications. Educational Media International, 46(4), 335–347.

Allen, D., Karanasios, S., & Slavova, M. (2011). Working with activity theory: Context, technology, and information behavior. Journal of the American Society for Information Science and Technology, 62(4), 776–788.

Archibald, M. M. (2016). Investigator triangulation: A collaborative strategy with potential for mixed methods research. Journal of Mixed Methods Research, 10(3), 228–250.

Bakhurst, D. (2009). Reflections on activity theory. Educational Review, 61(2), 197–210.

Barab, S., Thomas, M., Dodge, T., Carteaux, R., & Tuzun, H. (2005). Making learning fun: Quest Atlantis, a game without guns. Educational Technology Research and Development, 53(1), 86–107.

Barritt, L., Beekman, T., Bleeker, H., & Mulderij, K. (1985). Researching educational practice. University of North Dakota: Center for Teaching and Learning.

Black, R. W., & Steinkuehler, C. (2009). Literacy in virtual worlds. In L. Christenbury, R. Bomer, & P. Smagorinski (Eds.), Handbook of adolescent literacy research. New York, NY: Guilford Press.

Blair, H. A., & Sanford, K. (2004). Morphing literacy: Boys reshaping their school-based literacy practices. Language Arts, 81(6), 452–460.

Blizzard Entertainment. (2016). StarCraft. Retrieved from http://us.blizzard.com/en-us/games/sc/.

Bourgonjon, J., De Grove, F., De Smet, C., Van Looy, J., Soetaert, R., & Valcke, M. (2013). Acceptance of game-based learning by secondary school teachers. Computers & Education, 67, 21–35. https://doi.org/10.1016/j.compedu.2013.02.010.

Carr-Chellman, A. (2007). User design. Mahwah, NJ: Lawrence Erlbaum Associates.

Carr-Chellman, A. (2011, Jan). TedxPSU. Carr-Chellman: Gaming to re-engage boys in learning. Retrieved from https://www.ted.com/talks/ali_carr_chellman_gaming_to_re_engage_boys_in_learning/transcript?language=en.

Carr-Chellman, A. (2012). Bring back the boys. Learning & Leading with Technology, 39(7), 12–15.

Carr-Chellman, A., & Savoy, M. (2004). User-design research. In M. Spector, M. D. Merrill, J. Elen, & M. J. Bishop (Eds.), Handbook of research on educational communications and technology (pp. 701–715). New York: Springer.

Center on Education Policy (2010). Are there differences in achievement between boys and girls? Retrieved from http://www.cbsnews.com/htdocs/pdf/GenderReportMarch2010.pdf.

Chen, N., & Hwang, G. (2014). Transforming the classroom: Innovative digital game-based learning designs and applications. Educational Technology Research and Development., 62, 125–128.

Creswell, J. W., & Miller, D. L. (2000). Determining validity in qualitative inquiry. Theory into Practice, 39(3), 124–130.

DiPrete, T. A., & Buchmann, C. (2013). Gender disparities in educational attainment in the new century: Trends, Causes and Consequences. Providence: American Communities Project of Brown University.

Drever, E. (1995). Using semi-structured interviews in small-scale research. A teacher's guide. Edinburgh: Scottish Council for Research in Education.

Duggan, M. (2015). Gaming and gamers. Retrieved from http://www.pewinternet.org/2015/12/15/gaming-and-gamers/.

Engeström, Y. (1987). Learning by expanding: An activity-theoretical approach to developmental research.

Engeström, Y. (1999). 23 Innovative learning in work teams: Analyzing cycles of knowledge creation in practice. Perspectives on Activity Theory. https://doi.org/10.1017/CBO9780511812774.025.

Engeström, Y. (2000). Activity theory as a framework for analyzing and redesigning work. Ergonomics, 43(7), 960–974.

Etikan, I., Musa, S. A., & Alkassim, R. S. (2016). Comparison of convenience sampling and purposive sampling. American Journal of Theoretical and Applied Statistics, 5(1), 1–4.

Foot, K. A. (2014). Cultural-historical activity theory: Exploring a theory to inform practice and research. Journal of Human Behavior in the Social Environment, 24(3), 329–347.

Gee, J. P. (1999). Reading and the new literacy studies: Reframing the National Academy of Sciences' Report on Reading. Journal of Literacy Research, 31, 355–374.

Gee, J. P. (2000). The new literacy studies: From 'socially situated' to the work. Situated literacies: Reading and writing in context (p. 180). London: Routledge.

Gee, J. P. (2005). Good video games and good learning. In Phi Kappa Phi Forum (Vol. 85, No. 2, p. 33). The Honor Society of Phi Kappa Phi.

Gee, J. P. (2007). What video games have to teach us about learning and literacy: Revised and Updated Edition. Macmillan.

Gee, J. P. (2013, November) Gee Principle 13-meaning as action. In Video games & learning. Retrieved from https://class.coursera.org/videogameslearning-001/wiki/week-one.

Gerber, H. R., & Abrams, S. S. (Eds.). (2014). Bridging literacies with videogames. Rotterdam: Sense Publishers.

Groenewald, T. (2004). A phenomenological research design illustrated. International Journal of Qualitative Methods, 3 (1). Article 4.

Hycner, R. (1985). Some guidelines for the phenomenological analysis of interview data. Human Studies, 8(3), 279–303. Retrieved from: http://link.springer.com/article/10.1007/BF00142995.

Jenkins, H. (2006). Convergence culture: Where old and new media collide. New York, NY: NYU Press.

Jick, T. D. (1979). Mixing qualitative and quantitative methods: Triangulation in action. Administrative Science Quarterly, 24(4), 602–611.

Jonassen, D. H., & Rohrer-Murphy, L. (1999). Activity theory as a framework for designing constructivist learning environments. Educational Technology Research and Development, 47(1), 61–79.

Jørgensen, K. (2008). Researching players to understand the game. In Proceedings of the [player]conference (Iversen, S.M) (pp. 196–219), Copenhagen: Denmark.

Kimmel, M. (2006). A war against boys? Dissent, 53(4), 65–70.

Kindlon, D., & Thompson, M. (2009). Raising cain: Protecting the emotional life of boys. New York, NY: Random House LLC.

Kirst, M. W., (2013). Women earn more degrees than men: Gap keeps increasing. The college puzzle: Stanford University. Retrieved from https://collegepuzzle.stanford.edu/?tag=women-exceed-men-in-college-graduation.

Kvale, S. (1996). Interviews: An introduction to qualitative research interviewing. Thousan Oaks, CA: Sage.

Lahey, J. (2013). Stop Penalizing boys for not being able to sit still at school. Retrieved from http://www.theatlantic.com/sexes/archive/2013/06/stop-penalizing-boys-for-not-being-able-to-sit-still-at-school/276976/.

Leu, D. J., Kinzer, C. K., Coiro, J. L., & Cammack, D. W. (2004). Toward a theory of new literacies emerging from the Internet and other information and communication technologies. Theoretical Models and Processes of Reading, 5(1), 1570–1613.

Lin, C. S. (2013). Revealing the "Essence" of things: Using phenomenology in LIS research. Qualitative and Quantitative Methods in Libraries (QQML), 4(469), 478.

Lincoln, Y. S., & Guba, E. G. (1985). Naturalistic inquiry (Vol. 75). Newbury Park, CA: Sage.

Lopez, S., & Calderon, V. (2013). How American's boys become psychological dropouts The Gallup Blog. Retrieved from: http://www.gallup.com/opinion/gallup/171629/america-boys-become-psychological-dropouts.aspx?utm_source=How%20American%E2%80%99s%20Boys%20Become%20Psychological%20Dropouts&utm_medium=search&utm_campaign=tiles.

Lunde, Å., Heggen, K., & Strand, R. (2013). Knowledge and power: Exploring unproductive interplay between quantitative and qualitative researchers. Journal of Mixed Methods Research, 7(2), 197–210.

Martin, A. (2002). Improving the educational outcomes of boys. Report to Australia Capital Territory Department of Education, Youth and Family Services. Australia.

Mortenson, T. (2011). Boys project: Helping boys become successful men. Postsecondary Education OPPORTUNITY. Retrieved from http://www.avoiceformalestudents.com/wp-content/uploads/2013/10/ForEvery100Girls.pdf.

Moustakas, C. (1994). Phenomenological research methods. Thousand Oaks, CA: SAGE Publications, Inc. https://doi.org/10.4135/9781412995658.

National Governors Association & Council of Chief State School Officers (2012). Common Core State Standards Initiative. Retrieved from http://www.corestandards.org.

National Literacy Trust. (2012). Boys Reading Commission. Retrieved from http://www.literacytrust.org.uk/assets/0001/4056/Boys_Commission_Report.pdf.

Newkirk, T. (2002). Misreading masculinity: Boys, literacy, and popular culture. Heinemann, 361 Hanover Street, Portsmouth, NH 03801-3912.

Phan, M. H., Jardina, J. R., & Hoyle, W. S. (2012). Video Games: Males prefer violence while females prefer social. Retrieved from http://usabilitynews.org/video-games-males-prefer-violence-while-females-prefer-social/.

Pollack, W. S. (2006). The "war" for boys: Hearing "real boys" voices, healing their pain. Professional Psychology: Research and Practice, 37(2), 190.

Prensky, M. (2001). Digital natives, digital immigrants part 1. On the Horizon, 9(5), 1–6.

Prensky, M. (2005). "Engage me or enrage me": What today's learners demand. Educause Review, 40(5), 60.

Prensky, M. (2006). Don't bother me, mom, i'm learning!: How computer and video games are preparing your kids for 21st century success and how you can help!. New York: Paragon House.

Public Broadcasting Service Parents. (2015). Understanding and raising boys: Active or aggressive boys? Retrieved from http://www.pbs.org/parents/raisingboys/aggression.html.

Ragusa, G. (2014). Gender, social media, games and the college landscape. In W. G. Tierney, Z. B. Corwin, T. Fullerton, & G. Ragusa (Eds.), Postsecondary play: The role of games and social media in higher education. Baltimore: JHU Press.

Robson, C., & McCartan, K. (2016). Real world research. London: Wiley.

Rossman, G. B., & Rallis, S. F. (2012). Learning in the field: An introduction to qualitative research. Thousand Oaks: Sage.

Roth, W. M., & Lee, Y. J. (2007). "Vygotsky's Neglected Legacy": Cultural-historical activity theory. Review of Educational Research, 77(2), 186–232. https://doi.org/10.3102/0034654306298273.

Sarason, S. B. (1996). Revisiting "the culture of the school and the problem of change". New York, NY: Teachers College.

Sax, L. (2007). Why gender matters: What parents and teachers need to know about the emerging science of sex differences. New York, NY: Random House LLC.

Seidman, I. (1998). Interviewing as qualitative research. New York: Teachers.

Shaffer, D. W., Squire, K. R., Halverson, R., & Gee, J. P. (2005). Video games and the future of learning. Phi Delta Kappan, 87(2), 104.

Snyder, T. D., & Dillow, S. A. (2011). Digest of education statistics 2011. National Center for Education Statistics.

Sommers, C. H. (2001). The war against boys: How misguided feminism is harming our young men. Simon and Schuster.

Squire, K. (2005). Changing the game: What happens when video games enter the classroom. Innovate: Journal of Online Education 1(6) Article 5.

Squire, K. (2006). From content to context: Videogames as designed experience. Educational Researcher, 35(8), 19–29.

Squire, K. D. (2007). Games, learning, and society: Building a field. Educational Technology- Saddle Brook Then Englewood Cliffs: NJ, 47(5), 51.

Squire, K. D. (2008). Video-game literacy: A literacy of expertise. In J. Coiro, M. Knobel, C. Lankshear, & D. Leu (Eds.), A handbook of research on new literacies (pp. 611–634). New York: Lawrence Erlbaum Associates.

Squire, K. D., DeVane, B., & Durga, S. (2008). Designing centers of expertise for academic learning through video games. Theory Into Practice, 47(3), 240–251.

Stanford Encyclopedia of Philosophy. (2015). Phenomenology Retrieved from http://plato.stanford.edu/entries/phenomenology/.

Steinkuehler, C. (2011). The Mismeasure of Boys: Reading and Online Videogames (No. 2011-3). WCER Working Paper.

Steinkuehler, C., & King, E. (2009). Digital literacies for the disengaged: Creating after school contexts to support boys' game-based literacy skills. On the Horizon, 17(1), 47–59.

Van Eck, R. (2006). Digital game-based learning: It's not just the digital natives who are restless. EDUCAUSE review, 41(2), 16.

Van Eck, R. (2009). A guide to integrating COTS games into your classroom. In R. E. Ferdig (Ed.), Handbook of research on effective electronic gaming in education (pp. 179–199). Hershey, PA: Information Science.

Van Manen, M. (1990). Researching lived experience: Human science for an action sensitive pedagogy. Albany, NY: State University of New York Press.

Van Manen, M. (2007). Phenomenology of practice. Phenomenology & Practice, 1(1), 11–30.

Watson, A., Kehler, M., & Martino, W. (2010). The problem of boys' literacy underachievement: Raising some questions. Journal of Adolescent & Adult Literacy, 53(5), 356–361.

Weis, R., & Cerankosky, B. C. (2010). Effects of video-game ownership on young boys' academic and behavioral functioning a randomized, controlled study. Psychological Science, 21(4), 463–470.

Werbach, K. (2013, March). The History of Gamification. Gamification, Lecture conducted from University of Pennsylvania for Coursera.org.

Whitmire, R. (2010). Why boys fail: Saving our sons from an educational system that's leaving them behind. AMACOM Div American Mgmt Assn.

Younger, M., Warrington, M., & McLellan, R. (2005). Raising boys' achievements in secondary schools: Issues, dilemmas and opportunities. Maidenhead: Open University Press/McGraw Hill.
Appendices
Appendix 1
Research study phase 1
Protocol questions for students
1.

What games do you like to play?

2.

Describe how you feel when you play this game? Why?

3.

Do you think you learn from games? What sorts of things have you learned?

4.

What is the overall goal? What must you do to accomplish these goals in the game? What do you do when you fail or do not succeed?

5.

What particular skills do you need to be successful at this game?

6.

Did you need to learn new vocabulary, if so give an example and explain how that helped you master that stage or complete that stage? Have you used or seen these vocabulary words elsewhere? If so how has this helped you?

7.

Does this game require you to read the information on the screen? Is it crucial to the success of any level to read the prompts on the screen?

8.

When you sit down to play do you develop a game plan, strategize? Give an example?

9.

Do you have share strategies and concepts with friends? What do you guys talk about? Can you give an example?

10.

Can you identify a time where you have used a skill that you've learned from a video game in real life? How has it impacted how you view this event?
Appendix 2
Open-coding framework through CHAT lensFootnote 1
Motivation
1.

Feeling (MOTIVF)

2.

Challenging (MOTIVC)

3.

Self-choice (MOTIVS)

4.

Provokes Inquiry (MOTIVPI)

5.

Psychosocial Moratorium (MOTIVPM)
Learning
1.

Identify Key Ideas/Themes (LEARNID)

2.

Analyze Key Ideas (LEARNAN)

3.

Interpret words, phrases and concepts (LEARNINT)

4.

Integration of Knowledge (LEARNINTG)

5a

Comprehension and Collaboration (LEARNCOM)

5b

Comprehension and Collaboration (LEARNCOLL)

6.

Verbal Presentation of Knowledge (LEARNVERB)

7.

Vocabulary Acquisition and Use (LEARNVOC)

8.

Community Language (LEARNCL)

9.

Hand–Eye Coordination (LEARNHI)

10.

Learn From Failure (LEARNFF)

11.

Other (LEARNTOTH____________)

12.

Recall

13.

Reinforced
Problem solving
1.

Goal setting (PROBGS)

2.

Analysis (PROBAN)

a.

Strategic thinking

b.

Extended thinking

3.

Evaluation (PROBEV)
Transfer
1.

Expertise (TRANSEXP)

2.

Novice (TRANSNOV)
Interest
1.

Experience (INTEXP)

2.

Other (INT_________) (Example: INTHIST, INTGEO)
Appendix 3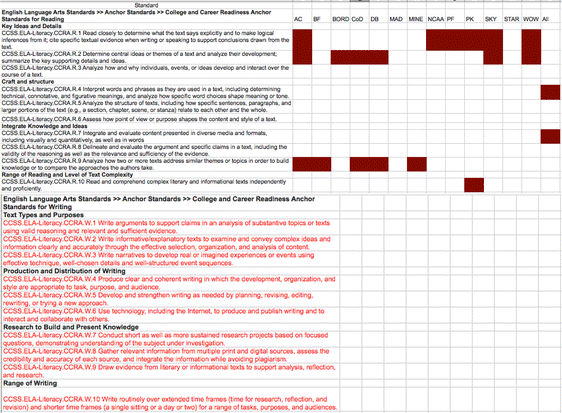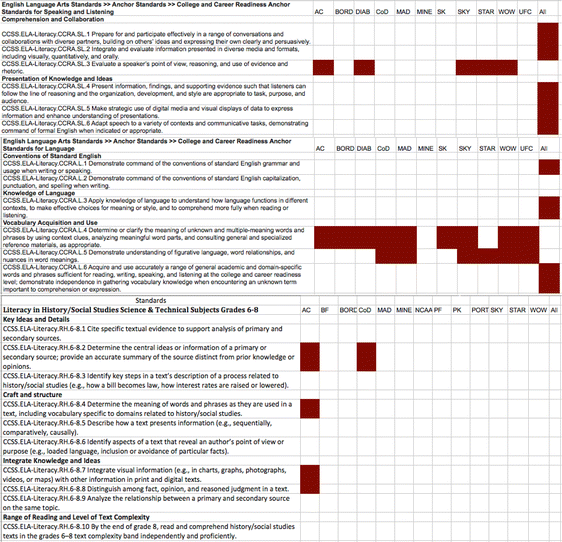 Appendix 4
| Games played | Learning |
| --- | --- |
| Assassins creed | Identify Themes, American wars, strong community language, goal setting, critical reading, military tactics, chain of command, strategic thinking, moral decision making, history |
| Baseball | Hand eye coordination, MLB players, league infrastructure, how to play the game of baseball |
| Battlefield | Military tactics, situational awareness, collaboration, communication |
| Borderlands | Law enforcement, money management, information literacy |
| Call of duty | Military tactics, situational awareness, manual dexterity, hand eye coordination, collaboration, following instructions, observatory learning, chain of command, strategic thinking, history, developing learning strategies |
| Diablo | Critical reading, strategic thinking, strong community language |
| Driving games | Vocabulary acquisition, how to operate a variety of cars |
| Halo | Military tactics, strategic thinking, collaboration, telecommunication |
| Little big planet | Hopefulness, grit |
| Madden | Grit, problem solving, extended thinking, collaboration, communication, telecommunication, strong community language, utilizing resource, transfer, manual dexterity, hand eye coordination, information literacy |
| Minecraft | Strategic thinking, strong community language, information systems technology, engineering, collaboration, communication, resource management, information literacy |
| NBA2K | Dribbling, shooting, defensive and offensive plays, utilizing resource management, information literacy |
| NCAA football | Critical reading, transfer, strategic thinking |
| Phineas & Ferb | Critical reading |
| Pokémon | Critical reading, vocabulary acquisition, identify themes/narratives, plots |
| Portal | Strategic planning, innovation/creativity, grit |
| Skate | Strong community language, transfer |
| Skyrim | Strategic thinking, strong community language, information literacy, grit |
| Starcraft | Startegic thinking, strong community language, grit, hierarchy, information literacy |
| UFC | Startegic thinking, transfer, hand–eye–coordination, strong comunity language |
| World of warcraft | Critical reading, identify themes, collection of learned skills, strong community language, resource management, information literacy |
About this article
Cite this article
Engerman, J.A., MacAllan, M. & Carr-Chellman, A.A. Games for boys: a qualitative study of experiences with commercial off the shelf gaming. Education Tech Research Dev 66, 313–339 (2018). https://doi.org/10.1007/s11423-017-9548-8
Keywords
Boy culture

COTS gaming

Common core

Engagement