Abstract
The purpose of this study was to examine student perceptions of privacy principles related to learning analytics. Privacy issues for learning analytics include how personal data are collected and stored as well as how they are analyzed and presented to different stakeholders. A total of 330 university students participated in an exploratory study confronting them with learning analytics systems and associated issues of control over data and sharing of information. Findings indicate that students expect learning analytics systems to include elaborate adaptive and personalized dashboards. Further, students are rather conservative in sharing data for learning analytics systems. On the basis of the relationship between the acceptance and use of learning analytics systems and privacy principles, we conclude that all stakeholders need to be equally involved when learning analytics systems are implemented at higher education institutions. Further empirical research is needed to elucidate the conditions under which students are willing to share relevant data for learning analytics systems.
This is a preview of subscription content, log in to check access.
Access options
Buy single article
Instant access to the full article PDF.
US$ 39.95
Price includes VAT for USA
Subscribe to journal
Immediate online access to all issues from 2019. Subscription will auto renew annually.
US$ 99
This is the net price. Taxes to be calculated in checkout.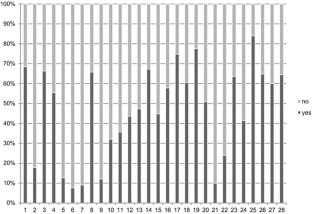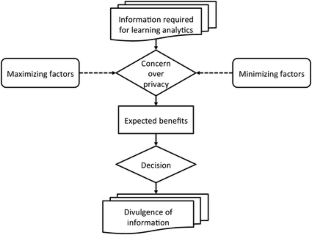 References
Aïmeur, E., Hage, H., & Onana, F. S. M. (2008). Anonymous credentials for privacy-preserving e-learning. Paper presented at the International MCETECH Conference.

Ali, L., Hatala, M., Gašević, D., & Jovanović, J. (2012). A qualitative evaluation of evolution of a learning analytics tool. Computers & Education, 58(1), 470–489.

Arnold, K. E., & Pistilli, M. D. (2012). Course signals at Purdue: using learning analytics to increase student success. Paper presented at the 2nd International Conference on Learning Analytics and Knowledge, Vancouver.

Azevedo, R., Johnson, A., Chauncey, A., & Burkett, C. (2010). Self-regulated learning with MetaTutor: advancing the science of learning with metacognitive tools. In M. S. Khine & I. M. Saleh (Eds.), New science of learning (pp. 225–247). New York: Springer.

Bannert, M. (2009). Promoting self-regulated learning through prompts. Zeitschrift für Pädagogische Psychologie, 23(2), 139–145.

Berland, M., Baker, R. S. J. D., & Bilkstein, P. (2014). Educational data mining and learning analytics: applications to constructionist research. Technology, Knowledge and Learning, 19(1–2), 205–220. doi:10.1007/s10758-014-9223-7.

Clarke, J., & Nelson, K. (2013). Perspectives on learning analytics: issues and challenges. Oberservations from Shane Dawson and Phil Long. The International Journal of the First Year in Higher Education, 4(1), 1–8. doi:10.5204/intjfyhe.v4i1.166.

Dinev, T., & Hart, P. (2006). An extended privacy calculus mode for E-Commerce transactions. Information Systems Research, 17, 61–80.

Dringus, L. P. (2012). Learning analytics considered harmful. Journal of Asynchronous Learning Networks, 16(3), 87–100.

Elgesem, D. (1999). The structure of rights in directive 95/46/EC on the protection of individuals with regard to the processing of personal data and the free movement of such data. Ethics and Information Technology, 1(4), 283–293.

Ertmer, P. A., & Newby, T. J. (1996). The expert lerner: strategic, self-regulated, and reflective. Instructional Science, 24(1), 1–24.

Gašević, D., Dawson, S., Rogers, T., & Gašević, D. (2016). Learning analytics should not promote one size fits all: the effects of instructional conditions in predicting academic success. Internet and Higher Education, 28, 68–84.

Gašević, D., Dawson, S., & Siemens, G. (2015). Let's not forget: learning analytics are about learning. TechTrends, 59(1), 64–71. doi:10.1007/s11528-014-0822-x.

Gonzalez, D. (2015). Managing online risk: Apps, mobile, and social media security. Oxford: Elsevier.

Greller, W., & Drachsler, H. (2012). Translating learning into numbers: a generic framework for learning analytics. Educational Technology & Society, 15(3), 42–57.

Heath, J. (2014). Contemporary privacy theory contributions to learning analytics. Journal of Learning Analytics, 1(1), 140–149.

Ifenthaler, D. (2015a). Learning analytics. In J. M. Spector (Ed.), The SAGE encyclopedia of educational technology (Vol. 2, pp. 447–451). Thousand Oaks: Sage.

Ifenthaler, D. (2015b). Model-based approaches. In J. M. Spector (Ed.), The SAGE encyclopedia of educational technology (Vol. 2, pp. 512–525). Thousand Oaks: Sage.

Ifenthaler, D., & Widanapathirana, C. (2014). Development and validation of a learning analytics framework: two case studies using support vector machines. Technology, Knowledge and Learning, 19(1–2), 221–240. doi:10.1007/s10758-014-9226-4.

Kay, D., Korn, N., & Oppennheim, C. (2012). Legal, risk and ethical aspects of analytics. Cetis Analytics Series, 1(6), 1–30.

Kay, R., & Siriwardena, A. K. (2001). The process of informed consent for urgent abdominal surgery. Journal of Medical Ethics, 27(3), 157–161. doi:10.1136/jme.27.3.157.

Kinshuk. (2012). Guest editorial: Personalized learning. Educational Technology Research and Development, 60(4), 561–562. doi:10.1007/s11423-012-9248-3.

Koedinger, K. R., & Aleven, V. (2007). Exploring the assistance dilemma in experiments with cognitive tutors. Educational Psychology Review, 19(3), 239–264.

Long, P. D., & Siemens, G. (2011). Penetrating the fog: analytics in learning and education. EDUCAUSE Review, 46(5), 31–40.

Macfadyen, L., & Dawson, S. (2012). Numbers are not enough Why e-Learning analytics failed to inform an institutional strategic plan. Educational Technology & Society, 15(3), 149–163.

Moore, S. L., & Ellsworth, J. B. (2014). Ethics of educational technology. In J. M. Spector, M. D. Merrill, J. Elen, & M. J. Bishop (Eds.), Handbook of research on educational communications and technology (pp. 113–127). New York: Springer.

Nissenbaum, H. (2004). Privacy as contextual integrity. Washington Law Review, 79(1), 119–157.

Nissenbaum, H. (2011). A contextual approach to privacy online. Deadalus, 140(4), 32–48.

Pardo, A., & Siemens, G. (2014). Ethical and privacy principles for learning analytics. British Journal of Educational Technology,. doi:10.1111/bjet.12152.

Pistilli, M. D., & Arnold, K. E. (2010). Purdue Signals: mining real-time academic data to enhance student success. About campus: Enriching the student learning experience, 15(3), 22–24.

Pitta, D. A., Fung, H.-G., & Isberg, S. (1999). Ethical issues across cultures: managing the differing perspectives of China and the USA. Journal of Consumer Marketing, 16(3), 240–256.

Prinsloo, P., & Slade, S. (2014). Student data privacy and institutional accountability in an age of surveillance. In M. E. Menon, D. G. Terkla, & P. Gibbs (Eds.), Using data to improve higher education. Research, policy and practice (pp. 197–214). Rotterdam: Sense Publishers.

Prinsloo, P., & Slade, S. (2015). Student privacy self-management: Implications for learning analytics. Paper presented at the Fifth International Conference on Learning Analytics and Knowledge, New York.

Slade, S., & Prinsloo, P. (2013). Learning analytics: ethical issues and dilemmas. American Behavioral Scientist, 57(10), 1510–1529. doi:10.1177/0002764213479366.

Solove, D. J. (2004). The digital person: Technology and privacy in the information age. New York: New York University.

Tinto, V. (2005). Reflections on student retention and persistence: moving to a theory of institutional action on behalf of student success. Studies in Learning, Evaluation, Innovation and Developmental Psychology, 2(3), 89–97.

Warren, S. D., & Brandeis, L. D. (1890). The right to privacy. Harvard Law Review, 4(5), 193–220.

Weippl, E. R., & Min Tjoa, A. (2005). Privacy in e-learning: anonymity, pseudonyms and authenticated usage. Interactive Technology and Smart Education, 2(4), 247–256.

Willis, I. J. E., & Strunk, V. A. (2015). Ethical responsibilities of preserving academecians in an age of mechanized learning: Balancing the demands of educating at capacity and preserving human interactivity. In J. White & R. Searle (Eds.), Rethinking machine ethics in the age of ubiquitous technology (pp. 166–195). Hershey: IGI Global.

Yeaman, A. R. J., Koetting, J. R., & Nichols, R. G. (1994). Critical theory, cultural analysis, and the ethics of educational technology as social responsibility. Educational Technology, 34(2), 5–13.
Ethics declarations
Conflict of interest
The authors declare that they have no conflict of interest.
About this article
Cite this article
Ifenthaler, D., Schumacher, C. Student perceptions of privacy principles for learning analytics. Education Tech Research Dev 64, 923–938 (2016). https://doi.org/10.1007/s11423-016-9477-y
Keywords
Learning analytics

Privacy

Control over data

Transparency

Higher education