Abstract
Critical thinking (CT) is a metacognitive process, consisting of a number of sub-skills and dispositions that, when used appropriately, increases the chances of producing a logical conclusion to an argument or solution to a problem. Though the CT literature argues that dispositions are as important to CT as is the ability to perform CT skills, the majority of research in the area has focused on CT skills. In addition, though most CT interventions are designed based on academic or expert definitions of CT, students are rarely, if ever, asked to guide their instruction by describing their perspectives on what constitutes CT. Thus, the current study used interactive management to examine similarities and differences in the way students and educators conceptualise CT dispositions. Interactive management (IM) is a computer-assisted process that allows a group to build a consensus-based structural model describing relations between elements in a system. Consistent with previous research, it is suggested that addressing how students conceptualise CT may provide a starting point to negotiate and innovative the CT curriculum and learning process. Furthermore, evaluating similarities and differences in the way students and educators understand CT dispositions may facilitate the building of complementary and integrative models of CT dispositions that reflect the full range of perspectives in University teaching environments. Results of the current study suggest that while students' conceptualisation of CT dispositions was largely consistent with both the educators' conceptualisation and dispositions highlighted in the extant literature, students' descriptions were broader, less abstract and more concrete accounts of CT dispositions; and were also primarily focused on utility or function rather than ideal principles of action. Results are discussed in light of research and theory on CT and best practice for CT instruction.
Access options
Buy single article
Instant access to the full article PDF.
US$ 39.95
Tax calculation will be finalised during checkout.
Subscribe to journal
Immediate online access to all issues from 2019. Subscription will auto renew annually.
US$ 79
Tax calculation will be finalised during checkout.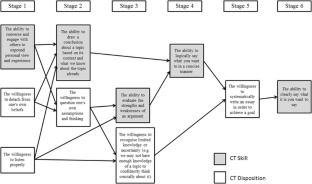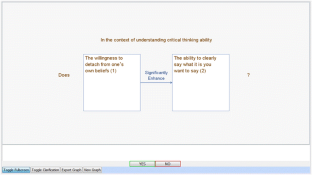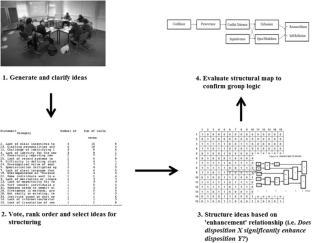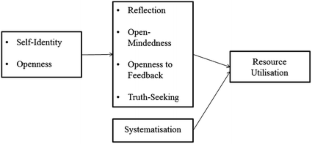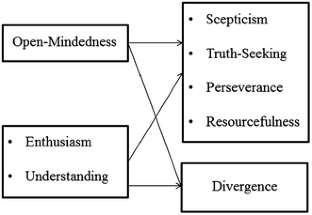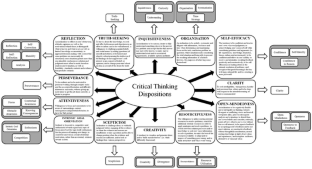 Notes
1.

2.

Though there is no standard percentage of votes that should be used to determine a 'yes' entry, it should be at least 51 %. Indeed, Warfield (1994) often used a 51 % majority, but depending on the circumstances and judged importance of degree of consensus in the model construction process, a higher percentage is often used. In these collaborative model building situations, there is often considerable discussion in advance of model structuring decisions; and thus, in the context of developing a consensus-based student-educator model of CT dispositions, as proposed by Dwyer, Hogan, et al. (2014b), a relatively high degree of consensus for each relation in the model (i.e. a 70 % 'yes' vote) was deemed reasonable.
References
Ackoff, R. L. (1981). Creating the corporate future: Plan or be planned for. New York: Wiley.

Argyris, C. (1982). Reasoning, learning, and action: Individual and organizational. San Francisco: Jossey-Bass.

Ashby, W. R. (1958). Requisite variety and its implications for the control of complex systems. Cybernetica, 1(2), 1–17.

Banich, M. T. (2009). Executive function: The search for an integrated account. Current Directions in Psychological Science, 18(2), 89–94.

Boomer, G. (1992). Negotiating the curriculum. In G. Boomer, N. Lester, C. Onore, & J. Cook (Eds.), Negotiating the curriculum: educating for the 21st century (pp. 4–13). London: Falmer.

Boulding, K. E. (1966). The impact of the social sciences. New Brunswick: Rutgers University Press.

Broome, B. J., & Chen, M. (1992). Guidelines for computer-assisted group problem-solving: Meeting the challenges of complex issues. Small Group Research, 23, 216–236.

Broome, B. J., & Fulbright, L. (1995). A multi-stage influence model of barriers to group problem solving. Small Group Research, 26, 25–55.

Butchart, S., Bigelow, J., Oppy, G., Korb, K., & Gold, I. (2009). Improving critical thinking using web-based argument mapping exercises with automated feedback. Australasian Journal of Educational Technology, 25(2), 268–291.

Cacioppo, J. T., Petty, R. E., & Kao, C. F. (1984). The efficient assessment of need for cognition. Journal of Personality Assessment, 48, 306–307.

Cleveland, H. (1973). The decision makers. Center Magazine, 6(5), 9–18.

Deal, T. E., & Kennedy, A. A. (1982). Corporate cultures: The rites and rituals of corporate life. Reading: Addison-Wesley.

Delbeq, A. L., Van De Ven, A. H., & Gustafson, D. H. (1975). Group techniques for program planning: A guide to nominal group and Delphi processes. Glenview: Scott, Foresman.

Dwyer, C. P., Boswell, A., & Elliott, M. A. (2015a). An evaluation of critical thinking competencies in business settings. Journal of Education for Business. doi:10.1080/08832323.2015.1038978.

Dwyer, C. P., Harney, O., Hogan, M. J., & O'Reilly, J. (2014a). Using interactive management to define and cultivate critical thinking competencies. Educational Technology Research & Development, 62, 687–709.

Dwyer, C. P., Hogan, M. J., & Stewart, I. (2011). The promotion of critical thinking skills through argument mapping. In C. P. Horvart & J. M. Forte (Eds.), critical thinking (pp. 97–122). New York: Nova Science Publishers.

Dwyer, C. P., Hogan, M. J., & Stewart, I. (2012). An evaluation of argument mapping as a method of enhancing critical thinking performance in e-learning environments. Metacognition and Learning, 7, 219–244.

Dwyer, C. P., Hogan, M. J., & Stewart, I. (2014b). An integrated critical thinking framework for the 21st century. Thinking Skills and Creativity, 12, 43–52.

Dwyer, C. P., Hogan, M. J., & Stewart, I. (2015b). The evaluation of argument mapping-infused critical thinking instruction as a method of enhancing reflective judgment performance. Thinking Skills and Creativity, 16, 11–26.

Engelmann, T., Baumeister, A., Dingel, A., & Hesse, F.W. (2010). The added value of communication in a CSCL-scenario compared to just having access to the partners' knowledge and information. In J. Sánchez, A. Cañas, & J.D. Novak (Eds.), Concept maps making learning meaningful: Proceedings of the 4th international conference on concept mapping, 1, (pp. 377–384). Viña del Mar: University of Chile.

Engelmann, T., & Hesse, F. W. (2010). How digital concept maps about the collaborators' knowledge and information influence computer-supported collaborative problem solving. Computer-Supported Collaborative Learning, 5, 299–319.

Ennis, R. H. (1987). A taxonomoy of critical thinking dispositions and abilities. In J. B. Baron & R. J. Sternberg (Eds.), Teaching Thinking Skills: Theory and Practice (pp. 9–26). New York: W.H. Freeman.

Ennis, R. (1991). Critical thinking. Teaching Philosophy, 14(1), 5–24.

Ennis, R. H. (1996). Critical thinking. Upper Saddle River: Prentice- Hall.

Ennis, R. H. (1998). Is critical thinking culturally biased? Teaching Philosophy, 21(1), 15–33.

Facione, P. A. (1990). The Delphi report: Committee on pre-college philosophy. Millbrae: California Academic Press.

Facione, P. A., & Facione, N. C. (1992). The California critical thinking dispositions inventory (CCTDI) and CCTDI Test Manual. Millbrae: California Academic Press.

Facione, P. A., Facione, N. C., Blohm, S. W., & Giancarlo, C. A. (2002). The California critical thinking skills test: CCTST. Form A, form B, and form 2000. Test manual, 2002 (updated ed.). Millbrae: Insight Assessment.

Gagne, R. M. (1985). Conditions of learning (2nd ed.). New York: Holt, Rinehart and Winston.

Groarke, J. M., & Hogan, M. J. (2016). Enhancing wellbeing: An emerging model of the adaptive functions of music listening. Psychology of Music, 44(4), 769–791.

Halpern, D. F. (2006). Is intelligence critical thinking? Why we need a new definition of intelligence. In P. C. Kyllonen, R. D. Roberts, & L. Stankov (Eds.), Extending intelligence: enhancement and new constructs (pp. 293–310). New York: Taylor and Francis Group.

Halpern, D. F. (2014). Thought and knowledge (5th ed.). New York: Psychology Press.

Hogan, M. J., Dwyer, C. P., Noone, C., Harney, O., & Conway, R. (2014). Metacognitive skill development and applied systems science: A framework of metacognitive skills, self-regulatory functions and real-world applications. In A. P. Ayala (Ed.), Metacognition: fundaments, applications, and trends (pp. 75–106). Berlin: Springer.

Hwang, G. J., Shi, Y. R., & Chu, H. C. (2011). A concept map approach to developing collaborative mindtools for context-aware ubiquitous learning. British Journal of Educational Technology, 42(5), 778–789.

Keever, D. B. (1989). Cultural complexities in the participative design of a computer-based organization information system. Paper presented at the International Conference on Support, Society and Culture: Mutual Uses of Cybernetics and Science, Amsterdam, April.

Kemeny, J. (1980). Saving American democracy: The lesson of Three Mile Island. Technology Review, 83(7), 64–75.

Kirschner, P. A., Sweller, J., & Clark, R. E. (2006). Why minimal guidance during instruction does not work: An analysis of the failure of constructivist, discovery, problem-based, experiential, and inquiry-based teaching. Educational Psychologist, 41(2), 75–86.

Ku, K. Y. L. (2009). Assessing students' critical thinking performance: Urging for measurements using multi-response format. Thinking Skills and Creativity, 4(1), 70–76.

Ku, K. Y. L., & Ho, I. T. (2010). Dispositional factors predicting Chinese students' critical thinking performance. Personality and Individual Differences, 48, 54–58.

Lloyd, M., & Bahr, N. (2010). Thinking critically about critical thinking in higher education. International Journal for the Scholarship of Teaching and Learning, 4(2), 1–5.

Mayer, R. E. (2004). Should there be a three-strikes rule against pure discovery learning? The case for guided methods of instruction. American Psychologist, 59(1), 14–19.

Miller, G. A. (1956). The magical number seven, plus or minus two: Some limits on our capacity for processing information. Psychology Review, 63, 81–97.

Moseley, D., Baumfield, V., Elliot, J., Gregson, M., Higgins, S., Miller, J., & Newton, D. (2005). Frameworks for thinking: A handbook for teaching and learning. Cambridge: Cambridge University Press.

Norris, S. P. (1994). The meaning of critical thinking test performance: The effects of abilities and dispositions on scores. Critical thinking: Current research, theory, and practice. Dordrecht: Kluwer.

Paul, R., & Elder, L. (2008). Miniature guide to critical thinking concepts and tools. The foundation for critical thinking. Dillon Beach: Foundation for Critical Thinking Press.

Perkins, D. N., Jay, E., & Tishman, S. (1993). Beyond abilities: A dispositional theory of thinking. Merrilll Palmer Quarterly, 39, 1.

Perkins, D. N., & Ritchhart, R. (2004). When is good thinking? In D. Y. Dai & R. J. Sternberg (Eds.), Motivation, emotion, and cognition: integrative perspectives on intellectual functioning and development (pp. 351–384). Mawah: Erlbaum.

Pintrich, P. R., Smith, D. A. F., Garcia, T., & McKeachie, W. J. (1991). A Manual for the Use of the Motivated Strategies for Learning Questionnaire (MSLQ). Ann Arbour: The University of Michigan, National Center for Research to Improve Post-secondary Teaching and Learning.

Rittel, H., & Webber, M. (1974). Dilemmas in a general theory of planning. DMG-DRS Journal, 8, 31–39.

Roth, W. M., & Roychoudhury, A. (1994). Science discourse through collaborative concept mapping: New perspectives for the teacher. International Journal of Science Education, 16, 437–455.

Runco, M. A., & Jaeger, G. J. (2012). The standard definition of creativity. Creativity Research Journal, 24(1), 92–96.

Sato, T. (1979). Determination of hierarchical networks of instructional units using the ISM method. Educational Technology Research, 3, 67–75.

Schiffrin, D., Tannen, D., & Hamilton, H. E. (2001). The handbook of discourse analysis. Malden: Wiley.

Siegel, H. (1999). What (good) are thinking dispositions? Educational Theory, 49(2), 207–221.

Simon, H. A. (1960). The new science of management decisions. New York: Harper and Row.

Sternberg, R. J. (2002). Raising the achievement of all students: Teaching for successful intelligence. Educational Psychology Review, 14(4), 383–393.

Sternberg, R. J. (2005). Creativity or creativities? International Journal of Human-Computer Studies, 63(4), 370–382.

Sternberg, R. J. (2010). The dark side of creativity and how to combat it. In D. H. Cropley, et al. (Eds.), The dark side of creativity (pp. 316–328). Cambridge: Cambridge University.

Valenzuela, J., Nieto, A. M., & Saiz, C. (2011). Critical thinking motivational scale: A contribution to the study of relationship between critical thinking and motivation. Journal of Research in Educational Psychology, 9(2), 823–848.

van Gelder, T.J. (2000). Learning to reason: A Reason!Able approach. In C. Davis, T. J. van Gelder & R. Wales (Eds.), Cognitive Science in Australia, 2000: Proceedings of the Fifth Australasian Cognitive Science Society Conference. Adelaide: Causal.

van Gelder, T. J. (2001). How to improve critical thinking using educational technology. In G. Kennedy, M. Keppell, C. McNaught & T. Petrovic (Eds.), Meeting at the Crossroads: Proceedings of the 18th Annual Conference of the Australian Society for Computers in Learning in Tertiary Education (539–548). Melbourne: Biomedical Multimedia Unit, University of Melbourne.

Warfield, J. N. (1994). A science of generic design: Managing complexity through systems design (2nd ed.). Salinas: Intersystems.

Warfield, J. N., & Cardenas, A. R. (1994). A handbook of interactive management (2nd ed.). Ames: The Iowa State University Press.

Zhang, L. F. (2003). Contributions of thinking styles to critical thinking dispositions. The Journal of Psychology, 137(6), 517–544.
Ethics declarations
Conflict of interest
The authors declare that they have no conflict of interest.
About this article
Cite this article
Dwyer, C.P., Hogan, M.J., Harney, O.M. et al. Facilitating a student-educator conceptual model of dispositions towards critical thinking through interactive management. Education Tech Research Dev 65, 47–73 (2017). https://doi.org/10.1007/s11423-016-9460-7
Keywords
Critical thinking

Dispositions

Interactive management

Collective intelligence