Abstract
Even as digital devices (e.g., tablets, smart phones, laptops) have become increasingly ubiquitous in schools, concerns have also been raised that such devices might hinder students' social, emotional, and personal development. Educators' perspectives on such matters could shape the success or failure of 1:1 technology initiatives. Thus, there is a need for a way to measure educators' attitudes and beliefs toward the potential impact of digital devices on educating the whole student. This paper describes the development of the Digital Devices and Educating the Whole Student instrument and the results from a pilot study of 59 educators. The results suggested three potential domains of teacher attitudes toward the impact of devices on students; holistic learning outcomes, classroom learning processes, and concerns about digital distraction. Overall, the survey instrument demonstrated reliability and validity suggesting that the survey instrument may be a useful tool for school technology researchers and practitioners alike.
Access options
Buy single article
Instant access to the full article PDF.
US$ 39.95
Tax calculation will be finalised during checkout.
Subscribe to journal
Immediate online access to all issues from 2019. Subscription will auto renew annually.
US$ 79
Tax calculation will be finalised during checkout.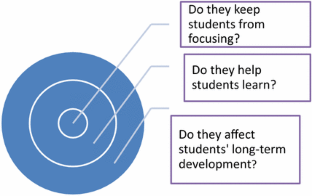 References
Barley, S. R., Meyerson, D. E., & Grodal, S. (2010). E-mail as a source and symbol of stress. Organization Science, 22(4), 887–906. doi:10.1287/orsc.1100.0573.

Baylor, A. L., & Ritchie, D. (2002). What factors facilitate teachers skills, teacher morale, and perceived student learning in technology-using classrooms. Computers & Education, 39, 395–414.

Bebell, D., & Kay, R. (2010). One to one computing: A summary of the quantative results from the berkshire wireless learning initative. Journal of Technology, Learning, and Assessment, 9(2), 5–59.

Bebell, D., & O'Dwyer, L. (2010). Educational outcomes and research from 1:1 computing settings. The Journal of Technology, Learning and Assessment, 9(1). Retrieved http://ejournals.bc.edu/ojs/index.php/jtla/article/view/1606.

Becker, B., & Luther, S. S. (2002). Social-emotional factors affecting achivement outcomes among disadvanataged students: Closing the achievement gap. Educational Psychologist, 37(4), 197–214.

Bellur, S., Nowak, K. L., & Hull, K. S. (2015). Make it our time: In class multitaskers have lower academic performance. Computers in Human Behavior, 53, 63–70. doi:10.1016/j.chb.2015.06.027.

Brooks, C. (2011). Locating leadership: The blind spot in Alberta's technology policy discourse. Educational Policy Analysis Archives, 19(26). Retrieved http://epaa.asu.edu/ojs/article/view/910.

Brown, J. S., & Duguid, P. (1991). Organizational learning and communities-of-practice: Toward a unified view of working, learning, and innovation. Organization Science, 2(1), 40–57.

Carlile, P. (2002). A pragmatic view of knowledge and boundaries: Boundary objects in new product development. Organization Science, 13(4), 442–455.

Cho, V., & Wayman, J. C. (2014). Districts' efforts for data use and computer data systems: The role of sensemaking in system use and implementation. Teachers College Record, 116(2), 1–45.

Cho, V., & Wayman, J. C. (2015). Assumptions, strategies, and organization: Central office implementation of computer data systems. Journal of School Leadership, 25(6), 1203–1236.

Christakis, D., Zimmerman, F., DiGiueseppe, D., & McCarthy, C. (2004). Early television exposure and subsequent attentional problems in childhood. Pediatrics, 113(4), 708–713.

Cohen, J. (2006). Social, emotional, ethical, and academic education: Creating a climate for learning, participation in democracy, and well-being. Harvard Educational Review, 76(2), 201–237.

Crocker, L., & Algina, J. (2008). Introduction to classical and modern test theory. Mason: Cengage Learning.

Cuban, L. (2001). Oversold and underused: Computers in the classroom. Cambridge, MA: Harvard Education Press.

Duckworth, A., Peterson, C., Matthews, M., & Kelly, D. (2007). Grit: Perseverance and passion for long-term goals. Personality Processes and Individual Differences, 92(6), 1087–1101.

Duckworth, A. L., & Yeager, D. S. (2015). Measurement matters: Assessing personal qualities other than cognitive ability for educational purposes. Educational Researcher, 44(4), 237–251. doi:10.3102/0013189X15584327.

Ertmer, P. (2005). Teacher pedagogical beliefs: The final frontier in our quest for technology integration. Educational Technology Research and Development, 53, 25–39.

Falloon, G., & Khoo, E. (2014). Exploring young students' talk in an iPad-supported collaborative learning environments. Computers & Education, 77, 13–28.

Fleischer, H. (2012). What is our current understanding of one-to-one computing projects. Educational Research Review, 7, 107–122.

Gardner, H., & Davis, K. (2013). The app generation: How today's youth navigate identity, intimacy, and imagination in a digital world. New Haven, CT: Yale University Press.

Gay, G. (2010). Culturally responsive teaching: Theory, research, and practice. New York: Teachers College Press.

Gentile, D. (2009). Pathological video game use among youth ages 8 to 18. Psychological Science, 20(5), 594–602.

George, D., & Mallery, P. (2003). SPSS for windows step by step: A simple guide and reference 11.0 update (4th ed.). Boston: Allyn & Bacon.

Greenhow, C., & Gleason, B. (2012). Twitteracy: Tweeting as a new literacy practice. The Educational Forum, 76(4), 464–478.

Greenhow, C., Robelia, B., & Hughes, J. (2009). Web 2.0 and classroom research what path should we take now. Educational Researcher, 38(3), 246–259.

Hardy, J. V. (2014). Teacher attitudes toward and knowledge of computer technolgoy. Computers in the Schools: Interdisciplinary Journal of Practice, Theory, and Applied Research, 13(3–4), 119–136.

Hatakka, M., Andersson, A., & Gronlund, A. (2013). Students' use of one to one laptops: A capability approach analysis. Information Technology & People, 26(1), 94–112.

Heckman, J. J. (2000). Policies to foster human capital. Research in Economics, 54, 3–56.

Homana, G., & Barber, C. (2006). Assessing school citizenship education climate: Implications for the social studies. College Park, MD: CIRCLE Working Paper 48.

Hotelling, H. (1951). A generalized T test and measure of multivariate dispersion. Proceedings of the second Berkeley symposium on mathematical statistics and probability. Berkely, CA: The Regents of the University of California.

Howard, G., Schmek, R., & Bray, J. H. (1979). Internal invalidity in studies employing self-report instruments: A suggested remedy. Journal of Educational Measurement, 16(2), 129–135.

Hughes, J. E., Guion, J. M., Bruce, K. A., Horton, L. R., & Prescott, A. (2011). A framework for action: Intervening to increase adoption of transformative Web 2.0 learning resources. Educational Technology, 51(2), 53–61.

Ito, M., Gutierrez, K., Livingstone, S., Penuel, B., Rhodes, J., Salen, K., & Watkins, S. (2013). Connected learning: An agenda for research and design. Irvine, CA: Digital Media and Learning Research Hub.

Johnson, L. (2007). Rethinking successful school leadership in challenging U.S. schools: Culturally responsive practices in school-community relationships. International Studies in International Education, 35(3), 49–57.

Krosnick, J. A. (1999). Survey research. Annual Review of Psychology, 50, 537–567.

Kuznekoff, J. H., & Titsworth, S. (2013). The impact of mobile phone usage on student learning. Communication Education, 62(3), 233–252. doi:10.1080/03634523.2013.767917.

Ladson-Billings, G. (1995). But that is just good teaching! The case for culturally relevant pedagogy. Theory into Practice, 34(3), 159–165.

Lei, J., & Zhao, Y. (2008). One to one computing: What does it bring to schools? Journal of Educational Computing Research, 39(2), 97–122.

Leonardi, P. (2009a). Crossing the implementation line: The mutual constitution of technology and organizing across development and use activities. Communication Theory, 19, 278–310.

Leonardi, P. (2009b). Why do people reject new technologies and stymie organizational changes of which they are in favor? Exploring misalignments between social interactions and materiality. Human Communication Research, 35, 407–441.

Mathison, C. (1999). How teachers feel about character education: A descriptive study. Action in Teacher Education, 20(4), 29–38.

Mayer, D. (1999). Measuring instructional practice: Can policymakers trust survey data. Educational Evaluation and Policy Analysis, 21, 29–45.

Nagel, D. (2010). Computing programs on the rise with netbooks leading adoption. The Journal. Retrieved http://thejournal.com/articles/2010/10/19/1-to-1-computing-programs-on-the-rise-with-netbooks-leading-adoption.aspx.

Netemeyer, R., Beaden, W., & Sharma, S. (2003). Scaling procedures: Issues and applications. Thousand Oaks, CA: Sage Publicans.

Orlikowski, W. (1996). Improvising organizational transformation over time: A situated change perspective. Information Systems Research, 7(1), 63–92.

Orlikowski, W. (2000). Using technology and constituting structures: A practice lens for studying technology in organizations. Organization Science, 11(4), 404–428.

Ottenbreit-Leftwich, A. T., Glazewski, K. D., Newby, T. J., & Ertmer, P. A. (2010). Teacher value beliefs associated with using technology: Addressing professional and student needs. Computers & Education, 55(3), 1321–1335. doi:10.1016/j.compedu.2010.06.002.

Pagani, L., Fitzpatrick, C., Barnett, T., & Dubow, E. (2010). Prospective associations between early childhood television exposure and academic, psychological, and physical well-being by middle childhood. Archives of pediatric and adolescent medicine, 164(5), 425–431. doi:10.001/archpediatrics.2010.50.

Pellegrino, J., & Hilton, M. (2012). Education for life and work: Developing transferable knowledge and skills in the 21st century. National Research Council, Center for Education; Divison on Behavioral and Social Sciences and Education. Washington, D.C.: The National Academic Press.

Penuel, W. (2006). Implementation and effects of a one-to-one computing initatives. Journal of Research on Technology in Education, 38, 329–348.

Pintrich, P. (2004). A conceptual framework for assessing motivation and self-regulation in college students. Educational Psychology Review, 16(4), 385–406.

Rencher, C. A., & Christensen, W. F. (2012). Methods of multivariate analysis. New York: Wiley.

Richardson, J., McLeod, S., Flora, K., Sauers, N., Kannan, S., & Sincar, M. (2013). Large scale 1:1 computing initiatives: An open access database. International Journal of Education and Development Using Information and Communication Technology, 9(1), 418.

Sauers, N., & Kruse, J. (2012). Do pocket-assisted technologies, such as the iPod and iPhone and iPad, provide mainly educational benefits or distractions to students in today's schools. In C. J. Russo & A. Osborne (Eds.), Debating issues in American education (Vol. 10). Thousand Oaks, CA: Sage.

Sauers, N., & McLeod, S. (2012). What does research day about school one-to-one computing initatives. Lexington, KY: UCEA Center for the Advanced Study of Technology Leadership in Education.

Schafer, J. L. (1999). Multiple imputation: A primer. Statistical Methods in Medical Research, 8(1), 3–15.

Schmidt, D., Baran, E., Thompson, A. D., Mishra, P., Koehler, M. J., & Shin, T. S. (2009). Technological pedagogical content knowledge (TPACK). Journal of Research on Technology in Education, 42(2), 123–149.

Seider, S. (2012). Character compass: How powerful school culture can point students toward success. Cambridge, MA: Harvard University Press.

Shadish, W. R., Cook, T. D., & Campbell, D. T. (2002). Experimental and quasi-experimental designs. New York: Houghton Miffin Company.

Shirley, D. (2011). The fourth way of technology and change. Journal of Educational Change, 12, 187–209.

Shuler, C. (2009). Pockets of potential: Using mobile technologies to promote children's learning. New York: The Joan Ganz Conner Center.

Supovitz, J., & Turner, H. (2000). The effects of professional development on science teaching practices. Journal of Research in Science Teaching, 37(9), 963–980.

Turkle, S. (2011). Alone together: Why we expect more from technology and less from each other. New York: Basic Books.

Tyack, D., & Cuban, L. (2009). Tinkering toward Utopia. Cambridge, MA: Harvard University Press.

Uhls, Y., Michikyan, M., Morris, J., Garcia, D., Small, G., Zgourou, E., & Greenfield, P. (2014). Five days at outdoor education camp without screen improves preteen skills with nonverbal emotion cues. Computers in Human Behavior, 39, 387–392. doi:10.1016/j.chb.2014.05.036.

Vannatta, R., & Banister, S. (2009). Validating a measure of teacher technology integration. Society for Information Technology & Teacher Education International Conference (pp. 1134–1140). Charleston, SC: Society for Information Technology & Teacher Education International Conference.

Vannatta, R. A., & Fordham, N. (2004). Teacher dispositions as predictors of classroom technology use. Journal of Research on Technology in Education, 36, 253–271.

Wallis, C. (2010). The impacts of media multitasking on children's learning and development: Report from a research seminar. New York: The Joan Ganz Conney Center.

Wolters, C. (2003). Understanding procrastination from a self-regulated learning perspective. Journal of Educational Psychology, 95(1), 179–187.

You, J. W., & Kang, M. (2014). The role of academic emotions in the relationship between perceived academic control and self-regulated learning in online learning. Computers & Education, 77, 125–133.

Zhao, Y., & Frank, K. (2003). Factors affecting technology uses in schools: An ecological perspective. American Educational Research Journal, 40(4), 807–840. doi:10.3102/00028312040004807.
About this article
Cite this article
Cho, V., Littenberg-Tobias, J. Digital devices and teaching the whole student: developing and validating an instrument to measure educators' attitudes and beliefs. Education Tech Research Dev 64, 643–659 (2016). https://doi.org/10.1007/s11423-016-9441-x
Keywords
Whole student

One-to-one

Instrument development

Teacher beliefs