Abstract
Increased recognition of the role of the body and environment in cognition has taken place in recent decades in the form of new theories of embodied and extended cognition. The growing use of ever more sophisticated computer-generated 3D virtual worlds and avatars has added a new dimension to these theories of cognition. Both developments provide new opportunities for exploring new ways of facilitating language acquisition in the foreign language classroom environment. In this article, through two case studies we examine student interaction in a virtual environment customised for foreign language learning to examine "virtually" embodied and extended cognition. Our examination identifies two particular features of this combination of mind, (virtual) body and (virtual) environment that further underline the potential of 3D virtual worlds as sites for embodied and extended cognition: students often do not distinguish between themselves and their avatars; the boundaries between the real and virtual environments are highly (cognitively) permeable.
Access options
Buy single article
Instant access to the full article PDF.
USD 39.95
Price excludes VAT (USA)
Tax calculation will be finalised during checkout.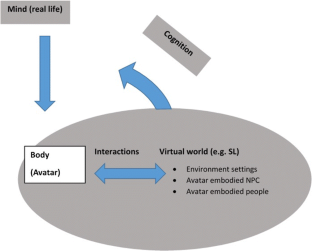 Notes
Although McNerney (2011) notes that even reason can be said to be based in grounded, bodily experience rather than abstract laws, as demonstrated by the abundance of metaphorical references involving our bodies and the physical world in the language used to express abstract concepts, as will be explored later.

Black also notes that more recent research questions whether babies really have no sense of themselves as integrated corporeal entities (2014: 26 f.n.9).

As a relatively recent discovery, caution is warranted in relation to evaluating these claims, as no widely accepted model currently describes mirror neuron support of cognition, and empirical research, especially in humans, is still underway. However, the phenomenon of rehearsal is comparatively uncontroversial.

'Betty', or Guo Laoshi, was one of the native speaker (NS) teachers located in Taiwan who participated in the session. Orlando, among other students, referred to her in the focus group by her first name.
References
Adam, H., & Galinsky, A. (2012). Enclothed cognition. Journal of Experimental Social Psychology, 48, 918–925.

Atkinson, D. (2010). Extended, embodied cognition and second language acquisition. Applied Linguistics, 31(5), 599–622.

Bar-Hillel, Y. (1960). The Present Status of Automatic Translation of Languages. Advances in Computers, 1, 91–163.

Barrett, L. (2011). Beyond the Brain: How the Body and the Environment Shape Cognition. New Jersey: Princeton University Press.

Barsalou, L. W. (1999). Language comprehension: Archival memory or preparation for situated action? Discourse Processes, 28, 61–80.

Barsalou, L. W. (2008). Grounded cognition. Annual Review of Psychology, 59, 617–645.

Black, D. (2014). Embodiment and Mechanisation: Reciprocal understanding of body and machine from the renaissance to the present. Surrey: Ashgate.

Bonda, E., Petrides, M., Frey, S., & Evans, A. (1994). Frontal cortex involvement in organised sequences of hand movements: Evidence from a positron emission topography study. Society for Neurosciences Abstracts, 20, 353.

Brooks, R. A. (2002). Flesh and machines: How robots will change us. New York: Pantheon.

Clark, A. (1998). Embodied, distributed, and situated cognition. In W. Bechtel & G. Graham (Eds.), Companion to Cognitive Science. Malden: Blackwell.

Clark, A., & Chalmers, D. (1998). The extended mind. Analysis, 58, 7–19.

Cline, E. (2011). Ready player one. New York: Crown Publishers.

Clinton, K.A. (2006). Being-in-the-Digital-World: How videogames engage our pre-linguistic sense-making abilities (Unpublished doctoral dissertation, University of Wisconsin-Madison, 2006).

Dewey, J. (1910). How We Think. Boston: D.C. Heath & Co.

Dewey, J. (1968). Experience and Education. New York: Collier Books.

Dijkstra, K., Kaschak, M., & Zwaan, R. (2007). Body posture facilitates retrieval of autobiographical memories. Cognition, 102, 139–149.

Eerland, A., Guadalupe, T., & Zwaan, R. (2011). Leaning to the left makes the Eiffel Tower seem smaller: posture-modulated estimation. Psychological Science, 22, 1511–1514.

Evans, V., & Green, M. (2006). Cognitive Linguistics: An introduction. Edinburgh: Edinburgh University Press.

Ferdig, R. E., & de Freitas, S. (Eds.). (2012). Interdisciplinary advancements in gaming, simulations and virtual environments: Emerging trends. Hershey, PA: IGI Global.

Fillmore, C. J. (1982). Frame Semantics, in Linguistics in the Morning Calm. Seoul, Hanshin: The Linguistic Society of Korea.

Gee, J. P. (1995). First language acquisition as a guide for theories of learning and pedagogy. Linguistics and Education, 6, 331–354.

Gibbs, R. (2006). Embodiment and Cognitive Science. Cambridge: Cambridge University Press.

Glenberg, A. M. (1997). What memory is for. Behavioral and Brain Sciences, 20, 1–55.

Glenberg, A. M., & Robertson, D. A. (1999). Indexical understanding of instructions. Discourse Processes, 28, 1–26.

Goodwin, C. (2003). The body in action. In J. Coupland & R. Gwin (Eds.), Discourse, the Body and Identity. London: Palgrave-MacMillan.

Grady, J. E. (1997). Foundations of Meaning: Primary Metaphors and Primary Scenes (A Dissertation Submitted in Partial Satisfaction of the Requirements for the Degree of Doctor of Philosophy in Linguistics in the Graduate Division of the University of California, Berkeley: University Microfilms, 1997).

Grady, J. (2005). Primary metaphors as inputs into conceptual integration. Journal of Pragmatics, 37: 1595–1614 (http://www.sciencedirect.com/science/article/pii/S0378216605000652).

Grant, S., & Clerehan, R. (2011). Finding the discipline: Assessing student activity in Second Life. Australasian Journal of Educational Technology, 27(Special Issue, 5), 813–828.

Grant, S., & Huang, H. (2012). Learning a second language in second life. In T. Islam, O. Lee, J. Peterson, & M. Piscioneri (Eds.), Effectively implementing information communication technology in higher education in the Asia-Pacific region. Hauppauge, NY: Nova Science Publishers, Inc.

Grant, S., Huang, H., & Pasfield-Neofitou, S. (2013). Language learning in virtual worlds: The role of foreign language and technical anxiety. Journal of Virtual Worlds Research, 6(1), 1–9.

Gregory, S., Lee, M. J. W., Ellis, A., Gregory, S., Wood, D., Hillier, M., & McKeown, L. (2010). Australian higher education institutions transforming the future of teaching and learning through 3D virtual worlds. Paper presented at the curriculum, technology & transformation for an unknown future: Proceedings of the 27th ASCILITE Conference, Brisbane, Australia.

Hanna, B., & de Nooy, J. (2003). A funny thing happened on the way to the forum: Electronic discussion and foreign language learning. Language Leaning and Technology, 7(1), 71–85.

Haraway, D. J. (1991). Simians, Cyborgs and Women. New York: Routledge.

Hauk, O., Johnsrude, I., & Pulvermuller, F. (2004). Somatotopic representation of action words in human motor and premotor cortex. Neuron, 41, 301–307.

Hayles, N. K. (1999). How we became posthuman: Virtual bodies in cybernetics, literature, and informatics. Chicago: University of Chicago Press.

Henderson, M., Huang, H., Grant, S. & Henderson, L. (2012). The impact of Chinese language lessons in a virtual world on university students' self-efficacy beliefs. Australasian Journal of Educational Technology. 28(Special Issue, 3), 400–419.

Huang, H., & Grant, S. (2010.) Cultural immersion and language study without stepping out of the country—A case study of teaching Ccinese in second life. In The 8th international conference of Chinese language pedagogy. Beijing: Foreign Language and Research Press.

Ingold, T. (2000). The perception of the environment: Essays on livelihood, dwelling and skill. London: Routledge.

Iverson, J., & Thelan, E. (1999). Hand, mouth and brain: The dynamic emergence of speech and gesture. In R. Nunez & W. Freeman (Eds.), Reclaiming cognition: The primacy of action, intention, and emotion. Bowling Green, OH: Imprint Academic.

Jacka, L., Gregory, S., Stokes-Thompson, F., McKeown Orwin, L., Farley, H., Ellis, A., et al. (2011). Changing worlds: Virtual worlds for higher degree research, supervision and networking (Symposium). In G. Williams, N. Brown, M. Pittard, & B. Cleland (Eds.), Changing demands, changing directions. Proceedings of the 28th ASCILITE conference. Hobart, Australia: University of Tasmania.

Jeffrey, A., Grant, S., & Gregory, H. M. (2011). Multi-user virtual environments for international classroom collaboration: Practical approaches for teaching and learning in Second Life. In C. Wankel (Ed.), Teaching arts and science with the new social media (pp. 189–210). Bingley, UK: Emerald.

Johnson, C. (1997). Metaphor vs. conflation in the acquisition of polysemy: The case of SEE. In M. K. Hiraga, C. Sinha, & E. Wilcox (Eds.), Cultural, typological and psychological issues in cognitive linguistics (Vol. 152). Amsterdam: John Benjamins.

Johnson, M. (2007). The Meaning of the Body: Aesthetics of human understanding. Chicago: University of Chicago Press.

Johnson, M., & Rohrer, T. (2007). We are live creatures: Embodiment, American Pragmatism, and the cognitive organism. In T. Ziemke, et al. (Eds.), Body, Language and Mind. Berlin: Mouton de Gruyter.

Koh, C., Tan, H. S., Tan, K. C., Fang, L., Fong, F. M., Kan, D., & Wee, M. L. (2010). Investigating the Effect of 3D Simulation Based Learning on the Motivation and Performance of Engineering Students. Journal of Engineering Education, 99(3), 237–251.

Lacan, J. (1977). Écrits. London: Tavistock.

Lakoff, G. (2012). Explaining embodied cognition results. Topics in Cognitive Science, 4(4), 773–785.

Lakoff, G. J., & Johnson, M. (1980). Metaphors We Live by. Chicago: University of Chicago.

Lakoff, G. J., & Johnson, M. (1999). Philosophy in the Flesh: The Embodied Mind and Its Challenge to Western Thought. New York: Basic Books.

Lan, Y. J. (2014). Does second life improve Mandarin learning by overseas Chinese students? Language Learning & Technology, 18(2), 36–56.

Lan, Y. J., Kan, Y.-H., Hsiao, I. Y. T., Yang, S. J. H., & Chang, K. E. (2013). Designing interaction tasks in Second Life for Chinese as a foreign language learners: A preliminary exploration. Australasian Journal of Educational Technology, 29(2), 184–202.

Lewis, C. S. (1950). In P. Baynes (Ed.), The lion, the witch and the wardrobe; a story for children. London: Geoffrey Bles.

Lobel, T. (2014). Sensation: The new science of physical intelligence. Melbourne: Scribe.

McNerney, S. (2011). A brief guide to embodied cognition: Why you are not your brain. Scientific American. http://blogs.scientificamerican.com/guest-blog/2011/11/04/a-brief-guide-to-embodied-cognition-why-you-are-not-your-brain/.

Merleau-Ponty, M. (2002). Phenomenology of Perception. London: Routledge.

Miles, L., Nind, L., & Macrae, C. (2010). Moving through time. Psychological Science, 21, 222–223.

Multiverse. (2014, December 20). In Wikipedia, The Free Encyclopedia. Retrieved from December 22, 2014, http://en.wikipedia.org/w/index.php?title=Multiverse&oldid=638910457.

Narayanan, S. S. (1997). Knowledge based Action Representations for Metaphor and Aspect (KARMA). Doctor of Philosophy, University of California at Berkeley, Berkeley. Retrieved from http://www1.icsi.berkeley.edu/~snarayan/thesis.pdf.

Nguyen, T. T. (2009). Language and embodiment. VNU Journal of Science, Foreign Languages, 25(2009), 250–256.

Pasfield-Neofitou. (2014). Language learning and socialization opportunities in game worlds: Trends in first and second language research. Language and Linguistics Compass, 8(7), 271–284.

Puri, T. A. (2004). Dressing Lord Jagannatha in Silk: Cloth, Clothes, and Status1. Journal of Social Science, 8(2), 113–127.

Rieser, J., Garing, A., & Young, M. (1994). Imagery, action and young children's spatial orientation: It's not being there that counts, it's what one has in mind. Child Development, 45, 1043–1056.

Rizzolatti, G., Sinigaglia, C., & Anderson, F. (2008). Mirrors in the Brain: How our minds share actions, emotions and experience. Oxford: Oxford University Press.

Saikaluk, P., Pexman, P., Aguilera, L., Owen, W., & Sears, C. (2008). Evidence for the activation of sensorimotor information during visual word recognition: The body-object interaction effect. Cognition, 106, 433–443.

Semin, G., & Cacioppo, J. (2008). Grounding social cognition: Synchronization, coordination, and co-regulation. In G. Semin & E. Smith (Eds.), Embodied Grounding (pp. 119–147). Cambridge: Cambridge University Press.

Sharwood Smith, M. (1991). Second language acquisition and the cognitive enterprise. Plenary presentation, Second Language Research Forum. Los Angeles, 2 March 1991.

Smith, A. (2014). Embodied Cognition: Thinking with your body. The Body Sphere. ABC National Radio http://www.abc.net.au/radionational/programs/bodysphere/thinking-with-your-body/5766910.

Soares, D. (2008, April). Digital deixis: Multiple senses of self in an online role-playing game. Paper presented at the annual conference of the American Association of Applied Linguistics, Washington DC.

Stephenson, N. (1992). Snow crash. New York: Bantam Books.

Tron. (2014, December 15). In Wikipedia, The Free Encyclopedia. Retrieved from December 22, 2014 http://en.wikipedia.org/w/index.php?title=Tron&oldid=638258176.

Turkle, S. (1984). The Second Self: Computers and the Human Being. New York: Simon and Schuster.

Turkle, S. (1995). Life on the Screen: Identity in the age of the Internet. New York: Simon and Schuster.

Wilson, A.D. (2013). Grounded vs. embodied cognition A (hopefully uncontentious) note on terminology. Notes from Two Scientific Psychologists http://psychsciencenotes.blogspot.com.au/2013/07/grounded-vs-embodied-cognition.html.

Wilson, M. (2002). Six views of embodied cognition. Psychonomic Bulletin & Review, 9(4), 625–636.

Wilson, A. D., & Golonka, S. (2013). Embodied cognition is not what you think it is. Frontiers in Psychology, 4(58 Article 58), 1–13.

Wilson, R.A. and Foglia, L., "Embodied Cognition", The Stanford Encyclopedia of Philosophy (Fall 2011 Edition), Edward N. Zalta (ed.), http://plato.stanford.edu/archives/fall2011/entries/embodied-cognition/.

Zheng, D., Young, M. F., Wagner, M. M., & Brewer, R. A. (2009). Negotiation for Action: English language learning in game-based virtual worlds. The Modern Language Journal, 93(iv), 489–511.
About this article
Cite this article
Pasfield-Neofitou, S., Huang, H. & Grant, S. Lost in second life: virtual embodiment and language learning via multimodal communication. Education Tech Research Dev 63, 709–726 (2015). https://doi.org/10.1007/s11423-015-9384-7
Published:

Issue Date:

DOI: https://doi.org/10.1007/s11423-015-9384-7
Keywords