Abstract
This experimental study was designed to investigate whether supervision meetings, in which students receive specific advice on how to use a development portfolio to monitor their progress and plan their future learning, helps them to develop self-directed learning skills and improve their learning in the domain. In the first year of a hairdressing program in vocational education, supervision meetings were used to provide students with either specific advice or not. Students in the advice group (n = 21) formulated better learning needs, selected more suitable learning tasks, completed more practical assignments, and acquired more certificates than students in the feedback-only group (n = 22). Interviews also showed that students in the advice group appreciated the supervision meeting more and perceived them as more effective than students in the feedback-only group. Guidelines are provided for the use of development portfolios and the organization of supervision meetings in on-demand vocational education.
Access options
Buy single article
Instant access to the full article PDF.
US$ 39.95
Tax calculation will be finalised during checkout.
Subscribe to journal
Immediate online access to all issues from 2019. Subscription will auto renew annually.
US$ 79
Tax calculation will be finalised during checkout.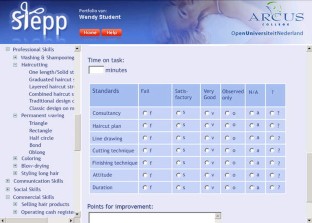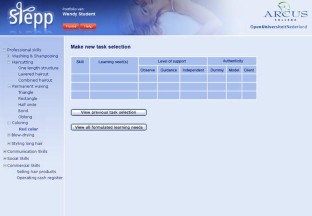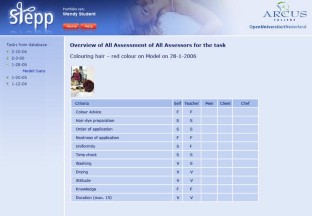 References
Beitler, M. A. (2000). Contract learning in organizational learning and management development. In H. B. Long (Ed.), Practice and theory in self-directed learning (pp. 63–70). Schaumberg, IL: Motorola University Press.

Bell, B. S., & Kozlowski, S. W. J. (2002). Adaptive guidance: Enhancing self-regulation, knowledge, and performance in technology-based training. Personnel Psychology, 55, 267–306. doi:10.1111/j.1744-6570.2002.tb00111.x.

Black, P., & William, D. (1998). Assessment and classroom learning. Assessment in Education, 5(1), 7–74. doi:10.1080/0969595980050102.

Chen, G., Liu, C., Ou, K., & Lin, M. (2000). Web learning portfolios: A tool for supporting performance awareness. Innovations in Education and Teaching International, 38, 19–30.

Clarebout, G., & Elen, J. (2008). Advice on tool use in open Learning environments. Journal of Educational Multimedia and Hypermedia, 17(1), 81–97.

Corbalan, G., Kester, L., & van Merriënboer, J. J. G. (2006). Towards a personalized task selection model with shared instructional control. Instructional Science, 34, 399–422. doi:10.1007/s11251-005-5774-2.

Dagley, V., & Berrington, B. (2005). Learning from an evaluation of an electronic portfolio to support general practitioners' personal development planning, appraisal, and revalidation. Education for Primary Care, 16, 567–574.

Driessen, E. W., van Tartwijk, J., Overeem, K., Vermunt, J. D., & van der Vleuten, C. P. M. (2005). Conditions for successful reflective use of portfolios in undergraduate medical education. Medical Education, 39, 1230–1235. doi:10.1111/j.1365-2929.2005.02337.x.

Ericsson, K. A., Krampe, R. T. H., & Tesch-Römer, C. (1993). The role of deliberate practice in the acquisition of expert performance. Psychological Review, 100, 363–406. doi:10.1037/0033-295X.100.3.363.

Falchikov, N., & Boud, D. (1989). Student self-assessment in higher education: A meta-analysis. Review of Educational Research, 59, 395–430.

Grant, G., & Huebner, T. (1998). The portfolio question: A powerful synthesis of the personal and professional. Teacher Education Quarterly, 25(1), 33–43.

Gräsel, C., Fischer, F., & Mandl, H. (2000). The use of additional information in problem oriented learning environments. Learning Environments Research, 3, 287–325. doi:10.1023/A:1011421732004.

Hannafin, M. J. (1984). Guidelines for using locus of instructional control in the design of computer-assisted instruction. Journal of Instructional Development, 7(3), 6–10. doi:10.1007/BF02905753.

Isaacs, W. (1999). Dialogue and the art of thinking together. New York: Doubleday.

Järvinen, A., & Kohonen, V. (1995). Promoting professional development in higher education through portfolio assessment. Assessment & Evaluation in Higher Education, 20(1), 25–36. doi:10.1080/0260293950200104.

Kicken, W., Brand-Gruwel, S., & van Merriënboer, J. J. G. (2008). Scaffolding advice on task selection: A safe path toward self-directed learning in on-demand education. Journal of Vocational Education and Training, 60(3), 223–239. doi:10.1080/13636820802305561.

Kicken, W., Brand-Gruwel, S., van Merriënboer, J. J. G., & Slot, W. (in press). Design and evaluation of a development portfolio: How to improve students' self-directed learning skills. Instructional Science. doi:10.1007/s11251-008-9058-5.

Kjaer, N. K., Maagaard, R., & Wied, S. (2006). Using an online portfolio in postgraduate training. Medical Teacher, 28, 708–712. doi:10.1080/01421590601047672.

Klenowski, V. (2002). Developing portfolios for learning and assessment. London, UK: RoutledgeFalmer.

Knowles, M. (1975). Self-directed learning: A guide for learners and teachers. New York: Association Press.

Knowles, M. (1986). Using learning contracts. San Francisco, CA: Jossey-Bass Inc.

Kriewaldt, J. (2001). A thinking geography curriculum. Interaction, 29. Retrieved November 01, 2007, from http://www.gtav.asn.au/interaction/issues/v29n4_dec01/metacognition.htm.

Landis, J. R., & Koch, G. G. (1977). The measurement of observer agreement for categorical data. Biometrics, 33, 159–174. doi:10.2307/2529310.

Lee, Y. B., & Lehman, J. D. (1993). Instructional cueing in hypermedia: A study with active and passive learners. Journal of Educational Hypermedia and Multimedia, 2(1), 25–37.

Levett-Jones, T. L. (2005). Self-directed learning: Implications and limitations for undergraduate nursing education. Nurse Education Today, 25, 363–368. doi:10.1016/j.nedt.2005.03.003.

Mansvelder-Longayroux, D., Beijaard, D., & Verloop, N. (2007). The portfolio as a tool for stimulating reflection by student teachers. Teaching and Teacher Education, 23, 47–62. doi:10.1016/j.tate.2006.04.033.

McDonald, B., & Boud, D. (2003). The effects of self assessment training on performance in external examinations. Assessment in Education, 10, 210–220. doi:10.1080/0969594032000121289.

Milheim, M. D., & Martin, B. L. (1991). Theoretical bases for the use of learner control: Three different perspectives. Journal of Computer-Based Instruction, 18(2), 99–105.

Santiago, R. S., & Okey, J. R. (1992). The effects of advisement and locus of control on achievement in learner-controlled instruction. Journal of Computer-Based Instruction, 19(2), 47–53.

Seidel, S., Walters, J., Kirby, E., Olff, N., Powell, K., & Veenema, S. (1997). Portfolio practices: Thinking through the assessment of children's work. Washington, DC: NEA Professional Library.

Shephard, L. (2000). The role of assessment in a learning culture. Educational Researcher, 29(7), 4–15.

Smith, K., & Tillema, H. (2003). Clarifying different types of portfolio use. Assessment & Evaluation in Higher Education, 28, 625–648. doi:10.1080/0260293032000130252.

Steinberg, E. R. (1989). Cognition and learner control: A literature review. Journal of Computer-Based Instruction, 16(4), 117–124.

Tennyson, R. D. (1980). Instructional control strategies and content structures as design variables in concept acquisition using computer-based instruction. Journal of Educational Psychology, 72, 525–532. doi:10.1037/0022-0663.72.4.525.

Tennyson, R. D. (1981). Use of adaptive information for advisement in learning concepts and rules using computer-assisted instruction. American Educational Research Journal, 18, 425–438.

Tennyson, R. D., & Buttery, T. (1980). Advisement and management strategies as design variables in computer-assisted instruction. Educational Communication and Technology Journal, 28(3), 169–176.

Van Merriënboer, J. J. G., & Kirschner, P. A. (2007). Ten steps to complex learning. Mahwah, NJ: Erlbaum/Routledge.

Van Tartwijk, J., Driessen, E., van der Vleuten, C., & Stokking, K. (2007). Factors influencing the successful introduction of portfolios. Quality in Higher Education, 13(1), 69–79. doi:10.1080/13538320701272813.

Van Velzen, J. H. (2002). Instruction and self-regulated learning: Promoting students' (self-) reflective thinking. Unpublished doctoral dissertation, University of Leiden, The Netherlands.

Wade, R. C., & Yarbrough, D. B. (1996). Portfolios: A tool for reflective thinking in teacher education? Teaching and Teacher Education, 12(1), 63–79. doi:10.1016/0742-051X(95)00022-C.

Williams, M. D. (1996). Learner-control and instructional technologies. In D. H. Jonassen (Ed.), Handbook of research for educational communications and technology (pp. 957–982). New York: Simon & Schuster Macmillan.

Zeichner, K., & Wray, S. (2001). The teaching portfolio in US teacher education programs: What we know and what we need to know. Teaching and Teacher Education, 17, 613–621. doi:10.1016/S0742-051X(01)00017-8.
Acknowledgment
This research project is funded by the Netherlands Organization for Scientific Research (NWO, The Hague, project no. 411-03-202).
Appendix
Appendix
About this article
Cite this article
Kicken, W., Brand-Gruwel, S., van Merriënboer, J.J.G. et al. The effects of portfolio-based advice on the development of self-directed learning skills in secondary vocational education. Education Tech Research Dev 57, 439 (2009). https://doi.org/10.1007/s11423-009-9111-3
Keywords
Self-directed learning

Advice

Development portfolio

On-demand education

Secondary vocational education and training