Abstract
Three related studies replicated and extended previous work (J.A. Danielson et al. (2003), Educational Technology Research and Development, 51(3), 63–81) involving the Diagnostic Pathfinder (dP) (previously Problem List Generator [PLG]), a cognitive tool for learning diagnostic problem solving. In studies 1 and 2, groups of 126 and 113 veterinary students, respectively, used the dP to complete case-based homework; groups of 120 and 199, respectively, used an alternative method. Students in the dP groups scored significantly higher (p = .000 and .003, respectively) on final exams than those in control groups. In the third study, 552 veterinary students responding to a questionnaire indicated that the dP's gating and data synthesis activities aided learning. The dP's feedback and requirement of completeness appear to aid learning most.
Access options
Buy single article
Instant access to the full article PDF.
USD 39.95
Price includes VAT (USA)
Tax calculation will be finalised during checkout.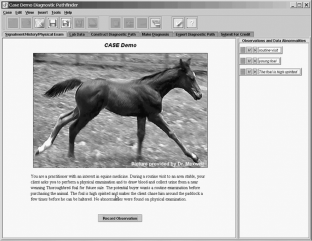 References
Bordage, G. (1994). Elaborated knowledge: A key to successful diagnostic thinking. Academic Medicine, 69(11), 883–885.

Bordage, G., & Lemieux, M. (1991). Semantic structures and diagnostic thinking of experts and novices. Academic Medicine, 66(9 Suppl), S70–72.

Bransford, J. D. E., Brown, A. L. E., & Cocking, R. R. E. (2000). how people learn: brain, mind, experience, and school. expanded edition. District of Columbia: National Academies Press, 2102 Constitution Avenue N.W., Washington DC 20055.

Danielson, J. A. (1999). The design, development and evaluation of a web-based tool for helping veterinary students learn how to classify clinical laboratory data. Unpublished doctoral dissertation, Virginia Tech, Blacksburg.

Danielson, J. A., Bender, H. S., Mills, E. M., Vermeer, P. J., & Lockee, B. B. (2003). A Tool for Helping Veterinary Students Learn Diagnostic Problem Solving. Educational Technology Research and Development, 51(3), 63–81.

Jonassen, D. H. (2003). Using Cognitive Tools to Represent Problems. Journal of Research on Technology in Education, 35(3), 362–379.

Kalyuga, S., Ayres, P., Chandler, P., & Sweller, J. (2003). The Expertise Reversal Effect. Educational Psychologist, 38(1), 23–31.

Kozma, R. B. (1987). The Implications of Cognitive Psychology for computer-based learning Tools. Educational Technology, 40(11), 20–25.

Mayer, R. E. (1976). Comprehension as affected by structure of problem representation. Memory and Cognition, 4(3), 249–255.

McGuinness, C. (1986). Problem Representation: The Effects of Spatial Arrays. Memory and Cognition, 14(3), 270–280.

Novak, J. D. (1990). Concept Maps and Vee Diagrams: Two Metacognitive Tools to Facilitate Meaningful Learning. Instructional Science, 19(1), 29–52.

Paas, F., Renkl, A., & Sweller, J. (2003). Cognitive Load Theory and Instructional Design: Recent Developments [Special issue]. Educational Psychologist, 38(1), 1–4.

Pape, S. J., & Tchoshanov, M. A. (2001). The role of representation(s) in developing mathematical understanding. Theory Into Practice, 40(2), 118–127.

Pedhazur, E. J., & Schmelkin, L. P. (1991). Measurement, design, and analysis: An integrated approach. Hillsdale, New Jersey: Lawrence Erlbaum Associates.

Reeve, J. (2005). Understanding motivation and emotion, (4th ed.). New Jersey: John Wiley & Sons.

Salomon, G. (1988). AI in reverse: Computer tools that turn cognitive. J. Educational Computing Research, 4(2), 123–139.

Smith, P. L., & Ragan, T. J. (1999). Instructional design, (2nd ed.). Upper Saddle River, New Jersey: Merrill.

Sweller, J. (1988). Cognitive load during problem solving: Effects on learning. Cognitive Science, 12(2), 257–285.

van Merriënboer, J. J. G., & Ayres, P. (2005). Research on cognitive load theory and its design implications for E-Learning [Special issue]. ETR&D, 53(3).

van Merriënboer, J. J. G., Kirschner, P. A., & Kester, L. (2003). Taking the load off a learner's mind: instructional design for complex learning. Educational Psychologist, 38(1), 5–13.

Zhang, J. (1997). The nature of representations in problem solving. Cognitive Science, 21(2), 179–217.
Acknowledgments
The contents of this article were partially developed under a grant from the Learning Anytime Anywhere Partnerships (LAAP), a program of the Fund for the Improvement of Postsecondary Education (FIPSE), U.S. Department of Education. However, these contents do not necessarily represent the policy of the Department of Education, and you should not assume endorsement by the Federal Government. Elements of this article were reported previously by Danielson, Bender, Mills, Vermeer, and Preast as Helping Learners Gain Diagnostic Problem Solving Skills: Specific Aspects of the Diagnostic Pathfinder Software Tied to Learning Outcomes in the published proceedings of the 2004 AECT national convention.
About this article
Cite this article
Danielson, J.A., Mills, E.M., Vermeer, P.J. et al. Characteristics of a cognitive tool that helps students learn diagnostic problem solving. Education Tech Research Dev 55, 499–520 (2007). https://doi.org/10.1007/s11423-006-9003-8
Keywords
Cognitive Load Theory

Cognitive Tools

Diagnostic Problem Solving

Feedback

Gating