Abstract
Studies of education practices in science centers have found variation in how conceptual learning is supported, or scaffolded, on school field trips. This paper investigates the implications of scaffolding variations for how students make sense of a game-based exhibit that was designed to trigger interest and develop knowledge of scientific phenomena. The data were gathered during a field trip by high school students (aged 16–17 years) to a science center. The activity was part of a larger design-based research project, and this study focuses on students' encounters with a single exhibit while in small groups. The group arrangements are characteristic of how learning activities are organized on field trips and represent three common conditions for scaffolding: (1) peer-supported, (2) teacher-assisted, or (3) facilitated by a museum guide. Interactions in each condition were video-recorded, transcribed, and subsequently scrutinized using interaction analysis. The analysis shows how framing, dialogic approaches, and the game-based exhibit facilitated sense making within and across the different conditions. The paper considers the scaffolding intentions and means of each condition and discusses the consequences of the variations for the students' conceptual learning. The complexity of science center exhibits is also considered, as the study identifies scaffolding challenges related to interactions with dense and comprehensive analogue and digital resources.
This is a preview of subscription content, log in to check access.
Access options
Buy single article
Instant access to the full article PDF.
US$ 39.95
Price includes VAT for USA
Subscribe to journal
Immediate online access to all issues from 2019. Subscription will auto renew annually.
US$ 99
This is the net price. Taxes to be calculated in checkout.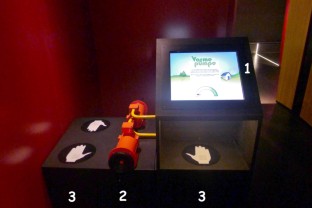 References
Achiam, M. F. (2012). A content-oriented model for science exhibit engineering. International Journal of Science Education, Part B,3, 1–19.

Allen, S. (2002). Looking for learning in visitor talk: A methodological exploration. In G. Leinhardt, K. Crowley, & K. Knutson (Eds.), Learning conversations in museums (pp. 259–304). London: Lawrence Erlbaum Associates Publishers.

Allen, S., & Crowley, K. (2014). Challenging beliefs, practices, and content: How museum educators change. Science Education,98(1), 84–105.

Anderson, D., Kisiel, J., & Storksdieck, M. (2006). Understanding teachers' perspectives on field trips: Discovering common ground in three countries. Curator,49(3), 365–386.

Arnseth, H. C., & Krange, I. (2016). What happens when you push the button? Analyzing the functional dynamics of concept development in computer supported science inquiry. International Journal of Computer-Supported Collaborative Learning,11(4), 479–502.

Ash, D., & Lombana, J. (2012). Methodologies for reflective practice and museum educator research—The role of "noticing" and responding. In D. Ash, J. Rahm, & L. M. Melber (Eds.), Putting theory into practice—Tools for research in informal settings (pp. 29–52). Rotterdam: SensePublishers.

Bakken, S. M., & Pierroux, P. (2015). Framing a topic: Mobile video tasks in museum learning. Learning, Culture and Social Interaction,5, 54–65.

Bakkene, H. (2017). Læringsforløp og arbeid med multiple kilder. En kvalitativ studie av hvordan lærer veileder tre elever. Published master thesis, University of Oslo, Oslo.

Bamberger, Y., & Tal, T. (2007). Learning in personal context: Levels of choice in a free choice learning environment in science and natural history museums. Science Education,91(1), 75–95.

Bransford, J. D., Brown, A. L., & Cocking, R. R. (Eds.). (2000). How people learn: Brain, mind, experience, and school. Washington, DC: National Academy Press.

Brown, A. L. (1992). Design experiments: Theoretical and methodological challenges in creating complex interventions in classroom settings. The Journal of the Learning Sciences,2, 141–178.

Burtnyk, K. M., & Combs, D. J. (2005). Parent chaperones as field trip facilitators: A case study. Visitor Studies Today,8(1), 13–20.

Cole, M. (1996). Cultural psychology: A once and future discipline. Cambridge, MA: Harvard University Press.

DeWitt, J., & Hohenstein, J. (2010). School trips and classroom lessons: An investigation into teacher–student talk in two settings. Journal of Research in Science Teaching,47(4), 454–473.

Edwards, D., & Mercer, N. (1987). Common knowledge—The development of understanding in classrooms. London: Routledge.

Falk, J. (2004). The director's cut: Towards an improved understanding of learning from museums. Science Education,88(1), 83–96.

Falk, J. H., & Storkdieck, M. (2005). Learning science from museums. História, Ciências, Saúde—Manguinhos,12, 117–143.

Goffman, E. (1974). Frame analysis: An essay on the organization of experience. London: Harper and Row.

Gutwill, J. P., & Allen, S. (2012). Deepening students' scientific inquiry skills during a science fieldtrip. Journal of the Learning Sciences,21(1), 130–181.

Jahreie, C., & Krange, I. (2011). Learning in science education across school and science museum—Design and development work in a multiprofessional group. Nordic Journal of Digital Literacy,3, 174–188.

Jefferson, G. (2004). Glossary of transcript symbols with an introduction. In G. H. Lerner (Ed.), Conversation analysis: Studies from the first generation (pp. 13–31). Amsterdam: John Benjamins.

Jordan, B., & Henderson, A. (1995). Interaction analysis: Foundations and practice. The Journal of the Learning Sciences,4, 39–103.

Jornet, A. (2015). The bodily and contextual foundations of conceptual coherence and continuity—Case studies from teaching and learning of science inquiry. Published dissertation no. 220, University of Oslo, Oslo.

Jornet, A., Roth, W.-M., & Krange, I. (2016). A transactional approach to transfer episodes. Journal of the Learning Sciences,25(2), 285–330.

Kisiel, J. F. (2003). Teachers, museums and worksheets: A closer look at a learning experience. Journal of Science Teacher Education,14(1), 3–21.

Kisiel, J. (2005). Understanding elementary teachers' motivation for science fieldtrips. Science Education,89, 936–955.

Kisiel, J. (2006). An examination of fieldtrip strategies and their implementation within a natural history museum. Science Education,90, 434–452.

Knutson, K., & Crowley, K. (2009). Connecting with art: How families talk about art in a museum setting. In M. K. Stein & L. Kucan (Eds.), Instructional explanations in the disciplines (pp. 189–206). New York: Springer.

Krange, I., & Ludvigsen, S. (2008). What does it mean? Students' procedural and conceptual problem solving in a CSCL environment designed within the field of science education. International Journal of Computer Supported Collaborative Learning,3(1), 25–52.

Lantz-Andersson, A., Linderoth, J., & Säljö, R. (2009). What's the problem? Meaning making and learning to do mathematical word problems in the context of digital tools. Instructional Science,37(4), 325–343.

Lazonder, A. W., & Harmsen, R. (2016). Meta-analysis of inquiry-based learning: Effects of guidance. Review of Educational Research,86, 681–718.

Lehrer, R., & Schauble, L. (2010). What kind of explanation is a model? In M. K. Stein & L. Kucan (Eds.), Instructional explanations in the disciplines (pp. 9–22). Boston, MA: Springer.

Leinhardt, G., & Knutson, K. (2004). Listening in on museum conversations. Walnut Creek: Altamira Press.

Linn, M. C., & Eylon, B.-S. (2011). Science learning and instruction: Taking advantage of technology to promote knowledge integration. New York: Routledge.

Mascolo, M. (2005). Change processes in development: The concept of coactive scaffolding. New Ideas in Psychology,23, 185–196.

Pierroux, P. (2010). Guiding meaning on guided tours. Narratives of art and learning in museums. In A. Morrison (Ed.), Inside multimodal composition (pp. 417–450). Cresskill, NJ: Hampton Press.

Puntambekar, S., & Kolodner, J. L. (2005). Toward implementing distributed scaffolding: Helping students learn science from design. Journal of Research in Science Teaching,42(2), 185–217.

Ritzer, G. (1992). Contemporary sociological theory. New York: McGraw-Hill Inc.

Rosebery, A. S., Ogonowski, M., DiSchino, M., & Warren, B. (2010). "The coat traps all your body heat": Heterogeneity as fundamental to learning. Journal of the Learning Sciences,19(3), 322–357.

Rosenthal, E., & Blankman-Hetrick, J. (2002). Conversations across time: Family learning in a living history museum. In G. Leinhardt, K. Crowley, & K. Knutson (Eds.), Learning conversations in museums (pp. 305–330). London: Lawrence Erlbaum Associations.

Sawyer, R. K. (2006). Introduction: The new science of learning. The Cambridge handbook of the learning sciences (pp. 1–9). Cambridge: Cambridge University Press.

Schutz, A. (1967). The phenomenology of the social world. Evanston, III: Northwestern University Press.

Shotter, J. (1992). Bakhtin and Billig: Monological versus dialogical practices. American Behavioral Scientist,36(1), 8–21.

Silseth, K. (2012). The multivoicedness of game play: Exploring the unfolding of a student's learning trajectory in a gaming context at school. International Journal of Computer-Supported Collaborative Learning, 7(1), s63–84. https://doi.org/10.1007/s11412-011-9132-x.

Silseth, K. (2018). Students' everyday knowledge and experiences as resources in educational dialogues. Instructional Science,46(2), 291–313.

Silseth, K., & Arnseth, H. C. (2016). Frames for learning science: Analyzing learner positioning in a technology-enhanced learning environment. Learning, Media and Technology,41(2), 396–415.

Steier, R. (2014). Posing the question: Visitor posing as embodied interpretation in an art museum. Mind, Culture, and Activity,21, 148–170.

Tal, T., & Morag, O. (2007). School visits to natural history museums: Teaching or enriching? Journal of Research in Science Teaching,45(5), 747–769.

Tannen, D., & Wallat, C. (1987). Interactive frames and knowledge schemas in interaction: Examples from medical examination/interview. Social Psychology Quarterly,50(2), 205–216.

van der Pol, J., Volman, M., & Beishuizen, J. (2010). Scaffolding in teacher-student interaction: A decade of research. Educational Psychology Review,22, 271–296.

Vygotsky, L. (1978). Mind in society. The development of higher psychological processes. Cambridge, MA: MIT Press.

Vygotsky, L. (1986). Thought and language. Cambridge, MA: The MIT Press.

Wood, D., Bruner, J. S., & Ross, G. (1976). The role of tutoring in problem solving. Journal of Child Psychology and Psychiatry and Allied Disciplines,17, 89–100.

Yoon, S. A., Elinich, K., Wang, J., Van, J. B., & Schooneveld, E. A. (2013). Scaffolding informal learning in science museums: How much is too much? Science Education,97(6), 848–877.
Acknowledgements
This research was funded by the Norwegian National Research Council, Grant No. 201332.
Appendix: Transcription conventions
Appendix: Transcription conventions
| Sign | Explanation |
| --- | --- |
| (2.5) | Time interval between speech in tenths of a second |
| < > | Right and left carats indicate that the talk between them was speeded up or slowed down |
| that | Underlining indicates emphasis on words and expressions |
| [ | Bracket indicate where overlapping talk starts |
| ::: | Colons indicate a lengthening of the word or sound |
| . ? | Punctuation markers indicates intonation. Question-mark indicates rising intonation. The period indicates falling intonation |
| x | This indicates a word or sound that is difficult to hear |
| ((looks up)) | Sentence that appears within double parentheses describes action |
About this article
Cite this article
Krange, I., Silseth, K. & Pierroux, P. Peers, teachers and guides: a study of three conditions for scaffolding conceptual learning in science centers. Cult Stud of Sci Educ 15, 241–263 (2020). https://doi.org/10.1007/s11422-018-9905-x
Received:

Accepted:

Published:

Issue Date:
Keywords
Conceptual learning

Framing

Scaffolding

Science center

Field trip