Abstract
This article draws on Bakhtin and other cultural studies theorists to understand the role of the grotesque as a libratory moment in biology education. Four examples of texts and moments are analyzed: Sylvia Branzei's Grossology series of children's books about the grotesque, observations of a pig heart dissection, a standard high school textbook, and zines by and for human subjects. Findings confirm a powerful social leveling effect within the biological grotesque, but limits are also identified. Specifically, the grotesque itself can become a form of social capital in itself, and thus the material for establishing new hierarchies. The paper also examines the ways that teachers and texts try to limit the leveling effects of the grotesque.
Access options
Buy single article
Instant access to the full article PDF.
US$ 39.95
Tax calculation will be finalised during checkout.
Subscribe to journal
Immediate online access to all issues from 2019. Subscription will auto renew annually.
US$ 79
Tax calculation will be finalised during checkout.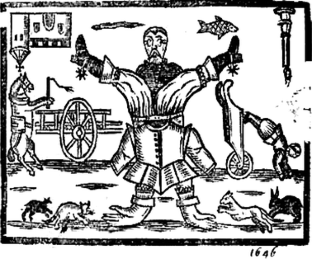 Notes
1.

Penley has written of the K/S writers, mostly women Star Trek (1st generation) fans, who, frustrated with a lack of romantic arc in the story, created one between Kirk and Spock. These stories would be marked with a K/S to warn and advertise to readers about their explicit homoerotic and homosexual content. It is this convention of marking stories with a slash and initials that gives slash writers their name.
References
Babcock, B. A. (1978). Introduction. In B. A. Babcock (Ed.), The reversible world. Ithaca: Cornell University Press.

Bakhtin, M. (1988). Rabelais and his world (H. Iswolsky, Trans.). Massachusetts: MIT Press.

Barton, A. C., & Osborne, M. D. (2001). Teaching science in diverse settings: Marginalized discourses and classroom practice. New York: P. Lang.

Bourdieu, P. (1984). Distinction: A social critique of the judgment of taste. Cambridge: Harvard University Press.

Branzei, S. (1995). Grossology: The study of really gross things. New York: Price Stern Sloan.

Daston, L., & Park, K. (1998). Wonders and the order of nature (pp. 1150–1750). New York: Zone Books.

de Certeau, M. (1984). The practice of everyday life (S. Rendall, Trans.). Berkeley: University of California Press.

Douglas, M. (1966). Purity and danger: An analysis of concepts of pollution and taboo. New York: Praeger.

Douglas, M. (1982). Natural symbols: Explorations in cosmology (1st Pantheon paperbacks ed.). New York: Pantheon Books.

Dulce, T. (1998). Spanish fly guinea pig. Guinea Pig Zero (6).

Dyer, R. (1993). Entertainment and Utopia. In S. During (Ed.), The cultural studies reader. New York: Routledge.

GPZ. (1996–2000). Guinea pig zero: A journal for human research subjects. Philadelphia.

Helms, R. (2002a). A guinea pig among the lepers: What I did once between drug studies. In R. Helms (Ed.), Guinea Pig Zero: An anthology of the journal for human research subjects. New Orleans, LA: Garrett County Press.

Helms, R. (Ed.). (2002b). Guinea pig zero: An anthology of the Journal for Human Research Subjects. New Orleans, LA: Garrett County Press.

Hogshire, J. (1992). Sell yourself to science. Port Townsend, WA: Loompanics.

Kristeva, J. (1982). Powers of horror: An essay on abjection. New York: Columbia University Press.

Levine, J. S., & Miller, K. R. (1991). Biology: Discovering life (Instructor's ed.). Lexington, Mass: D. C. Heath.

Sidorkin, A. M. (1997). Carnival and domination: Pedagogies of neither care nor justice. Educational Theory, 47(2), 10.

Stallybrass, P., & White, A. (1986). The politics and poetics of transgression. Ithaca: Cornell University Press.

Vidal, J. (1998). Students are paid to eat pesticides. Guinea pig zero (6).

Weinstein, M. (2004). Science/education. In J. A. Weaver, K. Anijar, & T. Daspit (Eds.), Science fiction curriculum, cyborg teachers, & youth culture(s). New York: Peter Lang.

Williams, R. (1977). Marxism and literature. Oxford: Oxford University Press.
Additional information
Permissions Grossology images used in this article © 1995, 2002 by Jack Keely, used with permission by Price Stern Sloan Press.
Photo of Grossology Museum exhibit, © 2004 by Matthew Broda.
About this article
Cite this article
Weinstein, M., Broda, M. Resuscitating the critical in the biological grotesque: blood, guts, biomachismo in science/education and human guinea pig discourse. Cult Stud of Sci Educ 4, 761 (2009). https://doi.org/10.1007/s11422-009-9186-5
Received:

Accepted:

Published:
Keywords
Cultural studies

Bakhtin

Grotesque

Dissection

Human subjects

Children's books

Discourse