Abstract
Background
Sacral insufficiency fracture (SIF) can cause lumbosacral radiculoplexopathy (LSRP) and is probably under-recognized. Symptoms may include nonspecific lumbar spine or buttock pain that is exacerbated by physical activity and alleviated with rest. The frequency of LSRP secondary to SIF has not been reported.
Questions/Purposes
We aimed to determine the frequency of LSRP associated with SIF using magnetic resonance imaging (MRI) of the lumbar spine.
Methods
We searched a radiology database at our institution using the keywords "sacral insufficiency fracture" and "lumbar spine MRI" for patient records from January 2014 through December 2017. We assessed for the presence of LSRP, reflected by elevated T2-weighted or short tau inversion recovery (STIR) signal intensity and enlargement of the nerve on noncontrast lumbar spine MRI. An incompletely healed vertically oriented SIF was confirmed if there was a persistent bone marrow edema pattern adjacent to the fracture site; we did not include purely transverse SIFs. The final cohort comprised 57 patients (48 female; age range, 14 to 89 years).
Results
Abnormalities of the extraforaminal L5 nerve root or the combined L4 and L5 nerve roots (the lumbosacral trunk) were identified in 19 (33%) of 57 patients, with a total of 23 sites (bilateral involvement in four cases). Of the 23 abnormal nerves, 19 (82.6%) had corresponding, clinically documented radicular symptoms and 16 (69.6%) had no other explanation on MRI for their radicular symptoms other than SIF.
Conclusions
LSRP caused by SIF is an entity all radiologists should be cognizant of, especially in cases of otherwise unexplained radicular symptoms. The diagnosis of SIF can be helpful in cases involving concomitant multilevel lumbar spondylosis and neural foraminal stenosis.
This is a preview of subscription content, log in to check access.
Access options
Buy single article
Instant access to the full article PDF.
US$ 39.95
Price includes VAT for USA
Subscribe to journal
Immediate online access to all issues from 2019. Subscription will auto renew annually.
US$ 99
This is the net price. Taxes to be calculated in checkout.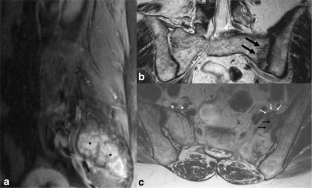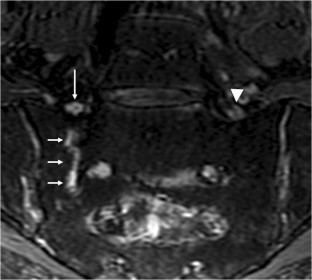 References
1.

Aota Y, Saito Y, Yoshikawa K, Asada T, Kondo S, Watanabe K. Presurgical identification of extradural nerve root anomalies by coronal fat-suppressed magnetic resonance imaging: a report of six cases and review of the literature. J Spinal Disord. 1997;10:167–175.

2.

Aylwin A, Saifuddin A, Tucker S. L5 radiculopathy due to sacral stress fracture. Skeletal Radiol. 2003;32:590–593.

3.

Bednar DA, Almansoori K. Sacral stress fracture mimicking lumbar radiculopathy in a mounted police officer: case report and literature review. Global Spine J. 2015;5:69–73.

4.

Burke SM, Safain MG, Krysanski J, Riesenburger RI. Nerve root anomalies: implications for transforaminal lumbar interbody fusion surgery and a review of the Neidre and Macnab classification system. Neurosurg Focus. 2013;35(2):E9

5.

Denis F, Davis S, Comfort T. Sacral fractures: an important problem. Retrospective analysis of 236 cases. Clin Orthop Relat Res. 1988;227:67–81.

6.

Ergun T, Lakadamyali H. CT and MRI in the evaluation of extraspinal sciatica. Br J Radiol. 2010;83:791–803.

7.

Finiels H, Finiels PJ, Jacquot JM, Strubel D. [Fractures of the sacrum caused by bone insufficiency. Meta-analysis of 508 cases. Presse Med. 1997;26:1568–1573.

8.

Kadish LJ, Simmons EH. Anomalies of the lumbosacral nerve roots. An anatomical investigation and myelographic study. J Bone Joint Surg Br. 1984;66:411–416.

9.

Kortelainen P, Puranen J, Koivisto E, Lähde S. Symptoms of signs of sciatica and their relation to the localization of the lumbar disc herniation. Spine (Phila Pa 1976). 1985;10:88–92.

10.

Lin JT, Lutz GE. Postpartum sacral fracture presenting as lumbar radiculopathy: a case report. Arch Phys Med Rehabil. 2004;85:1358–1361.

11.

Linstrom NJ, Heiserman JE, Kortman KE, et al. Anatomical and biomechanical analyses of the unique and consistent locations of sacral insufficiency fractures. Spine (Phila Pa 1976). 2009;34:309–315.

12.

Lyders EM, Whitlow CT, Baker MD, Morris PP. Imaging and treatment of sacral insufficiency fractures. AJNR Am J Neuroradiol. 2010;31:201–210.

13.

Mixter WJ, Barr JS. Rupture of the intervertebral disc with involvement of the spinal canal. New Engl J Med. 1934;211:210–215.

14.

Mondelli M, Aretini A, Arrigucci U, Ginanneschi F, Greco G, Sicurelli F. Clinical findings and electrodiagnostic testing in 108 consecutive cases of lumbosacral radiculopathy due to herniated disc. Neurophysiol Clin. 2013;43:205–215.

15.

Pentecost RL, Murray RA, Brindley HH. Fatigue, insufficiency, and pathologic fractures. JAMA. 1964;187:1001–1004.

16.

Valat JP, Genevay S, Marty M, Rozenberg S, Koes B. Sciatica. Best Pract Res Clin Rheumatol. 2010;24:241–252.

17.

White JG 3rd, Strait TA, Binkley JR, Hunter SE. Surgical treatment of 63 cases of conjoined nerve roots. J Neurosurg. 1982;56:114–117.
Ethics declarations
Conflict of Interest
The authors declare that they have no conflict of interest.
Human/Animal Rights
All procedures followed were in accordance with the ethical standards of the responsible committee on human experimentation (institutional and national) and with the Helsinki Declaration of 1975, as revised in 2013.
Informed Consent
Informed consent was waived for all patients included in this study.
Required Author Forms
Disclosure forms provided by the authors are available with the online version of this article.
Additional information
Level of Evidence: Level II: Retrospective study
About this article
Cite this article
Geannette, C., Lee, S.C. & Sneag, D.B. Etiology of Lumbosacral Radiculoplexopathy: Sacral Insufficiency Fracture on Magnetic Resonance Imaging. HSS Jrnl 16, 126–129 (2020). https://doi.org/10.1007/s11420-020-09750-y
Received:

Accepted:

Published:

Issue Date:
Keywords
radiculopathy

magnetic resonance imaging

spine

lumbosacral plexus