Abstract
Background
Advances in modern spinal fusion techniques have allowed for less peri-operative morbidity and more rapid recovery from surgery. The addition of endoscopy to minimally invasive surgery (MIS) fusion techniques represents the latest progression of efforts to minimize the impact of surgical intervention.
Technique
MIS transforaminal lumbar interbody fusion (TLIF) is performed endoscopically through a sub-centimeter working portal. Patients undergo light conscious sedation and remain awake to facilitate feedback with the surgeon and enhance post-operative recovery.
Results
Previously reported results of the first 100 cases performed by the senior author at a single institution are summarized. This cohort has been characterized by brief post-operative length of stay, low complication profile, and marked improvement in patient-reported outcomes scores, with no cases of pseudarthrosis at 1-year follow up.
Conclusions
The latest technical considerations and adaptations of a novel technique for endoscopic MIS spinal fusion without general anesthesia are described. A refined surgical technique and anesthetic protocol are presented in detail with recommendations for the successful implementation and performance of the procedure.
This is a preview of subscription content, log in to check access.
Access options
Buy single article
Instant access to the full article PDF.
US$ 39.95
Tax calculation will be finalised during checkout.
Subscribe to journal
Immediate online access to all issues from 2019. Subscription will auto renew annually.
US$ 99
Tax calculation will be finalised during checkout.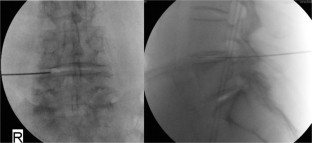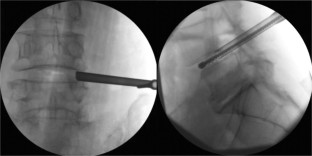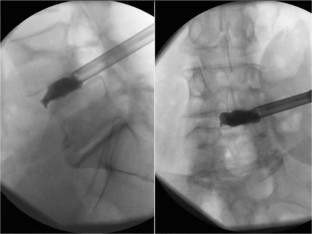 References
1.

Butler AJ, Alam M, Wiley K, Ghasem A, Rush III AJ, Wang JC. Endoscopic lumbar surgery: the state of the art in 2019. Neurospine. 2019;16(1):15–23.

2.

Deyo RA, Mirza SK, Martin BI, Kreuter W, Goodman DC, Jarvik JG. Trends, major medical complications, and charges associated with surgery for lumbar spinal stenosis in older adults. JAMA. 2010;303(13):1259–1265.

3.

Foley KT, Holly LT, Schwender JD. Minimally invasive lumbar fusion. Spine (Phila Pa 1976). 2003;28(15 Suppl):S26–S35.

4.

Gerbershagen HJ, Aduckathil S, van Wijck AJ, Peelen LM, Kalkman CJ, Meissner W. Pain intensity on the first day after surgery: a prospective cohort study comparing 179 surgical procedures. Anesthesiology. 2013;118(4):934–944.

5.

Hardenbrook M, Lombardo S, Wilson MC, Telfeian AE. The anatomic rationale for transforaminal endoscopic interbody fusion: a cadaveric analysis. Neurosurg Focus. 2016;40(2):E12.

6.

Isaacs RE, Podichetty VK, Santiago P, et al. Minimally invasive microendoscopy-assisted transforaminal lumbar interbody fusion with instrumentation. J Neurosurg Spine. 2005;3(2):98–105.

7.

Kolcun JPG, Brusko GD, Basil GW, Epstein R, Wang MY. Endoscopic transforaminal lumbar interbody fusion without general anesthesia: operative and clinical outcomes in 100 consecutive patients with a minimum 1-year follow-up. Neurosurg Focus. 2019;46(4):E14.

8.

Qin R, Liu B, Zhou P, et al. Minimally invasive versus traditional open transforaminal lumbar interbody fusion for the treatment of single-level spondylolisthesis grades 1 and 2: a systematic review and meta-analysis. World Neurosurg. 2019;122:180–189.

9.

Rajaee SS, Bae HW, Kanim LE, Delamarter RB. Spinal fusion in the United States: analysis of trends from 1998 to 2008. Spine (Phila Pa 1976). 2012;37(1):67–76.

10.

Telfeian AE, Veeravagu A, Oyelese AA, Gokaslan ZL. A brief history of endoscopic spine surgery. Neurosurg Focus. 2016;40(2):E2.

11.

Wang MY, Grossman J. Endoscopic minimally invasive transforaminal interbody fusion without general anesthesia: initial clinical experience with 1-year follow-up. Neurosurg Focus. 2016;40(2):E13.

12.

Wang MY, Chang PY, Grossman J. Development of an Enhanced Recovery After Surgery (ERAS) approach for lumbar spinal fusion. J Neurosurg Spine. 2017;26(4):411–418.

13.

Wang MY, Chang HK, Grossman J. Reduced acute care costs with the ERAS® minimally invasive transforaminal lumbar interbody fusion compared with conventional minimally invasive transforaminal lumbar interbody fusion. Neurosurgery. 2018;83(4):827–834.
Ethics declarations
Conflict of Interest
Alexander J. Butler, MD, and G. Damian Brusko, BS, declare that they have no conflicts of interest. Michael Y. Wang, MD, reports royalties from DePuy-Synthes Spine, Inc., Children's Hospital of Los Angeles, Springer Publishing, and Quality Medical Publishing; personal fees as a consultant from DePuy-Synthes Spine, Inc., JoiMax USA, K2M, and Aesculap Spine; advisory board membership for Vallum; stock in Spinicity and Innovative Surgical Devices; and grants from the US Department of Defense.
Human/Animal Rights
All procedures followed were in accordance with the ethical standards of the responsible committee on human experimentation (institutional and national) and with the Helsinki Declaration of 1975, as revised in 2013.
Informed Consent
Informed consent was waived from all patients for being included in this study.
Required Author Forms
Disclosure forms provided by the authors are available with the online version of this article.
About this article
Cite this article
Butler, A.J., Brusko, G.D. & Wang, M.Y. Awake Endoscopic Transforaminal Lumbar Interbody Fusion: A Technical Note. HSS Jrnl 16, 200–204 (2020). https://doi.org/10.1007/s11420-020-09748-6
Received:

Accepted:

Published:

Issue Date:
Keywords
fusion

spinal surgery

endoscopy

MIS

TLIF

technique