Abstract
Background
Pseudarthrosis after lumbar fusion can generate pain and disability and often requires revision. However, results of revision procedures have historically been relatively poor.
Questions/Purpose
The aim of this review was to examine the current evidence related to the management of lumbar pseudarthrosis, with a focus on revision after failure of posterolateral fusion or lumbar interbody fusion.
Methods
A review of orthopedic spine literature published before March 2019 was conducted using PubMed and Google Scholar. Studies addressing revision after failed posterolateral fusions and after failed interbody fusion were selected. We also present a case of successful revision after failed transforaminal lumbar interbody fusion (TLIF).
Results
The review revealed that persistent pseudarthrosis after revision posterolateral fusion occurs at rates of 35 to 51%. No significant difference has been demonstrated in rates of successful fusion after anterior lumbar interbody fusion (ALIF) and ALIF with revision posterolateral fusion for pseudarthroses after failed TLIF procedures (81% versus 88%), although ALIF alone may be appealing because it avoids further disruption of the posterior musculature. No significant differences have been observed in quality-of-life scores among patients undergoing revision after posterolateral fusion, TLIF, ALIF, or ALIF with posterior fusion. Failed TLIF cages may be extracted and replaced through an anterior or lateral approach. If the geometry of the failed cage permits insertion of a second cage, a contralateral approach may be used. Revision retroperitoneal approaches are associated with higher complication rates.
Conclusions
The management of lumbar pseudarthrosis requires careful planning, as well as intra-operative attention to detail, for revision surgery to be successful. Circumferential procedures have shown success in revision posterolateral and interbody fusion failures.
This is a preview of subscription content, log in to check access.
Access options
Buy single article
Instant access to the full article PDF.
US$ 39.95
Price includes VAT for USA
Subscribe to journal
Immediate online access to all issues from 2019. Subscription will auto renew annually.
US$ 99
This is the net price. Taxes to be calculated in checkout.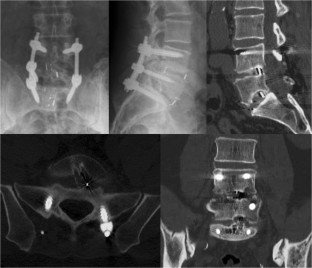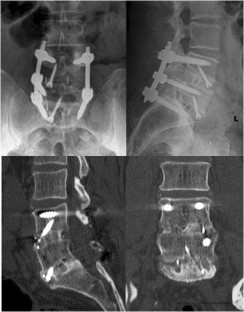 References
1.

Albert TJ, Pinto M, Denis F. Management of symptomatic lumbar pseudarthrosis with anteroposterior fusion. A functional and radiographic outcome study. Spine (Phila Pa 1976). 2000;25(1):123–129; discussion 130.

2.

Berjano P, Langella F, Damilano M, et al. Fusion rate following extreme lateral lumbar interbody fusion. Eur Spine J. 2015;24 Suppl 3:369–371. doi:https://doi.org/10.1007/s00586-015-3929-7

3.

Eom JS, Jeon I, Kim SW. Application of lateral approach for the removal of migrated interbody cage: taphole and fixing technique. Korean J Spine. 2017;14(1):23–26. doi:https://doi.org/10.14245/kjs.2017.14.1.23

4.

Gertzbein SD, Hollopeter MR, Hall S. Pseudarthrosis of the lumbar spine. Outcome after circumferential fusion. Spine (Phila Pa 1976). 1998;23(21):2352–2356; discussion 2356–2357.

5.

Kadam A, Wigner N, Saville P, Arlet V. Overpowering posterior lumbar instrumentation and fusion with hyperlordotic anterior lumbar interbody cages followed by posterior revision: a preliminary feasibility study. J Neurosurg Spine. 2017;27(6):650–660. doi:https://doi.org/10.3171/2017.5.SPINE16926

6.

Lauerman WC, Bradford DS, Ogilvie JW, Transfeldt EE. Results of lumbar pseudarthrosis repair. J Spinal Disord. 1992;5(2):149–157.

7.

Lee S-H, Kang B-U, Jeon SH, et al. Revision surgery of the lumbar spine: anterior lumbar interbody fusion followed by percutaneous pedicle screw fixation. J Neurosurg Spine. 2006;5(3):228–233. doi:https://doi.org/10.3171/spi.2006.5.3.228

8.

Levin JM, Tanenbaum JE, Steinmetz MP, Mroz TE, Overley SC. Posterolateral fusion (PLF) versus transforaminal lumbar interbody fusion (TLIF) for spondylolisthesis: a systematic review and meta-analysis. Spine J. 2018;18(6):1088–1098. doi:https://doi.org/10.1016/j.spinee.2018.01.028

9.

Martin BI, Mirza SK, Spina N, Spiker WR, Lawrence B, Brodke DS. Trends in lumbar fusion procedure rates and associated hospital costs for degenerative spinal diseases in the United States, 2004 to 2015. Spine (Phila Pa 1976). 2019;44(5):369–376. doi:https://doi.org/10.1097/BRS.0000000000002822

10.

Moisi M, Page J, Paulson D, Oskouian RJ. Technical note—lateral approach to the lumbar spine for the removal of interbody cages. Cureus. 2015;7(5):e268. doi:https://doi.org/10.7759/cureus.268

11.

Owens RK, Djurasovic M, Crawford CH, Glassman SD, Dimar JR, Carreon LY. Impact of surgical approach on clinical outcomes in the treatment of lumbar pseudarthrosis. Global Spine J. 2016;6(8):786–791. doi:https://doi.org/10.1055/s-0036-1582390

12.

Parajón A, Alimi M, Navarro-Ramirez R, et al. Minimally invasive transforaminal lumbar interbody fusion: meta-analysis of the fusion rates. what is the optimal graft material? Neurosurgery. 2017;81(6):958–971. doi:https://doi.org/10.1093/neuros/nyx141

13.

Phan K, Mobbs RJ. Oblique lumbar interbody fusion for revision of non-union following prior posterior surgery: a case report. Orthop Surg. 2015;7(4):364–367. doi:https://doi.org/10.1111/os.12204

14.

Phan K, Thayaparan GK, Mobbs RJ. Anterior lumbar interbody fusion versus transforaminal lumbar interbody fusion—systematic review and meta-analysis. Br J Neurosurg. 2015;29(5):705–711. doi:https://doi.org/10.3109/02688697.2015.1036838

15.

Raizman NM, O'Brien JR, Poehling-Monaghan KL, Yu WD. Pseudarthrosis of the spine. J Am Acad Orthop Surg. 2009;17(8):494–503.

16.

Rajaee SS, Kanim LEA, Bae HW. National trends in revision spinal fusion in the USA: patient characteristics and complications. Bone Joint J. 2014;96-B(6):807–816. doi:https://doi.org/10.1302/0301-620X.96B6.31149

17.

Slosar PJ, Reynolds JB, Schofferman J, Goldthwaite N, White AH, Keaney D. Patient satisfaction after circumferential lumbar fusion. Spine (Phila Pa 1976). 2000;25(6):722–726.

18.

Vargas-Soto HA, Mehbod A, Mullaney KJ, et al. Salvage procedures for pseudarthrosis after transforaminal lumbar interbody fusion (TLIF)-anterior-only versus anterior–posterior surgery: a clinical and radiological outcome study. J Surg Orthop Adv. 2009;18(4):200–204.

19.

Wagner WH, Regan JJ, Leary SP, et al. Access strategies for revision or explantation of the Charité lumbar artificial disc replacement. J Vasc Surg. 2006;44(6):1266–1272. doi:https://doi.org/10.1016/j.jvs.2006.07.046

20.

West JL, Bradford DS, Ogilvie JW. Results of spinal arthrodesis with pedicle screw-plate fixation. J Bone Joint Surg Am. 1991;73(8):1179–1184.

21.

Yamashita T, Steinmetz MP, Lieberman IH, Modic MT, Mroz TE. The utility of repeated postoperative radiographs after lumbar instrumented fusion for degenerative lumbar spine. Spine (Phila Pa 1976). 2011;36(23):1955–1960. doi:https://doi.org/10.1097/BRS.0b013e31820125b5
Ethics declarations
Conflict of Interest
Peter B. Derman, MD, MBA, declares that he has no conflicts of interest. Kern Singh, MD, reports receiving consulting fees or honoraria from Zimmer Biomet, K2M, Stryker, Pioneer, Lippincott Williams and Wilkins, Thieme, Jaypee Publishing, Slack Publishing, Avaz Surgical, Vital 5, and DuPuy Synthes; royalties or licensing fees from Zimmer Biomet, RTI Surgical, and Stryker; is on the board of directors at the Cervical Spine Research Society, the International Society for the Advancement of Spine Surgery (ISASS), the American Academy of Orthopaedic Surgeons, the Scoliosis Research Society, and Vertebral Columns (ISASS); and has received a Cervical Spine Research Society resident grant, outside the submitted work.
Human/Animal Rights
N/A
Informed Consent
N/A
Required Author Forms
Disclosure forms provided by the authors are available with the online version of this article.
Electronic supplementary material
About this article
Cite this article
Derman, P.B., Singh, K. Surgical Strategies for the Treatment of Lumbar Pseudarthrosis in Degenerative Spine Surgery: A Literature Review and Case Study. HSS Jrnl 16, 183–187 (2020). https://doi.org/10.1007/s11420-019-09732-9
Received:

Accepted:

Published:

Issue Date:
Keywords
lumbar pseudarthrosis

revision

spine surgery

complex

techniques