Abstract
Background
Unanticipated severe injury to part of the musculoskeletal system, referred to as orthopedic trauma, can be debilitating. It can also be accompanied by equally debilitating psychological distress, but little is known about the effective interventions for psychological sequelae of orthopedic trauma.
Questions/Purposes
We sought to determine the effectiveness of interventions on psychological outcomes, such as post-traumatic stress disorder (PTSD), depression, and pain catastrophizing (feelings of helplessness, excessive rumination, and exaggerated description of pain), after major orthopedic trauma.
Methods
Using the Preferred Reporting Items for Systematic Reviews and Meta-Analyses (PRISMA) statement as guidelines, we systematically searched Scopus, PubMed, and Google Scholar. Studies included for review were English-language interventional studies in an orthopedic trauma population that included assessment of post-injury psychological distress or disability as either a primary or secondary aim.
Results
Twelve studies were identified, including six randomized trials, three prospective cohort studies, and three retrospective cohort studies. Study sample sizes ranged from 48 to 569 patients, the mean age ranged from 29 to 52.8 years, and the percentage of male patients ranged from 38 to 90%. We examined four categories of interventions. Peer group treatment (one study) significantly reduced rates of depression but had low participation rates. Brief interventions to teach coping and self-efficacy skills (two studies) decreased depression, pain catastrophizing, and anxiety scores while increasing self-efficacy on short-term follow-up. Individualized counseling and rehabilitation (four studies) resulted in a consistent reduction in the risk of PTSD. Early amputation was found to result in lower rates of PSTD than limb salvage in US military personnel (four studies). One study examined surgeons' confidence in dealing with possible psychological distress; surgeons who participated in a program on collaborative care were significantly more confident that they could help their patients with such issues.
Conclusion
Interventional strategies, including group interventions, brief individual interventions, longitudinal counseling, and consideration of early amputation in selected populations have proved effective in reducing negative psychological sequelae of major orthopedic trauma. Further research that determines the effects of interventions in this population is needed.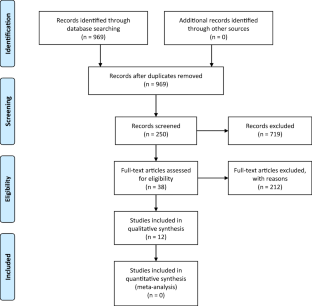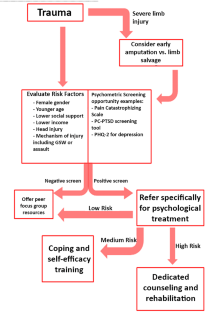 References
1.

Alarcon LH, Germain A, Clontz AS, et al. Predictors of acute posttraumatic stress disorder symptoms following civilian trauma: highest incidence and severity of symptoms after assault. J Trauma Acute Care Surg. 2012;72(3):629–635.

2.

Archer KR, Abraham CM, Obremskey WT. Psychosocial factors predict pain and physical health after lower extremity trauma. Clin Orthop Relat Res. 2015;473:3519–3526.

3.

Archer KR, Abraham CM, Song Y, Obremskey WT. Cognitive–behavioral determinants of pain and disability two years after traumatic injury: a cross-sectional survey study. J Trauma Acute Care Surg. 2012;72:473–479.

4.

Archer KR, Heins SE, Abraham CM, Obremskey WT, Wegener ST, Castillo RC. Clinical significance of pain at hospital discharge following traumatic orthopaedic injury: general health, depression, and PTSD outcomes at 1 year. Clin J Pain. 2016;32(3):196–202.

5.

Archer KR, Phelps KD, Seebach CL, Song Y, Riley LH 3rd, Wegener ST. Comparative study of short forms of the Tampa Scale for Kinesiophobia: fear of movement in a surgical spine population. Arch Phys Med Rehabil. 2012;93:1460–1462.

6.

Becher S, Smith M, Ziran B. Orthopaedic trauma patients and depression: a prospective cohort. J Orthop Trauma. 2014;28:e242–e246.

7.

Bhandari M, Busse JW, Hanson BP, Leece P, Ayeni OR, Schemitsch EH. Psychological distress and quality of life after orthopedic trauma: an observational study. Can J Surg. 2008;51:15–22.

8.

Bosse MJ, MacKenzie EJ, Kellam JF, et al. An analysis of outcomes of reconstruction or amputation after leg-threatening injuries. N Engl J Med. 2002;347:1924–1931.

9.

Browne AL, Appleton S, Fong K, et al. A pilot randomized controlled trial of an early multidisciplinary model to prevent disability following traumatic injury. Disabil Rehabil. 2013;35:1149–1163.

10.

Castillo RC, Wegener ST, Newell MZ, et al. Improving outcomes at Level I trauma centers: an early evaluation of the Trauma Survivors Network. J Trauma Acute Care Surg. 2013;74:1534–1540.

11.

Crichlow RJ, Andres PL, Morrison SM, Haley SM, Vrahas MS. Depression in orthopaedic trauma patients. Prevalence and severity. J Bone Joint Surg Am. 2006;88:1927–1933.

12.

Doukas WC, Hayda RA, Frisch HM, et al. The Military Extremity Trauma Amputation/Limb Salvage (METALS) study: outcomes of amputation versus limb salvage following major lower-extremity trauma. J Bone Joint Surg Am. 2013;95:138–145.

13.

Hanley J, deRoon-Cassini T, Brasel K. Efficiency of a four-item posttraumatic stress disorder screen in trauma patients. J Trauma Acute Care Surg. 2013;75:722–727.

14.

Holbrook TL, Hoyt DB. The impact of major trauma: quality-of-life outcomes are worse in women than in men, independent of mechanism and injury severity. J Trauma. 2004;56:284–290.

15.

Hoogendoorn JM, van der Werken C. Grade III open tibial fractures: functional outcome and quality of life in amputees versus patients with successful reconstruction. Injury. 2001;32:329–334.

16.

Ladlow P, Phillip R, Coppack R, et al. Influence of immediate and delayed lower-limb amputation compared with lower-limb salvage on functional and mental health outcomes post-rehabilitation in the U.K. military. J Bone Joint Surg Am. 2016;98:1996–2005.

17.

Liberati A, Altman DG, Tetzlaff J, et al. The PRISMA statement for reporting systematic reviews and meta-analyses of studies that evaluate health care interventions: explanation and elaboration. J Clin Epidemiol. 2009;62:e1–e34.

18.

McCarthy ML, MacKenzie EJ, Edwin D, Bosse MJ, Castillo RC, Starr A. Psychological distress associated with severe lower-limb injury. J Bone Joint Surg Am. 2003;85:1689–1697.

19.

Muscatelli S, Spurr H, O'Hara NN, O'Hara LM, Sprague SA, Slobogean GP. Prevalence of depression and posttraumatic stress disorder after acute orthopaedic trauma: a systematic review and meta-analysis. J Orthop Trauma. 2017;31:47–55.

20.

Nota SPFT, Bot AGJ, Ring D, Kloen P. Disability and depression after orthopaedic trauma. Injury. 2015;46:207–212.

21.

O'Donnell ML, Holmes AC, Creamer MC, et al. The role of post-traumatic stress disorder and depression in predicting disability after injury. Med J Aust. 2009;190:S71–74.

22.

Ponsford J, Hill B, Karamitsios M, Bahar-Fuchs A. Factors influencing outcome after orthopedic trauma. J Trauma. 2008;64:1001–1009.

23.

Ponzer S, Molin U, Johansson SE, Bergman B, Törnkvist H. Psychosocial support in rehabilitation after orthopedic injuries. J Trauma. 2000;48:273–279.

24.

Powers MB, Warren AM, Rosenfield D, et al. Predictors of PTSD symptoms in adults admitted to a Level I trauma center: a prospective analysis. J Anxiety Disord. 2014;28:301–309.

25.

Roden-Foreman K, Solis J, Jones A, Bennett M, et al. Prospective evaluation of posttraumatic stress disorder and depression in orthopaedic injury patients with and without concomitant traumatic brain injury. J Orthop Trauma. 2017;31:e275–e280.

26.

Rosenbloom BN, McCartney CJL, Canzian S, Kreder HJ, Katz J. Predictors of prescription opioid use 4 months after traumatic musculoskeletal injury and corrective surgery: a prospective study. J Pain. 2017;18:956–963.

27.

Slim K, Nini E, Forestier D, Kwiatkowski F, Panis Y, Chipponi J. Methodological index for non-randomized studies (MINORS): development and validation of a new instrument. ANZ J Surg. 2003;73:712–716.

28.

Soberg HL, Bautz-Holter E, Roise O, Finset A. Mental health and posttraumatic stress symptoms 2 years after severe multiple trauma: self-reported disability and psychosocial functioning. Arch Phys Med Rehabil. 2010;91:481–488.

29.

Sullivan MJL, Bishop S, Pivik J. The Pain Catastrophizing Scale: development and validation. Psychol Assess. 1995;7:524–532.

30.

Vincent HK, Horodyski M, Vincent KR, Brisbane ST, Sadasivan KK. Psychological distress after orthopedic trauma: prevalence in patients and implications for rehabilitation. PM R. 2015;7:978–989.

31.

Vranceanu AM, Bachoura A, Weening A, Vrahas M, Smith RM, Ring D. Psychological factors predict disability and pain intensity after skeletal trauma. J Bone Joint Surg Am. 2014;96:e20.

32.

Vranceanu AM, Hageman M, Strooker J, ter Meulen D, Vrahas M, Ring D. A preliminary RCT of a mind body skills based intervention addressing mood and coping strategies in patients with acute orthopaedic trauma. Injury. 2015;46:552–557.

33.

Wegener ST, Carroll EA, Gary JL, et al. Trauma Collaborative Care Intervention: effect on surgeon confidence in managing psychosocial complications after orthopaedic trauma. J Orthop Trauma. 2017;31:427–433.

34.

Wegener ST, Pollak AN, Frey KP, et al. The Trauma Collaborative Care Study (TCCS). J Orthop Trauma. 2017;31:S78–S87.

35.

Williams AE, Newman JT, Ozer K, Juarros A, Morgan SJ, Smith WR. Posttraumatic stress disorder and depression negatively impact general health status after hand injury. J Hand Surg Am. 2009;34:515–522.

36.

Wong EM-L, Chan SW-C, Chair S-Y. Effectiveness of an educational intervention on levels of pain, anxiety and self-efficacy for patients with musculoskeletal trauma. J Adv Nurs. 2010;66:1120–1131.

37.

Zatzick D, Jurkovich G, Rivara FP, et al. A randomized stepped care intervention trial targeting posttraumatic stress disorder for surgically hospitalized injury survivors. Ann Surg. 2013;257:390–399.

38.

Zatzick D, Roy-Byrne P, Russo J, et al. A randomized effectiveness trial of stepped collaborative care for acutely injured trauma survivors. Arch Gen Psychiatry. 2004;61:498–506.
Ethics declarations
Conflict of Interest
James C. Kirven, BS, Joshua S. Everhart, MD, MPH, Alex C. DiBartola, MD, MPH, Jeremy Jones, MD, and Ryan K. Harrison, MD, declare that they have no conflicts of interest. David C. Flanigan, MD, reports receiving personal fees from Ceterix Orthopaedics, Conmed, Depuy Mitek, Histogenics, Moximed, Smith & Nephew, Vericel, and Zimmer Biomet, outside the submitted work.
Human/Animal Rights
N/A
Informed Consent
N/A
Required Author Forms
Disclosure forms provided by the authors are available with the online version of this article.
Additional information
Level of Evidence: Level III: Systematic Review
Elecronic supplementary material
About this article
Cite this article
Kirven, J.C., Everhart, J.S., DiBartola, A.C. et al. Interventional Efforts to Reduce Psychological Distress After Orthopedic Trauma: A Systematic Review. HSS Jrnl 16, 250–260 (2020). https://doi.org/10.1007/s11420-019-09731-w
Received:

Accepted:

Published:

Issue Date:
Keywords
orthopedic trauma

post-traumatic stress disorder

psychological distress

psychosocial intervention

amputation