Abstract
Background
Post-operative rehabilitation after posterior-approach total hip arthroplasty (P-THA) includes the use of standard hip precautions, defined as no hip flexion beyond 90°, hip adduction, or hip internal rotation for 6 to 12 weeks after surgery (sometimes for life). Since they were first implemented in the 1970s, subsequent advances may have made standard hip precautions no longer necessary, although little evidence supports that hypothesis. A modified set of precautions, a "pose avoidance protocol," could be effective in enhancing recovery, but its effectiveness on early dislocation and post-surgical outcomes is not known.
Questions/Purposes
We sought to determine the functional recovery of patients on a pose avoidance protocol after P-THA according to levels of pain and patient satisfaction, rates of dislocation, the use of assistive devices, and a return to driving.
Methods
We conducted a retrospective, descriptive study of data from a consecutive case series of 164 patients treated by a single surgeon between January 2014 and December 2015. Patients who had undergone a primary uncemented P-THA were prescribed a pose avoidance protocol and followed for a minimum of 6 weeks. Exclusion criteria were patients with congenital hip dysplasia, revision THA, femoral neck fracture, rheumatoid arthritis, or neuromuscular disease. Changes to the rehabilitation protocol included elimination of the requirements to use elevated chairs, raised toilet seats, and abduction pillows for sleeping. Patients could resume driving at 2 and 3 weeks for left and right P-THA, respectively. The only motion restriction was avoiding the combination of hip flexion past 90°, hip adduction, and hip internal rotation. Patients could perform all other movements and to bear weight and stop using walking aids as tolerated. Patients completed a biweekly questionnaire to assess their functional recovery, opioid use, and pain levels.
Results
At 2 weeks after surgery, 80% of patients reported no pain, 86% did not require walking aids, and 92% were satisfied with their recovery. At 6 weeks after surgery, 89% of patients reported no pain. Patients returned to driving at a mean of 2.7 weeks after surgery. No patients had experienced a dislocation at 6 weeks of follow-up.
Conclusion
A pose avoidance rehabilitation protocol in this P-THA population was found to be safe and was associated with accelerated functional recovery and high patient satisfaction without increased risk of early post-operative dislocation.
This is a preview of subscription content, log in to check access.
Access options
Buy single article
Instant access to the full article PDF.
US$ 39.95
Price includes VAT for USA
Subscribe to journal
Immediate online access to all issues from 2019. Subscription will auto renew annually.
US$ 99
This is the net price. Taxes to be calculated in checkout.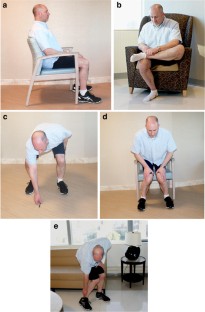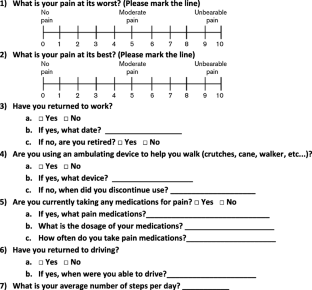 References
1.

Ali Khan MA, Brakenbury PH, Reynolds IS. Dislocation following total hip replacement. J Bone Joint Surg Br. 1981;63-B (2):214–218.

2.

Cheng T, Wallis J, Taylor N, et al. A prospective randomized clinical trial in total hip arthroplasty—comparing early results between the direct anterior approach and the posterior approach. J Arthroplasty. 2017;32:883–890.

3.

Dayton MR, Judd DL, Hogan CA, Stevens-Lapsley JE. Performance-based versus self-reported outcomes using the Hip Disability and Osteoarthritis Outcome Score after total hip arthroplasty. Am J Phys Med Rehabil. 2016;95(2):132–138.

4.

Dietz M, Klein A, Lindsey B, et al. Posterior hip precautions do not impact early recovery in total hip arthroplasty: a multicenter, randomized, controlled study. J Arthroplasty. 2019;34:S221–S227.

5.

Dudda M, Gueleryuez A, Gautier E, Busato A, Roeder C. Risk factors for early dislocation after total hip arthroplasty: a matched case–control study. J Orthop Surg (Hong Kong). 2010;18 (2):179–183.

6.

Gausden E, Parhar H, Popper J, Sculco P, Rush B. Risk factors for early dislocation following primary elective total hip arthroplasty. J Arthroplasty. 2018;33(5):1567–1571.e2.

7.

Kelley T, Swank M. Role of navigation in total hip arthroplasty. J Bone Joint Surg Am. 2009;91(1):153–158.

8.

Kornuijt A, Das D, Sijbesma T, van der Weegen W. The rate of dislocation is not increased when minimal precautions are used after total hip arthroplasty using the posterolateral approach. Bone Joint J. 2016;98-B:589–594.

9.

Malkani AL, Ong KL, Lau E, Kurtz SM, Justice BJ, Manley MT. Early- and late- term dislocation risk after primary hip arthroplasty in the Medicare population. J Arthroplasty. 2010;25(6 Suppl):21–25.

10.

Merx, H. Dreinhofer K. Scrader P. Sturmer T, Puhl W, Gunther KP, Brenner H. International variation in hip replacement rates. Ann Rheum Dis. 2003;62:222–226.

11.

Mikkelsen LR, Petersen MK, Soballe K, Mikkelsen S, Mechlengburg I. Does reduced movement restrictions and use of assistive devices affect rehabilitation outcome after total hip replacement? A non-randomized, controlled study. Eur J Phys Rehabil Med. 2014;50(4)383–393.

12.

Peak E, Parvizi J, Cimineiello M, et al. The role of patient restrictions in reducing the prevalence of early dislocation following total hip arthroplasty. A randomized, prospective study. J Bone Joint Surg Am. 2005;87(2):247–253.

13.

Pellicci PM, Bostrum M, Poss R. Posterior approach to total hip replacement using enhanced posterior soft tissue repair. Clin Orthop. 1998;355:224–228.

14.

Phillips CB, Barrett JA, Losina E, et al. Incidence rates of dislocation, pulmonary embolism, and deep infection during the first six months after elective total hip replacement. J Bone Joint Surg Am. 2003;85(1):20–26.

15.

Poehling-Monaghan KL, Kamath AF, Taunton MJ, Pagnano MW. Direct anterior versus miniposterior THA with the same advanced perioperative protocols: surprising early clinical results. Clin Orthop. 2015;473(2):623–631.

16.

Sanchez-Sotela J, Berry DJ. Epidemiology of instability after total hip replacement. Orthop Clin North Am. 2001;32(4);543–552, vii.

17.

Schmidt-Braekling T, Waldstein W, Akalin E, Benavente P, Frykberg B, Boettner F. Minimal invasive posterior total hip arthroplasty: are 6 weeks of hip precautions really necessary? Arch Orthop Trauma Surg. 2015;135(2):271–274.

18.

Smith T, Sackley C. UK survey of occupational therapist's and physiotherapist's experiences and attitudes towards hip replacement precautions and equipment. BMC Musculoskeletal Disord. 2016(17):228.

19.

Stroh DA, Issa K, Johnson AJ, Delanois RE, Mont MA. Reduced dislocation rates and excellent functional outcomes with large-diameter femoral heads. J Arthroplasty. 2013;28(8):1415–1420.

20.

Talbot NJ, Brown J, Treble N. Early dislocation after total hip arthroplasty: are postoperative restrictions necessary? J Arthroplasty. 2002;17(8):1006–1008.

21.

Van der Weegen W, Kornuijt A, Das D. Do lifestyle restrictions and precautions prevent dislocation after total hip arthroplasty? A systematic review and meta-analysis of the literature. Clin Rehabil. 2016;30(4):329–339.

22.

Westby M, Brittain A, Backman C. Expert consensus on best practices for post-acute rehabilitation after total hip and knee arthroplasty: a Canada and United States Delphi study. Arthritis Care Res. 2014;66(3):411–423.

23.

Woo RY, Morrey BF. Dislocation after total hip arthroplasty. J Bone Joint Surg Am. 1982;64(9):1295–1306.
Ethics declarations
Conflict of Interest
Erica Fritz Eannucci, PT, DPT, OCS, Brian T. Barlow, MD, and Kaitlin M. Carroll, BS, declare that they have no conflicts of interest. Seth A. Jerabek, MD, reports personal fees and royalties from Stryker, outside the submitted work. Peter K. Sculco, MD, reports personal fees from Intellijoint, outside the submitted work. David J. Mayman, MD, reports personal fees and research support from Smith & Nephew and stock or stock options from Imagen and OrthAlign, outside the submitted work.
Human/Animal Rights
All procedures followed were in accordance with the ethical standards of the responsible committee on human experimentation (institutional and national) and with the Helsinki Declaration of 1975, as revised in 2013.
Informed Consent
Informed consent was waived from all patients for being included in this study.
Required Author Forms
Disclosure forms provided by the authors are available with the online version of this article.
Additional information
Level of Evidence: Level IV: Retrospective Case Series
Electronic supplementary material
About this article
Cite this article
Eannucci, E.F., Barlow, B.T., Carroll, K.M. et al. A Protocol of Pose Avoidance in Place of Hip Precautions After Posterior-Approach Total Hip Arthroplasty May Not Increase Risk of Post-operative Dislocation. HSS Jrnl 15, 247–253 (2019). https://doi.org/10.1007/s11420-019-09708-9
Received:

Accepted:

Published:

Issue Date:
Keywords
hip precautions

total hip arthroplasty

posterior approach

post-operative rehabilitation

rapid recovery

reduced hip precautions

pose avoidance