Abstract
Background
Thumb carpometacarpal (first CMC) osteoarthritis (OA), a degenerative process affecting hand use, is typically assessed by clinical examination and radiographs. This assessment determines treatment, but it may not reflect functional limitations.
Questions/Purposes
We aimed to explore the relationship between measures of hand function and radiographs in individuals with and without first CMC OA.
Methods
We designed a cross-sectional, observational pilot study, enrolling five patients with first CMC OA (nine thumbs with modified Eaton-Littler grades ranging from 1 to 4, using retrospective radiographic data) and nine healthy controls. They underwent evaluation of hand function using four patient-reported outcome measures (PROMs)—the Patient-Specific Functional Scale (PSFS); the Patient-Rated Wrist/Hand Evaluation (PRWHE); the Disabilities of the Arm, Shoulder, and Hand (DASH); and the Modified Score for the Assessment and Quantification of Chronic Rheumatoid Affections of the Hands (M-SACRAH)—and one performance measure, the Arthritis Hand Function Test (AHFT). Spearman's ρ with 95% subject clustered bootstrapped confidence intervals was calculated to assess for correlations between radiographic findings and measures of hand function.
Results
Only the DASH work score showed strong positive correlation with radiographic OA grade, with PSFS, PRWHE, M-SACRAH, and AHFT scores demonstrating low to moderate correlations. Notable differences were found between patients and control subjects in median scores of the DASH, PSFS, PRWHE, and M-SACRAH, as well as in the grip, pinch, and button scores of the AHFT.
Conclusion
While only the DASH work score strongly correlated with radiographic grade of first CMC OA, several measures detected considerable differences in functional hand use between patients and control subjects. The findings of this pilot study suggest that hand function scores be considered in addition to radiographs when determining severity of first CMC OA. The findings can also inform the design of a larger, powered study.
This is a preview of subscription content, log in to check access.
Access options
Buy single article
Instant access to the full article PDF.
US$ 39.95
Price includes VAT for USA
Subscribe to journal
Immediate online access to all issues from 2019. Subscription will auto renew annually.
US$ 99
This is the net price. Taxes to be calculated in checkout.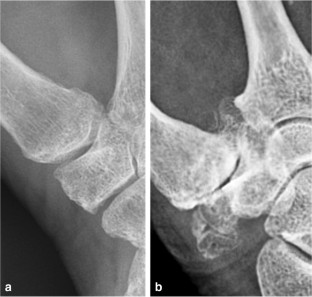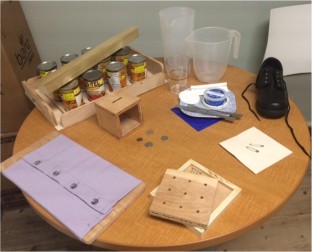 References
1.

Backman C, Mackie H. Arthritis hand function test: inter-rater reliability among self-trained raters. Arthr Care Res. 1995;8(1):10–15.

2.

Backman C, Mackie H. Reliability and validity of the arthritis hand function test in adults with osteoarthritis. Occup Ther J Res. 1997;17(1):55–66.

3.

Backman C, Mackie H, Harris J. Arthritis hand function test: development of a standardized assessment tool. Occup Ther J Res. 1991;11(4):245–256.

4.

Beaton DE, Katz JN, Fossel AH, Wright JG, Tarasuk V, Bombardier C. Measuring the whole or the parts? Validity, reliability, and responsiveness of the Disabilities of the Arm, Shoulder and Hand outcome measure in different regions of the upper extremity. J Hand Ther. 2001;14(2):128–146.

5.

Berger AJ, Momeni A, Ladd AL. Intra- and interobserver reliability of the Eaton classification for trapeziometacarpal arthritis: a systematic review. Clin Orthop Relat Res. 2014;472(4):1155–1159.

6.

Bijsterbosch J, Visser W, Kroon HM, Stamm T, Meulenbelt I, Huizinga TWJ, Kloppenburg M. Thumb base involvement in symptomatic hand osteoarthritis is associated with more pain and functional disability. Ann Rheum Dis. 2010;69(3):585–587.

7.

Dahaghin S, Bierma-Zeinstra SMA, Ginai AZ, Pols HAP, Hazes JMW, Koes BW. Prevalence and pattern of radiographic hand osteoarthritis and association with pain and disability (the Rotterdam study). Ann Rheum Dis. 2005;64(5):682–687.

8.

Dziedzic KS, Thomas E, Hay EM. A systematic search and critical review of measures of disability for use in a population survey of hand osteoarthritis (OA). Osteo Cart. 2005;13(1):1–12.

9.

Gillis J, Calder K, Williams J. Review of thumb carpometacarpal arthritis classification, treatment and outcomes. Can J Plast Surg. 2011;19:134–138.

10.

Haugen IK, Englund M, Aliabadi P, Niu J, Clancy M, Kvien TK, Felson DT. Prevalence, incidence and progression of hand osteoarthritis in the general population: the Framingham Osteoarthritis Study. Ann Rheum Dis. 2011;70(9):1581–1586.

11.

Haugen I, Slatkowsky-Christensen B, Bøyesen P, van der Heijde D, Kvien TK. Cross-sectional and longitudinal associations between radiographic features and measures of pain and physical function in hand osteoarthritis. Osteoarth Cart. 2013;21(9):1191–1198.

12.

Hefford C, Abbott JH, Arnold R, Baxter GD. The patient-specific functional scale: validity, reliability, and responsiveness in patients with upper extremity musculoskeletal problems. J Orthop Sports Phys Ther. 2012;42(2):56–65.

13.

Hoffler 2nd CE, Matzon JL, Lutsky KF, Kim N, Beredjiklian PK. Radiographic stage does not correlate with symptom severity in thumb basilar joint osteoarthritis. J Am Acad Ortho Surg. 2015;23(12):778–782.

14.

Kennedy CD, Manske MC, Huang JI. Classifications in brief: The Eaton-Littler classification of thumb carpometacarpal joint arthrosis. Clin Orthop Rel Res. 2016;474: 2729–2733.

15.

Kloppenburg M, Stamm T, Watt I, et al. Research in hand osteoarthritis: time for reappraisal and demand for new strategies. An opinion paper. Ann Rheum Dis. 2007;66(9):1157–1161.

16.

Kloppenburg M, Maheu E, Kraus VB, et al. OARSI clinical trials recommendations: design and conduct of clinical trials for hand osteoarthritis. Osteoarthr Cartil. 2015;23(5):772–786.

17.

Ladd AL, Messana J, Berger AJ, Weiss APC. Correlation of clinical disease severity to radiographic thumb osteoarthritis index. J Hand Surg Am. 2015;40(3):474–482.

18.

MacDermid JC. Development of a scale for patient rating of wrist pain and disability. J Hand Ther. 1996;9(2):178–183.

19.

MacDermid JC, Tottenham V. Responsiveness of the disability of the arm, shoulder, and hand (DASH) and patient-rated wrist/hand evaluation (PRWHE) in evaluating change after hand therapy. J Hand Ther. 2004;17(1):18–23.

20.

MacDermid JC, Turgeon T, Richards RS, Beadle M, Roth JH. Patient rating of wrist pain and disability: a reliable and valid measurement tool. J Orthop Traum. 1998;12(8):577–586.

21.

MacDermid JC, Wessel J, Humphrey R, Ross D, Roth JH. Validity of self-report measures of pain and disability for persons who have undergone arthroplasty for osteoarthritis of the carpometacarpal joint of the hand. Osteoarthr Cartil. 2007;15(5):524–530.

22.

O'Brien VH, McGaha JL. Current practice patterns in conservative thumb CMC joint care: survey results. J Hand Ther. 2014;27:14–22.

23.

Poole JL. Measures of hand function: Arthritis Hand Function Test (AHFT), Australian Canadian Osteoarthritis Hand Index (AUSCAN), Cochin Hand Function Scale, Functional Index for Hand Osteoarthritis (FIHOA), Grip Ability Test (GAT), Jebsen Hand Function Test (JHFT), and Michigan Hand Outcomes Questionnaire (MHQ). Arthritis Care Res. 2011;63(S11):S189–S199.

24.

Sautner J, Andel I, Rintelen B, Leeb BF. Development of the M-SACRAH, a modified, shortened version of SACRAH (Score for the Assessment and Quantification of Chronic Rheumatoid Affections of the Hands). Rheum. 2004;43(11):1409–1413.

25.

Sautner J, Andel I, Rintelen B, Leeb BF. A comparison of the modified score for the assessment of chronic rheumatoid affections of the hands and the Australian/Canadian osteoarthritis hand index in hand osteoarthritis patients. Int J Rheumatol. 2009;249096. https://doi.org/10.1155/2009/249096.

26.

Sorensen AA, Howard D, Tan WH, Ketchersid J, Calfee RP. Minimal clinically important differences of 3 patient-rated outcomes instruments. J Hand Surg. 2013;38A(4):641–649.

27.

Stamm T, Geyh S, Cieza A, Machold K, Kollerits B, Kloppenburg M, Smolen J, Stucki G. Measuring functioning in patients with hand osteoarthritis—content comparison of questionnaires based on the International Classification of Functioning, Disability and Health (ICF). Rheum. 2006;45(12):1534–1541.

28.

Stratford P, Gill C, Westaway M, Binkley J. Assessing disability and change on individual patients: A report of a patient specific measure. Physiother Can. 1995;47(4):258–263.

29.

The Disabilities of the Arm Shoulder and Hand Outcome Measure. Institute for Work and Health. http://www.dash.iwh.on.ca/sites/dash/public/translations/DASH_English_UK.pdf. Accessed 19 Apr 2019.

30.

Weiss AC, Goodman AD. Thumb basal joint arthritis. J Am Acad Orthop Surg. 2018;26(16):562–571.

31.

Wright HH, O'Brien V, Valdes K, Koczan B, MacDermid J, Moore E, Finley MA. Relationship of the Patient-Specific Functional Scale to commonly used clinical measures in hand osteoarthritis. J Hand Ther. 2017;30(4):538–545.

32.

Zhang Y, Niu J, Kelly-Hayes M, Chaisson CE, Aliabadi P, Felson DT. Prevalence of symptomatic hand osteoarthritis and its impact on functional status among the elderly: the Framingham Study. Am J Epidemiol. 2002;156(11):1021–1027.

33.

Zhang W, Doherty M, Leeb BF, et al. EULAR evidence-based recommendations for the diagnosis of hand osteoarthritis: report of a task force of ESCISIT. Ann Rheum Dis. 2009;68(1):8–17.
Acknowledgements
The authors express appreciation to Roseann Zeldin for help with study coordination.
Funding
This study was supported by the Hospital for Special Surgery Radiology and Imaging Department Research Fund.
Ethics declarations
Conflict of Interest
Gwen Weinstock-Zlotnick, PhD, OTR/L, CHT, and O. Kenechi Nwawka, MD, declare that they have no conflicts of interest. Bin Lin, ScM, was supported in part by funds from the Clinical Translational Science Center (CTSC), National Center for Advancing Translational Sciences (NCATS) grant #UL1- RR024996.
Human/Animal Rights
All procedures followed were in accordance with the ethical standards of the responsible committee on human experimentation (institutional and national) and with the Helsinki Declaration of 1975, as revised in 2013.
Informed Consent
Informed consent was obtained from all patients for being included in this study.
Required Author Forms
Disclosure forms provided by the authors are available with the online version of this article.
Disclaimer
The content is solely the responsibility of the authors and does not necessarily represent the official views of the funding source NCATS based in Rockville, MD.
Additional information
Level of Evidence: Level IV, Diagnostic Study
Electronic supplementary material
About this article
Cite this article
Weinstock-Zlotnick, G., Lin, B. & Nwawka, O.K. Clinical Assessments of Hand Function in First Carpometacarpal Osteoarthritis Do Not Appear to Correlate with Radiographic Findings. HSS Jrnl 15, 269–275 (2019). https://doi.org/10.1007/s11420-019-09705-y
Received:

Accepted:

Published:

Issue Date:
Keywords
first carpometacarpal osteoarthritis

radiographic grading

basilar joint

functional hand measures

patient reported outcome measures