Abstract
Background
Osteoporosis is a systemic disease resulting in low bone mineral density, increased risk of fractures, and falls, muscle weakness, and compromised balance. Nutrition and physical exercise have been shown to be effective in the treatment of low bone mineral density and, with more severe osteoporosis, as adjuncts to pharmaceutical treatments. However, living with osteoporosis may diminish an individual's ability and confidence to perform activities that enhance bone density.
Questions/Purposes
This study investigated the following question: In women with osteoporosis, will there be a greater improvement in balance, lower-extremity strength, mobility, and confidence in performing ambulatory activities after participating in a structured exercise program as compared to a control group?
Methods
This was a prospective comparative trial in which 48 women who had a confirmed diagnosis of osteoporosis were enrolled in either an exercise group (a 4-week exercise program) or a control group (no structured exercise). Functional outcomes using valid and reliable tools were measured before and after exercise in the study group and at comparable times in the control group. Differences in function were assessed by paired t tests to evaluate group differences in functional outcomes.
Results
Of the 48 women recruited, 45 completed the study. Women in the exercise group (n = 27) demonstrated an increase in balance and lower-extremity strength over women in the control group (n = 18). Both groups showed an increase in mobility but no change in confidence in ambulation.
Conclusion
This study showed that women with osteoporosis demonstrated improved balance and lower-extremity strength after participating in a structured exercise program. These changes may be important in improving overall functional status.
This is a preview of subscription content, log in to check access.
Access options
Buy single article
Instant access to the full article PDF.
US$ 39.95
Price includes VAT for USA
Subscribe to journal
Immediate online access to all issues from 2019. Subscription will auto renew annually.
US$ 99
This is the net price. Taxes to be calculated in checkout.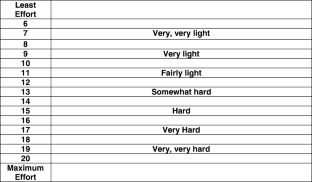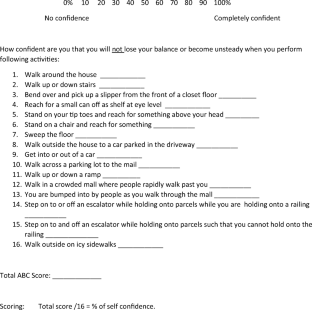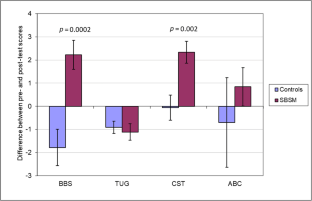 References
1.

Bohannon RW. Reference values for the five-repetition sit-to-stand test: a descriptive meta-analysis of data from elders. Percept Mot Skills. 2006;103(1):215–222.

2.

Dohrn IM, Hagstromer M, Hellenius ML, Stahle A. Short- and long-term effects of balance training on physical activity in older adults with osteoporosis: a randomized controlled trial. J Geriatr Phys Ther. 2017;40(2):102–111.

3.

Downs S. The Berg Balance Scale. J Physiother. 2015;61(1):46.

4.

Duckham RL, Masud T, Taylor R, et al. Randomised controlled trial of the effectiveness of community group and home-based falls prevention exercise programmes on bone health in older people: the ProAct 65+ bone study. Age Ageing. 2015;44(4):573–579.

5.

Eyigor S, Karapolat H, Yesil H, Uslu R, Durmaz B. Effects of Pilates exercises on functional capacity, flexibility, fatigue, depression and quality of life in female breast cancer patients: a randomized controlled study. Eur J Phys Rehabil Med. 2010;46(4):481–487.

6.

Gill S, McBurney H. Reliability of performance-based measures in people awaiting joint replacement surgery of the hip or knee. Physiother Res Int. 2008;13(3):141–152.

7.

Howe TE, Shea B, Dawson LJ, et al. Exercise for preventing and treating osteoporosis in postmenopausal women. Cochrane Database Syst Rev. 2011(7):CD000333.

8.

Jones CJ, Rikli RE, Beam WC. A 30-s chair-stand test as a measure of lower body strength in community-residing older adults. Res Q Exerc Sport. 1999;70(2):113–119.

9.

Kanis JA, McCloskey EV, Johansson H, Oden A, Melton LJ, 3rd, Khaltaev N. A reference standard for the description of osteoporosis. Bone. 2008;42(3):467–475.

10.

Lee JW, Kim SB, Kim SW. Effects of elastic band exercises on physical ability and muscular topography of elderly females. J Phys Ther Sci. 2018;30(2):248–251.

11.

Levis S, Theodore G. Summary of AHRQ's comparative effectiveness review of treatment to prevent fractures in men and women with low bone density or osteoporosis: update of the 2007 report. J Manag Care Pharm. 2012;18(4 Suppl B):S1–15.

12.

Looker AC, Melton LJ, 3rd, Harris TB, Borrud LG, Shepherd JA. Prevalence and trends in low femur bone density among older US adults: NHANES 2005–2006 compared with NHANES III. J Bone Miner Res. 2010;25(1):64–71.

13.

Macfarlane DJ, Chou KL, Cheng YH, Chi I. Validity and normative data for thirty-second chair stand test in elderly community-dwelling Hong Kong Chinese. Am J Hum Biol. 2006;18(3):418–421.

14.

Marin-Cascales E, Alcaraz PE, Ramos-Campo DJ, Martinez-Rodriguez A, Chung LH, Rubio-Arias JA. Whole-body vibration training and bone health in postmenopausal women: a systematic review and meta-analysis. Medicine (Baltimore). 2018;97(34):e11918.

15.

McCarthy EK, Horvat MA, Holtsberg PA, Wisenbaker JM. Repeated chair stands as a measure of lower limb strength in sexagenarian women. J Gerontol A Biol Sci Med Sci. 2004;59(11):1207–1212.

16.

Otero M, Esain I, González-Suarez ÁM, Gil SM. The effectiveness of a basic exercise intervention to improve strength and balance in women with osteoporosis. Clin Interv Aging. 2017;12:505–513.

17.

Patil R, Uusi-Rasi K, Tokola K, Karinkanta S, Kannus P, Sievanen H. Effects of a multimodal exercise program on physical function, falls, and injuries in older women: a 2-year community-based, randomized controlled trial. J Am Geriatr Soc. 2015;63(7):1306–1313.

18.

Portney LG, Watkins MP. Foundations of clinical research: applications to practice. Upper Saddle River, NJ: Pearson Education, Inc.; 2009.

19.

Qaseem A, Forciea MA, McLean RM, Denberg TD. Treatment of low bone density or osteoporosis to prevent fractures in men and women: a clinical practice guideline update from the American College of Physicians. Ann Intern Med. 2017;166(11):818–839.

20.

Schoppen T, Boonstra A, Groothoff JW, de Vries J, Göeken LN, Eisma WH. The timed "up and go" test: reliability and validity in persons with unilateral lower limb amputation. Arch Phys Med Rehabil. 1999;80(7):825–828.

21.

WHO Scientific Group on the Prevention and Management of Osteoporosis. Prevention and management of osteoporosis: report of a WHO scientific group. Geneva, Switzerland: World Health Organization; 2003 Dec 31. Available from https://apps.who.int/iris/handle/10665/42841
Ethics declarations
Conflict of Interest
Payal Sahni, PT, DPT, MCMT, and Jeri W. Nieves, PhD, declare that they have no conflicts of interest.
Human/Animal Rights
All procedures followed were in accordance with the ethical standards of the responsible committee on human experimentation (institutional and national) and with the Helsinki Declaration of 1975, as revised in 2013.
Informed Consent
Informed consent was obtained from all patients for being included in this study.
Required Author Forms
Disclosure forms provided by the authors are available with the online version of this article.
Additional information
Level of Evidence: Level III: Therapeutic Study
About this article
Cite this article
Sahni, P., Nieves, J.W. Determining the Effects of a 4-Week Structured Strength and Flexibility Exercise Program on Functional Status of Subjects with Osteoporosis. HSS Jrnl 15, 241–246 (2019). https://doi.org/10.1007/s11420-019-09686-y
Received:

Accepted:

Published:

Issue Date:
Keywords
osteoporosis

functional status

activity-specific balance

chair stand test

balance test

timed up and go