Abstract
Background
Physical therapy (PT) is an accepted standard of care after total joint arthroplasty (TJA) and essential to maximizing joint functionality and minimizing complications that lead to readmission. However, evidence-based guidelines about appropriate post-discharge rehabilitative care are not well-defined in the orthopedic literature.
Purposes
We sought to determine the average timing for receiving PT rehabilitation and to evaluate the association between PT rehabilitation timing and unplanned readmission within 90 days of a TJA patient being discharged home from acute care.
Methods
This retrospective study examined 11,545 joint procedures using claims data for the years 2008 to 2013. Outcomes were assessed using a population-averaged approach to regression models.
Results
The average time for initiating PT was 4 days for knee arthroplasty and 6 days for hip arthroplasty in patients discharged home from acute care. Most patients (89%) began PT consultation or supervised exercises during the first week after discharge. The type of joint surgery considerably modified the effect of rehabilitation timing on the likelihood of readmission. Later initiation of rehabilitation was associated with a higher probability of 90-day readmission in both knee and hip arthroplasty, with the effect of rehabilitation timing being more pronounced in hip rather than knee arthroplasty 2 weeks post-discharge from acute care.
Conclusions
Timing for initiating PT may be an important modifiable factor that can affect readmission in patients discharged home from acute care after TJA. Further exploration of the role of PT timing along with other factors such as dosage and frequency among such patients is needed.
This is a preview of subscription content, log in to check access.
Access options
Buy single article
Instant access to the full article PDF.
US$ 39.95
Price includes VAT for USA
Subscribe to journal
Immediate online access to all issues from 2019. Subscription will auto renew annually.
US$ 99
This is the net price. Taxes to be calculated in checkout.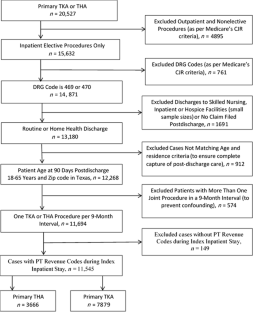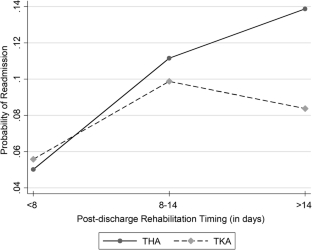 References
1.

Austin PC. An introduction to propensity score methods for reducing the effects of confounding in observational studies. Multivariate Behav Res. 2011;46:399–424.

2.

Bozic KJ, Ward L, Vail TP, Maze M. Bundled payments in total joint arthroplasty: targeting opportunities for quality improvement and cost reduction. Clin Orthop Relat Res. 2014;472:188–193.

3.

Centers for Medicare & Medicaid Services. Comprehensive care for joint replacement model. Center for Medicare & Medicaid Innovation. 2016. Available at https://innovation.cms.gov/initiatives/cjr. [Accessed February 11, 2016].

4.

Coulter CL, Scarvell JM, Neeman TM, Smith PN. Physiotherapist-directed rehabilitation exercises in the outpatient or home setting improve strength, gait speed and cadence after elective total hip replacement: a systematic review. J Physiother. 2013;59:219–226.

5.

Cram P, Lu X, Kates SL, Singh JA, Li Y, Wolf BR. Total knee arthroplasty volume, utilization, and outcomes among Medicare beneficiaries, 1991–2010. JAMA. 2012;308:1227–1236.

6.

Doran JP, Zabinski SJ. Bundled payment initiatives for medicare and non-medicare total joint arthroplasty patients at a community hospital: bundles in the real world. J Arthroplasty. 2015;30:353–355.

7.

Froemke CC, Wang L, DeHart ML, Williamson RK, Ko LM, Duwelius PJ. Standardizing care and improving quality under a bundled payment initiative for total joint arthroplasty. J Arthroplasty. 2015;30:1676–1682.

8.

Froimson MI, Rana A, White RE, et al. Bundled payments for care improvement initiative: the next evolution of payment formulations: AAHKS Bundled Payment Task Force. J Arthroplasty. 2013;28:157–165.

9.

Health Quality Ontario. Physiotherapy rehabilitation after total knee or hip replacement: an evidence-based analysis. Ont Health Technol Assess Ser. 2005;5:1–91.

10.

John Hopkins Bloomberg School of Public Health. The Johns Hopkins ACG® System technical reference guide version 10.0. 2011. Available at: http://acg.jhsph.org/. [Accessed August 9, 2015].

11.

Kurtz S, Mowat F, Ong K, Chan N, Lau E, Halpern M. Prevalence of primary and revision total hip and knee arthroplasty in the United States from 1990 through 2002. J Bone Joint Surg Am. 2005;87:1487–97.

12.

Kurtz SM, Lau E, Ong K, Zhao K, Kelly M, Bozic KJ. Future young patient demand for primary and revision joint replacement: national projections from 2010 to 2030. Clin Orthop Relat Res. 2009;467:2606–2612.

13.

Kurtz SM, Ong KL, Lau E, Bozic KJ. Impact of the economic downturn on total joint replacement demand in the United States: updated projections to 2021. J Bone Joint Surg Am. 2014;96:624–630.

14.

Liebs TR, Herzberg W, Rüther W, Haasters J, Russlies M, Hassenpflug J, Multicenter arthroplasty aftercare project. Multicenter randomized controlled trial comparing early versus late aquatic therapy after total hip or knee arthroplasty. Arch Phys Med Rehabil. 2012;93:192–199.

15.

Madsen M, Larsen K, Madsen IK, Søe H, Hansen TB. Late group-based rehabilitation has no advantages compared with supervised home-exercises after total knee arthroplasty. Dan Med J. 2013;60:A4607.

16.

Mallinson TR, Bateman J, Tseng H-Y, Manheim L, Almagor O, Deutsch A, Heinemann AW. A comparison of discharge functional status after rehabilitation in skilled nursing, home health, and medical rehabilitation settings for patients after lower-extremity joint replacement surgery. Arch Phys Med Rehabil. 2011;92:712–720.

17.

Minns Lowe CJ, Barker KL, Dewey M, Sackley CM. Effectiveness of physiotherapy exercise after knee arthroplasty for osteoarthritis: systematic review and meta-analysis of randomised controlled trials. BMJ. 2007;335:812.

18.

Minns Lowe CJ, Barker KL, Dewey ME, Sackley CM. Effectiveness of physiotherapy exercise following hip arthroplasty for osteoarthritis: a systematic review of clinical trials. BMC Musculoskelet Disord. 2009;10:98.

19.

Mont MA, Issa K. Updated projections of total joint arthroplasty demands in America. Commentary on an article by Steven M. Kurtz, PhD, et al.: "Impact of the Economic Downturn on Total Joint Replacement Demand in the United States. Updated Projections to 2021." J Bone Joint Surg Am. 2014;96:e68.

20.

Nichols CI, Vose JG. Clinical outcomes and costs within 90 days of primary or revision total joint arthroplasty. J Arthroplasty. 2016;31:1400–1406.e3.

21.

Ong KL, Lotke PA, Lau E, Manley MT, Kurtz SM. Prevalence and costs of rehabilitation and physical therapy after primary TJA. J Arthroplasty. 2015;30:1121–1126.

22.

Osmon DR, Berbari EF, Berendt AR, Lew D, Zimmerli W, Steckelberg JM, Rao N, Hanssen A, Wilson WR. Diagnosis and management of prosthetic joint infection: clinical practice guidelines by the Infectious Diseases Society of America. Clin Infect Dis. 2013;56:e1–e25.

23.

Pathak S, Ganduglia CM, Awad SS, Chan W, Swint JM, Morgan RO. What factors are associated with 90-day episode-of-care payments for younger patients with total joint arthroplasty? Clin Orthop Relat Res. 2017;475(11):2808–2818.

24.

Pozzi F, Snyder-Mackler L, Zeni J. Physical exercise after knee arthroplasty: a systematic review of controlled trials. Eur J Phys Rehabil Med. 2013;49(6):877–892.

25.

Rahmann AE, Brauer SG, Nitz JC. A specific inpatient aquatic physiotherapy program improves strength after total hip or knee replacement surgery: a randomized controlled trial. Arch Phys Med Rehabil. 2009;90:745–755.

26.

Roos EM. Effectiveness and practice variation of rehabilitation after joint replacement. Curr Opin Rheumatol. 2003;15:160–162.

27.

Schairer WW, Sing DC, Vail TP, Bozic KJ. Causes and frequency of unplanned hospital readmission after total hip arthroplasty. Clin Orthop Relat Res. 2014;472:464–470.

28.

Sibia US, Mandelblatt AE, Callanan MA, MacDonald JH, King PJ. Incidence, risk factors, and costs for hospital returns after total joint arthroplasties. J Arthroplasty. 2017;32:381–385.

29.

Warren M, Kozik J, Cook J, Prefontaine P, Ganley K. A comparative study to determine functional and clinical outcome differences between patients receiving outpatient direct physical therapy versus home physical therapy followed by outpatient physical therapy after total knee arthroplasty. Orthop Nurs. 2016;35:382–390.

30.

Westby MD, Brittain A, Backman CL. Expert consensus on best practices for post-acute rehabilitation after total hip and knee arthroplasty: a Canada and United States delphi study. Arthritis Care Res (Hoboken). 2014;66:411–423.

31.

Whitman E. Divided over bundled payments. Mod Healthc. 2016. Available at: http://www.modernhealthcare.com/article/20160928/NEWS/160929877/divided-over-bundled-payments. [Accessed October 7, 2016].

32.

Zmistowski B, Restrepo C, Hess J, Adibi D, Cangoz S, Parvizi J. Unplanned readmission after total joint arthroplasty: rates, reasons, and risk factors. J Bone Joint Surg Am. 2013;95:1869–1876.
Ethics declarations
Conflict of Interest
Shweta Pathak, PhD, MPH, Cecilia M. Ganduglia, MD, DrPH, Wenyaw Chan, PhD, John M. Swint, PhD, and Robert O. Morgan, PhD declare that they have no conflicts of interest. Samir S. Awad, MD, MPH, reports personal fees from TELA Bio, Applied Medical, Abbott Laboratories, and Pacira Pharmaceuticals, as well as grants and personal fees from Miromatrix Medical, outside the submitted work.
Human/Animal Rights
All procedures followed were in accordance with the ethical standards of the responsible committee on human experimentation (institutional and national) and with the Helsinki Declaration of 1975, as revised in 2013.
Informed Consent
Informed consent was waived from all patients for being included in this study.
Required Author Forms
Disclosure forms provided by the authors are available with the online version of this article.
Additional information
Level of Evidence: Level II, retrospective study.
Work performed at School of Public Health, University of Texas Health Sciences Center, Houston, TX
About this article
Cite this article
Pathak, S., Ganduglia, C.M., Awad, S.S. et al. Is Post-discharge Rehabilitation Timing Associated with 90-Day Readmission in Primary Total Joint Arthroplasty?. HSS Jrnl 15, 234–240 (2019). https://doi.org/10.1007/s11420-019-09685-z
Received:

Accepted:

Published:

Issue Date:
Keywords
total joint arthroplasty

physical therapy

readmission