Abstract
Background
Blade plates are frequently used for internal fixation following proximal femoral varus rotational osteotomy to treat hip dysplasia in children with cerebral palsy. Recently, cannulated blade plates with the option for a proximal locking screw have demonstrated ease of insertion and low complication rates. Although there are two commonly used blade plates with a proximal screw option, no comparison of their biomechanical profiles has been undertaken.
Questions/Purposes
Our study sought to compare the structural properties under axial loading, as well as the biomechanical contribution of a proximal screw, of two different 90° cannulated blade plates designed for pediatric proximal femurs. Plate A has a hole distal to the blade designed to attach a plate inserter, through which a 3.5-mm non-locking cortical screw could be placed. Plate B has a threaded hole distal to the blade designed to accept a 3.5-mm locking screw.
Methods
Plate A and plate B were inserted into 33 left pediatric synthetic proximal femurs. Axial loading to failure of plate A with and without a proximal screw was compared to that of plate B with and without a proximal screw. An additional 10 samples using plate B, with and without a proximal locking screw, were tested in tension to quantify the effect of the proximal screw on pullout strength.
Results
Plate B failed at a higher axial load than plate A. The addition of a proximal screw did not affect the axial load to failure for either plate. Pullout testing revealed that blade plates fixed with the proximal screw failed in tension at a significantly higher load (856.3 ± 120.9 N) than those without proximal fixation (68.1 ± 9.3 N, p < 0.001).
Conclusions
Plate B failed at a higher axial load in biomechanical testing, likely related to differences in its design. The addition of a proximal screw did not increase the axial loading properties of the blade plate construct but did increase the pullout strength by a factor of 12. These results may be used to influence implant selection and post-operative rehabilitation following proximal femoral osteotomies in children.
This is a preview of subscription content, log in to check access.
Access options
Buy single article
Instant access to the full article PDF.
US$ 39.95
Price includes VAT for USA
Subscribe to journal
Immediate online access to all issues from 2019. Subscription will auto renew annually.
US$ 99
This is the net price. Taxes to be calculated in checkout.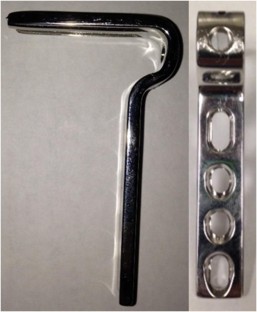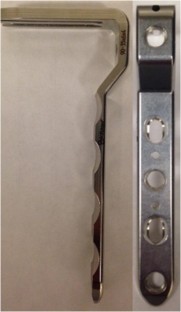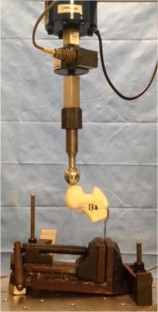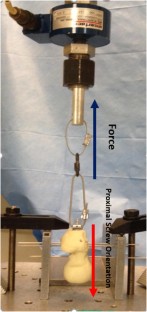 References
1.

Beauchesne R, Miller F, Moseley C. Proximal femoral osteotomy using the AO fixed-angle blade plate. J Pediatr Orthop. 1992;12:735–740.

2.

Browner B, Jupiter J, Krettek C, Trafton P, Levine A. Skeletal Trauma: Basic Science, Management, and Reconstruction. Philadelphia: Elsevier; 2014.

3.

DiFazio R, Vessey J, Zurakowski D, Hresko MT, Matheney T. Incidence of skin complications and associated charges in children treated with hip spica casts for femur fractures. J Pediatr Orthop. 2011;31:17–22.

4.

Dreher T, Wolf SI, Heitzmann D, et al. Long-term outcome of femoral derotation osteotomy in children with spastic diplegia. Gait Posture. 2012;36:467–470.

5.

Forward DP, Doro CJ, O'Toole RV, et al. A biomechanical comparison of a locking plate, a nail, and a 95 degrees angled blade plate for fixation of subtrochanteric femoral fractures. J Orthop Trauma. 2012;26:334–340.

6.

Grant AD, Lehman WB, Strongwater AM, Atar D. Cannulated blade plate for proximal femoral varus osteotomy. Clin Orthop Relat Res. 1990;(259):111–113.

7.

Hau R, Dickens DR, Nattrass GR, O'Sullivan M, Torode IP, Graham HK. Which implant for proximal femoral osteotomy in children? A comparison of the AO (ASIF) 90 degree fixed-angle blade plate and the Richards intermediate hip screw. J Pediatr Orthop. 2000;20:336–343.

8.

Henderson RC, Lin PP, Greene WB. Bone-mineral density in children and adolescents who have spastic cerebral palsy. J Bone Joint Surg Am. 1995;77:1671–1681.

9.

Khouri N, Khalife R, Desailly E, Thevenin-Lemoine C, Damsin JP. Proximal femoral osteotomy in neurologic pediatric hips using the locking compression plate. J Pediatr Orthop. 2010;30:825–831.

10.

Rutz E, Brunner R. The pediatric LCP hip plate for fixation of proximal femoral osteotomy in cerebral palsy and severe osteoporosis. J Pediatr Orthop. 2010;30:726–731.

11.

Ruzbarsky JJ, Beck NA, Baldwin KD, Sankar WN, Flynn JM, Spiegel DA. Risk factors and complications in hip reconstruction for nonambulatory patients with cerebral palsy. J Child Orthop. 2013;7:487–500.

12.

Schaefer MK, McCarthy JJ, Josephic K. Effects of early weight bearing on the functional recovery of ambulatory children with cerebral palsy after bilateral proximal femoral osteotomy. J Pediatr Orthop. 2007;27:668–670.

13.

Zhou L, Camp M, Gahukamble A, Khot A, Graham HK. Cannulated, locking blade plates for proximal femoral osteotomy in children and adolescents. J Child Orthop. 2015;9:121–127.
Funding
No direct funding was provided for this study, although OrthoPediatrics provided some of the blade plates used.
Ethics declarations
Conflict of Interest
Joseph J. Ruzbarsky, MD, Ishaan Swarup, MD, Matthew R. Garner, MD, Kathleen Meyers, MS, Folorunsho Edobor-Osula, MD, Roger Widmann, MD, and David M. Scher, MD, report that OrthoPediatrics provided some of the blade plates used in this study. David M. Scher, MD, also reports receiving personal fees as a consultant from OrthoPediatrics, during the conduct of this study.
Human/Animal Rights
N/A
Informed Consent
N/A
Required Author Forms
Disclosure forms provided by the authors are available with the online version of this article.
Electronic Supplementary Material
About this article
Cite this article
Ruzbarsky, J.J., Swarup, I., Garner, M.R. et al. Biomechanical Comparison of Two Pediatric Blade Plate Designs in Proximal Femoral Osteotomies. HSS Jrnl 16, 81–85 (2020). https://doi.org/10.1007/s11420-019-09675-1
Received:

Accepted:

Published:

Issue Date:
Keywords
biomechanics

blade plate

pediatric orthopedics

proximal femoral osteotomy